---
"The Lost Church is an incredible space for independent music and art. It's a vital community space and nonprofit which is important because it allows us to have interesting programming that's not based just on ticket sales." — Jeremy Lyon of King Dream
---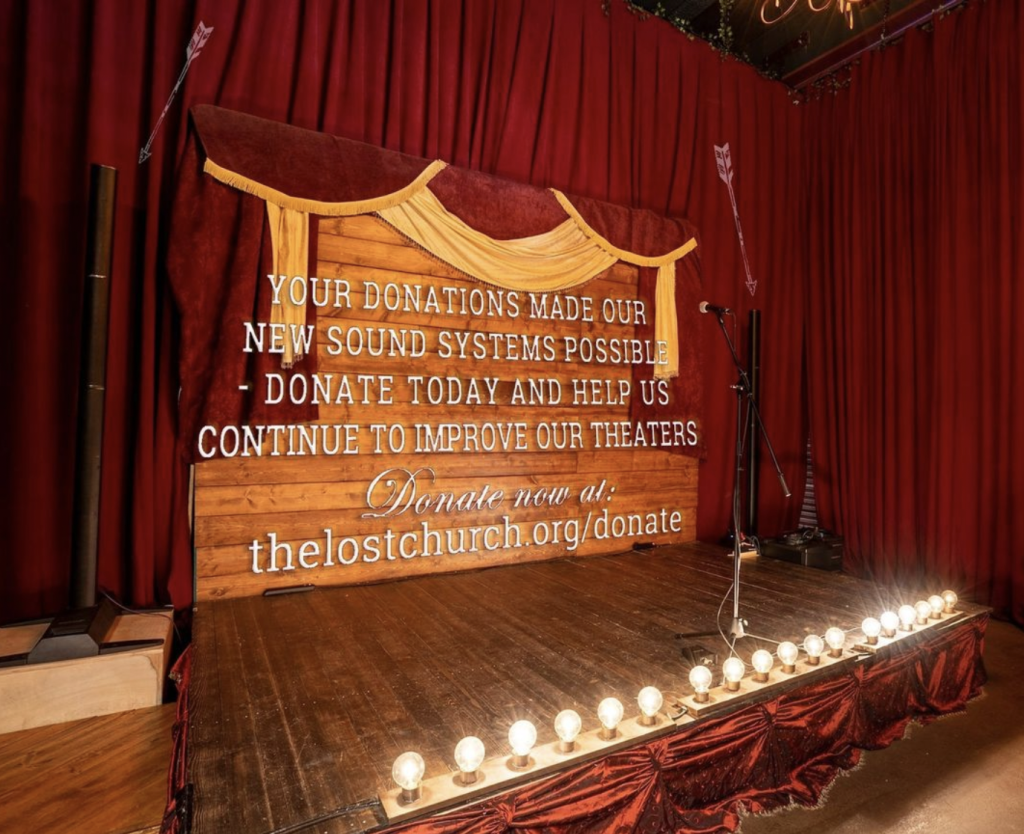 Can you help us send our End of Year Fundraiser into Double Digits?
Thank you for supporting live performance and the artists who bring so much to our community.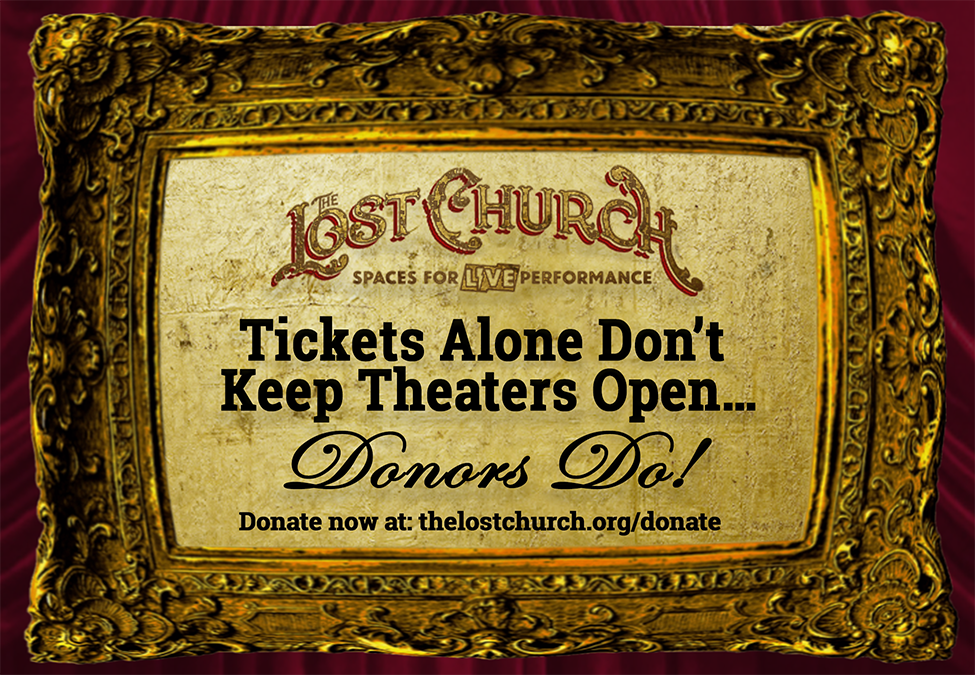 ---
TLC San Francisco Kicks off 2023 in Style!

See you in 2023! (TLC SF is closed Dec. 23-Jan. 4)
– Masks are encouraged, but not required
The Lost Church San Francisco has polished away the year's dust, ready for 2023's muse to shine on stage. January brings grief open mic, award winning songcrafters, magic and mischief, indie-pop, Americana, queer and trans life journeys, psychoactive and interactive surreal experiences, stand-up comedy, erotically intelligent Lit, burlesque, and Filipino folk tunes in three-part harmony.
Award winning contemporary folk duo, Fellow Pynins, takes listeners on a whimsically emotional escapade with their core-touching harmonies and song craft on Friday, 1/6. Saturday, 1/14, Brad Barton, Reality Thief returns to his monthly magic and mind-bending, comedic mischief. On Sunday 1/15, queer Americana girl band, Polythene Pam, embody the quirky nerdery of They Might Be Giants, the old school country twang of Dolly Parton and Johnny Cash, and the rock attitude of the Violent Femmes, with 60's rock, indie-pop, journeys of trans life by Eddie and the Heartbeats. The Knights of Revery with Sir Psycho and Sir Pomp bring two nights of interactive, psychoactive, surreal, irreverent and hilarious, theatrical experience on Thursday 1/19 and Friday 1/20. Saturday 1/21 is Stand-Up Comedy at The Lost Church with Austin Carr and Nick Scarpino. An end of the month treat brings DIVA or Die: Deluxe Redux on Saturday, 1/28 for unique and eclectic burlesque and variety acts, then folk, soul and Filipino songs in three-part harmony from Aireene & The Itch + The Sampaguitas.

---
The Lost Church San Francisco is located at 988 Columbus Avenue at Chestnut Street in North Beach
(26-min from Oakland, 33-min from San Rafael, 52-min from Vallejo, 1 hour and 6-min from Santa Rosa)
We're offering full refunds for non-attendance or cancelations due to COVID exposure, so there is no risk in showing your support by getting advanced tickets.
---

SAN FRANCISCO
SUN 2/25 Megan Keely (CD Release) and Alex Stanley (rescheduled from FRI 12/17 –tickets honored or will be refunded) – TIX
SAT 4/8 John Courage Trio & The Bribes (rescheduled from FRI 12/16 –tickets honored or will be refunded) – SONGWRITER ROCK MUSIC – TIX
FRI 4/14 Poundgame Addison's 'Kyros World Tour' with Active Poet and Shekinah Keys – HIP-HOP/SONGWRITER – TIX
---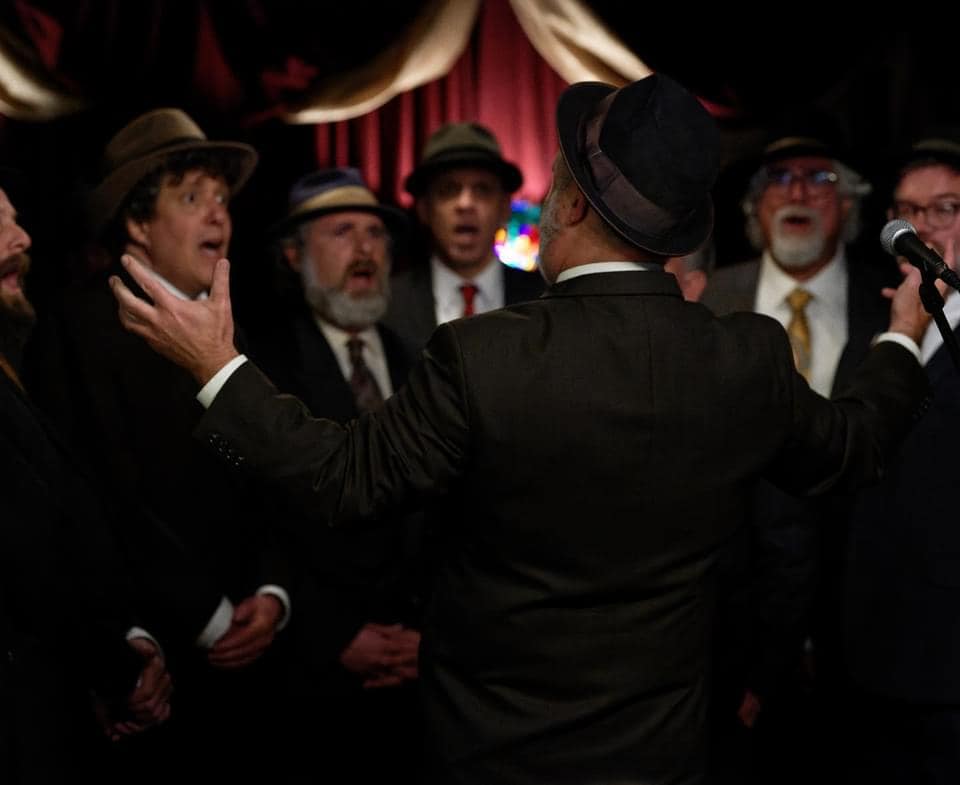 ---
"The same love and attention that makes The Lost Church such a delight to be in is also shown to everyone who walks through the door whether they're an audience member or performer." – Brian Belknap
---
TLC Santa Rosa is Rolling into 2023 Like a Champ!

Excited for the New Year! (TLC SF is closed Dec. 23-Jan. 5)
January brings comedy, Balkan folk, music menagerie labeled "orchestral-punk-jazz-prog-folk," a peek into the creative songwriting process, live band karaoke, indie-folk, pop, Americana, new genre "dream country disco" and an invitation to the community for The Lost Church – Santa Rosa's anniversary celebration free open house/open mic.
Comedy and improv tag team every first Thursday of the month for StandProv on 1/5 hosted by Franco Tevini with Jeremy Lessnau and featuring Christie Bahna, James Mwaura, Ivy Vasquez and Patrick Fishman. Sassy, swing and blues take the stage Saturday, 1/7 with The Susie Straight Band paired with Americana music by Chicken Town featuring Gailene Elliott. Friday, 1/13 presents an eclectic mix of alternative, indie-pop music with Ash Reyes, Tom Elder & Andrew Maurer, delivering songs with multi-faceted voicings of whisper, glow and grit, an eclectic menagerie of "Orchestral Punk Jazz Prog Folk" and transient sounds to warm your soul. Thursday, 1/19 TLC Song Service (Every 3rd Thursday) featuring Travis Hayes, From Jasmine, Lola Guthrie sharing the creative process with songs about mortality, healing, hope, love and loss. Saturday 1/21 is a special day, welcoming the community to The Lost Church Santa Rosa Anniversary Free Open House & Open Mic! 1/26 and every 4th Thursday is Live Band Karaoke, where you become the lead singer of a band of friendly, fun-loving musicians, featuring Sarah Larkin of The Real Sarahs and Jon Tyson of Burning Down the House, plus guest artists. Lindsay Gang and Coyote Creates take the stage Friday, 1/27, sharing reflective, intimate, and raw songs, echoing indie-folk with a dreamy Americana feel. Miranda Mallard/Winona Wagner/Megan Diana: Songwriters in the Round perform Saturday, 1/28 for an evening of heartfelt and haunting vocals, ethereal, mythic songwriting with what Megan Diana has labeled, "dream country disco."
In addition to hosting an eclectic mix of music, literary events, theater, comedy and a variety of performing arts, The Lost Church is also available for private event rental.

---
The Lost Church Santa Rosa is located on Ross Street (between Mendocino & B) in Downtown Santa Rosa
Evening performances end at 10:30pm
(23-min from Petaluma, 40-min from San Rafael, 1 hr 6-min from San Francisco, 1 hr 9-min from Oakland)
ADA Accessible.
---

SANTA ROSA
SAT 1/21 The Lost Church Santa Rosa Anniversary Free Open House & Open Mic! – FREE PARTY – RSVP
SAT 2/11 Jill Rogers & Crying Time, and Kevin Russell and Candy Girard – WESTERN SWING/COUNTRY – TIX
SUN 2/19 The Return of 4 x 4 x Song, the Original Sonoma County Songwriters in the Round Concert Series featuring Nicole Sutton (Luv Planet), Doug Blumer, Megan Mclaughlin (The Musers), and Sebastian St. James (The Highway Poets) – SONGWRITERS – TIX
SAT 3/4 Hunter Ellis Band + Mae Powell – PSYCHEDELIC SURFGAZE – TIX
---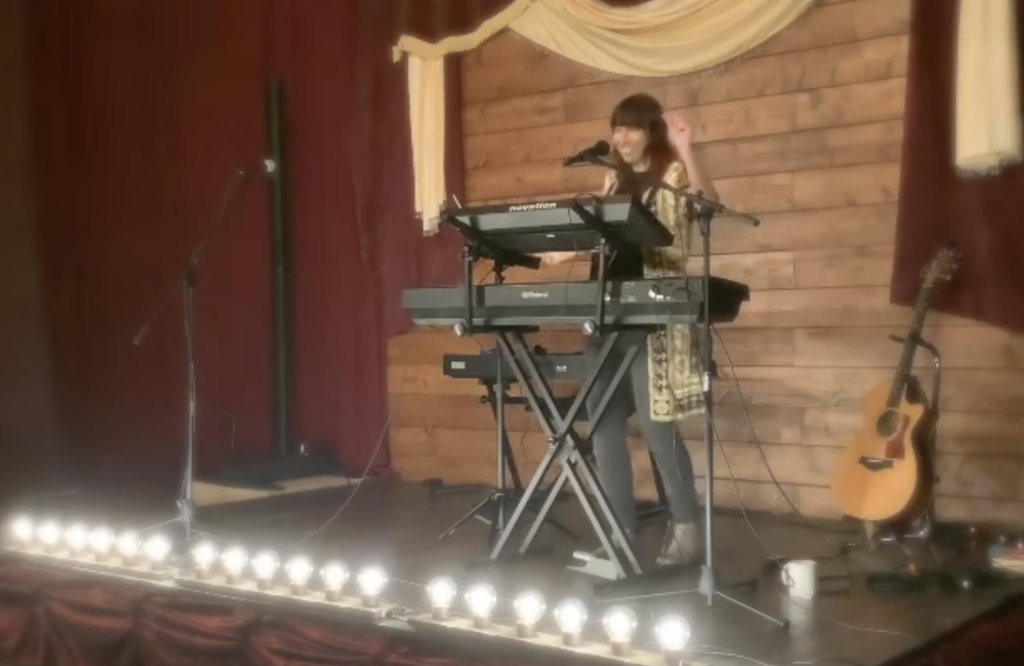 ---
FOR BOTH SAN FRANCISCO & SANTA ROSA THEATERS
Seating is First Come, First Served.
All Ages are welcome
(Except for babies, children, and adults who cannot focus for two hours and enjoy the performance)
Evening performances end at 10:30pm
We're offering full refunds for non-attendance or cancelations due to COVID exposure, so there is no risk in showing your support by getting advanced tickets.
ADA Accessible elevator is available.
---
Our Current Safety Protocols
Vaccines, boosters, and masks are strongly encouraged, but are not required as per local Public Health Policy.
---
Closing out the year with some gems from our Lost Church YouTube Page
Visit https://www.youtube.com/@TheLostChurch to see more of our favorites!
Huge thanks to the great Eye-clash Ragazine (Alex Shapiro) for filming most of these and so much more to be added in the coming weeks and months. (Can someone help us clone our dear Alex to film at our San Francisco location, too?)
Thank you to all of the Performing Artists who graced our stages in 2022 and to all of you to chose to join us and witness it all.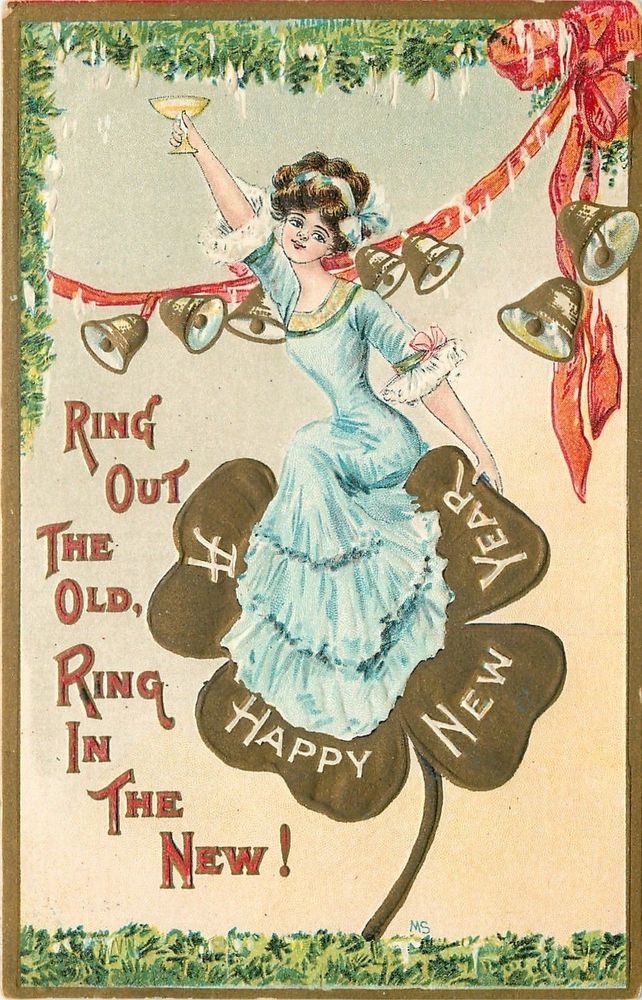 From Your Everlovin' Editor
Seasons Greetings!
I hope that you and your loved ones are having a peaceful and enjoyable holiday time.
We have only 3 1/2 days left in our End of Year Fundraiser.
The next 62 or so hours will shape our budget and determine the level of service we can provide in the coming year.
Can we raise enough to create our Educational Programs and offer new opportunities to Youth Performers?
To bring more Touring Artists to our stages with Local Luminaries opening for them?
To ramp up Railroad Square Music Festival and keep it free?
To build out more Monthly Residencies like Live Band Karaoke, Brad Barton, Reality Thief,  StandProv!, You're Going To Die, Knights of Revery, and TLC Song Service?
To further serve our peers and community by offering Free Consultations and Fiscal Sponsorships?
To continue our Mission to Create, Sustain, and Defend Spaces for Live Performance?
Support us and let us know how much you think we can accomplish in 2023 by donating before December 31st at midnight. 
We're energized, organized, and ready to go. Thank you for your help!
Love,
Michele & The Lost Church
Email us at hq@thelostchurch.org with your questions and comments, testimonials…and to talk about Rentals!
Amplifying Arts Journalism
Pitchfork "Confronting Music's Mental Health Crisis"
This is a well written and in depth article that articulates so much of what performing artists are experiencing and could not make public previously. It is a longer read, but well worth your time and attention.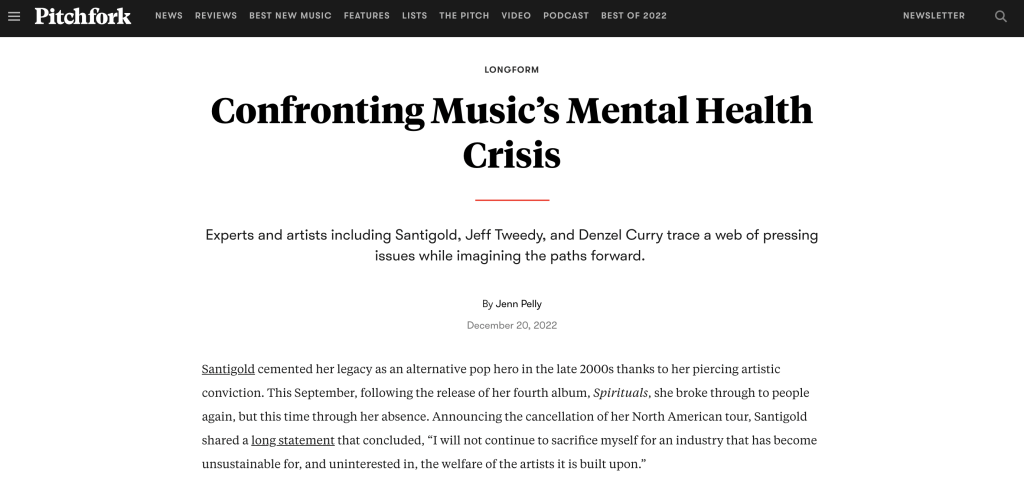 Santigold cemented her legacy as an alternative pop hero in the late 2000s thanks to her piercing artistic conviction. This September, following the release of her fourth album, Spirituals, she broke through to people again, but this time through her absence. Announcing the cancellation of her North American tour, Santigold shared a long statement that concluded, "I will not continue to sacrifice myself for an industry that has become unsustainable for, and uninterested in, the welfare of the artists it is built upon."
Speaking on a video call a week later, she elaborated on the overarching impact of what have become untenable demands in music—anxiety, insomnia, fatigue, vertigo, and more—and the overlapping broken systems at their root. "The math does not ever work," she said, referring not only to the grueling and increasingly unprofitable nature of touring, but to the broader reality for working musicians in an era where music has been devalued by exploitative streaming and ticketing models.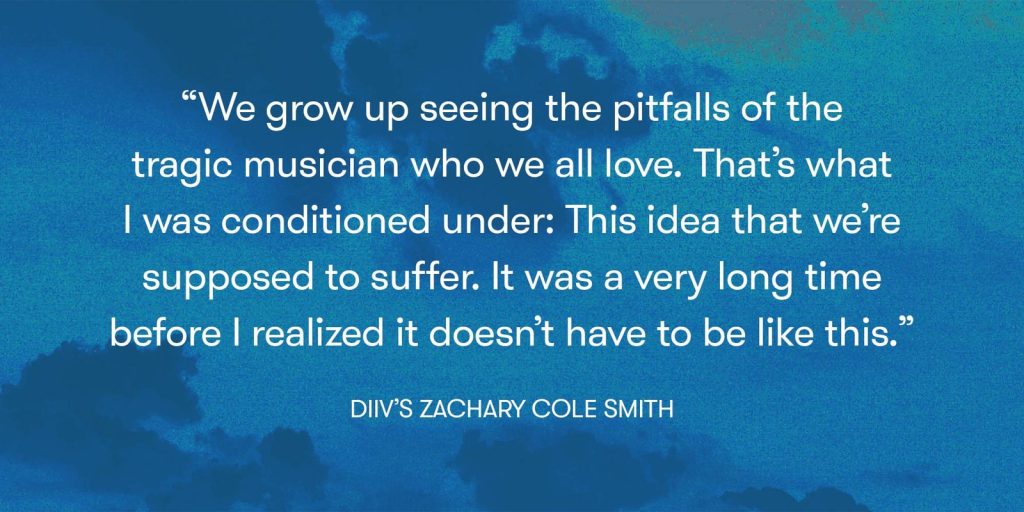 "The music industry pits us against each other," Smith (of DIIV) said. "So being able to build a coalition is really important." The union's website poses vital questions: "If we can be part of the movement for healthcare for all and also find ways of taking care of our members, we could make a real impact. How can we plug into broader organizing that's already happening around healthcare? What's the leverage we have as musicians?"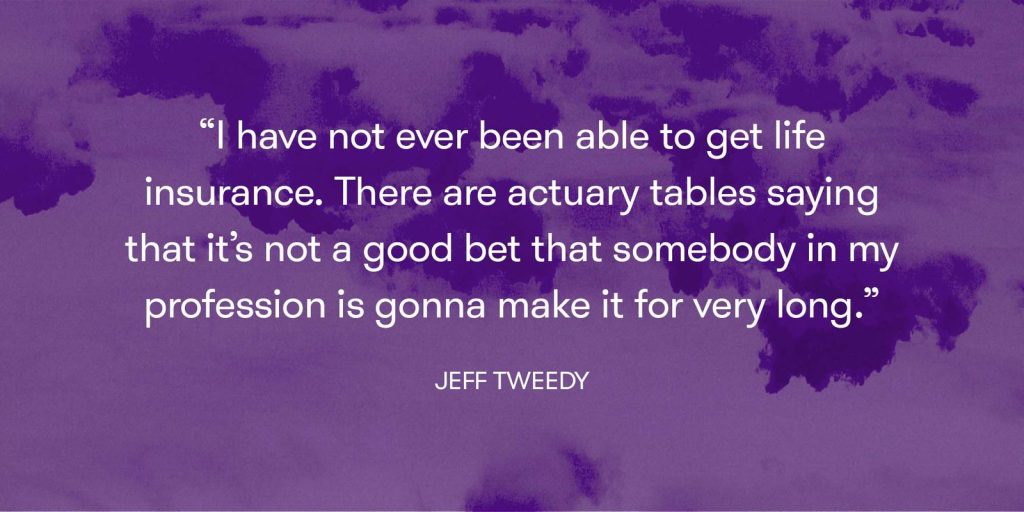 From Williams' experience, Europe exceeds Canada in progressive arts practices. State-assisted venues, like Kesselhaus in Wiesbaden, Germany, which offers a full apartment to touring musicians, a large kitchen and dining area, and prepared hot food upon arrival, "provide working conditions that should be the model for the world," Williams says. "At our level this was a wild gift and an extra breath of life on a long tour," he added, responding via email en route home from a nine-week tour in which he only had five days off.
Formerly, Chastity was signed to Royal Mountain, a Canadian indie label that offers all of its artists a $1,500 wellness stipend per album cycle as part of its Mental Health Initiative. Label co-founder Menno Versteeg said he started the fund with insights from his own 20 years as a touring musician, watching his friends struggle. He described the typical attitude he'd encounter in the 2000s: "'You're feeling bad on tour? You're too sad to go on stage? Well, drink up and shove it down and get the fuck out there.'"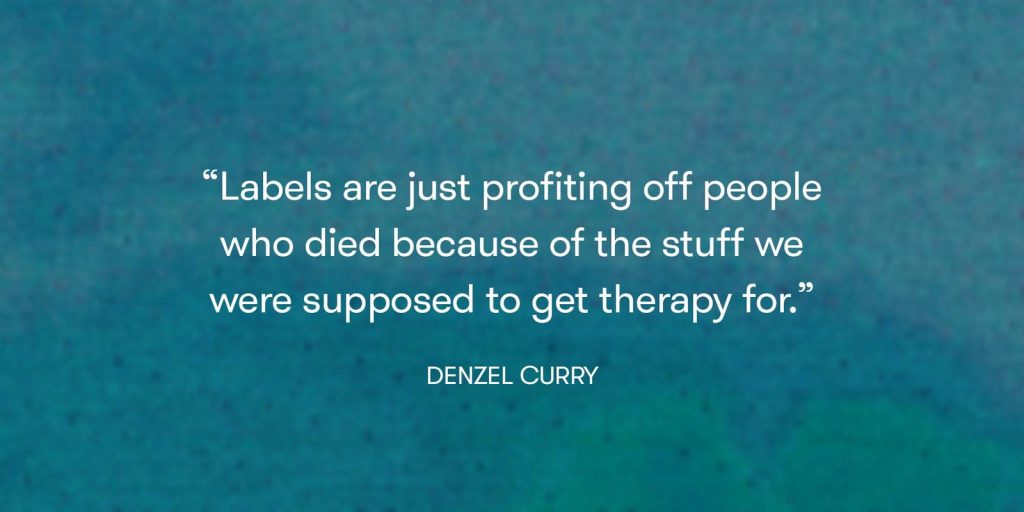 Right before the pandemic, Denzel Curry spoke out in support of label-funded mental healthcare. Curry himself had signed up for therapy a year prior, after a period of severe depression. "I thought I was dealing with my problems through music, but I wasn't really confronting them for real," he said. "When I went to therapy, I was able to confront them." Speaking from his home in Los Angeles in August, Curry remained a strong supporter of therapy, which he said helped him tremendously—so much so that his 2022 album, Melt My Eyez See Your Future, is grounded in his therapeutic process. "Therapy taught me how to really feel. It changed my music because I don't just run through one or two emotions, I run through all of them."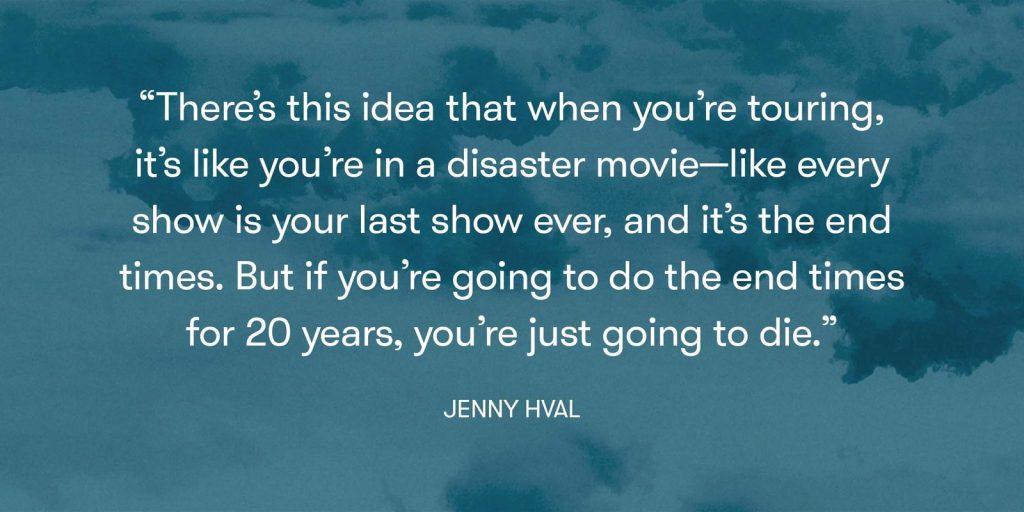 In the absence of systemic change, a number of new initiatives have emerged in the U.S. in recent years to address the mental health crisis in music. One is Backline, a non-profit launched in October 2019, which connects artists, touring crew members, and their families with mental healthcare providers. Through a form on the Backline website, musicians can qualify to be paired with a case manager who creates a custom care plan tailored to their needs and finances. Therapists and treatment centers in Backline's clinical network are vetted for their understanding of the music industry—they're attuned to the specific stressors of the road and know the right questions to ask. Or as co-founder Hilary Gleason put it: "One of the main things Backline has tried to remove is having to explain what it means to go on tour."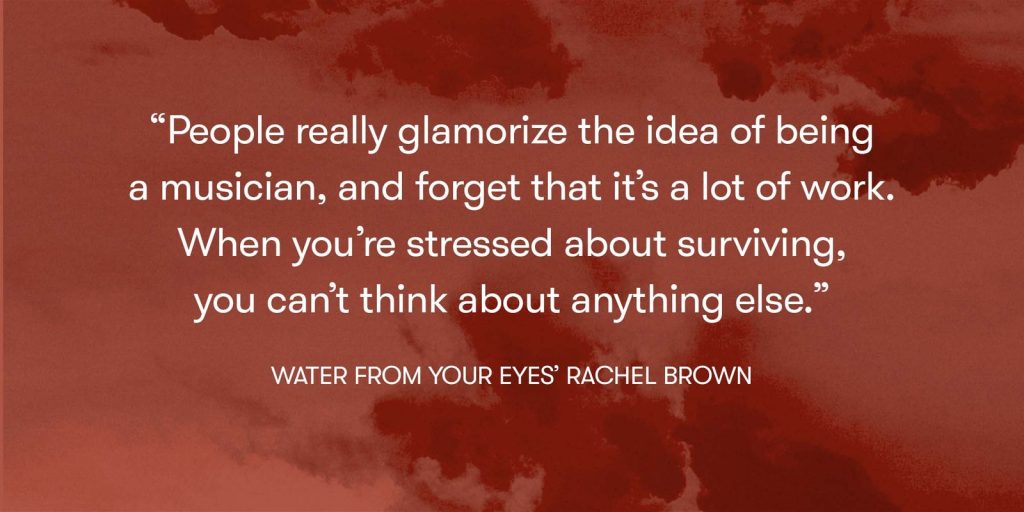 Syreeta Butler had been a therapist for the better part of a decade when, around 2015, she started to envision the possibility that a record label could have a specialized mental health and wellness department. "It was gnawing at me, but there was no real blueprint," Butler said. "I mean, there still isn't—this blueprint is continuously being created." Butler hopes to set a precedent in the music industry that will impact not only artists, but listeners too. "Supporting musicians has ripple effects," Butler said. "It's not just about getting over your anxiety, but asking: How can we support you in being the best version of yourself? How does that impact not only your well being, but the music and art you create? And from that, how are the people consuming your art changed in their own lives from what you have created?" If therapy could change an individual musician's interior landscape, she suggested, maybe it could enlighten the music and message they communicate, and even the world it reaches. "Once I was able to unlock those ideas," Butler added, "the work took on a different life."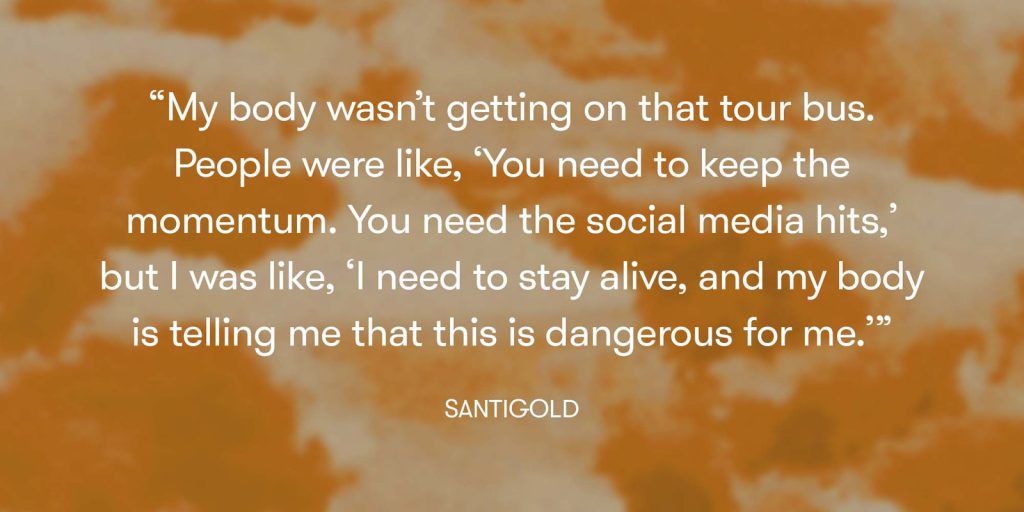 READ the full article by Jenn Pelly on Pitchfork HERE
January ONLY 10% Off Private Event Rentals
A private event in our beautiful and rather eccentric theater is a party or event that your guests will really remember.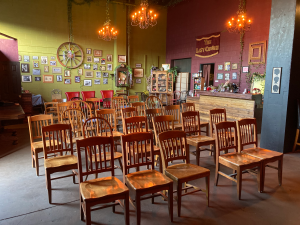 Daytime is delightful at The Lost Church Santa Rosa (as is the evening).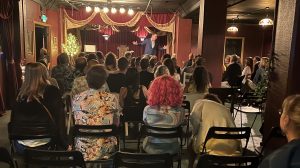 –photo by Bobbee Cline
Brad Barton, Reality Thief at The Lost Church San Francisco.
Rent our theater and hire Brad to perform at your holiday party at either theater in SF or Santa Rosa!
We've extended our 10% off special through to January 31st.
F.A.Q.
Answers to your burning inquiries.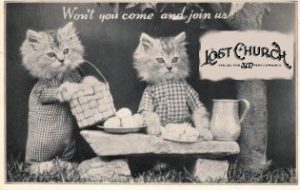 Find the answers to your questions by visiting https://thelostchurch.org/faq
---