We got our San Francisco Place of Entertainment Permit!
Thank you to everyone who wrote Letters of Support.
These awesome letters and the hard work of our Executive Director, Brett D. Cline, and our Architect, Bill Hansell, turned the tide on what might have been a brutal neighborhood push back from the local residents. We're making friends left and right and sharing the spirit of what we do with our new neighbors.
Having you and your letters gave us the boost we needed to break through and begin to see the light at the end of the tunnel.
We still have more permits to get and hoops to jump through. Plus there's the build-out and huge transformation — it's never been a performance space before! But, this is a big piece of positive momentum.
Thank you to the SF Entertainment Commission for your support, as well.
Can't wait to see you at The Lost Church San Francisco this summer!
---
The Next 3 Showcases on our Santa Rosa Stage
---
Thursday, April 7th | Doors at 7:30 Show 8:15-10:30pm
Josh Windmiller (The Crux) and Jet Black Pearl (from The Netherlands by way of Paris and now Portland)
Josh Windmiller
— our own TLC Development Director & Founder of Railroad Square Music Festival!
Often seen behind the mic with his theatrical folk punk band, The Crux, Josh Windmiller is performing a special solo set at The Lost Church. He likes to shift gears onstage, performing soul-baring ballads with a dash of humor, swinging love songs set at different points in history, and sometimes accompanies himself with an eight foot steel chain. www.thecruxmusic.cominstagram.com/thecruxlab
Jet Black Pearl
Hailing from the Netherlands via France, Jet Black Pearl is a groovy and innovative musician. She combines accordion, live looping, beat boxing, flute, and imaginative songwriting into a feast for the ears and eyes. She has performed in music venues, big tops, prisons, house boats and theaters all over the world. 'A formidable force of music, and truly has to be seen to be believed' (Three Weeks, Edinburgh Fringe Festival). 'The most eccentric and equally the most talented woman you will see in Edinburgh this month' (Broadway Baby, Edinburgh Fringe Festival)
Recommended If You Like:
Tom Waits, Leonard Cohen, Nina Hagen, Björk, Laurie Anderson
---
Monday, April 11th | Doors at 7:30 Show 8:15-10:30pm
RnG & Th3MysticMisfit Listening Party
—— a rare Monday "Industry Night" Event where RnG will be previewing and showcasing unfinished songs and unreleased songs as well as many of their finished products!
RnG is a music group based out of the Bay Area consisting of 2 brothers Bt3, Yung Zay, and their cousin Lil Rube who recently passed away 9/15/1997-9/11/2021 (RIP to Lil Rube) + their friends! "Revival of the New Generation" is what RnG stands for! Their motive is to make it on the music scene and bring in enough revenue to retire their parents and help the world… Whether it be with global issues such as climate change, helping the less fortunate, or just helping pave the way to a better life style for humanity! Their Music is upbeat! And varies from Hip-hop rap style songs to love songs!
https://music.apple.com/us/artist/rng/1528803147 https://open.spotify.com/artist/2RDKluofnAgRbBLto0fSCJ
https://instagram.com/rng.zay https://instagram.com/rng.bt3
https://youtube.com/channel/UC03lZUsdL8zMO98NyXz5G5w

TheMysticMisfit
https://instagram.com/th3mysticmisfit

Recommended If You Like: Chance the Rapper, Rae Sremmurd, NF, Drake, Us!
---
Thursday, April 14th | Doors at 7:30 Show 8:15-10:30pm
Loud As Folk: Graham Patzner (Whiskerman), Schlee, Greg Gilmore (Reno). Hosted by Spike McGuire
Loud As Folk (every 2nd Thursday at The Lost Church Santa Rosa) is a hub of the west coast songwriting scene focused on highlighting emerging artists with distinct approaches to all genres of American roots music. In the process of bringing these acts together for performances, a beautiful community naturally formed with artists and audience members alike. Now LAF is a global network of songwriters who collaborate, tour, and record in ever changing combinations. The organization is based in Reno, NV and operated by founder Spike McGuire and VP Greg Gilmore. Their dedication remains to preserving the craft of songwriting, whether it's through your stereo or from the stage.
https://loudasfolk.com
Graham Patzner is a multi instrumentalist, singer songwriter and leader of Bay Area Indie rock band Whiskerman. Born into a musical family, Patzner studied classically since 5 years old. He attended Rutgers University for the Mason Gross conservatory for theater and blends his musical training and theater training into an experience that is uniquely instinctual and expressive. Ever chameleonic, Patzner can cross multiple musical genres in both improvisation and composition.
https://grahampatzner.bandcamp.com/
Greg Gilmore is a bit like a caption of a time gone, but not forgotten. A self-taught, nationally touring troubadour bearing a self-lit torch informed by the rock'n'roll and songwriting days of yore. With influences from Dylan to Willie, Petty to Orbison, Gilmore attempts to apply his own kindling to a smoldering flame. While he would never utter it himself, some have called Gilmore the Earnest Hemingway of songwriting. Not because of his keen sense of prose, rather you can generally spot him with a pen in one hand and a drink in the other.
https://www.facebook.com/greggilmoremusic/
Schlee is a genre bending songstress and visual artist from Northern California, who is inspired by vulnerability, time travel, and the things that make us grow. As a double water sign & fire moon it's not hard to see that Schlee is a dreamer with ambition. She's a multifaceted woman. A multi instrumentalist & singer, self taught videographer, art director, screenplay writer and set designer- whom is also good with a curling iron and hot roller set. She's a sucker for a sad song and writes her best melodies when she can sing softly and tenderly, along side an open window accompanied by the birds. Born in Ohio, with roots in West Virginia, raised in Florida with a couple other stops a long the way proves her love of adventure; however, she always knew she would land on the West Coast. Growing up in Florida had its perks, she studied jazz and tap dancing as a young child, later played flute in the marching band, and spent every weekend at a show. Schlee has always always been expressive in her appearance and has always had desire to create. She loves writing songs and making visual art to accompany them both for her and other artists. As a chameleon, Schlee is constantly sharing new creativity with the world, her sound is a mixed bag of nuts, because nobody puts baby in the corner. She's committed to her craft and all the healing magic it summons and it is her wish that one day she writes the song you always grab for your mixed tape. https://schlee.tv/
Spike McGuire is an internationally touring artist that has performed in 16 states and 5 countries, as well as a GraphTech Guitar Labs endorsed artist. McGuire has spent the last decade drawing parallels between the ethos of punk rock and the spirit of folk music by building community and engaging listeners with his message. He doesn't claim to have the answers, but he has dedicated himself to traveling the world, asking the questions, and starting the conversations. On the rich spectrum of folk music, Spike resides decidedly closer to Pete Seeger than Peter, Paul, and Mary.
https://spikemcguire.com
Recommended If You Like:
Whiskerman, Tom Petty, Kris Kristofferson, Willie Nelson, Fleetwood Mac, Lauren Ruth Ward
---
Located on Ross Street (between Mendocino & B) in Downtown Santa Rosa
(23-min from Petaluma, 40-min from San Rafael, 1 hr 6-min from San Francisco, 1 hr 9-min from Oakland)
Matinee performances end at 5pm | Evening performances end at 10:30pm
We're offering full refunds for non-attendance or cancelations due to COVID concerns, so there is no risk in showing your support by getting advanced tickets.
---
Update to our Safety Protocols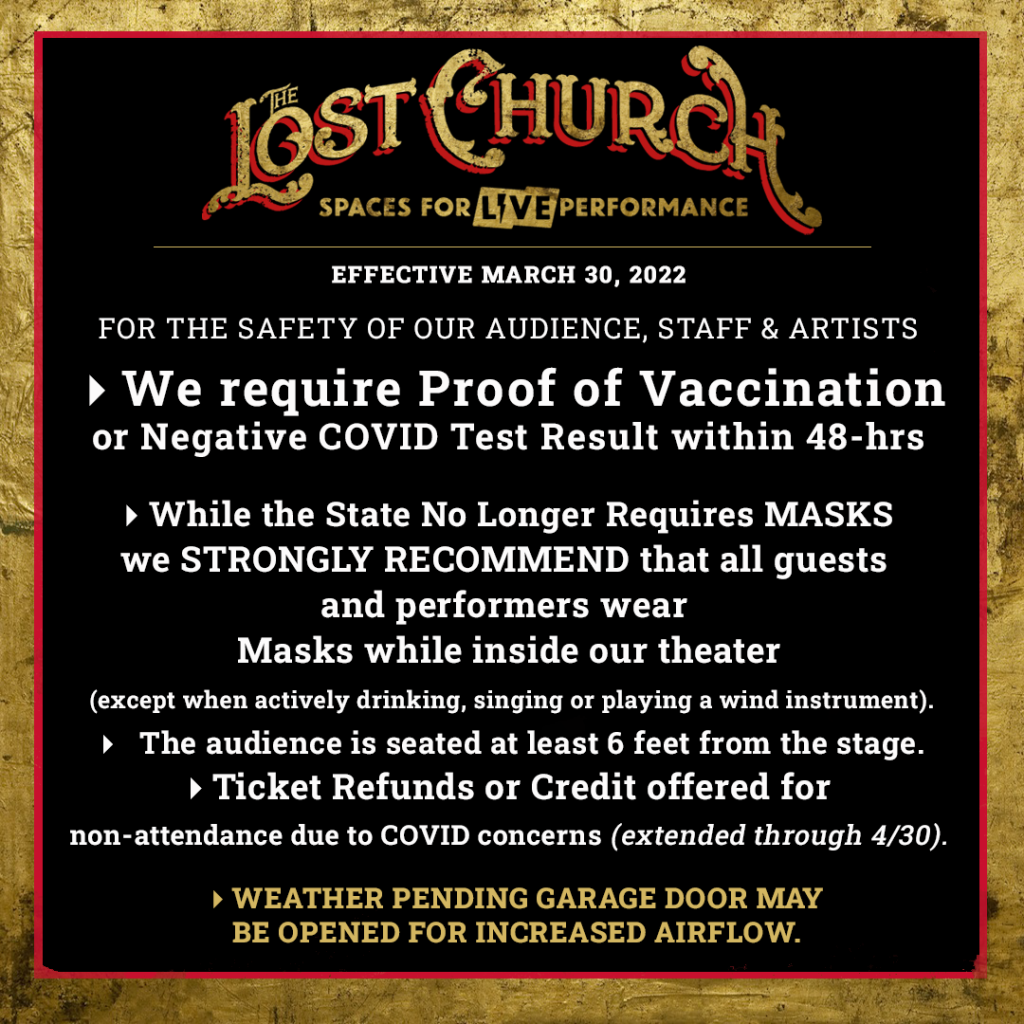 ---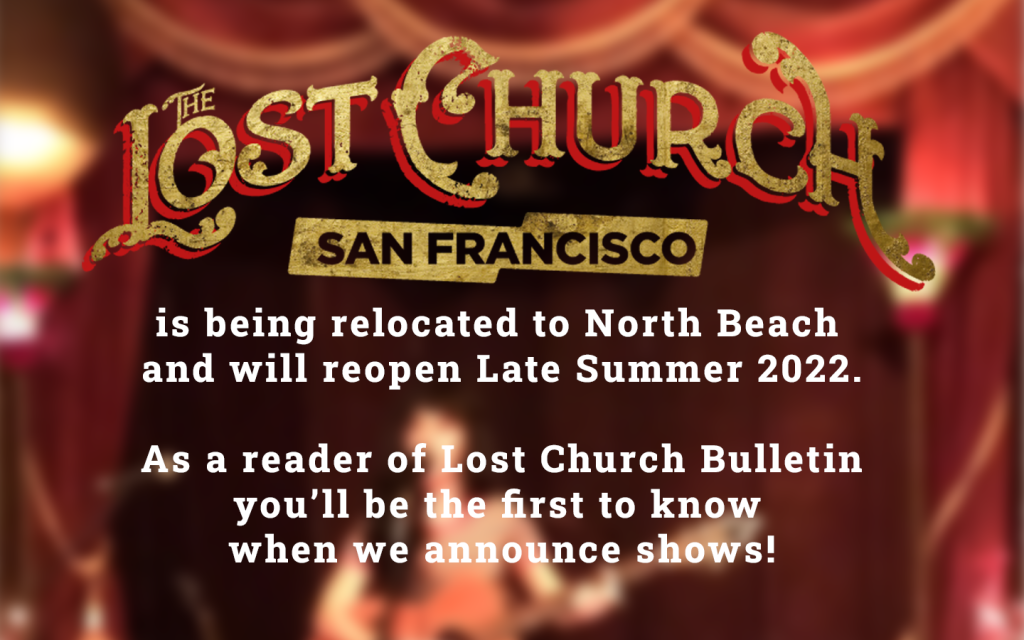 ---
at The Lost Church SANTA ROSA
April 15th: Bobby Jo Valentine: New Water, Old Fires with Katie Phillips
Recommended If You Like: Jack Johnson, Josh Ritter, The Killers, Gregory Alan Isakov, Gabriel Kahane
April 27th TLC Song Service with Vanessa May (Rainbow Girls), Twin Soles, M'Gilvry Allen
Recommended If You Like: Rainbow Girls, Townes Van Zandt, Trevor Hall, Gillian Welch
April 30th The Spindles 20th Anniversary Show with The Orchid Killers
Recommended If You Like: Elliott Smith, Hayden, Jose González
May 13th: Jim Kweskin (performing solo/founder of the Jim Kweskin Jug Band)
Recommended If You Like: Leon Redbone, Ramblin' Jack Elliott, Happy Traum, Even Dozen Jug Band
May 21st: Obsidian Son Band with Lockwood Barr (Nashville)
Recommended If You Like: Lyle Lovett, Chuck Prophet , Chris Isaak, Nickel Creek, Stevie Nicks, The Chicks
June 5th: The Black Feathers (UK) and John Roy Zat
Recommended if you like: The Civil Wars, Gillian Welch and Dave Rawlings, Antje Duvekot, Kate Wolf
---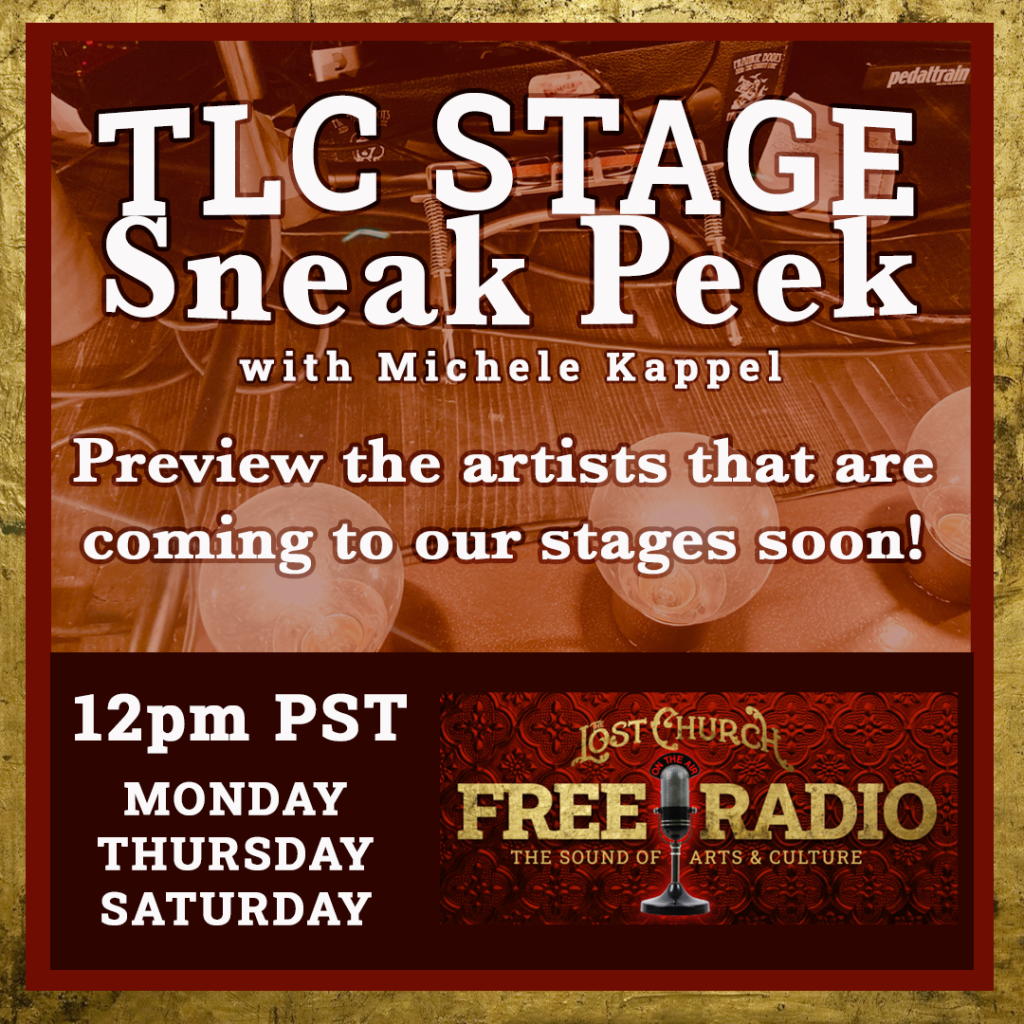 Get as excited as we are by listening to a preview of the sounds coming to our stages!
Tune in and then get tickets to try something new.
---
Click the above image to email us and be entered to…
WIN 2 TICKETS
to
APRIL 21st, 22nd or 23rd (you choose!)
Brad Barton, Reality Thief: Magic, Mentalism, and Mischief
Special 3-night Santa Rosa Spring Run
Brad has performed backstage at Madison Square Garden, inside Alcatraz Prison AND Grace Cathedral, as well as private homes for guests like Francis Ford Coppola and Spiderman's Andrew Garfield. He was invited to perform at rock band Phish's first Reunion Festival in 2009, was the special guest performer for Prince's final performance at the San Francisco Fillmore, and is the only magician ever known to steal music legend Tom Waits' watch!
---