In Case You Missed Anchors Away
Here is Alyra Rose performing and talking about her enchantment with and appreciation of our intimate theater.
There are numerous reasons to become an Anchor Donor and one is that it's a concrete way to support a nonprofit that welcomes performers with open arms and is a conduit for sharing their creativity.
https://www.alyrarosemusic.com/
---
We're only 14% to our goal of 50 new Anchor Donors
Our Anchors are the good souls who donate $5, $15, $20 or more each month or some choose to make a gift of $25, $100 or more each quarter.
It's a set it and forget it way of automating support for The Lost Church in a seriously meaningful (and tax deductible) way.
We wouldn't still be here without our Anchors. You make a significant difference.
Our 2022 Anchor Donor Drive Goal is 50 New Anchors by May 31st.
All who become Anchors by the end of the month will receive this year's Anchor Donor metal and cloissonné pin. We design a new pin each year for new Anchors and for Anchors who continue their support this year. Years from now you'll have a sweet collection of limited edition pins to jazz up any jacket or hat.
Become a Lost Church Anchor Donor at thelostchurch.org/donate
Thanks!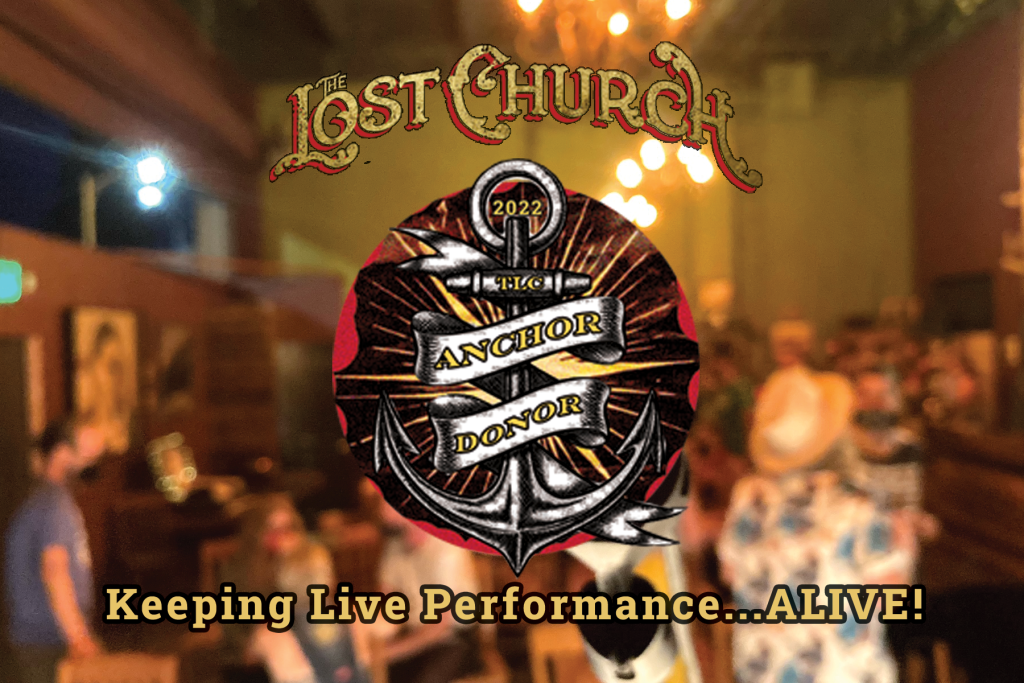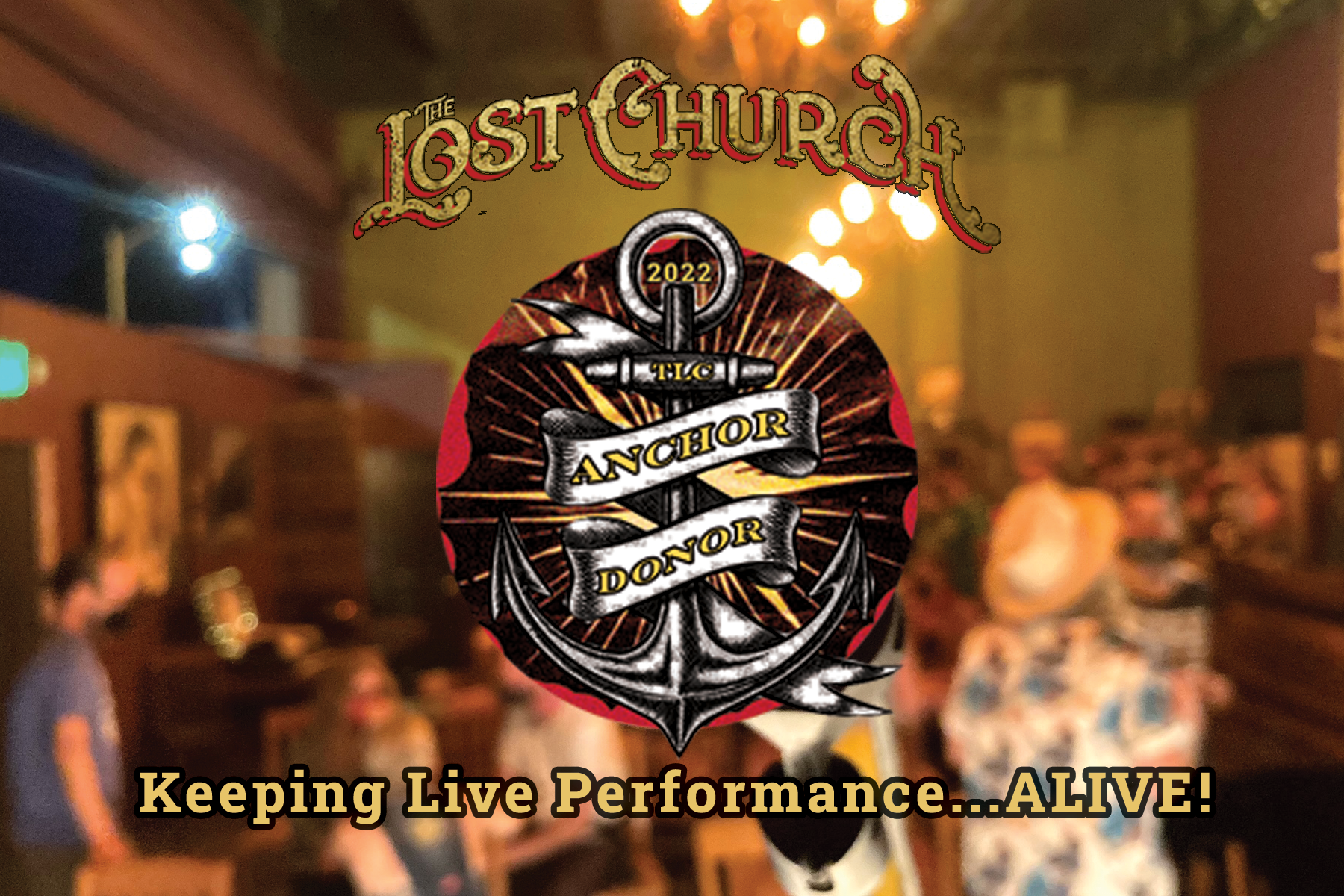 ---
This Weekend at TLC Santa Rosa
---
Friday, May 20th | Doors at 7:30 Show 8:15-10:30pm
Francesco Echo (debut of his new band!) and Adam Spry (SF)
Francesco Echo is a multi-instrumentalist singer/songwriter based in Northern California. His compositions break free from the typical solo artist paradigm, paying homage to the classic art of recording production. Echo's music is an emotive and impressionistic exploration of various musical genres.
https://www.francesco-echo.com/
Adam Spry is a Songwriter & Multi Instrumentalist whose sonorous tenor vocals cut through the static chatter and straight to the heart of the listener. While he attempts to navigate the modern world, his songs evoke themes from melancholy and nostalgia to unnerving optimism and hope. No emotions are off limits as he pulls back the curtain on his American tales that force you to ponder whether you are looking through a window or staring in the mirror.
---
Saturday, May 21st | Doors at 7:30 Show 8:15-10:30pm
Obsidian Son Band with Lockwood Barr (Nashville)
There was a time when Sean Patrick Garvey, who performs under the band name Obsidian Son, put his guitar down and started working on making a living. The son of a grape grower and winemaker, Sean grew up working on vineyards in a farming community in Northern California. Although the feverish rhythm of agriculture was in his blood, it was songwriting that consumed him. With a four-track tape machine in tow, he moved between New York City and San Francisco writing and performing alongside respected artists such as Emmylou Harris, Billy Bragg, Langhorne Slim, Chuck Prophet, and Kevin Gordon. Surviving as a songwriter is not for the faint of heart, but then again, neither is farming. There is something inherently uncomfortable about depending on weather and nature for your livelihood. However, for nearly thirty years Sean watched his father navigate the perils of farming and unearth it's wonder through sustainable methods and advocating for farm workers. Wendell Berry says it best, "The soil is the great connector of lives, the source and destination of all. It is the healer… without proper care for it we can have no life."
From the moment she steps into the spotlight and begins picking her dad's 1972 Gibson Mastertone banjo, it's undeniable that being on stage is where Lockwood Barr feels most at home. "She has the goods," writes Music Row Magazine about her captivating vocals; they regard the Tiburon, California native as "extremely promising." In addition to her incredibly tight-knit musical family, the singer songwriter credits her successes thus far, which include Country Music Association emerging artist recognition and winning an Independent Country Music Association Award as banjo player for bluegrass group The Nashvegas Ramblers, to fearless pursuit of her passions. "There is a fire in my belly that drives me to perform," she explains with conviction. "I want my listeners to feel what I'm feeling. Connecting with audiences is my favorite part about being an artist." Lockwood's work – elegant and polished, yet subtly enriched with an enthralling grit – channels her most notable influences (which range from Nickel Creek and Stevie Nicks to Beethoven and The Chicks).
Recommended If You Like:
Lyle Lovett, Chuck Prophet , Chris Isaak, Nickel Creek, Stevie Nicks, The Chicks
---
Sunday, May 22nd | Matinée | Doors at 2:00pm Show 2:45-5:00pm
Brad Barton, Reality Thief – Magic, Mentalism & Mischief in May
–— new extra family friendly day and time!
Performing for over 30 years, Brad Barton, Reality Thief combines magic, psychology, comedy, mind reading, and audience participation to create an unforgettable experience for everyone involved.
Brad has performed backstage at Madison Square Garden, inside Alcatraz Prison AND Grace Cathedral, as well as private homes for guests like Francis Ford Coppola and Spiderman's Andrew Garfield. He was invited to perform at rock band Phish's first Reunion Festival in 2009, was the special guest performer for Prince's final performance at the San Francisco Fillmore, and is the only magician ever known to steal music legend Tom Waits' watch!
---
Located on Ross Street (between Mendocino & B) in Downtown Santa Rosa
(23-min from Petaluma, 40-min from San Rafael, 1 hr 6-min from San Francisco, 1 hr 9-min from Oakland)
Matinee performances end at 5pm | Evening performances end at 10:30pm
We're offering full refunds for non-attendance or cancelations due to COVID concerns, so there is no risk in showing your support by getting advanced tickets.
Seating is First Come, First Served.
All Ages are welcome
(Except for babies, children, and adults who cannot sit quietly for two hours and enjoy the performance)
---
Our Current Safety Protocols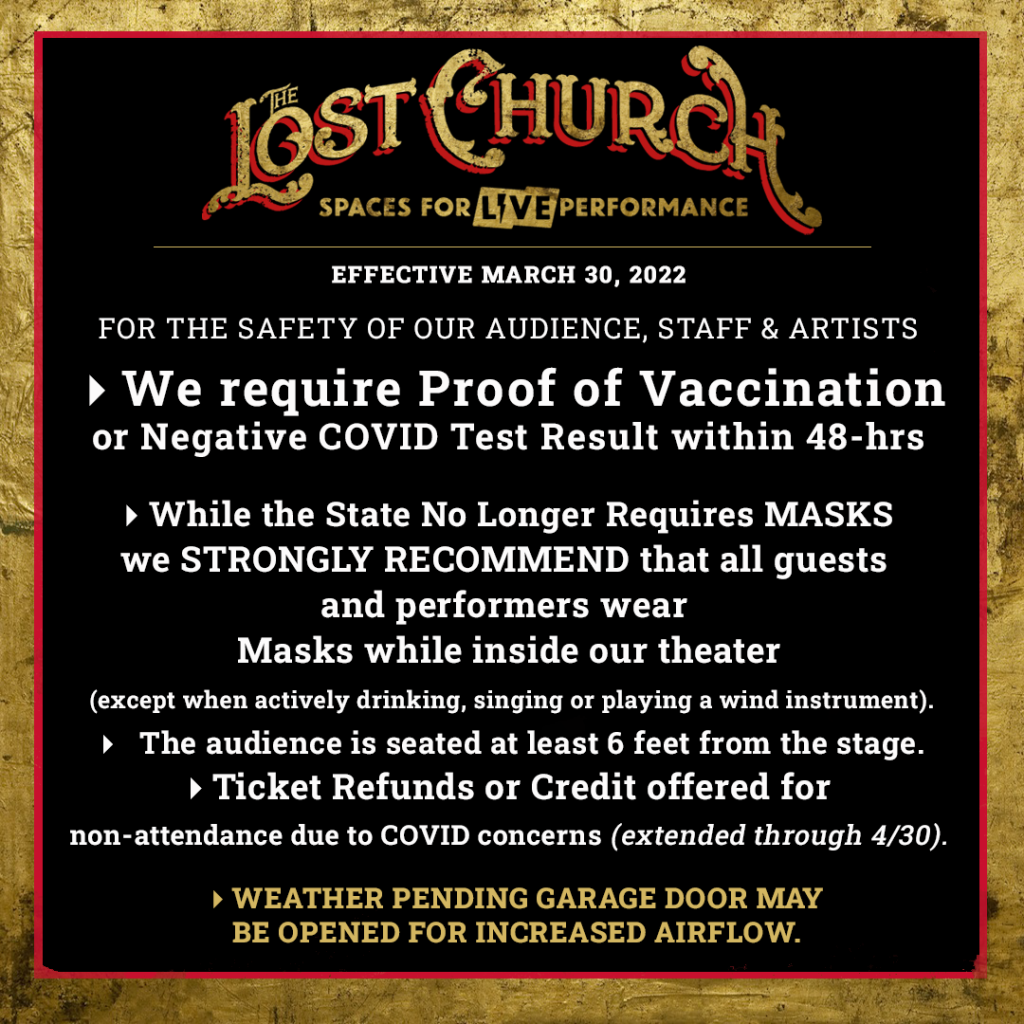 ---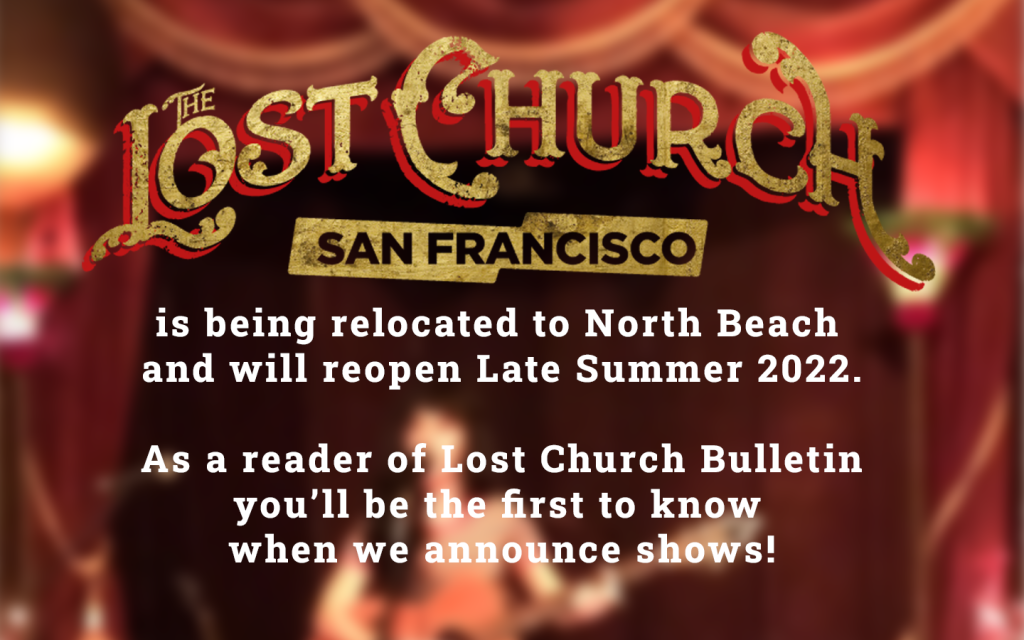 ---

at The Lost Church SANTA ROSA
Wednesday, June 1st: West Coast Songwriters Open Mic: Santa Rosa Chapter Premiere share your songs with the pros and our community.
Friday, June 10th: StandProv! hosted by Franco Tevini & Jeremy Lessnau – Stand Up Comedy meets Improv.
Sunday, June 19th: John Beland (guitarist from Flying Burrito Brothers, Kris Kristofferson, Linda Ronstadt, and many more) – stories and songs from a songwriter and musician who is an influential part of California Country and Rock history.
---
---