Our 2nd Annual Anchor Donor Drive is in full swing!
The month of May brings our annual Anchor Donor Drive where we tell you all about our treasured Anchor Donors — people who donate $5, $15, $20 or more each month or who make a gift of $50-100 or more on a quarterly basis.
These dedicated members of The Lost Church extended family are the backbone of our organization.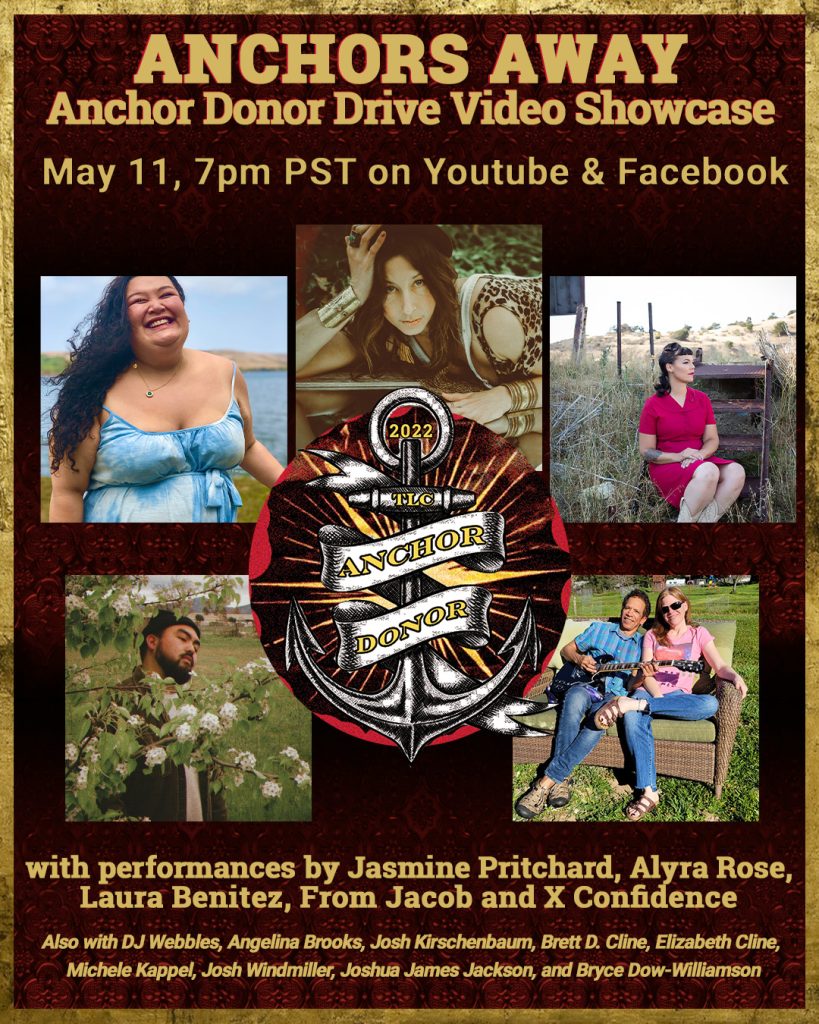 Every year we present an online video showcase featuring some very talented and supportive artists who've performed on our TLC Stages.
This year's Anchors Away Video Showcase is Wednesday, May 11th at 7pm PST
It features specially created one-of-a-kind performances from Jasmine Pritchard (SongRise Studios), Alyra Rose, Laura Benitez (Laura Benitez & the Heartache/Music Mamas on Lost Church Free Radio), From Jacob, and X Confidence.
Also appearing are DJ Webbles (of Hangover Sessions on Lost Church Free Radio), Angelina Brooks, Josh Kirschenbaum, Brett D. Cline, Elizabeth Cline, Michele Kappel, Josh Windmiller, Joshua James Jackson, and Bryce Dow-Williamson.
Click here to set a YouTube reminder to watch the big show!
---
We're aiming to add 50 new Anchor Donors during the month of May.
Could one of them be you?!
If you become an Anchor Donor by May 31st you'll receive our 2022 commemorative metal pin designed especially for you by me. This year's is a richly colorful gem, if I do say so myself.
Become a Lost Church Anchor Donor at thelostchurch.org/donate
Thanks!
xoxo, Michele
---
Good Stuff this Weekend + on our Santa Rosa Stage
Friday, May 6th | PLEASE NOTE UNIQUE DOORS and SHOW TIME and TICKET SALES
Doors at 7:00pm | Event begins at 7:30pm
***Advanced Tickets available ONLY at https://avfilmpresents.org/events/ftpaptrenc
AVFEst presents
ATTACK, DECAY, RELEASE A Film Directed by H.P. Mendoza

When Earth is ravaged by a deadly pandemic, humankind must band together to find a new home. Using CG animation, historical film from the Prelinger Archives, and footage shot by the writer-director, Attack, Decay, Release chronicles the human experience from the advent of agriculture to the Industrial Revolution to the fight for human rights around the world using 18 original songs written and performed by writer-director H.P. Mendoza.
H.P.'s deeply personal work and artistic sensibilities make this the perfect exploration of a new space and new audience for AVFest.

The show will open with a live musical set by H.P.A Q&A will immediately follow the film.
---
Saturday, May 7th | Doors at 7:30 Show 8:15-10:30pm
Le (four piece) Duo: Gabe and Mimi
Mimi and Gabe Pirard are a French-American sibling duo that charms audiences with their incredible talent and Parisian flare.
Mimi has a passion for reviving and exuding songs from times gone by as sung by Edith Piaf, Jacques Brel, and their contemporaries. With his guitar strings, Gabe wrings out emotion and brings intensity high just to let drop again, bringing back to life sounds of Paco de Lucia, Django Reinhardt and Stevie Ray Vaughn. Together, their vocal harmonies fall together tightly in place to resonate with audience members.
Mimi and Gabe formed the band, Dgiin, which earned The North Bay Music Awards, "Best World Music Band", for it's unique, high energy mix of gypsy, flamenco, with a touch of funk. Their repertoire included songs in French, Spanish, and English.
Today Mimi sings with the band, SonoMusette, where she explores and exudes her favorite musical styles and songs.
Gabe and Mimi will be joined by longtime Dgiin musical collaborator and musical family Magali Sanscartier on the violin. Originally from Quebec, Magali moved away from her classical training when she fell in love with East European music. From then on, her interest for "gypsy." jazz, and world music grew deeper and stronger. She currently plays for Bay Area bands such as Barrio Manouche and Dgiin, and as a guest for the Spanish duo Dos Bandoleros.
Last but not least, Le (four piece) Duo will be joined by longtime Sonoma County virtuoso Emily Froberg.
---
Monday, May 9th | Doors at 7:30 Show 8:15-10:30pm — It's like a Honkytonk Holiday 4-day Weekend (well, except for the working part, but the show's all over at 10:30pm).
Deadly Score presents Jenny Don't & The Spurs (Portland) + Dog Party (Sacramento)
Jenny Don't And The Spurs
The Spurs were founded one cold, winter's evening by Jenny and Kelly. Jenny had been fronting her own band, DON'T, for some time, as well as playing the occasional solo acoustic set here and there. Kelly, who had been in a slew of Portland punk bands since the 80's, and who had spent the previous several years balancing a grueling touring schedule playing drums with the garage rock trio PIERCED ARROWS and bass with Portland punk-rock destroyers P.R.O.B.L.E.M.S., and wanted to switch gears a bit.
After the concept of forming a raw, real, and back-to-the-roots country band had taken hold, it wasn't long before the couple was rehearsing a seminal set of standards by such influential early country crooners and outlaws like Patsy Cline, Loretta Lynn, Ernest Tubb, and Hank Sr., as well as a sprinkling of originals. It was only a few weeks later that Kelly's bandmates Fred and Toody Cole got wind of the developing musical project that was taking form in Jenny and Kelly's kitchen and decided to call their bluff by giving them an unsolicited support slot on an upcoming show featuring the Cole's own solo two-piece act. Not having anticipated such a high-profile live appearance as a first live outing, and feeling like the guitar-and-bass-only lineup that the band had started life as was lacking something on the rhythm end of things, they decided to ask their friend Sam Henry to join them on drums. Sam, who in addition to being Jenny's bandmate in DON'T and sometimes solo-set-collaborator, had already had a long, well respected career as one of Portland's best drummers, having played with such first-generation punk bands as the Wipers, The Rats and Napalm Beach.
After a couple of weeks of practice, the debut live appearance of the band went off without a hitch and the core lineup of Jenny Don't And The Spurs was born.
https://www.jennydontandthespurs.com
Dog Party
Catchy melodies, tight harmonies, fuzz pedals and big drums; what more could you possibly want in a rock and roll band? Formed in 2007 by sisters Gwennie and Lucy Giles, the duo draws influence from the classic sounds of the Ramones as well as contemporaries Ty Segall to synthesize their own unique style.
---
Located on Ross Street (between Mendocino & B) in Downtown Santa Rosa
(23-min from Petaluma, 40-min from San Rafael, 1 hr 6-min from San Francisco, 1 hr 9-min from Oakland)
Matinee performances end at 5pm | Evening performances end at 10:30pm
We're offering full refunds for non-attendance or cancelations due to COVID concerns, so there is no risk in showing your support by getting advanced tickets.
---
Our Current Safety Protocols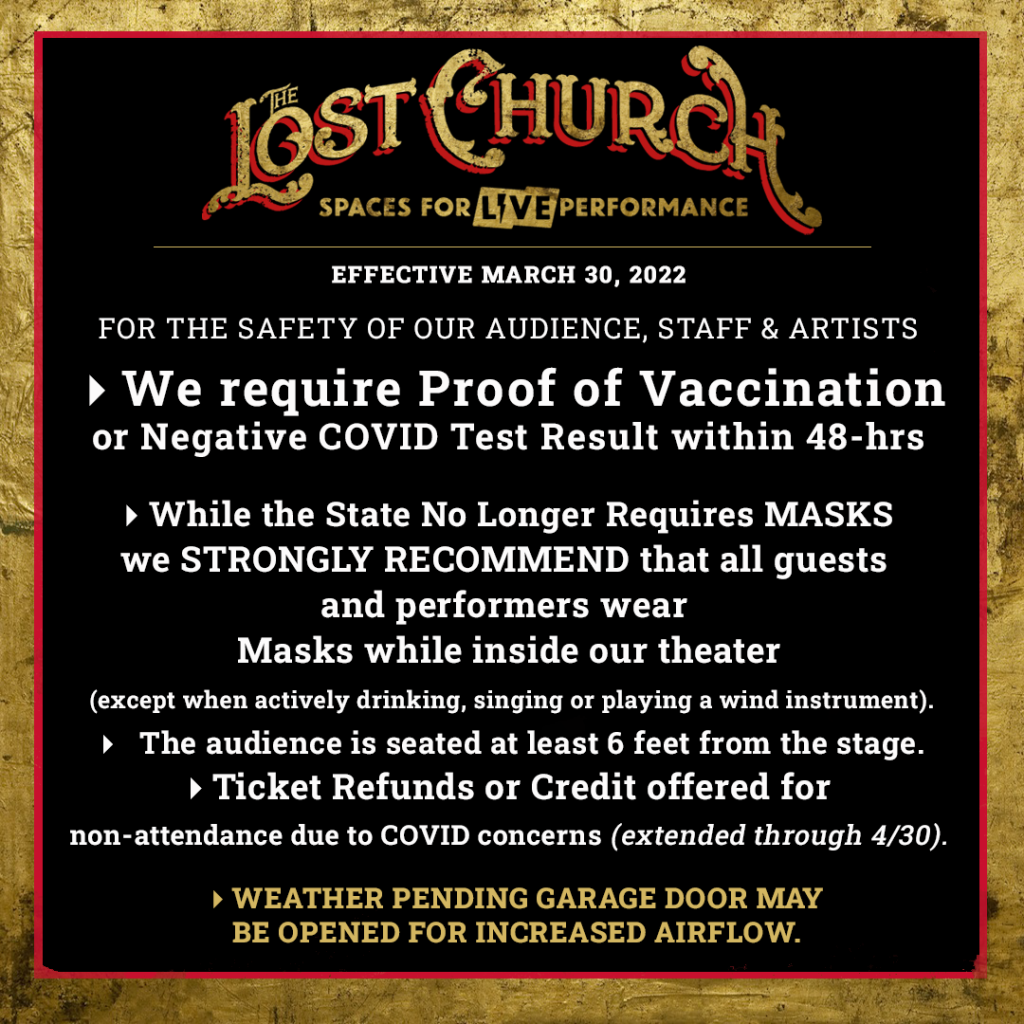 ---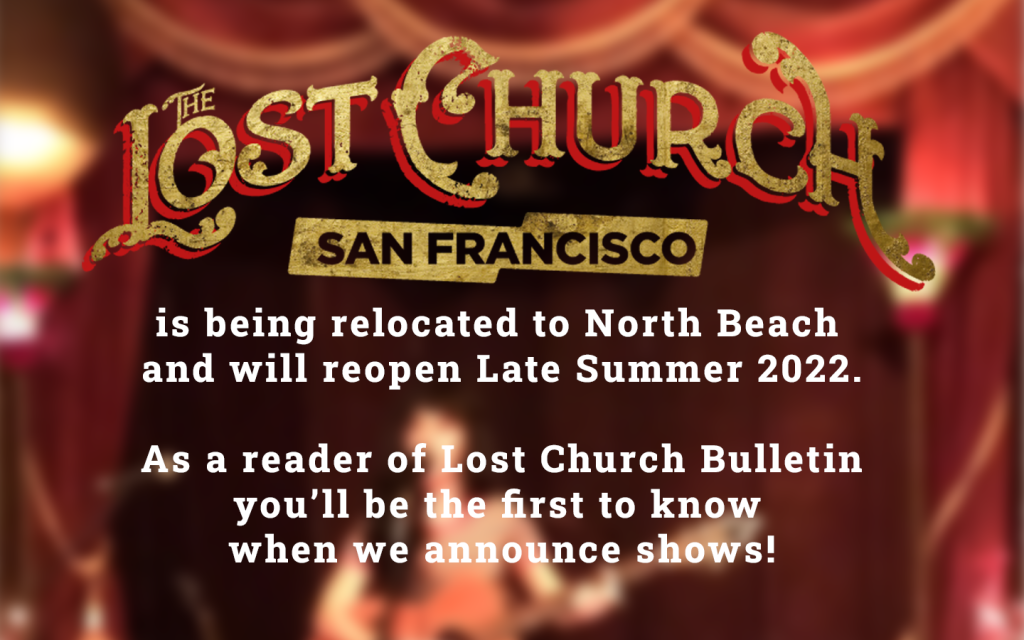 ---

at The Lost Church SANTA ROSA
Thursday, May 14th: Loud As Folk: TERRIER (Ben Morrison and Erika Tietjen of Brothers Comatose & T Sisters) + Jeremy Lyon (King Dream). Hosted by Spike McGuire.
Recommended if you like: Kris Kristofferson & Rita Coolidge, Johnny Cash & June Carter Cash, Graham Parsons & Emmylou Harris, Spirit, Blake Mills, My Morning Jacket
Thursday, May 26th: You're Going to Die, Poetry, Prose & Everything Goes (Open Mic on Mortality, Grief, and Living)
Recommended if you like: Catharsis, laughter, tears, community.
Friday, May 27th: Odessa (LA), Schlee, and Scout LaRue Willis (LA)
Recommended if you like: Gillian Welch, Kurt Vile, Emmylou Harris, Joni Mitchell, Karen Dalton, talented families.
---
Call for Volunteers for Railroad Square Music Festival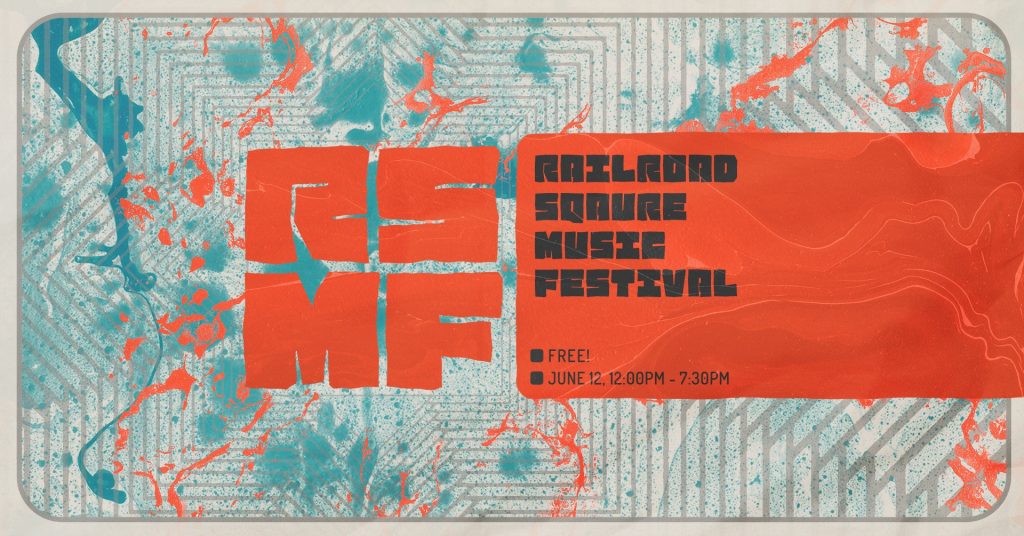 RSMF Wants YOU!
As a free music festival, we depend on community and volunteers to make the dream work.
Sign up at the link below and please share it with your talented caring friends.
Come be part of the team!
Live Performances from Kayatta, Kingsborough, X Confidence, Erica Ambrin, La Agencia, and more!
See the Full Line-up of Artists and Learn More at https://www.railroadsquaremusicfestival.com/
*Railroad Square Music Festival is FREE and is a project of The Lost Church .Org
---