This Weekend at The Lost Church Santa Rosa
Come and be revived and moved by stripped-down Rock, Synth-Pop, World, and Roots Music (yep, we revel in the fun of our eclectic circle of performers).
---
FRIDAY, October 22nd: X CONFIDENCE + HIPPI TITTI
X Confidence plays an infectious 80's flavored version of synth rock, led by Robin Schaffner, keyboards and vocal, and Bob Pittman, bass and vocal. Robin, veterinarian by day, rock and roll icon by night, has played with a number of 80's Bay Area cover bands, recently Jane Blonde, and currently Kid Galaga. In X Confidence, Robin, for the first time, is performing her original material. Bob Pittman has been a bassist for a number of Sonoma County bands, including, currently, Fly By Train and Flat Broke and Busted. He began playing music in rock bands in San Francisco in the late 70's and has written hundreds of songs in a variety of styles over his 40 plus year career.
Hippi Titti is an all-original, mostly-acoustic-for-the-time-being, presently-a-duo, that began as a living room project between vocalist/ ukulele player Jamie Tamboury and multi-instrumentalist Connor Alesi-Flack. The two met while in a Bay Area progressive rock band, and began writing rootsey acoustic music together as an antidote to days spent playing fast-and-loud, technically arduous prog rock.
Recommended If You Like: Blondie, Roxy Music, Everything But the Girl.
---
SATURDAY, October 23rd: JIMBO SCOTT + THE REAL SARAHS
Have you ever been walking down the street, and suddenly heard a voice that made you walk into a venue to see whose it was? That is Jimbo Scott's voice – a bell, magnetic and the definition of a powerhouse. A favorite in the Bay Area's esteemed house concert scene and folk venues, and a member of the famed California jamgrass band, Poor Man's Whiskey, Jimbo Scott's music evokes traditions of Tennessee country and bluegrass, Oakland soul and sepia toned California landscapes and life-scapes.
As rising stars in the west coast Americana scene, The Real Sarahs have distinguished themselves as skillful harmony singers and evocative songwriters. With an organic sound that enchants and uplifts the spirit, they share their special gift of vocal synergy. This ensemble creates magic with voices in harmony, acoustic instruments, and the energetic connection between artists and audience. Embracing many genres of music, you are likely to hear threads of folk, jazz, blues, bluegrass, and country running through their songs.
Recommended If You Like: Chris Stapleton, The Wood Brothers, Zach Brown, Red Molly, The Wailing Jennys, Milk Carton Kids, Gillian Welch, Crosby Stills & Nash.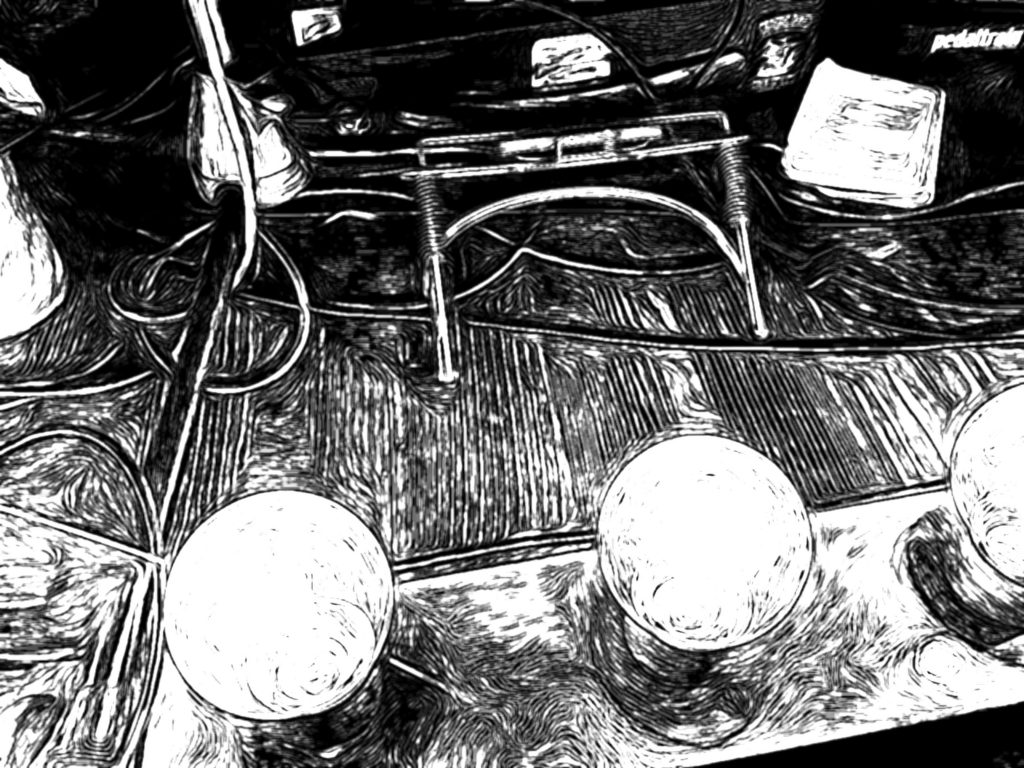 SUNDAY, OCTOBER 24th (Matinee/2pm Doors): AIREENE ESPIRITU + JOHN ROY ZAT
"A rare breed of artist, a soul singer, a folk troubadour, a blues artist, a busk show princess, a skiffle tear-stained street singer with a heart as big as the history of the music that drives her. And in the final analysis, she is a storyteller without borders or cultural limitations." Los Angeles Times, Jonny Whiteside "Folk singer-songwriter Aireene Espiritu works in the elemental substance of vernacular American music with an uncanny ease. Whether blues, hillbilly, soul, folk or R&B…demonstrates masterly command of each. Her original compositions mix deft lyrical construction and classic form just as impressively…An authentic, authoritative vocalist and with distinctly sensitive manner of phrasing…" -No Depression, Terry Roland
"I play American roots music — folk, country, bluegrass — along with a bit of jazz, blues and Cajun. I have been performing in the San Francisco Bay Area and beyond, since the 1970's. Kate Wolf recorded my words to the song Midnight On The Water for her second album – with me playing fiddle – and the song has since been covered by Banish Misfortune, Caroline Herring and others. Since 2011, I have released three CDs, "Solo", "Collaborations", and "Who Zat", all of which have gotten consistent airplay on independent radio and charted well on Roots Music Report and other radio playlists. I have worked blue collar jobs and white collar jobs, and worked with people in many different parts of the world. With some mileage on my chassis now and a lot of this planet traveled, I can tell you that music is one of Nature's laws. Everybody is moved by music. Everyone has a favorite song, or two, or twenty. One of my greatest joys is making music and sharing songs with people, and the more the better." — John Roy Zat
Recommended If You Like: Wanda Jackson, Norah Jones, Etta James, Odetta, John Prine, Mandolin Orange, John Hartford, Jesse Winchester, Greg Brown.
---
WEDNESDAY, October 27th: RED LIGHT LIT – exploring love relationships, sexuality, and gender.
Join us for an intimate evening of live poetry, storytelling, and song. Featuring writers: Michelle Gabrielle Dinno, Miah Jeffra, S. Miriam Merces, Dominique Owens, Jennifer Lewis and Vivian Stegura. With Musical guest: Sarah Bethe Nelson.
Recommended If You Like: The Moth or Modern Love Podcast.
---
From The Lost Church Video Archives
Live performance of the song "Countries" by Dillbilly at the Lost Church in San Francisco, CA October 2017.
Dillbilly is made up of Dei Dill (songwriter/guitars/vox), Rhonda Kinard (bass), Misisipi Mike (lead guitar, not in video frame), and Kofy Brown (drums). Song written by Dei Dill.
Check out more of Dillbilly — including their new record "Chapparal" at dillbillymusic.com
"You're welcome…you're welcome, you're welcome..don't mention it…it's my pleasure to give you these gifts."
---
From Your Everlovin' Editor
We've worked all year long on a whole heap of new projects and now as we shift into fall it's fitting that we get to share our harvest with you.
We have a brand new website!   Have you poked around? What are your favorite parts? What would you like to see more of?
Shows at our Santa Rosa theater are going strong after reopening last month!  Have you been able to attend a performance? What piques your interest on our calendar of autumn goodness? Any questions about our Safety Protocols?
We have launched Lost Church Free Radio aka KTLC!  It's a special mix of music, conversations, and online theater created in collaboration with many of the performers you've seen on our theater stages, plus some new faces we're honored to bring into the fold. We're grateful to have the Hardly Strictly Bluegrass Foundation fund the station. Have a listen on our Radio Page! Have you found your new favorite show, yet?
We have some happy, happy news about our San Francisco Theater relocation!  Can't share it, yet, but you, dear reader, will be the first to know in an upcoming edition of the Bulletin.
It feels amazing to have this new vibrancy and to have turned these new projects loose for us all to enjoy.
Thanks! We couldn't do this without you.
Love, Michele & The Lost Church
Today's Ticket Giveaway is for…
Saturday, October 23rd with The Real Sarah's and Jimbo Scott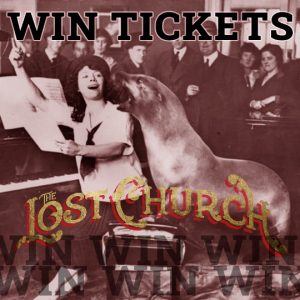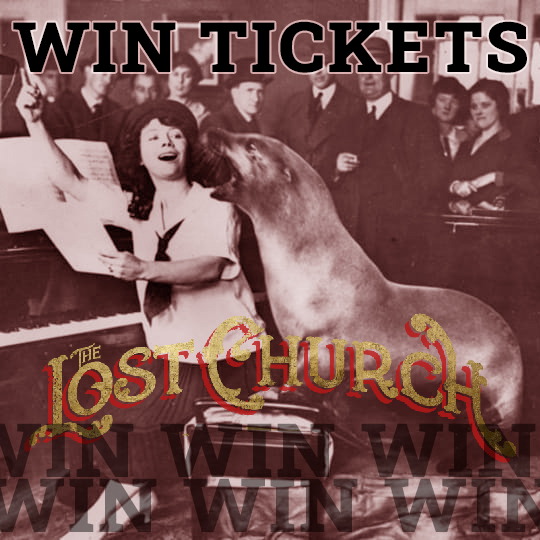 Email
to be entered to win to passes to the big show!