---
The Next 3 Showcases on our Santa Rosa Stage
---
Thursday, April 14th | Doors at 7:30 Show 8:15-10:30pm
Loud As Folk: Graham Patzner (Whiskerman), Schlee, Greg Gilmore (Reno). Hosted by Spike McGuire
Loud As Folk (every 2nd Thursday at The Lost Church Santa Rosa) is a hub of the west coast songwriting scene focused on highlighting emerging artists with distinct approaches to all genres of American roots music. In the process of bringing these acts together for performances, a beautiful community naturally formed with artists and audience members alike. Now LAF is a global network of songwriters who collaborate, tour, and record in ever changing combinations. The organization is based in Reno, NV and operated by founder Spike McGuire and VP Greg Gilmore. Their dedication remains to preserving the craft of songwriting, whether it's through your stereo or from the stage.
https://loudasfolk.com
Graham Patzner is a multi instrumentalist, singer songwriter and leader of Bay Area Indie rock band Whiskerman. Born into a musical family, Patzner studied classically since 5 years old. He attended Rutgers University for the Mason Gross conservatory for theater and blends his musical training and theater training into an experience that is uniquely instinctual and expressive. Ever chameleonic, Patzner can cross multiple musical genres in both improvisation and composition.
https://grahampatzner.bandcamp.com/
Greg Gilmore is a bit like a caption of a time gone, but not forgotten. A self-taught, nationally touring troubadour bearing a self-lit torch informed by the rock'n'roll and songwriting days of yore. With influences from Dylan to Willie, Petty to Orbison, Gilmore attempts to apply his own kindling to a smoldering flame. While he would never utter it himself, some have called Gilmore the Earnest Hemingway of songwriting. Not because of his keen sense of prose, rather you can generally spot him with a pen in one hand and a drink in the other.
https://www.facebook.com/greggilmoremusic/
Schlee is a genre bending songstress and visual artist from Northern California, who is inspired by vulnerability, time travel, and the things that make us grow. As a double water sign & fire moon it's not hard to see that Schlee is a dreamer with ambition. She's a multifaceted woman. A multi instrumentalist & singer, self taught videographer, art director, screenplay writer and set designer- whom is also good with a curling iron and hot roller set. She's a sucker for a sad song and writes her best melodies when she can sing softly and tenderly, along side an open window accompanied by the birds. Born in Ohio, with roots in West Virginia, raised in Florida with a couple other stops a long the way proves her love of adventure; however, she always knew she would land on the West Coast. Growing up in Florida had its perks, she studied jazz and tap dancing as a young child, later played flute in the marching band, and spent every weekend at a show. Schlee has always always been expressive in her appearance and has always had desire to create. She loves writing songs and making visual art to accompany them both for her and other artists. As a chameleon, Schlee is constantly sharing new creativity with the world, her sound is a mixed bag of nuts, because nobody puts baby in the corner. She's committed to her craft and all the healing magic it summons and it is her wish that one day she writes the song you always grab for your mixed tape. https://schlee.tv/
Spike McGuire is an internationally touring artist that has performed in 16 states and 5 countries, as well as a GraphTech Guitar Labs endorsed artist. McGuire has spent the last decade drawing parallels between the ethos of punk rock and the spirit of folk music by building community and engaging listeners with his message. He doesn't claim to have the answers, but he has dedicated himself to traveling the world, asking the questions, and starting the conversations. On the rich spectrum of folk music, Spike resides decidedly closer to Pete Seeger than Peter, Paul, and Mary.
https://spikemcguire.com
Recommended If You Like:
Whiskerman, Tom Petty, Kris Kristofferson, Willie Nelson, Fleetwood Mac, Lauren Ruth Ward
---
April 16th | Doors at 7:30 Show 8:15-10:30pm
Covenhoven (on tour from Colorado) with Daniel Steinbock
Covenhoven is nationally recognized indie artist Joel Van Horne, a multi-instrumental singer-songwriter whose rich harmonies, reedy baritone and commanding falsetto have found a home with critics and fans since 2013. Through 4 full length albums and 2 EPs Covenhoven has forged a signature style; layered acoustic arrangements that roll with momentum into orchestral peaks, accompanied by lyrics that contrast hard-won wisdom with the inherent hope of the natural world—from Big Sur to his native Colorado.
Covenhoven's latest album, IV (released in October 2021), is his most collaborative and rock forward to date—taking a producing partner in Ben Wysocki of the Fray, who also performs on the album. IV features over a dozen musicians including Grammy nominated singer-songwriter Gregory Alan Isakov, Luke Mossman of Nathaniel Rateliff & the Night Sweats, and Bluebook's Julie Davis. Bandwagon magazine writes that in IV, Covenhoven reaches "into chamber pop territory, and revealing a wider vocal range…sheltered by a gorgeous, rich string and piano accompaniment, whisks us above the campfire folk…" Covenhoven's live performances capture the spirit of his recordings—whether its conjuring cascading loops in his solo shows or backed by a full band—Covenhoven's sound fills the breadth of outdoor spaces, auditoriums and club stages.
Regularly touring the United States, Covenhoven has shared the stage with Grammy winners and nominees S.Carey (Bon Iver), Jose Gonzalez, Gregory Alan Isakov, and John Paul White (Civil Wars). Covenhoven has also performed with genre bending artists Lord Huron, Joshua James, Blind Pilot, Esme Patterson, John Craigie, Daniel Rodriguez (Elephant Revival), Shook Twins, Reed Foehl, Rainbow Girls, Joan Shelley and host of others. Covenhoven songs have been streamed 3 million times and reached over 14 million people through television shows including: 13 Reasons Why, Nashville, Teen Wolf, Home Before Dark, Flaked, Kevin Probably Saves the World, and Private Eyes—Canada's most watched show for 5 years. www.covenhoven.com
Daniel Steinbock was born and raised on the California coast north of the Golden Gate, the only child of a sailor and a librarian. A singer-songwriter in the sublime lyrical tradition of Sam Beam (Iron & Wine) and Neil Young, pre-apocalyptic love songs and spare folk poems fill his song book with a rare spiritual nakedness.
Steinbock's 2019 debut album, 'Out of Blue,' was described as "uncontrollably honest and surreal" by No Depression, Journal of Roots Music, and features fellow troubadours John Craigie, Rainbow Girls, and Ayla Nereo. https://www.danielsteinbock.com
Recommended If You Like: Gregory Alan Isakov, Bon Iver, Jose Gonzalez, Hiss Golden Messenger, Adrianne Lenker, Blake Mills, Neil Young
---
April 22nd AND April 23rd 2-Night Spring Special | Doors at 7:30 Show 8:15-10:30pm
BRAD BARTON, Reality Thief
MAGIC * MENTALISM * MISCHIEF
Performing for over 30 years, Brad Barton, Reality Thief combines magic, psychology, comedy, mind reading, and audience participation to create an unforgettable experience for everyone involved.
Brad has performed backstage at Madison Square Garden, inside Alcatraz Prison AND Grace Cathedral, as well as private homes for guests like Francis Ford Coppola and Spiderman's Andrew Garfield. He was invited to perform at rock band Phish's first Reunion Festival in 2009, was the special guest performer for Prince's final performance at the San Francisco Fillmore, and is the only magician ever known to steal music legend Tom Waits' watch!
You are truly in for a treat. Get ready for Brad Barton, Reality Thief! http://www.realitythief.com/

"The expected was shattered on the floor, leaving eloquent shards of the unexpected. I laughed, I gasped, and then I told friends."
Mike Gordon

"Wow. You're good. You should have your own TV show."
Shaquille O'Neal

"That boy's a GENIUS!!!"
Phil Donahue

"It's refreshing to see someone who's so good at what they obviously love to do."
Jack Welsh

"Brad Barton is one of the finest magicians I've ever had the pleasure to see. His choice of effects, presentation, and mind-boggling misdirection, are second to none."
Jim Swain
TUNE IN to hear, yes, HEAR live magic when Brad Barton, Reality Thief visits KRCB Radio's Music Mornings with Brian Griffith
Thursday, April 14th between 9am-12noon. https://norcalpublicmedia.org/live.html

---
Located on Ross Street (between Mendocino & B) in Downtown Santa Rosa
(23-min from Petaluma, 40-min from San Rafael, 1 hr 6-min from San Francisco, 1 hr 9-min from Oakland)
Matinee performances end at 5pm | Evening performances end at 10:30pm
We're offering full refunds for non-attendance or cancelations due to COVID concerns, so there is no risk in showing your support by getting advanced tickets.
---
Update to our Safety Protocols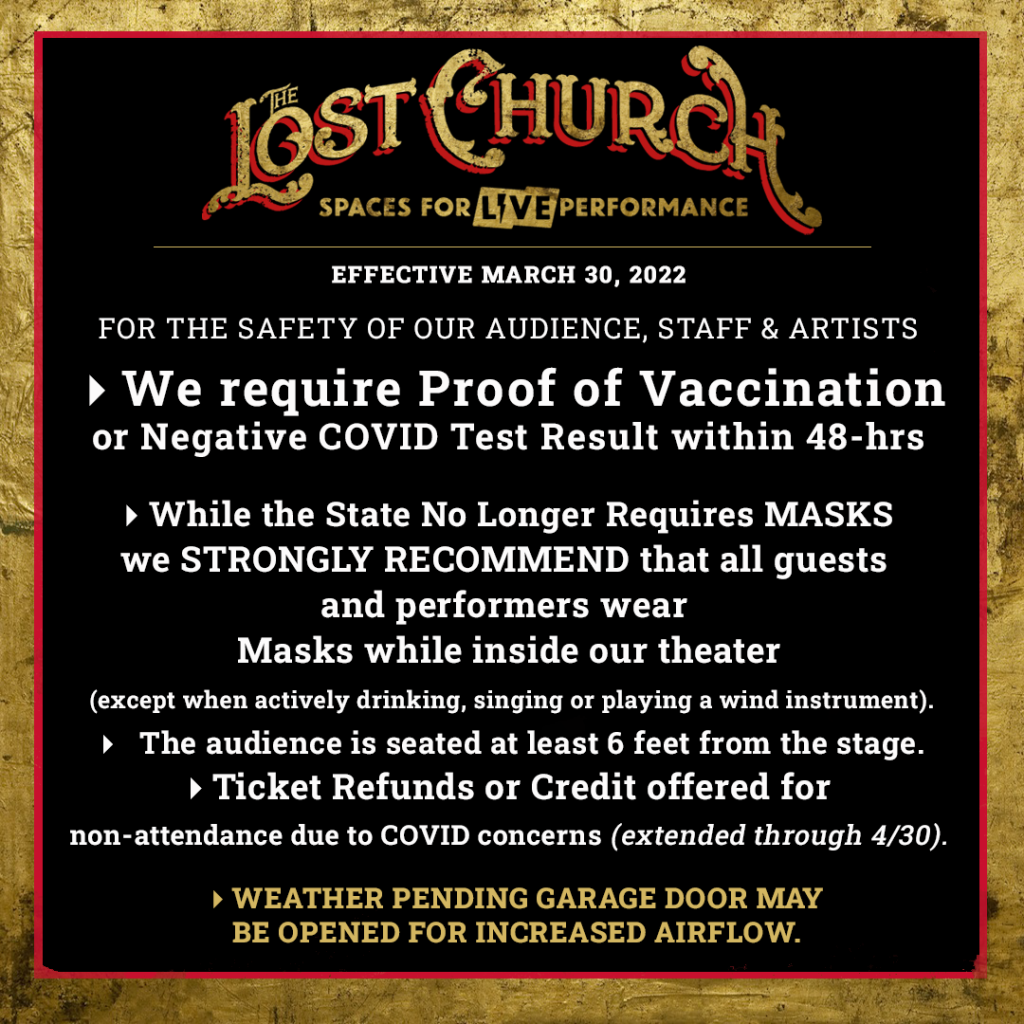 ---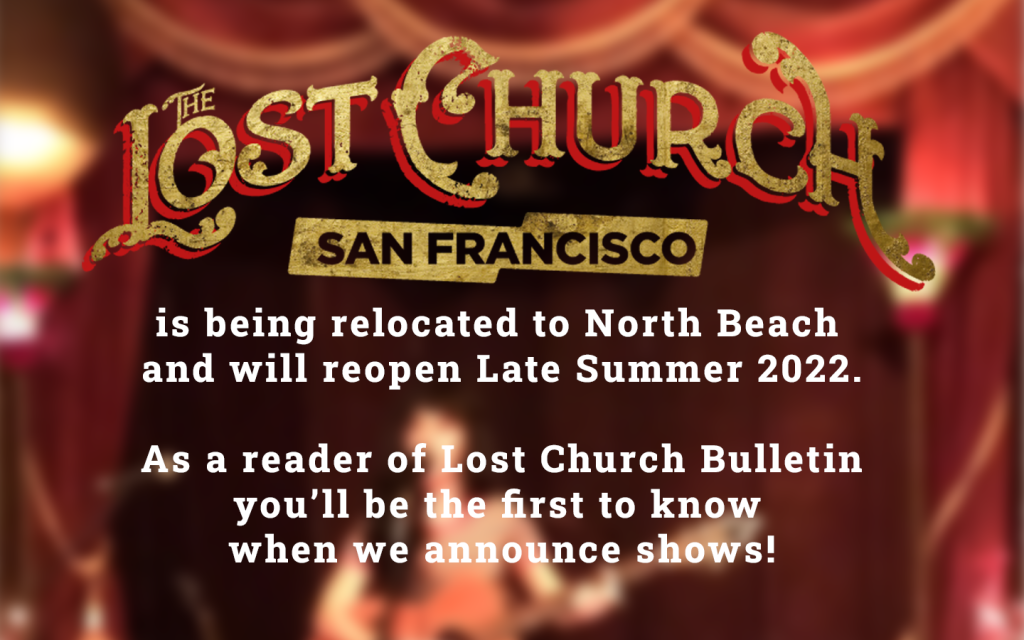 ---

at The Lost Church SANTA ROSA
*Friday, May 6th: AVFest screening of "Attack, Decay, Release" Directed by H.P. Mendoza. Live music and Q&A with the Director.
Recommended if you like: CG Animation, Historical Footage, New Voices in Cinema, Popcorn
*Monday, May 9th: Deadly Score presents Jenny Don't & The Spurs (Portland) + Dog Party (Sacramento)
Recommended If You Like: Lucero, Charley Crockett, Patsy Cline, Wanda Jackson, Jesse Dayton, Orville Peck
---
We Are All MC5 tour with Wayne Kramer and Bay Area Artists Vicki Randle and Brad Brooks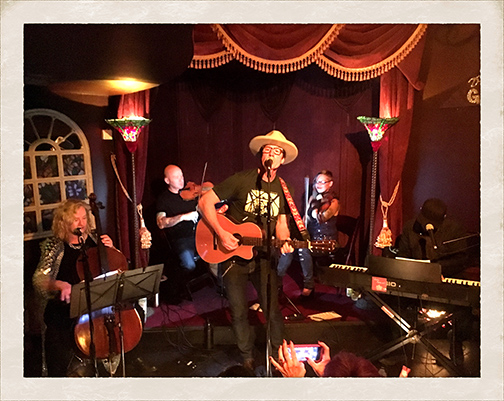 On the heels of legendary punk progenitors the MC5's nomination to the Rock and Roll Hall of Fame, the group's guitarist and co-founder Wayne Kramer has released two new songs and announced The Heavy Lifting Tour in May, all as a "reanimation" of the pioneering group, dubbed We Are All MC5.
The tour begins with a special hometown show, celebrating the birthday of Detroit's El Club, before moving on to the East Coast (Pittsburgh, Philadelphia, Brooklyn) and West Coast (Sacramento, San Francisco, Los Angeles, San Diego). Joining Kramer in the touring band will be singer Brad Brooks, drummer Stephen Perkins (Jane's Addiction), bassist Vicki Randle (Mavis Staples), and guitarist Stevie Salas (David Bowie). — Variety Magazine
The wildly talented and truly kind Vicki Randle and Brad Brooks have graced our SF stage and we couldn't be more excited for their latest adventure/accomplishment. Catch this awesome tour while you can!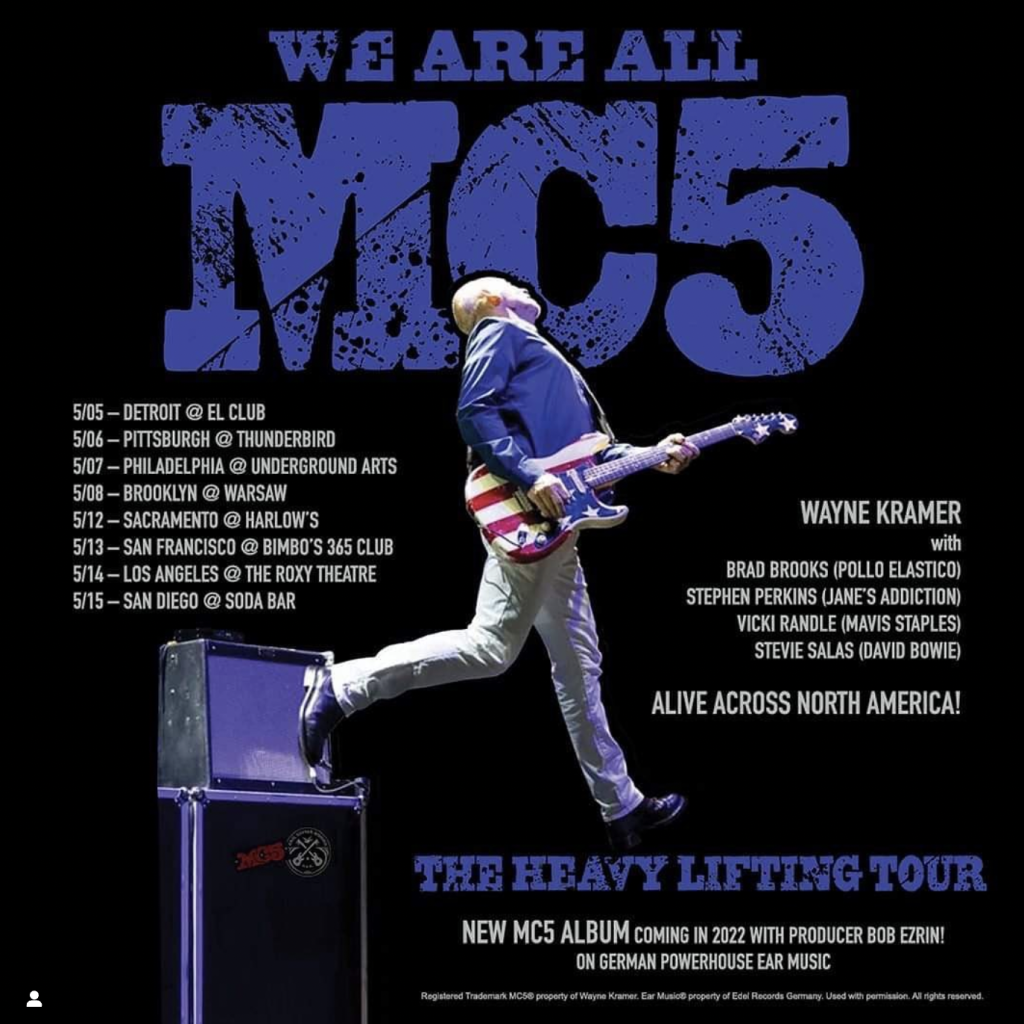 ---