---
Coming next to our Santa Rosa Stage
April 22nd AND April 23rd 2-Night Spring Special | Doors at 7:30 Show 8:15-10:30pm
BRAD BARTON, Reality Thief
MAGIC * MENTALISM * MISCHIEF
Performing for over 30 years, Brad Barton, Reality Thief combines magic, psychology, comedy, mind reading, and audience participation to create an unforgettable experience for everyone involved.
Brad has performed backstage at Madison Square Garden, inside Alcatraz Prison AND Grace Cathedral, as well as private homes for guests like Francis Ford Coppola and Spiderman's Andrew Garfield. He was invited to perform at rock band Phish's first Reunion Festival in 2009, was the special guest performer for Prince's final performance at the San Francisco Fillmore, and is the only magician ever known to steal music legend Tom Waits' watch!
You are truly in for a treat. Get ready for Brad Barton, Reality Thief! http://www.realitythief.com/

"The expected was shattered on the floor, leaving eloquent shards of the unexpected. I laughed, I gasped, and then I told friends."
Mike Gordon

"Wow. You're good. You should have your own TV show."
Shaquille O'Neal

"That boy's a GENIUS!!!"
Phil Donahue

"It's refreshing to see someone who's so good at what they obviously love to do."
Jack Welsh

"Brad Barton is one of the finest magicians I've ever had the pleasure to see. His choice of effects, presentation, and mind-boggling misdirection, are second to none."
Jim Swain
TUNE IN on Thursday, April 21st to hear, yes, HEAR live magic when Brad Barton, Reality Thief returns to KRCB Radio's Music Mornings with Brian Griffith for a live in-studio visit.
9am-12noon. https://norcalpublicmedia.org/live.html
---
April 26th | Doors at 7:30 Show 8:15-10:30pm
Anna Tivel and Matt Dorrien (Portland comes to Santa Rosa)
Anna Tivel
Anna Tivel is a Portland, OR-based songwriter who grounds her work in quiet stories of everyday struggle. She's a keen and detailed observer, and the characters in her songs come alive in small moments of beauty and despair. With three full-length albums out on Portland's well-loved Fluff & Gravy Records and a fourth due out this spring, Tivel spends her time writing and touring the US and overseas. Her most recent album, 'Small Believer,' was produced by guitar mastermind Austin Nevins (Josh Ritter, Anais Mitchell) and released in September of 2017. NPR praised the album, saying it "repeatedly achieves this exquisite balance of the quotidian and the sublime with imagery that's deeply poetic." Her previous album, Heroes Waking Up was hailed by Folk Radio UK as "a superb and sublime album from a voice that deserves to be shouted from the highest rooftops."
http://www.annativel.com/

Matt Dorrien
The essential elements to Matt Dorrien's rollicking, Tin Pan Alley-inspired new record are as follows: piano, Nilsson, whiskey, heartbreak, a little more whiskey, Randy Newman, old phonographs, and New Orleans brass bands. A big, swinging pean to loneliness and the golden age of pop songwriting, In the Key of Grey is the sound of East Village piano bars long past closing, when the house musician has had a few too many, and the regulars are gathering 'round to drown out their sorrows in song.
http://www.mamabirdrecordingco.com/matt-dorrien

Recommended If You Like: Lilly Hiatt, I'm With Her, Caroline Spence, Phoebe Bridgers
---
April 27th | Doors at 7:30 Show 8:15-10:30pm
TLC Song Service featuring Vanessa May (Rainbow Girls), Twin Soles, and M'Gilvry Allen
TLC Song Service is an intimate evening with three artists passing the spotlight. Expect insights into the craft of the song from inspiration to final form. *This monthly event is moving to 1st Thursdays starting in June.
Vanessa May
Vanessa May is 1/3 of Rainbow Girls; Driven into the present by the past, Vanessa finds herself at the intersection of time. Her music speaks to all that has passed while singing straight to the moment. She'll take you into timelessness. She holds history accountable and makes the future tolerable. She makes music of the mud of the earth and sends it to the heavens — we are here to hear it. https://www.rainbowgirlsmusic.com

Twin Soles
Twin Soles is the musical manifestation of the union of Shawna and Cory Herve. Opening their hearts to reveal soaring highs and painful lows in hopes of inspiring and connecting with people who believe in honest love. They wear many different shoes at different times but what matters is that they walk together through thick and thin, holding their souls in their hands to guide the soles of their feet. Inspired by many styles and eras, you will be just as likely to hear them sing Hoagy Carmichael as Alice in Chains, though it all comes with a distinct acoustic sound and vocal blend that is their own. They also mix in uniquely beautiful original songs about family, love and heartbreak that will give you a window into the strength and tenderness of their connection. https://www.twinsolesmusic.com/
M'Gilvry Allen
M'Gilvry Allen is a musician and producer from Sebastopol, California. His music blends folk instruments, modern production, and multilayered vocal harmonies into a kaleidoscope of familiar sounds. His debut album, In My Garden, was entirely self produced in a handmade earth plaster music studio in rural Oregon. M'Gilvry's work can be found on all major streaming platforms and on social media as @mgilvryallen.https://mgilvryallen.com/

Recommended If You Like: Rainbow Girls, Townes Van Zandt, Trevor Hall, Gillian Welch
---
April 30th | Doors at 7:30 Show 8:15-10:30pm
The Spindles 20th Anniversary Show with The Orchid Killers
The Spindles
A staple of the Sonoma County music scene since their inception in 2001, The Spindles have wooed generations of audiences with their resplendent Second-Wave Americana and Chamber-Rock favorites. Compelled by their revered triple-threat leader Coalmine Spindle, songwriter, singer and guitar-player extraordinaire, The Spindles are comprised of co-founder and efficacious bass player Jaime Voss, the inimitable Henry Nagle on lead guitar, the incomparable drummer Jonathan Hughes, preeminent trombone and bass clarinet players Achilles Poloynis and Mark Philpott, respectively, and the ineffable Ursa Born on backing vocals. facebook.com/thespindlesmusic

The Orchid Killers
Born in the Sonoma County folk revival of the 2010s, The Orchid Killers have been making crunchy acoustic music for more than a decade. Featuring original songs by Karen Frindell Teuscher on clawhammer banjo and vocals, and Kevin Teuscher on vocals and guitar, The Orchid Killers are also known for covers of old-time fiddle tunes driven by fiddle player Brian Carlisle. Subjects of their originals include county back roads, bad boyfriends, and the occasional song of life and death. The Orchid Killers have recorded two CDs at Doug Jayne's Jackalope Records featuring local luminaries Henry Nagle of The Spindles, Bob Murnane of Lucky Ol' Bones, and Tony Robinson — a founding member of Poor Man's Whiskey. Drop by The Next Record Store in Santa Rosa and ask for a copy of Portraits Engrained or The New Civilized by The Orchid Killers. I'm sure Doug has a few laying around. Facebook.com/theorchidkillers
Recommended If You Like: Elliott Smith, Hayden, Jose González
---
Located on Ross Street (between Mendocino & B) in Downtown Santa Rosa
(23-min from Petaluma, 40-min from San Rafael, 1 hr 6-min from San Francisco, 1 hr 9-min from Oakland)
Matinee performances end at 5pm | Evening performances end at 10:30pm
We're offering full refunds for non-attendance or cancelations due to COVID concerns, so there is no risk in showing your support by getting advanced tickets.
---
Update to our Safety Protocols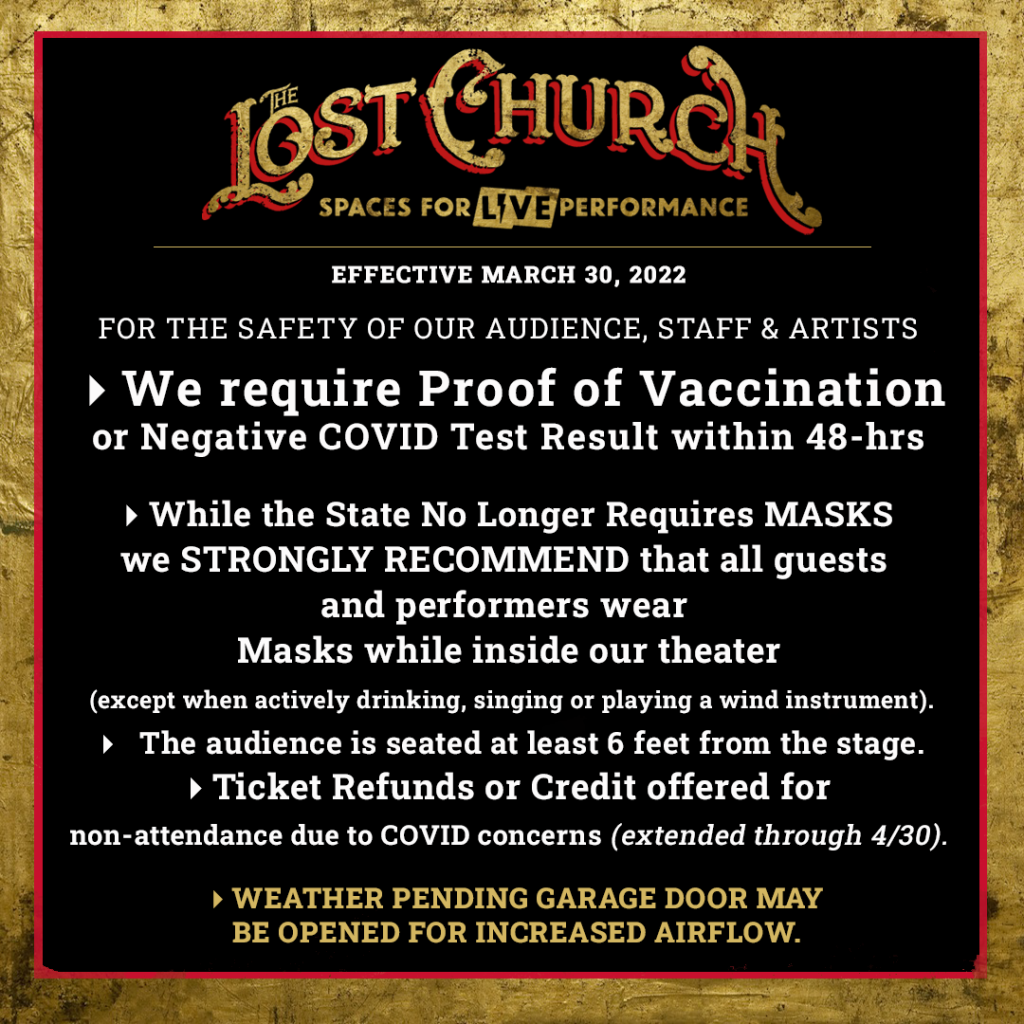 ---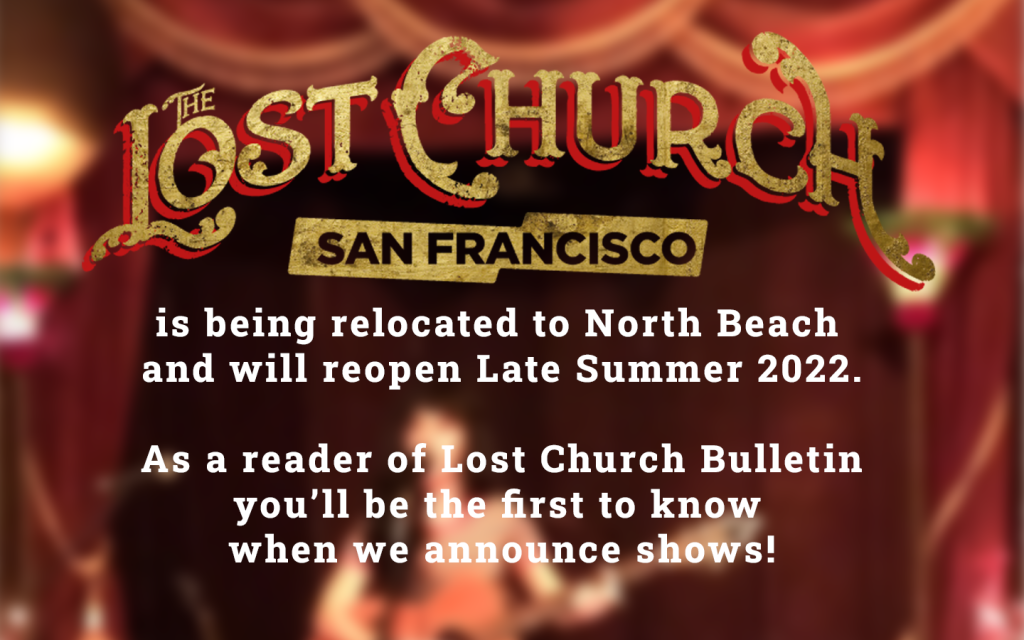 ---
Live From The Lost Church Video Archives
Sally Haggard Performs "I Hope You Think Of Me" at The Lost Church Santa Rosa
From the March 2022 Edition of TLC Song Service.
Visit Sally Haggard at https://www.facebook.com/SallyHaggard/
---
at The Lost Church SANTA ROSA
Thursday, May 26th: You're Going to Die Poetry, Prose, and Everything Goes!
Recommended if you like: Real talk, group catharsis, words, music, tears and laughter, connection
Saturday, June 11th: The Musers (CD Release Party!) with Jacob Phillip Benning
Recommended If You Like: Patty Griffin, Shawn Colvin, Wood Brothers, Nickel Creek
Friday, June 17th: S.R. Laws & the Heartsleeves with Forever Goldrush
Recommended if you like: Todd Snider, John Hiatt, Neil Young, Bruce Springsteen, Tom Petty, Jackson Browne, Sean Hayes, Tim Bluhm
Wednesday, July 13th: An Evening with Ordinary Elephant (Louisiana)
Recommended if you like: Front Country, Anna Tivel, The Lowest Pair, Lindsay Lou, The Stray Birds
---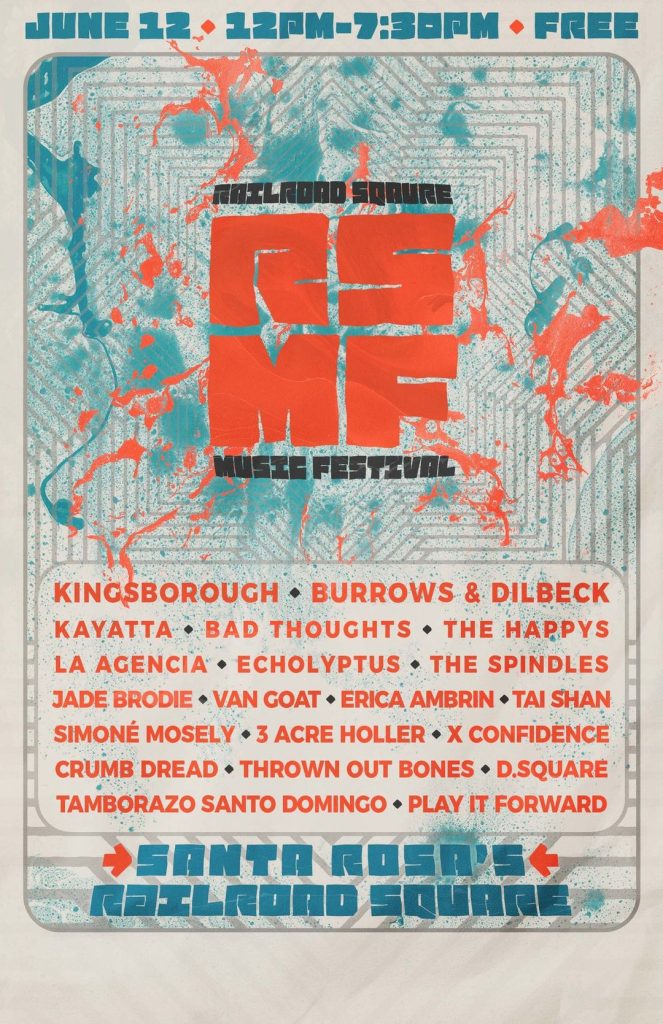 We'll all be there! Will we see you, too, on June 12th for our free festival in Railroad Square, Santa Rosa?
The lineup for RSMF 2022!
Simoné Mosely
Tamborazo Santo Domingo
Play it Forward Music Foundation
Learn more at https://www.railroadsquaremusicfestival.com/
*Railroad Square Music Festival is FREE and is a project of The Lost Church .Org
---