---
THIS FRIDAY!
August 26th | Doors at 7:30 Show 8:15-10:30pm – MUSIC + DANCE
Ananta Fiddle-Hooper Returns and Turns 50 Bash
Featuring:
Jessica Yuen-Benevides, Dancer — Hoytus Rolen —
FolkSky-I, Hip-hop/Reggae — A.Fiddle-Hooper, Samurai Violinist
A. Fiddle-Hooper
An internationally seasoned violinist, electric violinist, cellist, composer, videographer, producer and instructor has touched thousands of lives globally with her music. Her 27 years of professional repertoire provides a well-rounded blend of Classical, Soul, Jazz, Hip-Hop, Reggae, Rock & Roll, Celtic, Middle Eastern, Indian Classical and Alternative Trance styles. She has taught internationally in Europe, India, Japan and the U.S. She has performed professionally in 22 countries. Currently, she is a resident instructor of violin & cello at Hammond Ashley Violins, in Issaquah, WA. A. Fiddle-Hooper has played with artists such as Kaki-King, Les Claypool, Jane Wiedlin, Pamela Parker, Boots Riley, Gabby La-La, Jaya Lakshmi, Lost at Last, Jay Lane, Geoffrey Gordon, Tami Gosnell, Shirley King and many more!
www.fiddlehooper.com

Recommended If You Like: Björk, Lindsey Sterling, Charro, Common
---
Saturday, August 27th | Doors at 7:30 Show 8:15-10:30pm – MUSIC
Laura T Lewis Trio (Santa Cruz) and Wyld Iris
Laura T Lewis Trio
Laura grew up just north of San Francisco, singing cowboy country, Motown soul, and Greenwich Village folk ballads. This was the music made nostalgic by her performing dad and uncle; Summer of Love transplants from the Midwest. You'll likely pick up on these sentimental notes in her original music.

After spending [too] many years in San Luis Obispo, Laura migrated to Portland Oregon, where she wrote, recorded, and released her debut LP, "High Above the Brushfire" in 2019. Shortly after, a baby girl joined her family, inspiring a move closer to Home. She now resides in the Santa Cruz Mountains.

The current trio configuration includes Jeff Kissell on upright bass and Ryan Avellone on lead guitar/mandolin. With varied backgrounds, tastes, and experiences, these friends are just beginning to explore the sound they will create together as a group. Thank you for joining along on that journey.
www.lauratlewis.com

Wyld Iris is a folk music trio based in the North Bay. Hallie, Michaela, and Winona came together thanks to a Yuba River campfire, and a log cabin jam. Their style is a reflection of their shared love of American Roots music. Inspired by the likes of Ola Belle Reed, Townes Van Zandt, and Gillian Welch, this trio covers the greats and performs original songs with rich three part harmony and vibrant acoustic instrumentation.
www.wyldiris.com
Recommended If You Like: Gillian Welch, John Prine, Townes Van Zandt, Emmylou Harris
---
Sunday, August 28th | Doors at 7:30 Show 8:15-10:30pm – MUSIC
Bobby Jo Valentine: New Water, Old Fires with Alison Harris
BOBBY JO VALENTINE
Somewhere deep in the heart of everything lies a melody. It speaks to our truest selves, binds us together with the ones we love, and brings out the best part of who we are.
Bobby Jo Valentine is a singer/songwriter who chases after this particular kind of music.
He writes songs that travel light, but "grow deeper and deeper with each further listen", as the music publication Soundtrack to My Day describes. The poetic nature of his stories and songs has resulted in many notable awards and a growing, supportive, loyal following. Bobby seeks to write music that means something good, and speaks hope into the beautiful, sacred, terrifying, mesmerizing world that we live in.
Bobby Jo Valentine's artistry crosses the lines of many genres, but his thoughtful lyrics and catchy melodies reach listeners on all paths of life. The authentic, heartfelt nature of his songs have won him Songwriter of the Year at both the West Coast Songwriter's Association and the SoCo Songwriter Competition, the Nashville Next Level Songwriter award, and more. He's sold over 20,000 albums and performed more than 1500 concerts, all without a record label, with the support of devoted groups of fans and friends who grow in number after every performance.
Bobby is delighted to be offering music for the first time in years at Sonoma County, and will be offering a mix of songs, stories, poetry, dance, and magic tricks. He'll also be joined by the spectacular Dennis Haneda, Ruthie Elsom, and David Fairchild.
Music: https://bobbyjovalentine.com

ALISON HARRIS
Alison is the daughter of an elementary school music teacher and the granddaughter of an eccentric big band composer. Classically trained, she began violin lessons with her father at the age of five, and piano at eight. This rich musical world evolved into songwriting at thirteen. Alison's songs have been influenced by Americana Artists Lucinda Williams, Emmy Lou Harris and Gillian Welch. Her music explores strength through vulnerability.
Alison has shared the stage with Sam Bush, Albert Lee, The Iguanas, Ramblin' Jack Elliot, and Della Mae. Her debut record "Smoke Rings in the Sky" (Omega Records) was recorded at Different Fur Studios (Herbie Hancock, James Taylor, Stevie Wonder, David Byrne) in San Francisco. The album was produced by Chris Chu (POP ETC. ) and Patrick Brown (Tegan and Sara, Gomez, Black Lips, Violent Femmes, Kate Walsh, Rodrigo y Gabriella). San Francisco Magazine commented, "Alison Harris sounds like a country songbird perched on Bonnie Raitt's shoulder. She sings about loneliness and longing with a grace and beauty that almost makes those things desirable."
Alison's sophomore album, Walker Road, was recorded live and analog at the historic Walker Road Schoolhouse building in Two Rock, California with Americana Band The Barn Owls. Walker Road captures the organic warmth of live music in a redwood room. Her latest release, Form of Flight, was produced and recorded by Tim Bluhm of The Mother Hips. This collection of Mother Hips' songs is reimagined for female voice, piano, and orchestral sounds provided by Pat Sansone of Wilco. Dave Schools plays bass on the opening track, "White Falcon Fuzz."
Recommended If You Like: Jack Johnson, Josh Ritter, The Killers, Gregory Alan Isakov, Gabriel Kahane, Emmylou Harris, Lucinda Williams, Gillian Welch
---
The Lost Church Santa Rosa is located on Ross Street (between Mendocino & B) in Downtown Santa Rosa
(23-min from Petaluma, 40-min from San Rafael, 1 hr 6-min from San Francisco, 1 hr 9-min from Oakland)
Matinee performances end at 5pm | Evening performances end at 10:30pm
We're offering full refunds for non-attendance or cancelations due to COVID exposure, so there is no risk in showing your support by getting advanced tickets.
---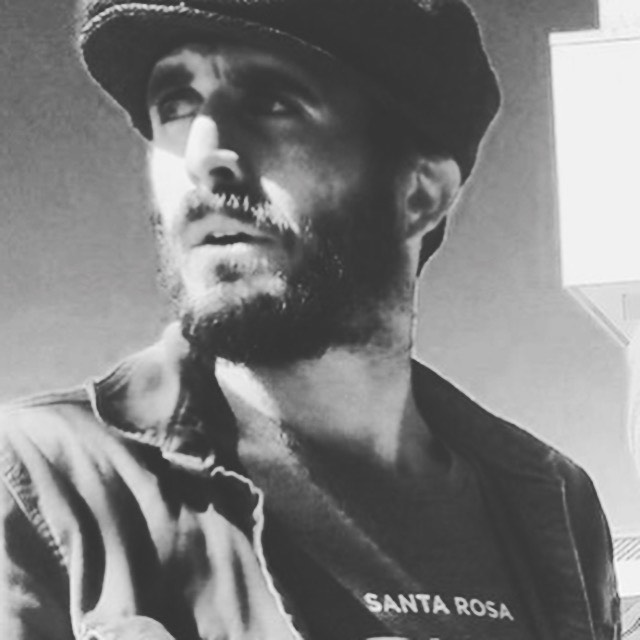 Local writer, musician, public school teacher and Board Member of The Lost Church .Org, Dawn Mermer will be introducing you to a member of our staff in this new series.
Josh Windmiller
Development Director
The Lost Church's Development Director Josh Windmiller has dedicated his adult life in his native Santa Rosa helping to create the kind of community he wants to live in. This community activist embodies what the non-profit organization is all about; bringing people together for a shared live experience.
Windmiller's job is to help The Lost Church grow and sustain itself through grants, donations, and community building. "The Lost Church is something that I felt I could really get behind as a person in the North Bay art scene because of their emphasis on creating, sustaining, and defending intimate spaces for live performance. It's really encouraging and I think the whole community resonates with it," Windmiller said.
He is credited by TLC co-founder and executive director Brett Cline as the reason a Santa Rosa location opened. "He introduced me to his Santa Rosa contacts who ultimately got us funding for the theater," Cline said. "When I saw how great he was in raising money for the Railroad Square Music Festival there I knew we could do this together. Then when we were ready for a Development Director, Josh was the obvious choice."
When Cline and Windmiller began working together in 2017, he was already well-known in the North Bay as a booker, fundraiser, promoter, musician (The Crux), and co-founder of that city's popular Railroad Square Music Festival. The festival later became a Lost Church project and helped TLC establish itself in the community. Windmiller also helps connect the North Bay community with TLC through booking outdoor events like Wine Country Distillery Festival and running the bar and info booth at other events, like Live at Juilliard.
"Josh is an absolutely fantastic human being devoted to the arts, devoted to music," Cline said.
As the organization has long-term plans to expand into other West Coast communities, Windmiller is committed to helping The Lost Church, "supplement a community and be an environment for the community," instead of taking over or dictating to an area about the live art they should experience or perform.
"It's a real honor and a thrill to be a part of their fantastic team that's working to make live performance possible for years to come. I feel like we can get short-sided and focus on the next show as artists and that it's really fun to be thinking long-term with a group like The Lost Church. We are only just starting. The vision of the organization is inspiring and if we can all get behind it I think the next generation is really going to appreciate it. This whole Lost Church project is going to get as big as the communities that support it."
---

It's getting closer to our SF Reopening!
We can't wait to see you.
Wednesday, September 7th | Doors at 7:30 Show 8:15-10:30pm – MAGIC & MENTALISM
Brad Barton, Reality Thief
—- this is our first astounding and hilarious evening with Brad in 2 1/2 year and the show is 60% of the way to being sold out.
Performing for over 30 years, Brad Barton, Reality Thief combines magic, psychology, comedy, mind reading, and audience participation to create an unforgettable experience for everyone involved.
Brad has performed backstage at Madison Square Garden, inside Alcatraz Prison AND Grace Cathedral, as well as private homes for guests like Francis Ford Coppola and Spiderman's Andrew Garfield. He was invited to perform at rock band Phish's first Reunion Festival in 2009, was the special guest performer for Prince's final performance at the San Francisco Fillmore, and is the only magician ever known to steal music legend Tom Waits' watch!
You are truly in for a treat. Get ready for Brad Barton, Reality Thief! realitythief.com
---
Thursday, September 8th | Doors at 7:30 Show 8:15-10:30pm – COMMUNITY CATHARSIS and OPEN MIC
You're Going to Die: Poetry, Prose, and Everything Goes
—- this is our first YG2D SF together in 2 1/2 years and the show is 50% of the way to being sold out.
YOU'RE GOING TO DIE: Poetry, Prose & Everything Goes
is a total open mic event, with no set or featured performers, but only the communal offering for us to explore the conversation of death & dying, to embrace our losses & mortality, to grieve, bereave & honor those we've lost & love… while all the while making room for simply being ALIVE. yg2d.com
---
Friday, September 9th | Doors at 7:30 Show 8:15-10:30pm – MUSIC
Justin's Case: A post Hiero Day Performance Introspective
Music heals. For some it's listening to it. For some, it's creating it. For Bay Area artists Equipto, True Justice, Aagee and MC Pauze, the creation of their new super group Justin's Case was born from a deep love of music — and an intense, sudden need to heal.
"I was asked to book a handful of shows for Zion-I last summer," DJ True Justice reminisces, "Mac Mall and San Quinn were on the bill with us, and this was the first time in a year and change that the state was opening back up to live shows. We wanted to do something special."

Combining a mixture of world music influences, with Equipto's deeply rooted love of Jazz and the classic Bay Area sensibilities, the group creates a unique sound that seamlessly flows through a variety of genres and sub-genres. Giving the music, and the live show, a universal appeal. Adding that to socially conscious lyrics that challenge the status quo with lyrical prowess, the group is aiming for the listener who has a discerning ear and a mind that seeks the truth.

"It all happened organically," says producer Aagee, "from the 'just in case' folder that Equipto gave me with acapellas to build around, to us realizing that the stuff we were creating felt new and fresh to us, to finding out that the name Justin had a much deeper meaning to it than we realized. It felt meant to be."
Justin, meaning fair, or righteous, is definitely well suited to the three artists. Justice and truth, in all its forms, continues to weigh heavy in their influence. That same summer tour had an end result that not only solidified the group's message, but motivated each of them in some small way.

"It all came together right after our last show with Zumbi of Zion-I on July 24th, 2021 in Nevada City." Equipto recalls. No one in the group could know that the last show of that tour would be the last show Zumbi would ever play. Less than a month later, on August 13th, Stephen 'Zumbi' Gaines was dead at the hands of private security of Alta Bates hospital. The group, whose goals include traveling the world with their music and to make people think, are holding a more personal goal close to their hearts.

"One of the goals is to get Justice for Zumbi. As his case unfolds, we stay on deck to apply pressure, musically – or with direct action. We'll be there, just in case, until our brother receives justice."
Equipto, True Justice, MC Pauze and Aagee are Justin's Case justinscase.bandcamp.com
---
Saturday, September 10th | Doors at 7:30 Show 8:15-10:30pm – MUSIC
An Evening with Rachel Garlin and Band
— Rachel's last SF show was canceled due to lock down…it was with us a TLC. It's now fitting and a joy to present her first SF show in 2 1/2 years right here in our new theater!
With eight indie albums and main-stage appearances nationwide, Rachel Garlin is a folk-rock-troubadour who writes "infectiously poignant music that resonates in a timeless way" (Glide Magazine). Her interest in people—their stories, struggles, and truths—is at the heart of her work. Bringing a sense of spontaneity to every concert, Garlin shows up to connect and co-create experiences with live audiences. Empathic and prolific, she shares songs that imbue their recognizable, everyday characters with dignity and humanity. rachelgarlin.com
Recommended if you like: Cat Stevens, Brandi Carlile, and Sheryl Crow
---
The Lost Church San Francisco (opening in September) is located at 988 Columbus Avenue at Chestnut Street in North Beach.
(26-min from Oakland, 33-min from San Rafael, 52-min from Vallejo, 1 hour and 6-min from Santa Rosa)
Matinee performances end at 5pm | Evening performances end at 10:30pm
We're offering full refunds for non-attendance or cancelations due to COVID exposure, so there is no risk in showing your support by getting advanced tickets.
More shows are being announced every week!
We are currently booking October, and November at The Lost Church San Francisco and Santa Rosa.
If you're a Performing Artist in MUSIC – COMEDY – SPOKEN WORD – LECTURES – THEATER PRODUCTIONS – PERFORMANCE ART —– please visit our Booking page.
Film screenings and private event rentals are also welcome.
---
Seating is First Come, First Served.
All Ages are welcome
(Except for babies, children, and adults who cannot focus for two hours and enjoy the performance)
---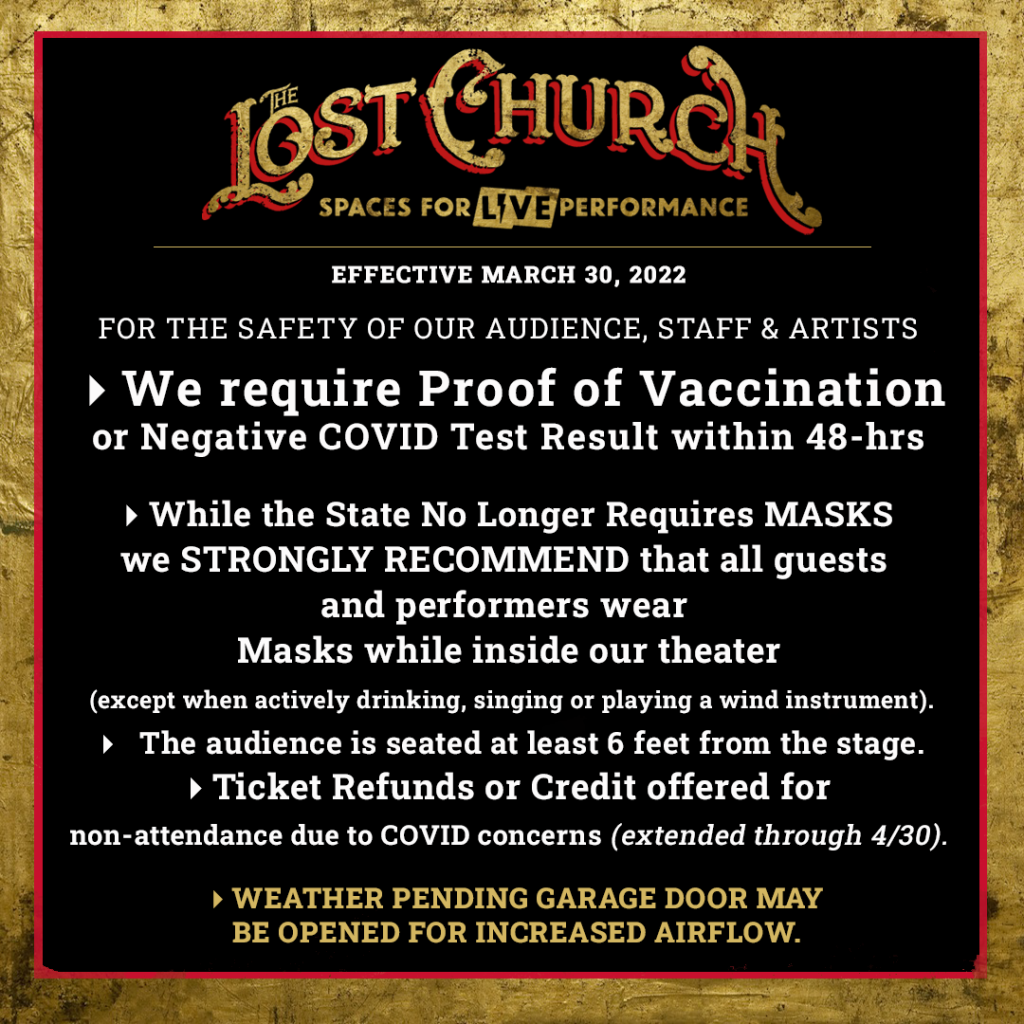 Our Current Safety Protocols are changing on September 1st to:
Vaccines, boosters, and masks are strongly encouraged, but are not required as per local Public Health Policy.
---