Tru Lyric with Christopher Kenji from our video archive on The Lost Church YouTube Channel
A most tasty acoustic hip-hop treat from the first edition of our new series TLC Song Service.
"I will always be…grateful."
Tru Lyric YouTube: https://www.youtube.com/user/trulyricmusic
Christopher Kenji https://www.christopherkenji.com/
TLC Song Service will continue to light-up every 4th Wednesday on our Santa Rosa stage.
Next up is:
Wednesday, FEBRUARY 23rd (Doors at 7:30pm/Show 8:15-10:30pm)
Wednesday, MARCH 23rd (Doors at 7:30pm/Show 8:15-10:30pm)
TLC Song Service is an intimate evening with three artists passing the spotlight. Expect insights into the craft of the song from inspiration to final form.
---
---
Our Santa Rosa Theater Reopens this Sunday!
Located on Ross Street (between Mendocino & B) in Downtown SR
Matinee performances end at 5pm | Evening performances end at 10:30pm
---
Sunday, February 13th – Doors at 7:30 Show 8:15-10:30pm
Canadian-born artist Sam Weber (trio) spans an eclectic range of roots, americana, improvisational music and jazz influences. He has released three LPs of his own material, collaborated with Grammy winners, and contributed guitar to the 2021 Juno-winning Bahamas album, Sad Hunk. Supporting his latest release Get Free, Sam is going forth with the same intention and mantra as when he began: "Music is an emotional conduit between people and allows us the opportunity to share moments of truth and unity. In an age where the ritual of music-making can be a solitary exercise, I want to live my life to remind everyone that playing music as a communal and spontaneous practice can be healing and powerful."
"[Weber] is an expert tunesmith, brimming with addictive, adventurous and confident pieces. Infused with deep wit and wisdom, Weber's output is truly impressive. His guitar work is also killer, full of nuance, soul and a truly unique voice…. We'll be hearing a lot more from Weber in the coming years and, more than likely, decades" Guitar Player Magazine
Echoes & Artifacts is a musical collaboration between singer-songwriter and visual artist Allyson Makuch and guitarist and singer Rory Cloud. Founded in 2018 and currently based in Santa Cruz, CA, Echoes & Artifacts create forward-looking acoustic music with deep roots and modern influences.
"As a songwriter, Allyson Makuch doesn't like to dress up her music with unnecessary fluff. Her songs, which are performed passionately in acoustic splendor with multi-instrumentalist Rory Cloud, cut right to the sometimes uncomfortable marrow of her deepest emotions. The name of their musical collaboration, Echoes & Artifacts, reflects the transcendental lens through which they view songs: the past echoing for an eternity, or at least as long as people take the time to listen. This duo plays their instruments with the awareness of the power they wield with their acoustic guitars, and takes no detours in expressing something authentic and heartbreaking at its core." Aaron Carnes, GoodTimes, Santa Cruz, CA
Recommended If You Like:
The Band, John Prine, Parker Milsap, Mary Gauthier
---
Thursday, February 17th – Doors at 7:30 Show 8:15-10:30pm
Performing for over 30 years, Brad Barton, Reality Thief combines magic, psychology, comedy, mind reading, and audience participation to create an unforgettable experience for everyone involved.
Brad has performed backstage at Madison Square Garden, inside Alcatraz Prison AND Grace Cathedral, as well as private homes for guests like Francis Ford Coppola and Spiderman's Andrew Garfield. He was invited to perform at rock band Phish's first Reunion Festival in 2009, was the special guest performer for Prince's final performance at the San Francisco Fillmore, and is the only magician ever known to steal music legend Tom Waits' watch!
You are truly in for a treat. Get ready for Brad Barton, Reality Thief!

"The expected was shattered on the floor, leaving eloquent shards of the unexpected. I laughed, I gasped, and then I told friends."
Mike Gordon

"Wow. You're good. You should have your own TV show."
Shaquille O'Neal

"That boy's a GENIUS!!!"
Phil Donahue

"It's refreshing to see someone who's so good at what they obviously love to do."
Jack Welsh

"Brad Barton is one of the finest magicians I've ever had the pleasure to see. His choice of effects, presentation, and mind-boggling misdirection, are second to none."
Jim Swain
---
Friday, February 18th at 7:30 Show 8:15-10:30pm
Fynch Meep is a songwriting conglomerate bringing together the far-reaching styles of Monte Mishkin, James Edmondson, and Nick Pim. They are a silly group of boys with a knack for tunes. James' songs cover topics ranging from weaning lambs to meeting instagram friends in real life. Monte's songs are gorgeous straight-from-the-source musings on love, loneliness, and nature. Nick Pim's songs are deadpan and intimate. Between their unique material, absurd banter, and a heart-open willingness to collaborate with the moment, very little is out of the realm of possibility at a Fynch Meep show.

Under the moniker Kalinders, Oakland-based singer-songwriter Holly Tzeigon Whitaker pays homage to classic folk and rock songwriting as she weaves together stories of love, loss and the passing of time with sultry, soulful vocals and lulling, meandering melodies. Drawing inspiration from the likes of Stevie Nicks, Bruce Springsteen, and Patsy Cline, her rich and reaching voice casts a spell that will have you at once heartbroken and hopeful.
Recommended If You Like:
Fleetwood Mac, Modest Mouse, Adrienne Lenker, James Taylor, The Grateful Dead, Stevie Nicks, Bruce Springsteen, Patsy Cline.
We're offering full refunds for non-attendance or cancelations due to COVID concerns, so there is no risk in showing your support by getting advanced tickets.
SCHEDULING UPDATE
All tickets for February 12th will be honored for the new date or refunded if unable to attend.
Mimi and Gabe Pirard are a French-American sibling duo that charms audiences with their incredible talent and Parisian flare. Featuring members of Dgiin, SonoMusette, and Barrio Manouche.
Recommended If You Like:
World Music, Edith Piaf, Gypsy Jazz, Funk, Flamenco Music, Paco de Lucia, Django Reinhardt, and Stevie Ray Vaughn.
---
I.Q&A with Madeline Tasquin (Part 1 of 3)
Michele's question and answer time with some of the smartest and savviest people we know.
QUESTION 1: What new skills, creations, projects or businesses have you shared or launched during the pandemic?

Oh, lord what a question! It's been such a big soup of time. I was one of the lucky ones who didn't have a big world tour planned and all my dreams dashed when the covid hit, so (minus all the people out there dying alone in the hospital) I was actually glad for the forced stay at home time to learn new things & tinker & nerd out. Lots of piano-while-staring-out-the-window, trial & erroring in my little bedroom studio in video editing, recording, finally learning Travis-picking on the guitar, a new synth I got for myself for my 39th bday, learning the ropes in OBS/streamlabs, dialing in the sound for Zoom concerts… with plenty of guidance from Professor YouTube and a few key MusicForLife Coaching trades on Zoom with sound engineer friends. That was 2020.
Then in 2021 I came out of hiding a bit launched a "Big Why Cover Series" on YouTube, where I clone myself and do maddyesque versions of songs by independent musician friends driven by a big why, on or off stage. So far I've covered Eileen Shaugnessy, Diana Gameros, and Mia Pixley. Eli Conley's coming up next. It's been a fun way to push myself and find new facets of my musicality, while also shouting out the loving musicians I see changing the world in their unique ways.
(Part 2 of 3 of the Q&A with Maddy is coming in next week's Bulletin)
Visit www.madelinetasquin.com for info on her single coming March 4th & how to contribute your story, her "Music For Life" music lessons for adults, her free weekly "Emma Goldman Dance Hour," her "Big Why Cover Series" videos, and how you can support this multifaceted musician & community-builder via her very cool Patreon page.
---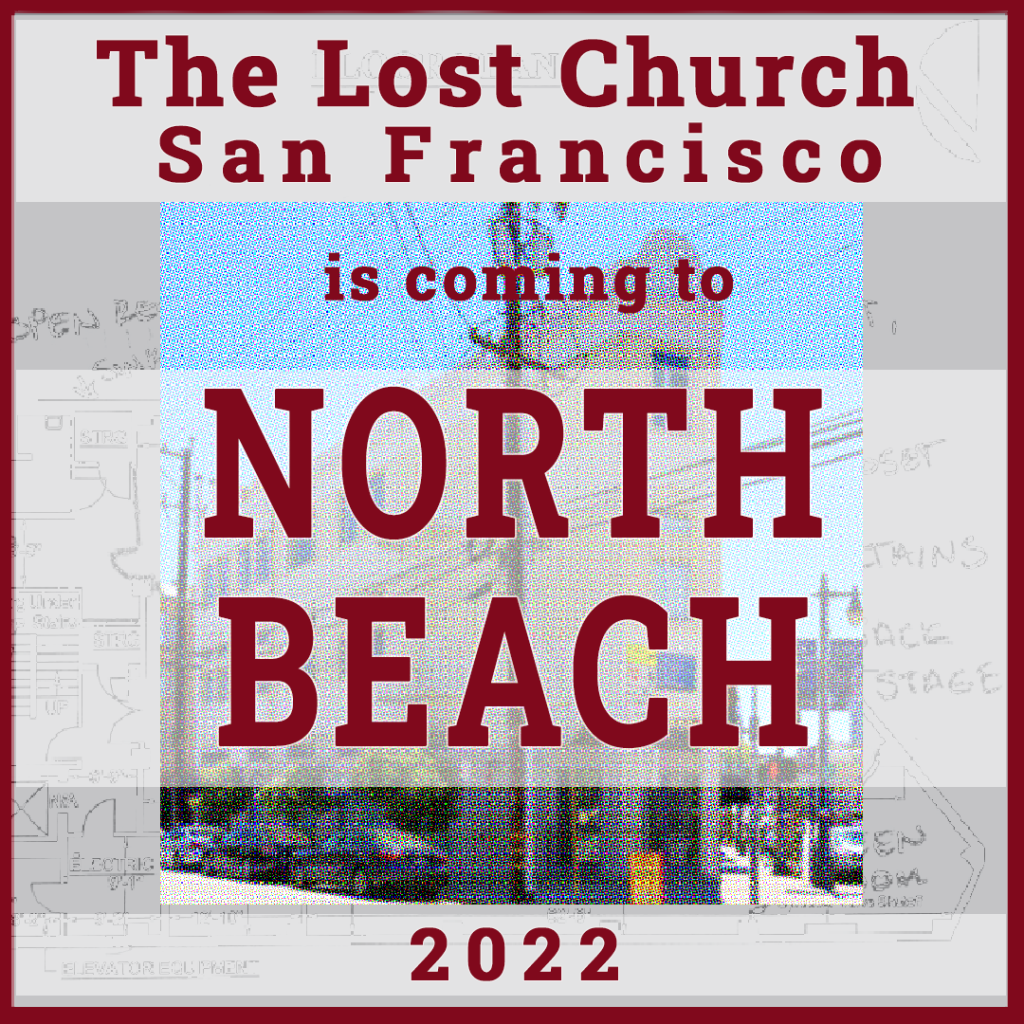 AND WE NEED YOUR HELP
Call for Letters of Support for our Entertainment Commission Hearing
We're putting together a presentation for our upcoming Entertainment Commission Hearing where they consider us for a permit to host live performances. It's a BIG DEAL.
Please write a Letter of Support for our new theater in North Beach and email it to janitor@thelostchurch.org by March 2nd.
Here's an example of a Letter of Support if you're not sure what to write, but want to help. It's great if you could personalize it in some way and if you're an SF resident it's important to note that.
Dear Entertainment Commission,
I am writing to you today with a letter of support for The Lost Church at 990 Columbus Street.
The Lost Church has a long history of providing a safe haven for performers and patrons, and is a much needed part of the San Francisco artistic community. I hope you will approve their application to be a Place of Entertainment.
Sincerely,
-Your Name
Your Email or Address
***Please email this to Brett at janitor@thelostchurch.org and do not write directly to the Entertainment Commission as they want to receive letters in an organized presentation that we are putting together.
Thanks so much for your support!
---