Our Next Performances at TLC Santa Rosa
Thursday, June 16th | Doors at 7:30 Show 8:15-10:30pm — MUSIC
TLC Song Service: Caitlin Cobb-Vialet, Doctur Crow, Nicco Weisskoff
TLC Song Service is an intimate evening with three artists passing the spotlight. Expect insights into the craft of the song from inspiration to final form. *Every 3rd Thursday
Caitlin Cobb-Vialet (they/she) is an Oakland-based artist who plays piano, sings, writes music, acts, produces, and teaches. She has a BFA in Drama from NYU Tisch School of the Arts, and has recently performed and composed new work at Joe's Pub in Greta Gertler Gold's "Triplight" and several cabarets with The Civilians, and performed in The Public's workshop production of César Alvarez's "Noise". Their current released original music includes the Curtain! EP and her first album Endless Void.
https://www.caitlincobbvialet.com/
Doctur Crow Influenced by the style and sound of the late 60's Psychedelia and 90's Alternative attitude. https://linktr.ee/docturcrow
Nicco Weisskoff is a Sebastopol based artist who draws as much from folk as he does from garage rock. He plays drums with multiple groups and has picked up everything from electric guitar and bass to organ in order to record his own music. Acoustically rooted, Nicco develops his music in his bedroom, writing and recording a sound that is honest and uninhibited. His songs are intimate and maybe even a little emo, describing feelings of loneliness, love, and growing up in a small town.
Recommended If You Like:
Sia, Regina Spektor, The Yardbirds, Dinosaur Jr.
---
Friday, June 17th | Doors at 7:30 Show 8:15-10:30pm — MUSIC
S.R. Laws & The Heartsleeves with Forever Goldrush
S.R. Laws is an American singer/songwriter, musician and recording artist inspired by storytellers like John Hiatt, Ron Sexsmith and J.J. Cale. He combines influence from songwriters such as Chuck Prophet and Jackson Browne with early life experiences wandering the train tracks through wheat fields and smelling the fruit ripening in the orchards. Through forthright lyrics that are personal and earnest, this artist composes "lyrical pictures," taking snapshots from the most common walks of life filtered through his own joy and tribulations. S.R. Laws captures time in the imagery of a journeyman's perspective; from the mother working behind the bar every night, the multicultural kitchen workers to your dart-playing uncle and his friend, the jukebox repairman. It is through uplifting songs and heartfelt-inspiring lyrics that allow S.R. Laws and his characters to "break the ice" with his toe-tapping crowd. Scott's recent release "A.M. Sessions" hitches all these characters together in the carnival of life and the cavalcade of hits and misses.https://www.srlawsmusic.com
Forever Goldrush formed in 1997 when a when a group of childhood friends from the California gold-country built their passion for country, folk, and blues into an outfit built on literate songwriting and wiry, powerful musicianship. Singer/songwriter Damon Wyckoff, guitarist Josh Lacey, bass player Mason DeMusey, and a cast of drummers sharpened their rowdy roots rock into a melodic torch and twang debut titled "Unknown Territory" (1999). Unknown Territory garnered extensive praise. Soon, Forever Goldrush (sentimental reference to the unique region of California they call home; and maybe Neil Young??) started touring extensively, landing opening spots with Train, the Drive By Truckers, Marshall Crenshaw, Neko Case, and others. In 2000, the band signed a record deal with Headhunter Records/Cargo Music and released their Sophomore album "Halo In My Backpack" (4 stars in No Depression). In 2003 as Cargo Music filed for bankruptcy, Forever Goldrush began work on a record that would be titled "The Amador Frequency". For many reasons (the creation of the Amador Frequency and the loss of its outlet among them), principal songwriter Damon Wyckoff left the band's home-base of Sacramento CA to return to the foothills and the Amador Frequency was shelved. A dense, synth-laden, sonically adventurous record, The Amador Frequency would remain hidden for the better part of a decade. Test Pattern records caught wind of the record's existence and released the album in 2011. Riding the momentum of a fresh release the Band entered Sylvia Massey's recording Studio in Weed CA. and worked with Glenn Sawyer and Rich Veltrop to create "Chambers." Chambers, released on a limited-scale in 2012, saw the band return to its roots-based rock and roll roots and features some of the band's most iconic songs. At this time guitarist Josh Lacey returned to his homestead in the mountains of North Carolina and the Band once again went dark. In late 2019, circumstance would find Josh and Damon together again living and jamming in the Northern California Gold Country. The creative need to write and record songs being an ever-present part of their lives, they re-lit the lantern of Forever Goldrush as their vehicle to do so. In 2021 the Band reissued their entire back catalog digitally and brought on a new rhythm section in Travis Quinn on drums and Evan Bailey on bass. Travis and Evan, both phenomenal songwriters and multi-instrumentalists, were in the Sacramento-area band Sun Valley Gun Club. Forever Goldrush have re-kindled the excitement of fans new and old through spectacular live performances and a routine Sunday morning internet live-stream. The Band is in the process of recording its fifth album with plans for a summer 2022 release. https://www.instagram.com/forevergoldrush.96
Recommended If You Like:
Todd Snider, John Hiatt, Neil Young, Bruce Springsteen, Tom Petty, Jackson Browne, Sean Hayes, Tim Bluhm
---
Saturday, June 18th | Doors at 7:30 Show 8:15-10:30pm – MUSIC
Lindsay Clark "Carpe Noctem" Album Release Tour and Samuel Gray Edmondson
Lindsay Clark finds balance between traditional and english folk, country, and her own version of experimental folk that seems to come from within. Exquisite and pitch perfect, her music speaks of quiet revelation, with a background of (usually her own) multi-tracked vocal arrangements. With influences ranging from the Beach Boys, Elizabeth Cotton, Joni Mitchell, Appalachian folk, her classical upbringing, and her father's record collection, she blends many worlds into a uniquely warm sound. She has carved out a vibrant place as an artist with a penchant for poetry, rich harmony, and a style of self-taught fingerpicking influenced by Nick Drake, John Fahey, and others. Originally from the small gold rush town of Nevada City, CA, she now resides in Portland, OR. Her sound has been described as "folk with angelic vocals washing over smooth edges" (1859 Magazine). She has shared the stage with musicians such as Alela Diane, Adam Torres, Nat Baldwin (Dirty Projectors), Ryan Francesconi (Joanna Newsom), Kaitlyn Aurelia Smith and Michael Hurley. "Crystalline" was released in 2018 via boutique German label Oscarson. Her forthcoming full-length album (which she wrote, produced and co-arranged), Carpe Noctem, features guitarist William Tyler, Alela Diane, Sage Fisher (Dolphin Midwives), Alexis Mahler (Shook Twins) & Andy Rayborn (Paper Gates). It was engineered and arranged with Jeremy Harris (Vetiver, Hand Habits), and is out 6/24/22 with Audiosport Records (NL). She has also recently collaborated on Michael Hurley's latest release, Time of the Foxgloves (No Quarter Records). lindsaybethclark.com
Samuel Gray Edmondson is a composer, singer, and guitar player whose musical journey made pitstops in thrash metal and chamber punk before finding home in the intimacy and immediacy of the acoustic guitar. His eclectic and nuanced playing has been described as "transporative" and "the best of what acoustic guitar is all about."
thegrayguitar.com
Recommended If You Like: Gillian Welch, Alela Diane, Laura Marling, Joan Shelley, Kate Wolf, Rickie Lee Jones
---
Double Header Sunday
Sunday, June 19th | Doors at 2:00pm Show 2:45-5:00pm – MUSIC
Opus Orange and From, Jacob – matinée
OPUS ORANGE is a vibrant independent pop collective that deftly traverses sonic and geographical landscapes. Drawing influence as much from the natural world as the musical one, the journey so far has taken them bobbing exuberantly in the ocean of infectious indie pop, hiking across the wide sweep of resonant film scores, and scaling the heights of angular alternative rock. Led by composer Paul Bessenbacher, the group creates a sound that is equal parts ecstatic, melancholic, and anthemic. https://www.opusorange.com/

FROM, JACOB is a singer/songwriter, dancer, and generally creative human being, based in Sonoma County. No matter what creative medium he works in, intention, authenticity, and vulnerability guide him and his art. Through his art, he tries to make sense of his ever changing self and the ever changing world around him. By sharing his true self with you, he hopes that you also feel the same strength and freeness to boldly display your true selves, even if it is just for you. https://instagram.com/frm.jacob
Recommended If You Like:
The Cure, The Shins, Local Natives
---
Sunday, June 19th | Doors at 7:30pm Show 8:15-10:30pm – MUSIC, BOOK READING, STORIES
John Beland (guitarist of Flying Burrito Bros. & Linda Ronstadt, Kris Kristofferson) – evening show
John Edward Beland (born July 24, 1949) is an American songwriter, session guitarist, recording artist, producer, and author. Beland's career as a guitarist started out in Los Angeles in the late 1960s, playing sessions and local live gigs with Kris Kristofferson, as well as future Eagles members, Glenn Frey and Bernie Leadon. Beland's first major break came in 1970, when he played lead guitar for a young Linda Ronstadt. He helped Ronstadt put together her first serious solo band, Swampwater, and was also instrumental in the comeback of rock and roll legend Rick Nelson in the late 1970s. Beland became a much in-demand guitarist, engaged by such high-profile artists as Arlo Guthrie, Johnny Tillotson, The Bellamy Brothers, Mac Davis, Dolly Parton, and was the creative force behind the pioneering country rock band The Flying Burrito Brothers. Beland also became the last artist to sign with The Beatles' record company Apple Records in 1973.

"The only guy with enough balls to play country music with me at The Troubadour before I got discovered." Kris Kristofferson

"Here's to the good old days when only YOU would play my tunes. Love ya, buddy." -Garth Brooks

"In addition to his likeable personality and talented songwriting, JB is one of the finest guitarists I have ever worked with," -Dolly Parton

"John's one of the best in the business." -Linda Ronstadt.

"His talent never fails to amaze us." -The Bellamy Brothers

https://en.wikipedia.org/wiki/John_Beland
Documentary: https://youtu.be/xXMHdQMFatI
Book: https://www.amazon.com/Best-Seat-House-John-Beland/dp/1945674164

Recommended If You Like: Flying Burrito Brothers, Linda Ronstadt, Kris Kristofferson, Garth Brooks
---
Located on Ross Street (between Mendocino & B) in Downtown Santa Rosa
(23-min from Petaluma, 40-min from San Rafael, 1 hr 6-min from San Francisco, 1 hr 9-min from Oakland)
Matinee performances end at 5pm | Evening performances end at 10:30pm
We're offering full refunds for non-attendance or cancelations due to COVID concerns, so there is no risk in showing your support by getting advanced tickets.
---
Seating is First Come, First Served.
All Ages are welcome
(Except for babies, children, and adults who cannot focus for two hours and enjoy the performance)
---
Our Current Safety Protocols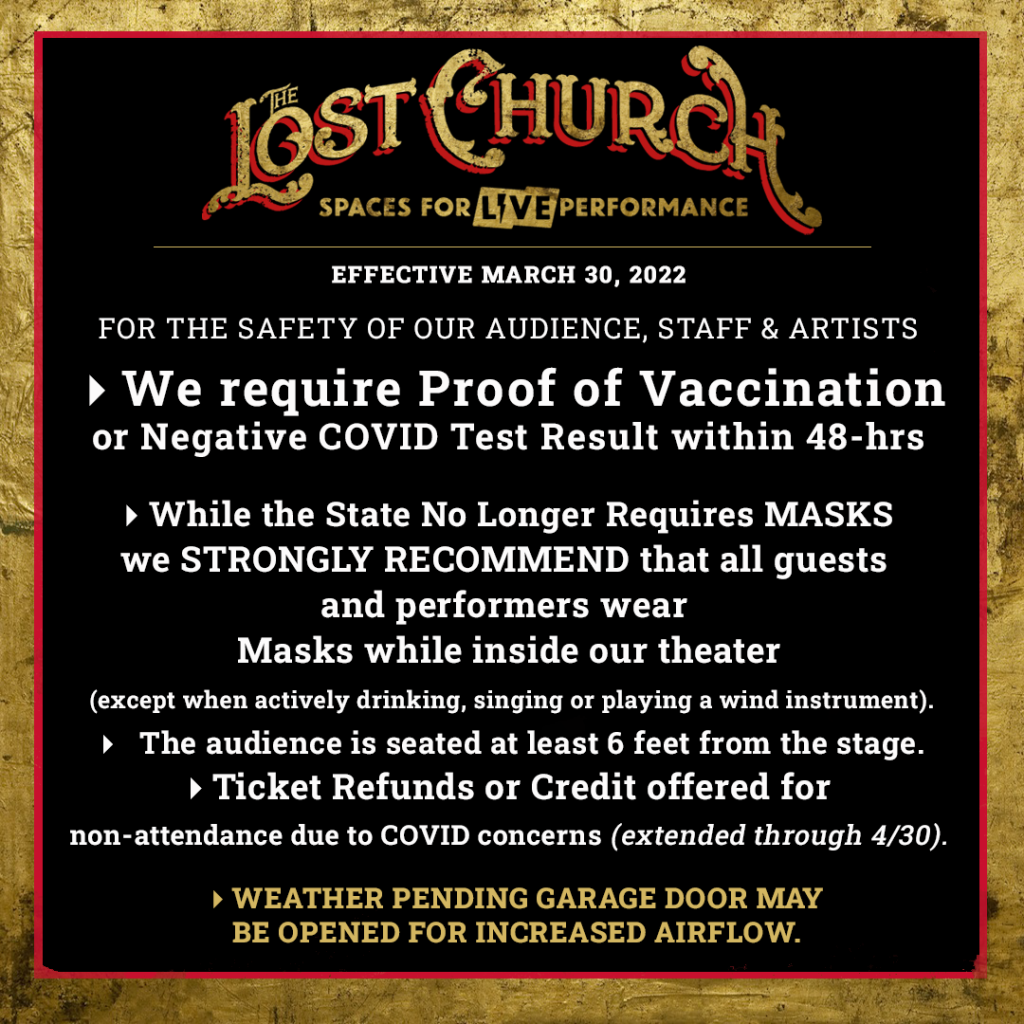 ---

at The Lost Church SANTA ROSA
*Saturday, July 9th Stevie Cornell and Jeff Troiano
Recommended If You Like: Nick Lowe, Tom Petty, Chuck Prophet, Jason Isbell, Todd Snider
*Tuesday, July 12th: R.O. Shapiro and Erin Chapin (of Rainbow Girls)
Recommended If You Like: Ray LaMontagne, Josh Ritter, Laura Marling, Bill Withers, Jackson Browne
*Thursday, July 14th: Loud as Folk: The Sam Chase + Clementine Darling with host Spike McGuire
Recommended if you like: Austin City Limits, The Grand Ol' Opry, Hootenanny

---
Live from The Lost Church Archives
Odessa
— a Santa Rosa native now living in Los Angeles.
"I Will Be There" www.thisisodessa.com
---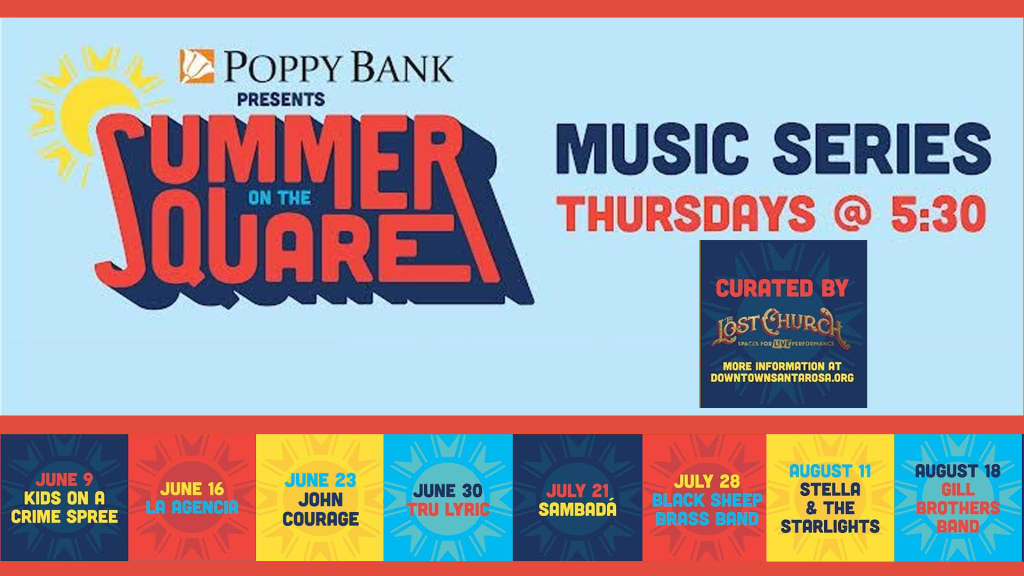 We've curated a whole summer of free late afternoon shows for you in Downtown Santa Rosa!
June 9th – August 18th every Thursday from 5:30-7:30pm.
Have a picnic in the park and enjoy these artists and then keep it going by coming to TLC Santa Rosa for our evening shows. It's summertime…let's live it up!
---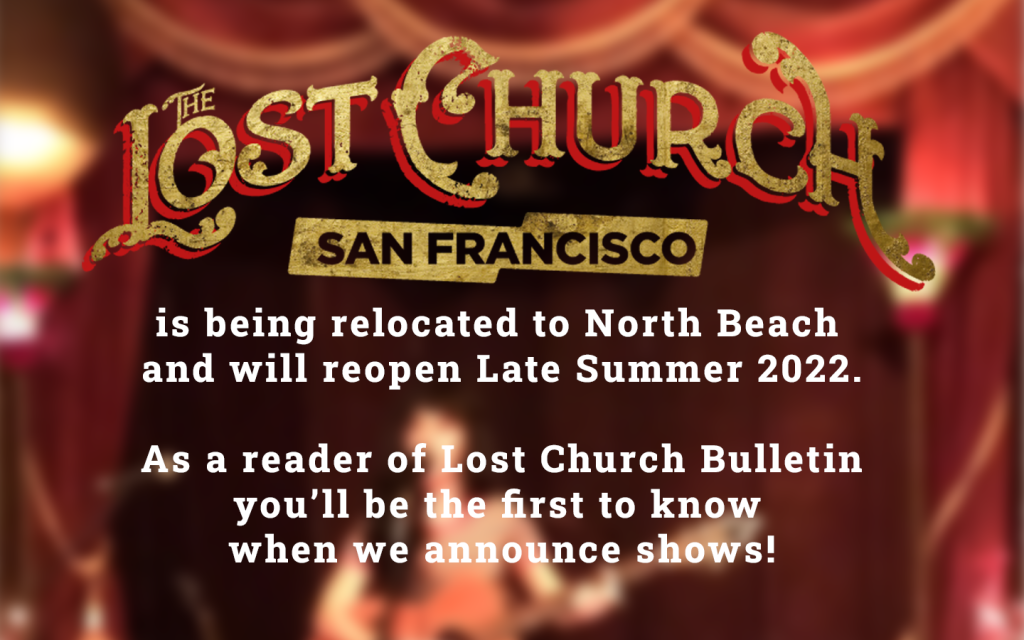 ---