Good Times Ahead at TLC Santa Rosa
Friday, June 24th | Doors at 7:30 Show 8:15-10:30pm — MUSIC
Gillian Grogan and Hannah Frances (Chicago)
Gillian sings stories where Americana meets folk and steeps into soul, where finger picking builds and swells and gets slapped back to silence. The Woven Collective calls it "an unforgiving tuggin' at your roots, no matter where you come from, her lyrics wash over you like gentle reminders of another life you haven't had yet." She calls it full-bodied folk.
www.gilliangrogan.com
Hannah Frances is a musician and songwriter, currently in-and-out of Chicago. As a nomad, her relationship with shifting landscapes sings through her storytelling and swells into a sprawling sense of home. A solitary and introspective poet, Frances magnetizes with her vulnerability, drawing everyone into her dynamic world.
Frances independently released her fifth record, Bedrock, in May of 2021, followed by a collection of Bedrock demo tapes and an accompanying film in the winter. Bedrock offers an experience of spirit through Frances' meticulous guitar work, soulful voice and expansive composition. Unfolding the inquiry of belonging, Frances tells the story of how longing can become a form of shelter amidst love and loss. She collaborates and performs locally in the Chicago folk scene, and is touring the U.S. through spring and summer 2022. https://hannahfrancesmusic.com
Recommended if you like:
Bon Iver, Feist, Ben Howard, Fiona Apple, Laura Marling, Haley Heynderickx, Joni Mitchell, Big Thief
---
Saturday, June 25th |MATINEE Doors at 2:00PM Show 2:45-5:00pm — MUSIC
The Blushin' Roulettes and Ring of Truth Trio – matinée
The Blushin' Roulettes deliver sultry, smoky, swingin' twang. "Their songs are stripped down, sexy little jewel boxes stuffed with ancient mountain magic," says the San Francisco Free Folk Festival. Guitaress and songwriter Angie Heimann belts her stirring songs of damsels in their bliss and distress in a clarion vibrato often likened to Iris Dement. Cas Sochacki thumps the double bass and interlaces bright dobro stylings amid the rich lyrics of the Roulettes' more serious songs, and rings in vocally with his molasses baritone on the occasional cheeky duet. Jay Brown (also of the Lazybirds and the Appalucians) adds sublime guitar licks, smooth vocals and rootsy harmonica.
https://blushinroulettes.com
Ring of Truth Trio, which hails from Santa Rosa, California, first came into existence in 2008, worked steadily for about a year, released a cd, SO FAR, SO GOOD in 2009 and then went into semi musical hibernation. Over the next few years, Henry and Rory continued to perform together occasionally with a rotating cast of bass-players and other instrumentalists. The Ring Of Truth Trio appeared whenever they had time away from other projects. In January 2014, the very talented multi instrumentalist, Roxanne Oliva joined and the trio began a new lease of life. December 2014 saw the release of DANGEROUS BUSINESS, the trio's second cd.
https://www.rorymcnamara.com/Rottnewpage.html
---
Friday, July 8th | Doors at 7:30 Show 8:15-10:30pm – MUSIC
Gabe Katz + Michael J. O'Connor
Gabe Katz is a drummer/composer/guitarist from Sebastopol CA. While perhaps known for his drumming (Horders, Cash Pony, The Sarcastic Dharma Society, The Coma Lilies), Gabe's solo guitar work is more gentle. Reminiscent of John Fahey, Do Make Say Think, and John Frusciante. Haunting, mellow, often hypnotic, Gabe's music can be dark and moody, while at the same time maintaining a theme of catharsis and healing. He has recently released two EPs "Positive Infinity" and "Between the Hours." https://www.gabekatzmusic.com/
Michael J. O'Connor has been slogging his way through the underground music world for the last 15 years and counting. He has performed at theaters, on street corners, in convalescent homes, and at giant music festivals all over the country. With a wordy, lyrical approach and effortless pop hooks, he has managed to find a balance between heady songsmanship and fun solo shows with live loops and riveting guitar playing. https://michaeljoconnor.bandcamp.com/
Recommended If You Like:
John Fahey, Do Make Say Think, and John Frusciante
---
Saturday, July 9th | Doors at 7:30pm. Show 8:15-10:30pm – MUSIC
Stevie Cornell Duo with Jeff Troiano
Stevie Cornell is a Santa Rosa based singer songwriter who started his musical career in the vibrant East Bay punk scene of the late 70s. He then went on to co-found the popular SF Americana group The Movie Stars and retro country band Red Meat before taking a hiatus to raise a son in deepest Vermont. His songs are short, sharp and catchy, with hummable melodies and well turned lyrics. He just released his first solo album to critical acclaim and will be featuring the tunes in his live show. He is accompanied by Alan Weiss on bass and harmony vocals.
https://steviecornell.com/press-kit
Jeff Troiano emigrated from the big, bad dusty city to Santa Rosa in 2021 where he tends a garden(drought be damned), listens to the traffic whistle past and thinks about writing songs. A couple of his favorite themes are "How We Got Here" and "What's Up Ahead," otherwise known as "We're All Going to Die." Oh, and "Love." Jeff is low-key, so no need to wear the dance shoes. He thinks his voice is pretty sweet, and he looks forward to singing his set of moody Americana tunes just for you. https://www.jefftroiano.com/
Recommended If You Like:
Nick Lowe, Tom Petty, Chuck Prophet, Jason Isbell, Todd Snider
---
Located on Ross Street (between Mendocino & B) in Downtown Santa Rosa
(23-min from Petaluma, 40-min from San Rafael, 1 hr 6-min from San Francisco, 1 hr 9-min from Oakland)
Matinee performances end at 5pm | Evening performances end at 10:30pm
We're offering full refunds for non-attendance or cancelations due to COVID concerns, so there is no risk in showing your support by getting advanced tickets.
---
Seating is First Come, First Served.
All Ages are welcome
(Except for babies, children, and adults who cannot focus for two hours and enjoy the performance)
---
Our Current Safety Protocols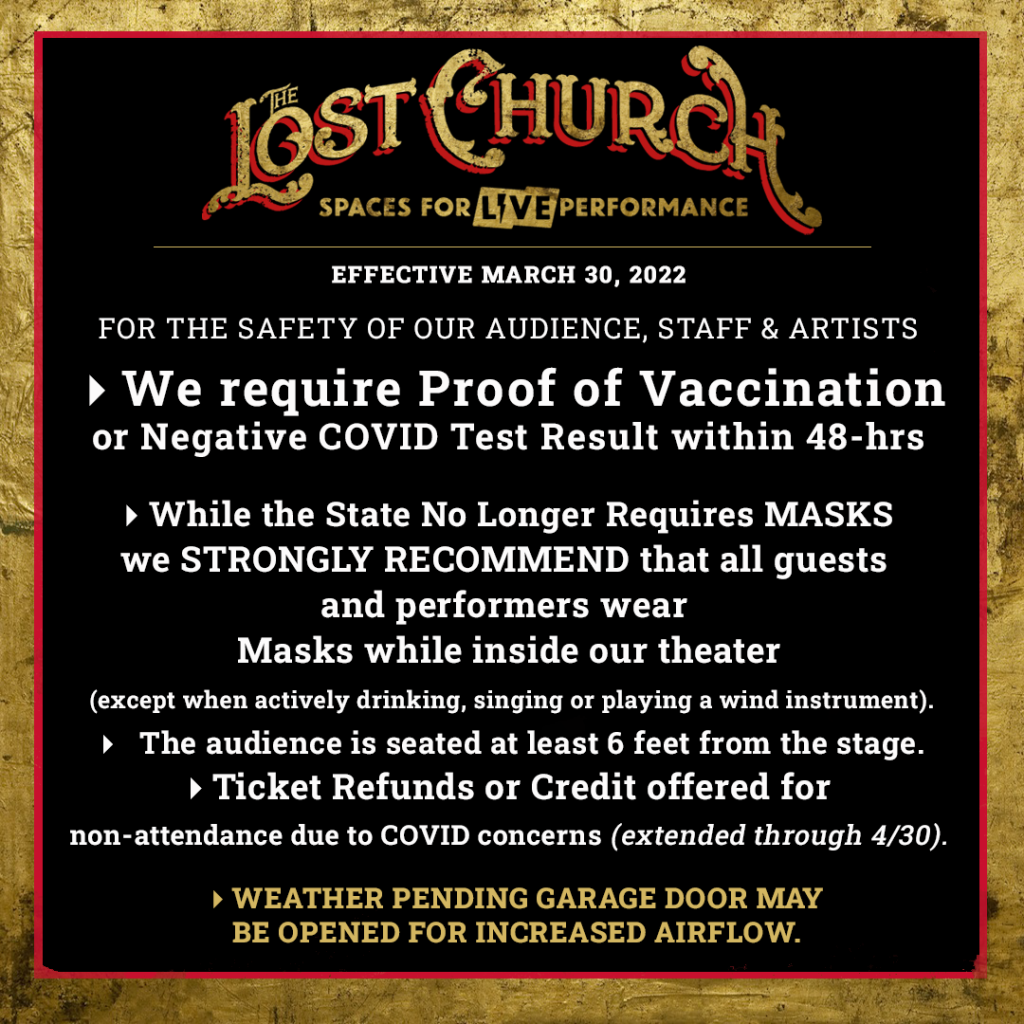 ---

at The Lost Church SANTA ROSA
SAT., July 30th: An Evening with Tony Furtado
Recommended If You Like: Tony Rice, Taj Mahal, David Lindley
SUN., August 7th: Late For the Train and Eric Long
Recommended If You Like: Emmylou Harris, Bob Dylan, Watchhouse, Mipso, Jerry Jeff Walker, John Hartford, Jimmy Buffett
SAT., August 27th: Laura T. Lewis Trio (Santa Cruz) and Wyld Iris
Recommended If You Like: Gillian Welch, John Prine, Townes Van Zandt, Emmylou Harris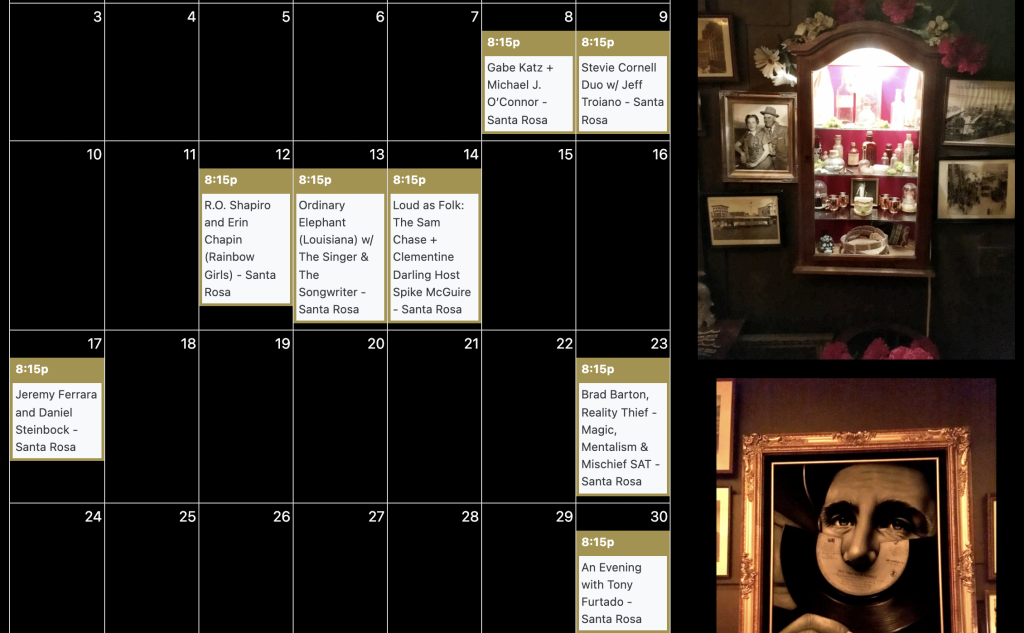 ---

TLC Post Show Burritos are in our future!
El Farolito opens a new location down the street from our forthcoming North Beach theater. We are now one of two Mission District favorites making our homes in the legendary neighborhood.
A new era is about to begin.
When we reopen in the coming months we'll all be able to head down the street for late night eats there or at one of the many other yummy restaurants in North Beach. All of our shows end at 10:30pm leaving plenty of time for post show suppers.
Or come early to the neighborhood for dinner or happy hour and then join us when doors open at 7:30pm. Make a night of it!
"There's been plenty of indigestion for the wildly popular Bay Area taqueria chain El Farolito in their attempt to open a location in North Beach. El Faro announced the North Beach location back last August, but the chain was deemed to violate SF formula retail rules because they have more than ten locations with similar signage and concept. But Supervisor Aaron Peskin worked a compromise deal with them in April that would allow the North Beach storefront to open with the full and proper El Farolito schoolbus-yellow branding and the menu you know and love."
---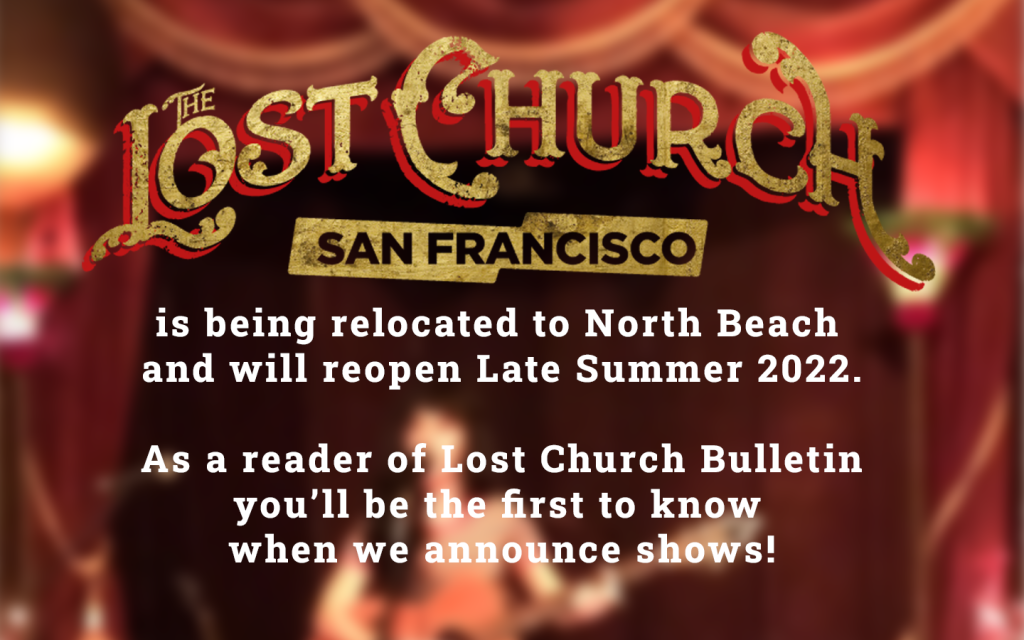 Big Announcement Coming Next Month.
---
"In a live performance, it's a collaboration with the audience; you ride the ebb and flow of the crowd's energy. On television, you don't have that."
Why We Go To Concerts:
The Science Behind Live Music
By Lauren Armao in Melodic Mag

As we lead up to reopening of The Lost Church San Francisco we're sharing the science backed reasons why being a part of a live showcase as an audience member or performer benefits our outlook and well being.

#1: Our brain values experiences over material possessions

This is no shocker; I think we all can agree that going to a show would make us more happy than buying a new pair of shoes. According to research, our brain treats money as a drug, and its favorite thing to splurge on is experiences, rather than things. Psychologists Van Boven & Gilovirch found that people report feeling more fulfillment when spending money on experiences, such as a concert, live sporting event, or play vs spending money on a material item.

This article said it best: "A surfing trip creates more pleasure than a new board, entering a cycling race makes us happier than buying a new bike, and going to a concert is likely to make us happier than buying a ton of music."

#2: Emotional Well Being
Going to concerts is a community event. Even if you go alone, you are surrounded by hundreds, maybe even thousands of other people who love the band on stage just as much as you do, and this gives us a sense of connection and wellbeing. In addition, hearing certain songs can make us nostalgic for different parts of our life and bring back memories. Thomas M. Beaudoin of Fordham University states: "It's an opportunity to revisit something inside of you and think about where you are with that [emotion] now. It's almost like what you'd do in therapy."

In conclusion, going to concerts brings positive benefits all across the board to our mind and body, not to mention our hearts. So next time you're debating whether or not you should buy that ticket, just remember… it's good for you!
---