This Week on our Santa Rosa Stage
Located on Ross Street (between Mendocino & B) in Downtown Santa Rosa
(23-min from Petaluma, 40-min from San Rafael, 1 hr 6-min from San Francisco, 1 hr 9-min from Oakland)
Matinee performances end at 5pm | Evening performances end at 10:30pm
---
Brad Barton, Reality Thief
Our 3rd Thursday (THIRDSDAY!) Monthly Residency
MAGIC * MENTALISM * MISCHIEF
PLEASE NOTE: The March 17th Brad Barton show has been canceled. Please grab your tickets and join us for his run of shows in April!
Performing for over 30 years, Brad Barton, Reality Thief combines magic, psychology, comedy, mind reading, and audience participation to create an unforgettable experience for everyone involved.
Brad has performed backstage at Madison Square Garden, inside Alcatraz Prison AND Grace Cathedral, as well as private homes for guests like Francis Ford Coppola and Spiderman's Andrew Garfield. He was invited to perform at rock band Phish's first Reunion Festival in 2009, was the special guest performer for Prince's final performance at the San Francisco Fillmore, and is the only magician ever known to steal music legend Tom Waits' watch! http://realitythief.com/
From Brad's Email Newsletter:
"Hi friend, I have shows next month and was hoping you could help.

Nothing makes me happier than performing for live audiences at The Lost Church – Santa Rosa, and getting people to these shows is the hardest part of the job. So I'm asking you for some help. If you could take a few minutes today and think of FOUR people that live in or around Sonoma County and personally invite them to my April shows. We've been trying several different ways to spread the word for these shows and have found that personal invites work the best.

Maybe you know someone at work that has a great sense of humor and you think they'll dig the sillier side of the show. Or is there a friend of yours that been having a rough time and could seriously use some wonder in their life? Then it would mean so much if you copy and pasted this link: thelostchurch.org/santa-rosa and sent them a personal invitation to the performance. Or just shoot them a text with the link. Or cut out a bunch of letters from different magazines and make one of those kidnapping letters, then slide it under their door. That wouldn't be creepy at all. OH! Or maybe smoke signals! Are you good with those? I've never tried it, but seriously, what could go wrong???

If you use Facebook a lot, feel free to use this link, click the invite button and ask people to meet you at the coolest venue in Santa Rosa to see what's bound to be the best magic show they'll see ALL NIGHT!!!

Either way, I appreciate you reading this and supporting what I do. I'd chat more, tell you a funny story, or draw you a silly picture but my wife and I are looking for a new place to live in San Francisco right now, so things are pretty busy. So, I'll wrap it up by saying, thank you. Thank you for being my friend. Thank you for spreading the word. Thanking you to everyone who has ever bought a ticket and surprised a loved one with the gift of magic. And thank you for continuing to do your best. I know it's hard sometimes, but you're doing great, and I'm proud of you. I can't wait to see you soon!" — Brad
Recommended If You Like: Laughing, Astonishment, Harry Houdini, Brain Riddles, Alexander — the Man That Knows, The Amazing Kreskin
---
Saturday, March 19th | Doors at 7:30 Show 8:15-10:30pm
3 Acre Holler and The Familiar Strangers
The Familiar Strangers play an Americana grab bag of music from western swing to country, bluegrass, folk, blues and even a little bit of gypsy jazz! This acoustic quartet generates a big response from audiences with their friendly banter and responsiveness to requests from audience members. This is a band with a sense of humor that can easily move between material designed to get you up on your feet dancing or tugging at your heart to buy another beer and lose your sorrows. Their musical palette runs from Bob Wills to Doc Watson to Django Reinhardt and more. The band recently celebrated their first recorded project, Masquerade 2020, which is already garnering critical success.
Candy Girard – fiddle, vocals & killer smile | Tim Sarter – bass, vocals & infectious friendliness | Kevin Russell – guitar, vocals & set list maker | Sean Allen –guitar, lap steel, vocals
https://www.thefamiliarstrangersmusic.com

3 Acre Holler is singer Cori Wood and singer/multi-instrumentalist Layne Bowen. Based in Sonoma County, California, 3 Acre Holler derives its name from Cori's family property in the redwoods near Forestville, CA.
Cori and Layne have played in a variety of bands together in northern California for a number of years and began their duet as a way to perform songs that didn't quite fit the happy band mold. They are drawn to Appalachian inspired material and particularly like those songs with darker themes. Unrequited love, moonshine, tragedy and death are frequent visitors to their song list. In addition to their own songs, Cori and Layne give their take on songs by contemporary writers such as Gillian Welch, Martha Scanlon, The O'Kanes, Casey Chambers and guys named Hank. They do like to sing a few happy songs about love, birds and butterflies as well, so don't worry about leaving one of their gigs in a mopey mood. Instead, you will likely leave their gig with respect for the talent and material they present and possibly with a copy of their new cd in your hand! https://3acreholler.com/
Recommended if you like: Django Reinhardt, Bob Wills & his Texas Playboys, Nat King Cole, Gillian Welch, Hank Williams
---
Wednesday, March 23rd | Doors at 7:30 Show 8:15-10:30pm
TLC Song Service with Alyra Rose, Jacob Aranda, Joyfully Cricket
TLC Song Service is an intimate evening with three artists passing the spotlight. Expect insights into the craft of the song from inspiration to final form. *Every 4th Wednesday
This March 2022 Edition features…

Alyra Rose is a native Californian who grew up in a musical family. Her music comes from a deep, soulful and reflective place. She blends elements of folk, electronic, hip-hop, pop and soul to create elaborate soundscapes and a style uniquely her own. Alyra's journey with music has been inextricably linked to her study of the healing arts of yoga, ayurveda, body work and her own journey of healing. After reaching rock-bottom at 19 and feeling very disillusioned by society it was a rediscovery of her passion for music that brought her back to life. Along with performing live and recording music she is beginning to share her passion for healing and transforming our life through the power of musical alchemy workshops and retreats. Named after the constellation Alpha Lyra, Alyra Rose is herself a constellation of creation. She has performed and played with artists such as Pamela Parker, Gina René, Siren's of Soul, Sharon Shannon of Ireland and many others. She also has a musical project with her dear sister Alyson Miller called Mirror Pool. Her latest release 'Divine' is her first self-produced song and can be found on all platforms. https://www.alyrarosemusic.com/
Jacob Aranda is a multi-instrumentalist and member of San Francisco's legendary folk-psych band Tarnation. Originally from Illinois, he studied guitar making in Spain and moved to the Bay Area to be a furniture maker. His music is in the tradition of songwriters like Townes Van Zandt, Leonard Cohen, and Jay Farrar to name a few. Jacob's music features a solemn gravity that weaves melancholy with beautiful and haunting, often cinematic images of traveling through landscapes both external and internal. His first studio album, Great Highway, was recorded and produced with Kelley Stoltz (Echo and the Bunnymen) and Nick Luca (Iron and Wine). The newly released singles, "Dry December" and "Baby in Blue" feature his most recent work with songwriting partner Sara Gallagher. https://www.jacobaranda.com/
Joyfully Cricket is an Inspirational Singer-Songwriter and Spiritual Life Coach. Cricket has been a lifelong singer and performer, but began her journey of transformation at the age of 20 when she experienced a personal tragedy. She made the choice to allow this tragedy to propel her into a life of spiritual and personal growth, to make meaning of the loss. Through her grieving, Cricket used songwriting as a way to process her pain. After years of self-healing using her songwriting and spiritual tools, Cricket started to channel her transformation into her songs and began writing and performing inspirational folk music. Her new style of music carried themes of joy, passion, purpose, and manifestation. This new writing style and mission, to uplift people with her music, and her belief that everyone has a right to live out their dreams, led to Cricket becoming a certified Life Coach in 2018. Cricket now blends the gift of her music with her passion for creativity and personal growth as a Spiritual Life Coach. Cricket shares her music and message at spiritual centers, workshops, classes, women's circles, and even writes custom affirmation chants for her clients to help shift their mindsets to believe more fully in themselves and their ability to achieve their dreams. www.joyfulpuposecoaching.com

Recommended If You Like: Rising Appalachia, Townes Van Zandt, Elephant Revival, Trevor Hall.
---
We're offering full refunds for non-attendance or cancelations due to COVID concerns, so there is no risk in showing your support by getting advanced tickets.
---
Click the above image to email us and be entered to…
WIN 2 TICKETS
to
March 30th
TWISTED PINE (Boston) and
BIG KID FUN (Caitlin Gowdey of Rainbow Girls)
more about the show here: tinyurl.com/TwistedBigKidMar30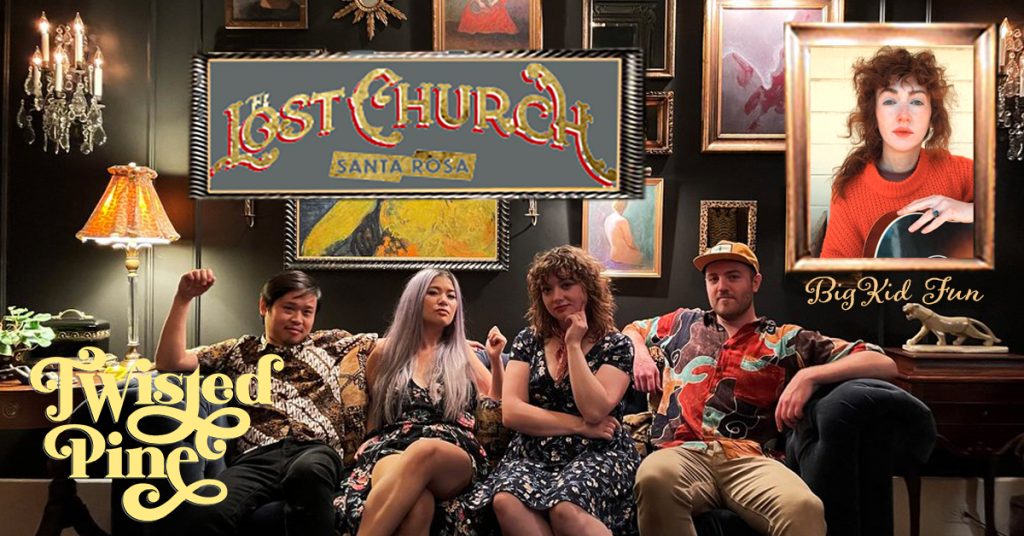 ---
From The Lost Church Video Archives
Devon McClive (of The Sam Chase & The Untraditional) with Alicia Greenleaf & Mia Pixley from our original San Francisco Stage
A most wonderful interplay of cellos and warm harmonies.
Devon McClive https://www.devonmcclive.com/
Alicia Greenleaf https://www.aliciagreenleaf.com/
Mia Pixely https://miapixley.com/
---
Update to our Safety Protocols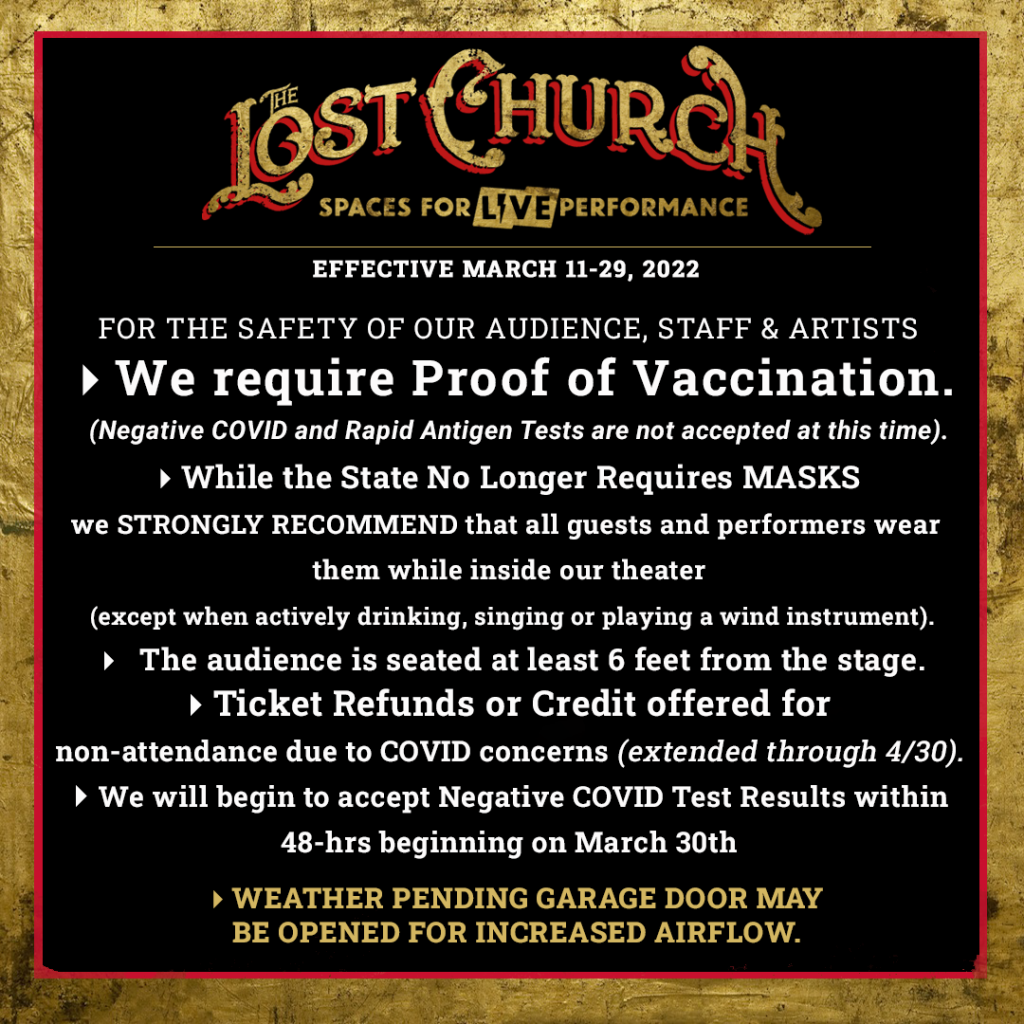 ---
Stanroy Stories (pt 3)
Stanroy Stories
We've long admired the variety and strength of the Sonoma County music community. In addition to the truly talented people who make their home in the Santa Rosa area we noticed another wonderful element contributing to the growth of music making here...Stanroy Music Center and Steve Shirrell and Dustin Heald.
THIS WEEK'S STANROY STORY:
"I have a lot of great memories about Stanroy Music! I worked at the counter there for a year or so in 2005. I was lucky enough to work under Tim Ellis who still works there. It was a formative place for me that deepened my love for guitar shops and Steve was always the smiling face to greet me at the back entrance where the repair shop was. He repaired many of my instruments and was one of my initial inspirations for getting into guitar repair. He made pickups from scratch for acoustic guitars, and installed a couple free of charge for me – always smiling, encouraging me to just pay it forward. Steve's generosity and deep care for the music community has and will always be an inspiration and a level of joy that I aspire to bring to my own practice as a repair technician. Steve and the Stanroy crew are legends in my personal story." — John Courage (Musician, Songwriter, Luthier, Instrument Repair Technician)
THE BACKGROUND:
"Stanroy Music Center first opened it's doors in August 1947 when the first owner, Stan Goldman, returned to his hometown after serving in various army bands during WWII. His partner/cousin Roy Chilton (Thus the name Stan-Roy) left the business to Stan after the first year. That original store grew to become the leading music store in the North Bay. In 1980 Tupper & Reed, another legacy music store located in Berkeley, bought Stanroy from Stan.
In 2013, Stanroy music Center reinvented itself once again, purchased by Dustin Heald and Steve Shirrell. In 2014 the newly renovated business moved into a newly renovated building at 850 4th street. Their 4th and final location thanks to a 99-year lease. The new storefront has plenty of space and light, comfy lesson studios, and lots of room for their legendary brass and woodwind repair shop – one of the largest instrument repair facilities in the state.
In July of 2021 Steve left ownership of the store to Dustin, although Steve still works at the store doing repairs and sales."
---
SANTA ROSA
April 11th: Rng and TH3MYSTICMISFIT Listening Party
Recommended if you like: Chance the Rapper, Rae Sremmurd, NF, Drake
April 30th: The Spindles 20th Anniversary Show with local favorites The Orchid Killers
Recommended if you like: Elliott Smith, Hayden, Jose González
May 14th: Hanna Haas (Portland, OR) and Solström
Recommended if you like: Joni Mitchell, Regina Spektor, and Nick Drake
---
---