The Next 3 Showcases on our Santa Rosa Stage
---
Wednesday, March 23rd | Doors at 7:30 Show 8:15-10:30pm
TLC Song Service with Alyra Rose, Jacob Aranda, Joyfully Cricket
TLC Song Service is an intimate evening with three artists passing the spotlight. Expect insights into the craft of the song from inspiration to final form. *Every 4th Wednesday
This March 2022 Edition features…

Alyra Rose is a native Californian who grew up in a musical family. Her music comes from a deep, soulful and reflective place. She blends elements of folk, electronic, hip-hop, pop and soul to create elaborate soundscapes and a style uniquely her own. Alyra's journey with music has been inextricably linked to her study of the healing arts of yoga, ayurveda, body work and her own journey of healing. After reaching rock-bottom at 19 and feeling very disillusioned by society it was a rediscovery of her passion for music that brought her back to life. Along with performing live and recording music she is beginning to share her passion for healing and transforming our life through the power of musical alchemy workshops and retreats. Named after the constellation Alpha Lyra, Alyra Rose is herself a constellation of creation. She has performed and played with artists such as Pamela Parker, Gina René, Siren's of Soul, Sharon Shannon of Ireland and many others. She also has a musical project with her dear sister Alyson Miller called Mirror Pool. Her latest release 'Divine' is her first self-produced song and can be found on all platforms. https://www.alyrarosemusic.com/
Jacob Aranda is a multi-instrumentalist and member of San Francisco's legendary folk-psych band Tarnation. Originally from Illinois, he studied guitar making in Spain and moved to the Bay Area to be a furniture maker. His music is in the tradition of songwriters like Townes Van Zandt, Leonard Cohen, and Jay Farrar to name a few. Jacob's music features a solemn gravity that weaves melancholy with beautiful and haunting, often cinematic images of traveling through landscapes both external and internal. His first studio album, Great Highway, was recorded and produced with Kelley Stoltz (Echo and the Bunnymen) and Nick Luca (Iron and Wine). The newly released singles, "Dry December" and "Baby in Blue" feature his most recent work with songwriting partner Sara Gallagher. https://www.jacobaranda.com/
Joyfully Cricket is an Inspirational Singer-Songwriter and Spiritual Life Coach. Cricket has been a lifelong singer and performer, but began her journey of transformation at the age of 20 when she experienced a personal tragedy. She made the choice to allow this tragedy to propel her into a life of spiritual and personal growth, to make meaning of the loss. Through her grieving, Cricket used songwriting as a way to process her pain. After years of self-healing using her songwriting and spiritual tools, Cricket started to channel her transformation into her songs and began writing and performing inspirational folk music. Her new style of music carried themes of joy, passion, purpose, and manifestation. This new writing style and mission, to uplift people with her music, and her belief that everyone has a right to live out their dreams, led to Cricket becoming a certified Life Coach in 2018. Cricket now blends the gift of her music with her passion for creativity and personal growth as a Spiritual Life Coach. Cricket shares her music and message at spiritual centers, workshops, classes, women's circles, and even writes custom affirmation chants for her clients to help shift their mindsets to believe more fully in themselves and their ability to achieve their dreams. www.joyfulpuposecoaching.com

Recommended If You Like: Rising Appalachia, Townes Van Zandt, Elephant Revival, Trevor Hall.
---
Thursday, March 24th | Doors at 7:30 Show 8:15-10:30pm
You're Going to Die: Poetry, Prose & Everything Goes
YOU'RE GOING TO DIE: Poetry, Prose & Everything Goes is a total open mic event, with no set or featured performers, but only the communal offering for us to explore the conversation of death & dying, to embrace our losses & mortality, to grieve, bereave & honor those we've lost & love…while all the while making room for simply being ALIVE.
Sign-ups will be the night of & the list fills up quickly, so if you want to perform, you'd better get there early…If you're going to perform, keep it under 5 MINUTES. That's right: 5 MINUTES. WE WILL TIME YOU. And we will hug you when we have to stop you [just to make it easier on you (or harder – depending on your propensity for intimacy)].
Poetry, prose, music, dancing, comedy, drama, happy, sad, & on & on & on… Remember: EVERYTHING GOES… so do whatever you want.
From YG2D Founder Ned Buskirk:
"It will have been two years since our last You're Going to Die: Poetry, Prose & Everything Goes in-person event.
Oof. I just froze, sitting here, staring at my computer screen. I'm dumb-founded, almost paralyzed, by that fact, with our first live in-person event before us, scheduled for Thursday night in Santa Rosa. ALL of me has A LOT of feelings about it; there seems to be no limit to the complications I'm sorting out within right now. Hopefully I can share a lot more about what these feelings are, but one thing I'm clear on: At this stage of a pandemic, at this stage of our personal lives, with the state of things globally… whether it's the prison gate, the cancer patient's hospital room door, the venue's stage curtain… just give me the place to step through and show up.
I can already see and feel my feet on that stage, and the many tears that will pour forth there, they're already coming now. And yes, I know we're still in a very real stage of the pandemic. And after cancelling several scheduled event dates over the last year, our team is clearer than ever, at least right now, with our finger on the pandemic pulse locally, that this is a time to be together in-person. I completely understand there is community who may not be ready for an in-person event like this, especially one called You're Going to Die, but if we've learned anything from the last two years, we've learned that this fact is absolutely, unequivocally true. As true as all the grief that comes with it. And oh do we need space for all that more than ever before.We will put this event on even with just FOUR people in the audience and it would be worthwhile. I mean that with all my heart. So, if you're ready & want to meet us at the edge, where our hearts can beat together, get your tickets now: https://tinyurl.com/YG2DMarch24SR
And honestly, if you're not ready to meet in-person, buy a ticket anyway and consider it a contribution towards supporting live event producers like You're Going to Die & venues like The Lost Church. BECAUSE BOY DO WE NEED YOUR SUPPORT. Or get a ticket & come watch me cry for two hours straight. We are certainly following current local and venue COVID Safety Protocols effective March 11-29th, 2022″
---
Friday, March 25th | Doors at 7:30 Show 8:15-10:30pm
Whim Grace with Lucia Comnes + Brittany Aquamarine
Whim Grace is an award-winning multi instrumentalist who is best known for her sultry soulful voice and unique sound. Born in the Philippines, Whim has been wandering the world ever since, seeking sound and connection. She is always hoping someone will understand and answer her siren's call. https://whimgrace.bandcamp.com/

Lucia Comnes is a Bay Area native now living and playing music in Italy. She'll be accompanying Whim on violin and viola.
Brittany Aquamarine had an early start in music, making up songs on her family's piano before formally taking piano lessons at the age of 5. Just one year later, she started singing with a church choir, and marked her first vocal solo in a production at 8 years old. She began teaching herself guitar as a young adult and she wrote her first song after watching a singer-songwriter documentary.

Brittany has collaborated and performed with many musicians, adding songwriting, instrumentation, lead and background vocals to various projects, performing live with one band at SiriusXM Satellite Radio in Washington D.C. the Clearwater Festival and Mountain Jam Festival in New York. Known for creating complex and intricate piano and guitar-based songs since 2004, Brittany's newest songs, and first-time releases in 2021, were created by arranging and editing a variety of layered electronic instrumental loops. https://www.aquamarinerhythms.com/
Recommended If You Like: Kate Bush, Florence + The Machine, Bjork, Phoebe Bridgers, St. Vincent.
---
Cancelled: Our First Santa Rosa Kids Show!
Sunday, March 27th | Doors at 3:00 pm. Show from 3:30 -5:00pm with one intermission
Spring Family Jam with Megan Schoenbohm (Matinée)
In 2020 + 2021, Megan was recognized by the Bay Area Parent's "Best of the Best" Awards, receiving a gold medal for "Best Music Class", "Best 'Hidden Gem'", "Best Local Family Entertainment", and "Best Birthday Party Entertainment". Musictimewithmegan.com
---
Flutegrass and Boot-gaze sounds
Wednesday, March 30th | Doors at 7:30 Show 8:15-10:30pm
Twisted Pine (Boston) and Big Kid Fun (Caitlin Gowdey of Rainbow Girls)
Praised by NPR for their "upbeat, poppy vibe; energetic, driving rhythms; and virtuosic solos," Twisted Pine (Boston Music Awards Americana Artist of 2021) explores a sound they call Americana funk — which takes traditional music in exhilarating directions. www.twistedpineband.com
Caitlin Gowdey, usually of the band Rainbow Girls, is a lo-fi loving dreamy garage finger picker and occasional nose picker who will play songs with above average and sometimes even great lyrics.
Bandcamp
---
Located on Ross Street (between Mendocino & B) in Downtown Santa Rosa
(23-min from Petaluma, 40-min from San Rafael, 1 hr 6-min from San Francisco, 1 hr 9-min from Oakland)
Matinee performances end at 5pm | Evening performances end at 10:30pm
We're offering full refunds for non-attendance or cancelations due to COVID concerns, so there is no risk in showing your support by getting advanced tickets.
---
The Lost Church San Francisco is being relocated to North Beach and will reopen later on in 2022.
---
Social Distance Live has returned.
Created by our Development Director, Josh Windmiller, with actor/writer James Freebury Social Distance Live is an initiative to help artists create and share live performance online.
When they created SDL in 2020 their aims were:
1-To be a resource and a channel to help artists share their work during social isolation.
2- To curate special projects to showcase artists and connect artists with each other and new audiences.
3- To help artists find ways to replace or rebuld their canceled events.
In the longer term, our goal is to help artists reimagine and put in practice better, more artist focused ways of connecting online.
After taking a 7-month break SDL is back with a 2nd Season all new local performer tributes! Past shows have included local and regional musicians and their takes on The Beatles (pre-Revolver era), Non-English Music, Alanis Morrisette, Tom Waits, Sade, Riot Grrrl and its Legacy, The Kinks, Nine Inch Nails, 60s Girl Groups, and more.
Next up is Rhianna airing Sunday, April 3rd at 11am PST.
CLICK HERE TO WATCH AND SUBSCRIBE.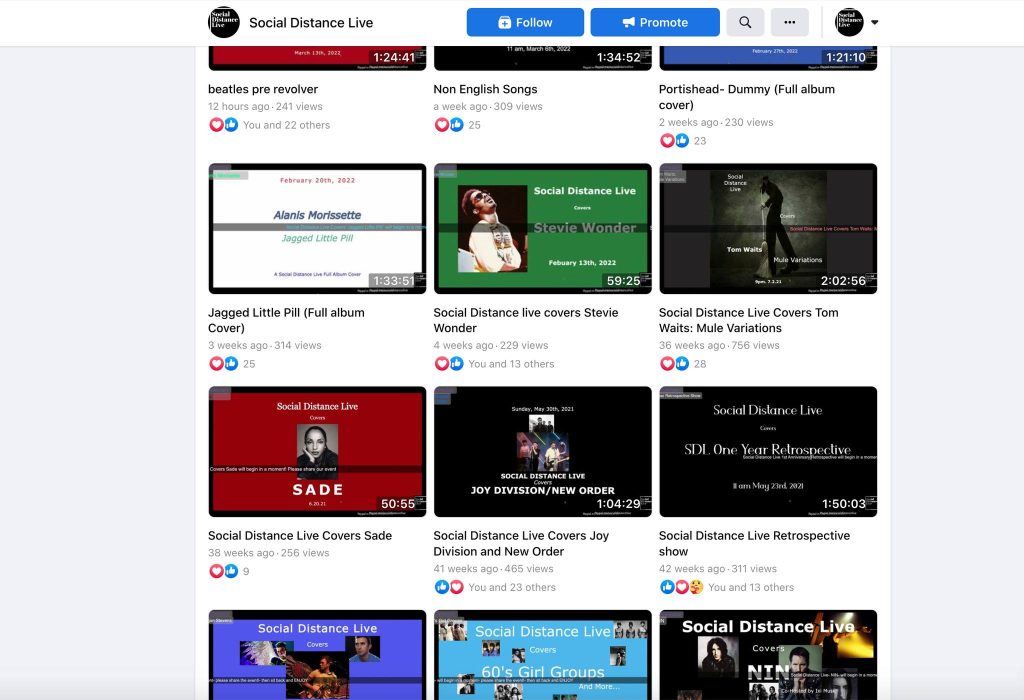 ---
Update to our Safety Protocols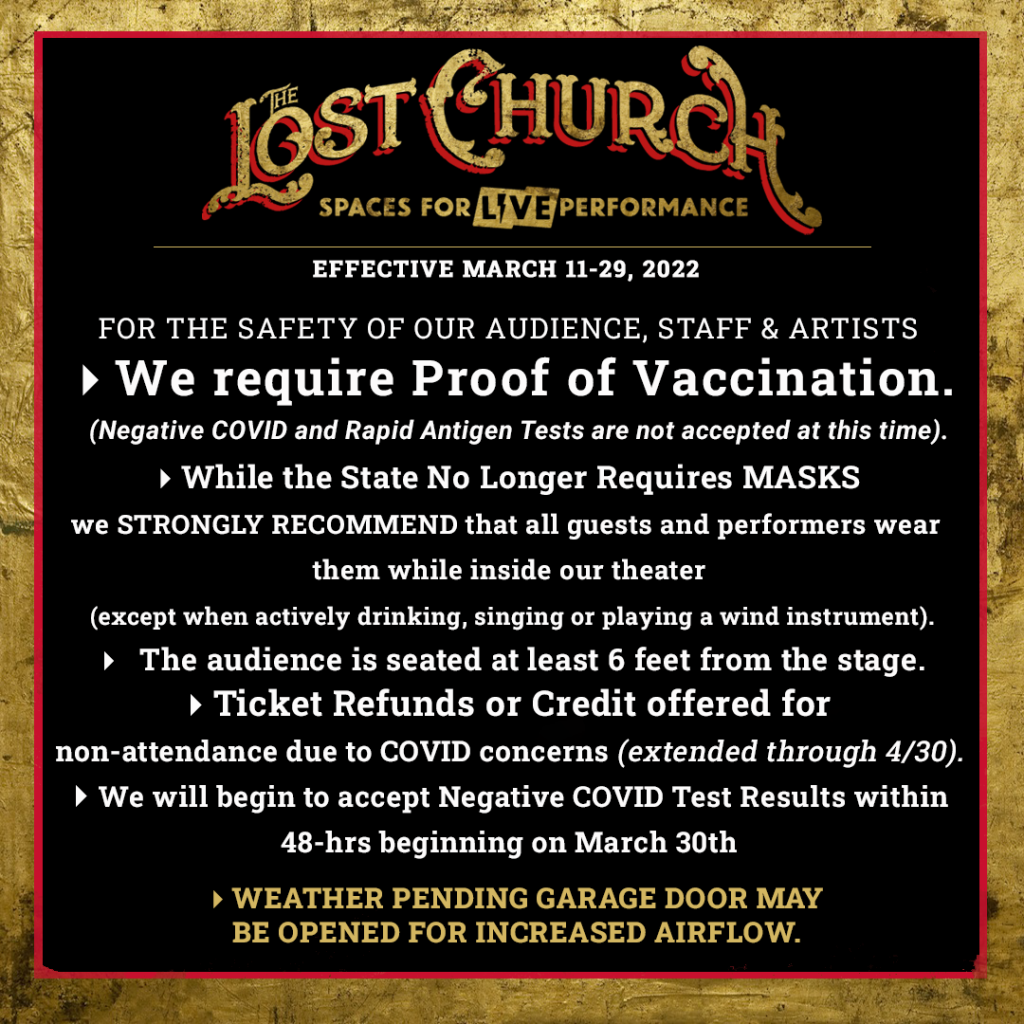 ---

at The Lost Church SANTA ROSA
April 7th: Josh Windmiller (The Crux) and Jet Black Pearl (Netherlands/PDX)
Recommended if you like: Tom Waits, Leonard Cohen, Nina Hagen, Björk, Laurie Anderson
April 30th: The Spindles 20th Anniversary Show with local favorites The Orchid Killers
Recommended if you like: Elliott Smith, Hayden, Jose González
May 14th: Hanna Haas (Portland, OR) and Solström
Recommended if you like: Joni Mitchell, Regina Spektor, and Nick Drake
June 5th: The Black Feathers (UK) and John Roy Zat
Recommended if you like: The Civil Wars, Gillian Welch and Dave Rawlings, Antje Duvekot, Kate Wolf
---
---