The Next 3 Showcases on our Santa Rosa Stage
---
Wednesday, March 30th | Doors at 7:30 Show 8:15-10:30pm
Twisted Pine (Boston) and Big Kid Fun (Caitlin of Rainbow Girls)
LOW TICKET ALERT
Twisted Pine
Praised by NPR for their "upbeat, poppy vibe; energetic, driving rhythms; and virtuosic solos," Twisted Pine (Boston Music Awards Americana Artist of 2021) explores a sound they call Americana funk — which takes traditional music in exhilarating directions. "We're rooted in bluegrass," says bassist Chris Sartori, "continually inspired by explorers like Bela Fleck, Jerry Douglas, and Sierra Hull. Our bluegrass is jazzy, our indie folk is poppy, our grooves are funky." Twisted Pine [Kathleen Parks, fiddle; Dan Bui, mandolin; Chris Sartori, bass; Anh Phung, flute … and Ethan Robbins, guitar, joining the group on this run] grooves with fearless improvisation and intricate arrangements. "They were once bluegrass," wrote The Boston Globe, "but … this Boston band has become something else, a wider version of string band, boundary jumpers akin to outfits like PunchBrothers, Nickel Creek, and Crooked Still."
video: www.livesessions.npr.org/artists/twisted-pine
Big Kid Fun
Caitlin Gowdey, usually of the band Rainbow Girls, is a lo-fi loving dreamy garage finger picker and occasional nose picker who will play songs with above average and sometimes even great lyrics.
Bandcamp
Recommended If You Like:
Twisted Pine — Punch Brothers, Crooked Still, Wood Brothers
Big Kid Fun — Big Thief/Adrienne Lenker, Phoebe Bridgers
---
Saturday, April 2nd | Doors at 7:30 Show 8:15-10:30pm
An Evening with Jim Peterson and Jeremy Gorman
Jeremy Gorman
For San Francisco Bay Area multi-instrumentalist, Jeremy Gorman, music has been nothing short of a lifetime journey of self-expression and self-realization. Currently performing as a solo-artist, Jeremy has collaborated with many bands around the North Bay area including a project titled spaceMüs with daughter Blair Gorman.
With a deep knowledge of music theory, along with a vast range of musical tastes, Jeremy creates story-driven songs that capture ideas of hope and gratitude and of his own personal life's journey.
It is quite difficult to place Jeremy Gorman's music in a specific genre-box, as he draws from the likes of Jazz, Blues, Rock, classical and other styles, and yet, he manages to bring them all together into one cohesive sound.
Originally from Berkeley, California, Jeremy now resides in Sonoma County where he produces music for multiple artists.
https://linktr.ee/jeremygormanmusic
Jim Peterson
Jim has been performing and playing in Sonoma County as a musician and actor for over 40 years. He is a singer and songwriter who plays guitar, mandolin, electric bass and trombone. He plays with and is a founding member of the long running Americana roots rock band Stony Point, who has recently released their third album. He also is currently playing with his long time friend and musical partner Jeremy Gorman, with whom he started his musical journey here in Sonoma County, and Jim has been a member in local favorites Tsonoma, the Shannon Rider Band and Miss Kitty and the Big Dogs. Jim has also performed in numerous stage shows and has opened for many well-known performers including Elvin Bishop, David Lindley and Asleep at the Wheel.
Recommended If You Like:
Mark Knopfler, John Mayer, George Harrison, Rodney Crowell, Steve Earle, Jason Isbell
---
Thursday, April 7th | Doors at 7:30 Show 8:15-10:30pm
Josh Windmiller (The Crux) and Jet Black Pearl (from The Netherlands by way of Paris and now Portland)
Josh Windmiller
Often seen behind the mic with his theatrical folk punk band, The Crux, Josh Windmiller is performing a special solo set at The Lost Church. He likes to shift gears onstage, performing soul-baring ballads with a dash of humor, swinging love songs set at different points in history, and sometimes accompanies himself with an eight foot steel chain. www.thecruxmusic.cominstagram.com/thecruxlab
Jet Black Pearl
Hailing from the Netherlands via France, Jet Black Pearl is a groovy and innovative musician. She combines accordion, live looping, beat boxing, flute, and imaginative songwriting into a feast for the ears and eyes. She has performed in music venues, big tops, prisons, house boats and theaters all over the world. 'A formidable force of music, and truly has to be seen to be believed' (Three Weeks, Edinburgh Fringe Festival). 'The most eccentric and equally the most talented woman you will see in Edinburgh this month' (Broadway Baby, Edinburgh Fringe Festival)
https://www.instagram.com/jet.black.pearl/
https://www.youtube.com/user/missjettylag
https://www.facebook.com/jetblackpearl
https://www.youtube.com/watch?v=xyZcuJpUFNE&t=5s
Recommended If You Like:
Tom Waits, Leonard Cohen, Nina Hagen, Björk, Laurie Anderson
---
Located on Ross Street (between Mendocino & B) in Downtown Santa Rosa
(23-min from Petaluma, 40-min from San Rafael, 1 hr 6-min from San Francisco, 1 hr 9-min from Oakland)
Matinee performances end at 5pm | Evening performances end at 10:30pm
We're offering full refunds for non-attendance or cancelations due to COVID concerns, so there is no risk in showing your support by getting advanced tickets.
---
Update to our Safety Protocols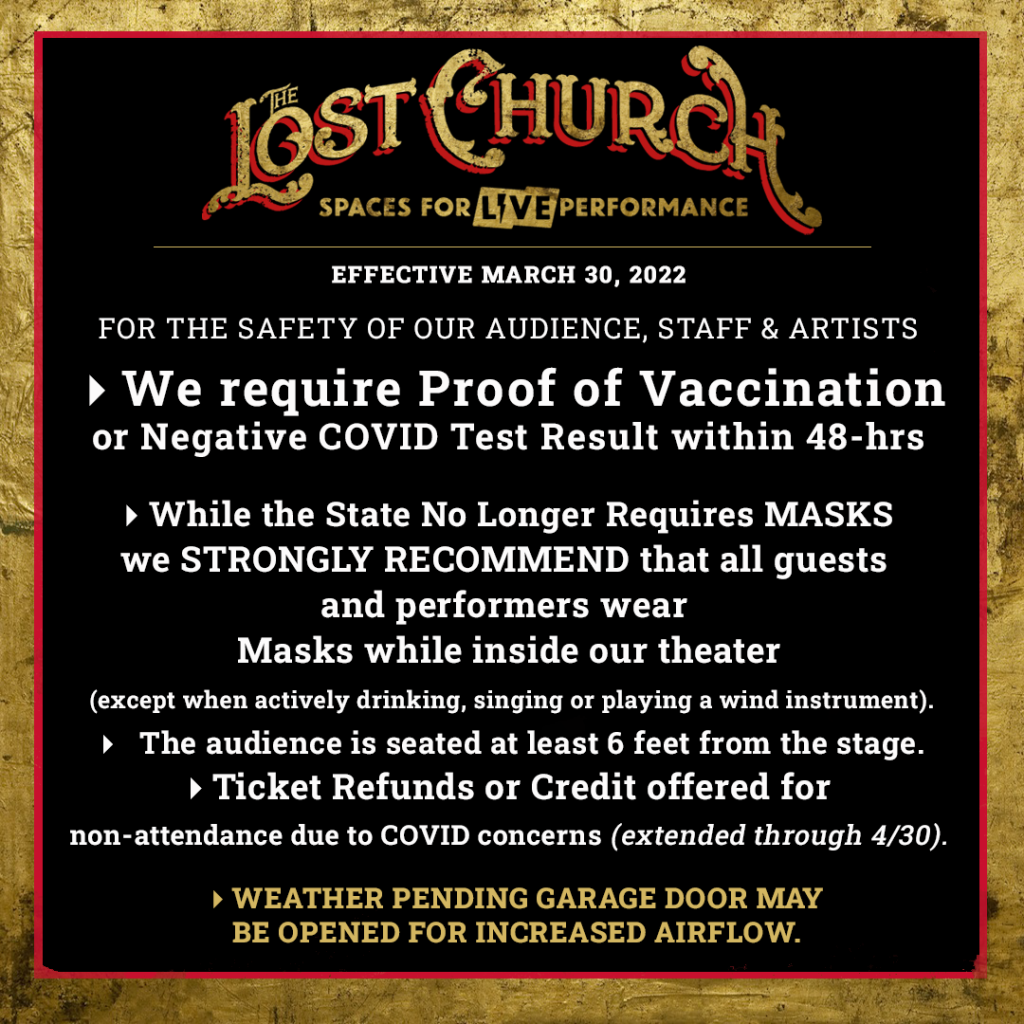 ---
The Lost Church San Francisco is being relocated to North Beach and will reopen later on in 2022.
---
Tommy Stinson "Anybody Else"
Ace storyteller and founding member of The Replacements and Bash & Pop and former member of Guns & Roses performing his own tune from his Bash & Pop days at The Lost Church Santa Rosa on November 16th, 2021.
Tommy Stinson https://www.tommystinson.com/
Facebook: https://www.facebook.com/TommyStinson
Instagram: https://www.instagram.com/tommystinson/
Twitter: https://twitter.com/tommy_stinson
Video by EyeClash Ragazine
---

at The Lost Church SANTA ROSA
April 14th: Loud As Folk (2nd Thursday Residency) Hosted by Spike McGuire. Featuring Graham Patzner (of Whiskerman), Schlee, and Greg Gilmore (Reno).
Recommended if you like: Whiskerman, Tom Petty, Kris Kristofferson, Willie Nelson, Fleetwood Mac, Lauren Ruth Ward
April 15th: Bobby Jo Valentine: New Water, Old Fires with Katie Phillips
Recommended If You Like: Jack Johnson, Josh Ritter, The Killers, Gregory Alan Isakov, Gabriel Kahane
May 13th: Jim Kweskin (performing solo/founder of the Jim Kweskin Jug Band)
Recommended If You Like: Leon Redbone, Ramblin' Jack Elliott, Happy Traum, Even Dozen Jug Band
May 21st: Obsidian Son Band with Lockwood Barr (Nashville)
Recommended If You Like: Lyle Lovett, Chuck Prophet , Chris Isaak, Nickel Creek, Stevie Nicks, The Chicks
June 5th: The Black Feathers (UK) and John Roy Zat
Recommended if you like: The Civil Wars, Gillian Welch and Dave Rawlings, Antje Duvekot, Kate Wolf
---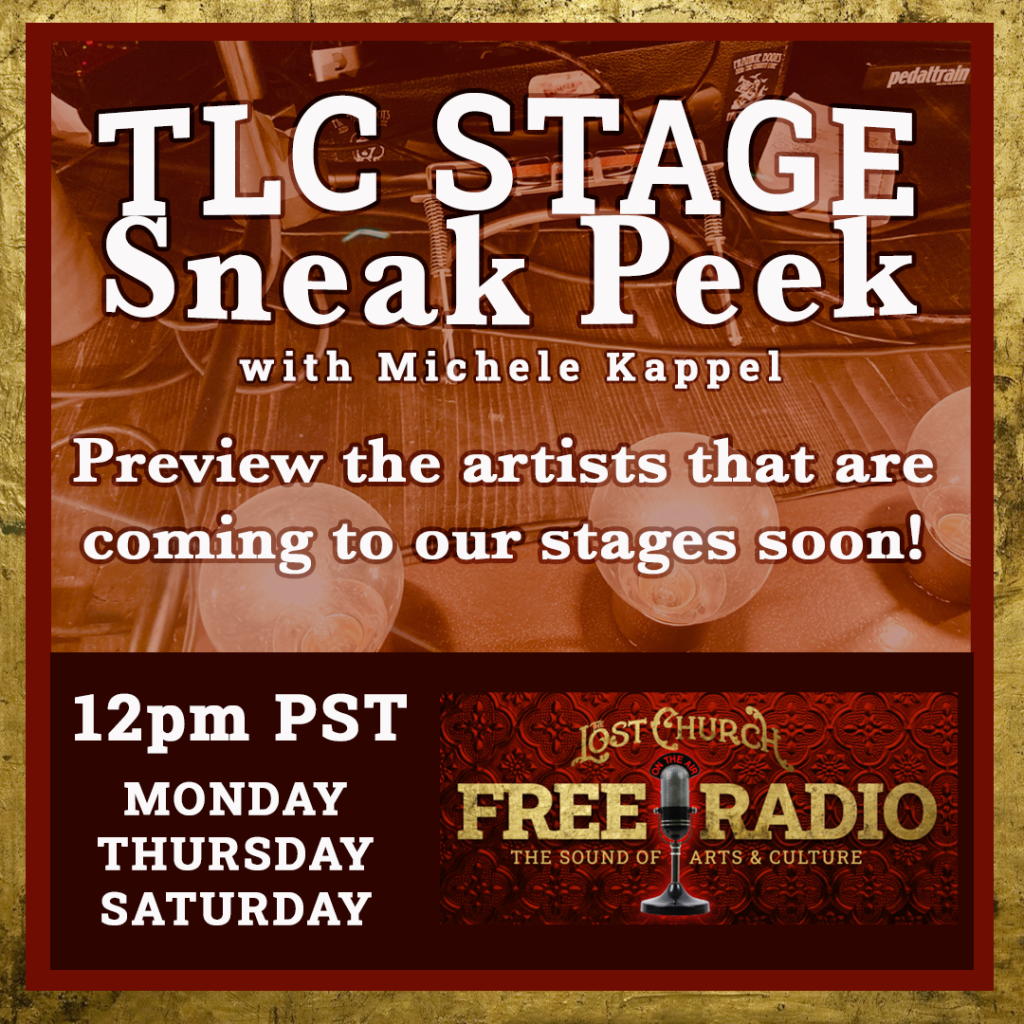 Get as excited as we are by listening to a preview of the sounds coming to our stages!
Tune in and then get tickets to try something new.
---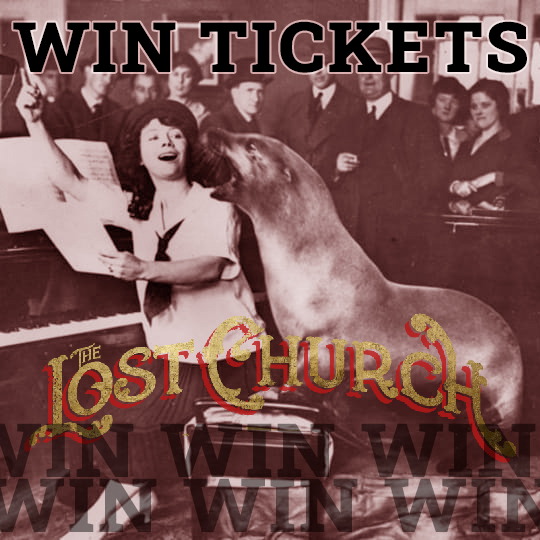 Click the above image to email us and be entered to…
WIN 2 TICKETS
to
APRIL 14TH
Loud As Folk: Graham Patzner (Whiskerman), Schlee, Greg Gilmore (Reno)
Hosted by Spike McGuire
more about the show here: LAF_4/14
---