From The Lost Church Video Archives
Eki Shola live on our Santa Rosa Stage
at the North Bay Organizing Project Benefit on December 5, 2021
Eki Shola: https://www.ekishola.com/
YouTube: https://www.youtube.com/channel/UCdrq…
Instagram: https://www.instagram.com/ekisholaart…
Facebook: https://facebook.com/ekishola
---
---
This Week on our Santa Rosa Stage
Located on Ross Street (between Mendocino & B) in Downtown Santa Rosa
(23-min from Petaluma, 40-min from San Rafael, 1 hr 6-min from San Francisco, 1 hr 9-min from Oakland)
Matinee performances end at 5pm | Evening performances end at 10:30pm
---
Thursday, March 10th | Doors at 7:30 Show 8:15-10:30pm
Loud As Folk: Joshua James Jackson with Sebastian Saint James, Zöe Winter, and hosted by Spike McGuire.
Our 2nd Thursday Monthly Residency!
This Showcase was rescheduled from January 13th. All tickets for the previous date will be honored.
Loud As Folk (every 2nd Thursday at The Lost Church Santa Rosa) is a hub of the west coast songwriting scene focused on highlighting emerging artists with distinct approaches to all genres of American roots music. In the process of bringing these acts together for performances, a beautiful community naturally formed with artists and audience members alike. Now LAF is a global network of songwriters who collaborate, tour, and record in ever changing combinations. The organization is based in Reno, NV and operated by founder Spike McGuire and VP Greg Gilmore. Their dedication remains to preserving the craft of songwriting, whether it's through your stereo or from the stage.
Joshua James Jackson is a multi instrumentalist and internationally touring singer songwriter from Oakland, CA. Triple J has had just about every musical role, from trumpet in an orchestra to rock n roll guitarist, bluegrass bassist to live sampling Dr. Phil on a handheld tv in a funk band, and everything in between. Music has taken Triple J to every corner of the USA and across the globe— just like a good fried chicken recipe. These days, JJJ serves up his stories and songs solo or with a band like a home cooked meal, complete with jokes, tears and (in the old days) hugs.
Spike McGuire is an internationally touring artist that has performed in 16 states and 5 countries, as well as a GraphTech Guitar Labs endorsed artist. McGuire has spent the last decade drawing parallels between the ethos of punk rock and the spirit of folk music by building community and engaging listeners with his message. He doesn't claim to have the answers, but he has dedicated himself to traveling the world, asking the questions, and starting the conversations. On the rich spectrum of folk music, Spike resides decidedly closer to Pete Seeger than Peter, Paul, and Mary.
Coastal Sonoma County singer-songwriter Zoë Winter lulls the heart with lilting and enchanting melodies akin to Laura Marling, Joni Mitchell & Nick Drake.
Sebastian Saint James' years of self promoted touring, grinding it out on sidewalks, in bars, clubs, theaters, on festival stages and just about anywhere else someone can make a buck playing original music is starting to pay off. His work ethic and drive is making this North Bay native a fast rising star beyond local circles and his ever growing fan base gives him no reason to slow down. Inspiration and his continued pursuit to share messages of love and longing mixed with an edge that stems from part vintage – part modern approach to writing and production there's no telling, but the best is yet to come for this young writer.
In the past Sebastian has been voted People's Choice Best Performer in Sonoma County, has received 3 other North Bay Music Awards and an award from the West Coast Songwriters Association.
Recommended If You Like:
John Prine, Tom Waits, Al Green, Wilco, The Highway Poets, Joni Mitchell
---
Friday, March 11th | Doors at 7:30 Show 8:15-10:30pm
Tim Eschliman's Back pOrchEstra album release w/ Leah J. Jones
Tim Eschliman's Back pOrchEstra is original and vintage Roots Rock, Americana, Country Blues, Singer/Songwriter and Western Swing with rich acoustic tones…
…a Shelter-in-Place-inspired musical outfit befitting the newfound minimalism of the current times… going back to the basics… dishing out new original material and yet also some reworked historic American Roots heirloom selections. Formed for the first time during the locked-down summer of 2020, they have conducted several live shows and live streaming episodes as well as a recent foray into the Big-Pink-style living room recording facilities of Globe Records (as also utilized in the recent New Copasetics release).
Back pOrchEstra is led by Tim Eschliman (Etta James, Commander Cody, The Nick-Lowe-produced Moonlighters, New Copasetics).
Singer/Songwriter Leah J, Jones may be late to performing live in venues, but she comes from a long history of singing in choirs and house concerts for her start into music. An avid fan of performers with harmony and lyrical content, Leah listened for inspiration from the likes of Alison Krauss, Indigo Girls and Sheryl Crow. More recently, she learned songwriting skills through courses by Ira Marlow (Monkey House, Berkeley, California) which helped to unlock her songwriting endeavors. She has released her album "Elements of Water" (Gawain Mathews Music Studio, December 2020) with ten tracks incorporating life events such as Sonoma County fires in her song "Darkness" and "No Isolation" relating the emotional toll of living in a global pandemic from a dream state. Her songwriting style is that of acoustic Americana, and her vocal quality has been likened to singers Natalie Merchant and Lucinda Williams. Leah is a degree candidate at Berklee School of Music and is currently working on her sophomore album for release in 2022.
Recommended If You Like:The Band, Taj Mahal, Lucinda Williams, Asleep At The Wheel, Eggs Over Easy, Allison Krauss
---
Saturday, March 12th | Doors at 7:30 Show 8:15-10:30pm
Burnside (2-sets)
Burnside will be sharing the stories behind their songs, some funny, some from the heart at this rare stripped down showcase.
They blend funk, rock, and soul to bring good people together. From smooth and sultry to rock-your-socks-off, they invite you on an intoxicating musical journey of original tunes.
Recommended If You Like: Amy Winehouse, Vulpeck, Cake, James Brown.
---
Sunday, March 13th | MATINEE Doors at 2:00pm Show 2:45-5:00pm
Nick Black (Memphis) + Erica Ambrin
Nick Black is a fun, optimistic, and authentic artist from Memphis, TN. Influenced by the feel-good music of Justin Timberlake and Bruno Mars, and the musicality of legacy acts such as Al Green and Sting, Nick has created his music to sound modern and unique, yet familiar and nostalgic. His stage presence as an entertainer is quite something to behold. Nick pulls the audience in and doesn't let them go. He creates an experience that he wants everyone to be part of. Pulling people up from the crowd, singing to a fan in the front row…everyone's included. He grew up between two worlds: his family's deep ties to church, and his hometown of Memphis where Soul, RnB, Rock N' Roll, and Blues legends made names for themselves, Black's sound is an organically grown phenomenon, honed at open mic nights, in church, at hundreds of club gigs, and now on larger stages across the USA. Since his first album in 2012, The Soul Diaries, his authenticity and passion has been the foundation of his identity, both as a person and as an artist. In March and April of 2020, with touring being shut down, Nick embarked on a record-setting 30 songs in 30 days called "Nick Black's $ongs from $cratch" on his Twitch channel writing songs in real time from samples, riffs and lyric lines sent in by viewers. He has since written over 100 songs in front of a quickly growing live streaming audience, 12 of which landed on his brand new TWITCH #1 album, which has over 100,000 plays on Spotify.

Erica Ambrin is a singer/songwriter from Northern California who captivates the audience with her soulful voice and dynamic style. She has shared the stage with Nappy Roots, The Wailers, Martin Luther, Anuhea and was a contestant on American Idol. Erica has performed throughout California and Maui including venues such as San Francisco Pride, Sacramento Pride, Lagunitas, Reggae on the River, Holy Diver, Harlow's, Shady Lady, Oak Park Brewing Company, and The Russ Room.

Recommended If You Like: 
Justin Timberlake, Robin Thicke, Bruno Mars, Anderson Paak, India Arie, Jill Scott

---
We're offering full refunds for non-attendance or cancelations due to COVID concerns, so there is no risk in showing your support by getting advanced tickets.
---
Update to our Safety Protocols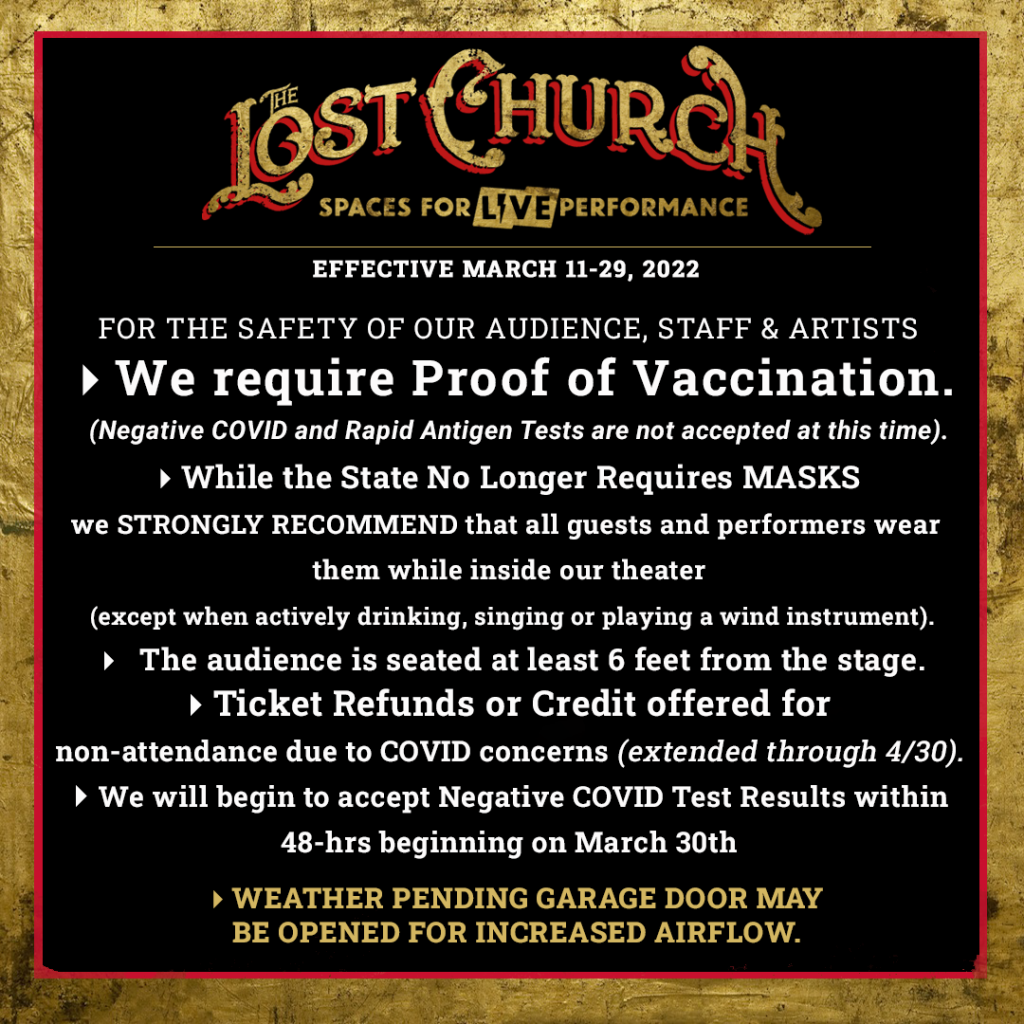 ---
Stanroy Stories (pt 2)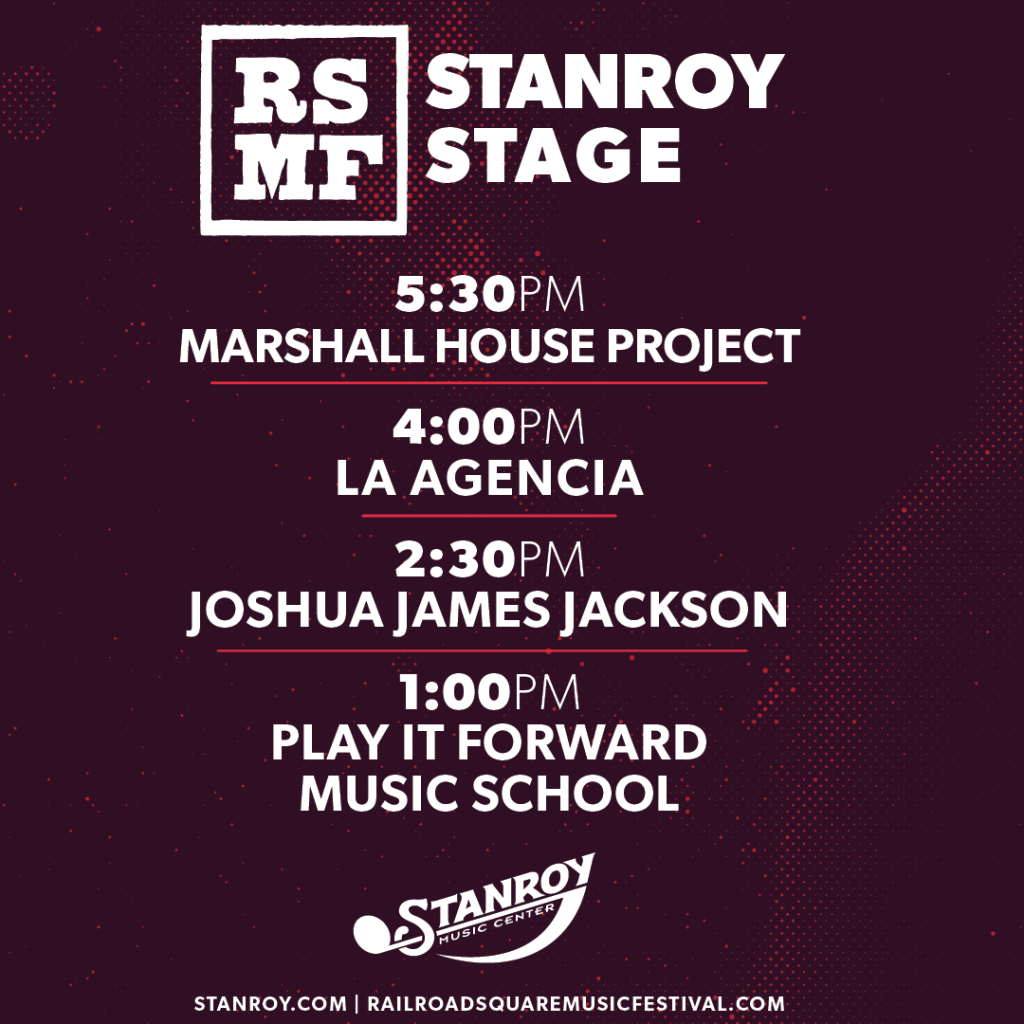 Stanroy Stories
We've long admired the variety and strength of the Sonoma County music community. In addition to the truly talented people who make their home in the Santa Rosa area we noticed another wonderful element contributing to the growth of music making here...Stanroy Music Center and Steve Shirrell and Dustin Heald.
THIS WEEK'S STANROY STORY:
"Every June, we put on the Railroad Square Music Festival in downtown Santa Rosa. Being a 100% free event, we rely on sponsorships from local businesses like Stanroy Music Center to make the celebration possible. Stanroy's support was so integral to the festival that we named a stage after them – the Stanroy Stage! Seeing Steve from the Center enjoying music at his own stage was a highlight for me from our last event." — Josh Windmiller (Railroad Square Music Festival Director and The Lost Church Development Director)
THE BACKGROUND:
"Stanroy Music Center first opened it's doors in August 1947 when the first owner, Stan Goldman, returned to his hometown after serving in various army bands during WWII. His partner/cousin Roy Chilton (Thus the name Stan-Roy) left the business to Stan after the first year. That original store grew to become the leading music store in the North Bay. In 1980 Tupper & Reed, another legacy music store located in Berkeley, bought Stanroy from Stan.
In 2013, Stanroy music Center reinvented itself once again, purchased by Dustin Heald and Steve Shirrell. In 2014 the newly renovated business moved into a newly renovated building at 850 4th street. Their 4th and final location thanks to a 99-year lease. The new storefront has plenty of space and light, comfy lesson studios, and lots of room for their legendary brass and woodwind repair shop – one of the largest instrument repair facilities in the state.
In July of 2021 Steve left ownership of the store to Dustin, although Steve still works at the store doing repairs and sales."
---

SANTA ROSA
April 16th: Covenhoven with Daniel Steinbock
Covenhoven is nationally recognized indie artist Joel Van Horne, a multi-instrumental singer-songwriter whose rich harmonies, reedy baritone and commanding falsetto have found a home with critics and fans since 2013. Daniel Steinbock is a singer-songwriter in the sublime lyrical tradition of Sam Beam (Iron & Wine) and Neil Young, pre-apocalyptic love songs and spare folk poems fill his song book with a rare spiritual nakedness. Recommended if you like: Gregory Alan Isakov, Bon Iver, Jose Gonzalez, Hiss Golden Messenger, Adrianne Lenker, Blake Mills, Neil Young
April 26th: Anna Tivel (Portland)
Anna Tivel is a Portland, OR-based songwriter who grounds her work in quiet stories of everyday struggle. She's a keen and detailed observer, and the characters in her songs come alive in small moments of beauty and despair. Recommended if you like: Lilly Hiatt, I'm With Her, Caroline Spence
May 6th: AVFest LIVE at The Lost Church
Since 2015, AVFilm (Alexander Vally Film Festival) has exhibited more than 500 films, logged thousands of volunteer hours, introduced hundreds of filmmakers to patrons in Sonoma County, and created a significant economic impact in the Northern Sonoma County region. Recommended if you like: Discovering the next local Francis Ford Coppola, Ava DuVernay, Guillermo del Toro
---
---