Up Next at TLC Santa Rosa
Thursday, May 26th | Doors at 7:30 Show 8:15-10:30pm
You're Going To Die: Poetry, Prose, and Everything Goes!
Featuring music from our dear friend Destiny Grace Rhinehart!
GET YOUR TICKETS NOW & THEN COME GET HER MUSICAL MEDICINE, WHILE WE CREATIVELY CONFRONT OUR MORTALITY TOGETHER, IN COMMUNITY
"Music has always been a healer in my life. It's held me when a body couldn't; it's given me the power to alchemize my grief into something beautiful & way less scary or intimidating. For me, creating songs is like choosing specific emotions or memories & building them altars of remembrance that I can return to whenever I need to. Writing & playing music acts as a tool to articulate the vast range of my emotions into something less abstract & more concrete; something not only I can find catharsis in, but when shared, can also build a bridge to others who have shared experiences."– Destiny
YG2D is a 501(c)3 nonprofit bringing diverse communities creatively into the conversation of death & dying, inspiring life by unabashedly sourcing our shared mortality
https://www.destinyrhinehart.com
---
Friday, May 27 | Doors at 7:30 Show 8:15-10:30pm
Odessa (LA), Schlee, and Scout LaRue Willis (LA)
Odessa Jorgensen
Odessa's intimate and touching music transcends eras and genres, drawing from a variety of musical influences in a distinct way only she is capable of.
Schlee
Schlee (short for Ash-Lee) is a songwriter and visual artist currently residing in Northern California. She is inspired by vulnerability & the things that make us grow. She writes soft sounds for soft people.
Scout LaRue Willis
Scout LaRue Willis processes emotions through the creation of music, taking inspiration from Americana and folk musicians but creating songs all her own.
https://linktr.ee/scoutlaruewillis
Recommended if you like: Gillian Welch, Kurt Vile, Emmylou Harris, Joni Mitchell, Karen Dalton
---
Wednesday, June 1st | Doors at 7:30 Show 8:15-10:30pm
West Coast Songwriters Open Mic: Santa Rosa Chapter Premiere
West Coast Songwriters welcomes songwriters to join us the first Wednesday of every month at The Lost Church in Santa Rosa for an evening of shared music! Members and non-members are welcome to participate in this special community event.
20 slots available, 1 song each unless less than 10 performers then 2 songs each. Originals only.

Founded in 1979, WCS has grown into one of the most active music associations in the USA, offering more than 20 events per month. Whether your goal is personal expression or to make a living in the music industry, knowing how to write, or recognize a well crafted song is key to your success.
At WCS, members establish important relationships, both professionally and personally, that enhance and accelerate their development. Music ceases to be a solitary pursuit and becomes a shared endeavor through the focus, feedback, collaboration, contacts/networking and support that WCS provides.
MISSION STATEMENT:
To Foster Creativity, Build Community and Provide Opportunity for Music
Career Development through Education and Connection.

WCS is a 501(c)(3) Organization
https://www.westcoastsongwriters.org/
---
Located on Ross Street (between Mendocino & B) in Downtown Santa Rosa
(23-min from Petaluma, 40-min from San Rafael, 1 hr 6-min from San Francisco, 1 hr 9-min from Oakland)
Matinee performances end at 5pm | Evening performances end at 10:30pm
We're offering full refunds for non-attendance or cancelations due to COVID concerns, so there is no risk in showing your support by getting advanced tickets.
Seating is First Come, First Served.
All Ages are welcome
(Except for babies, children, and adults who cannot sit quietly for two hours and enjoy the performance)
---
Just 6 Days left to get your very own 2022 Anchor Donor Pin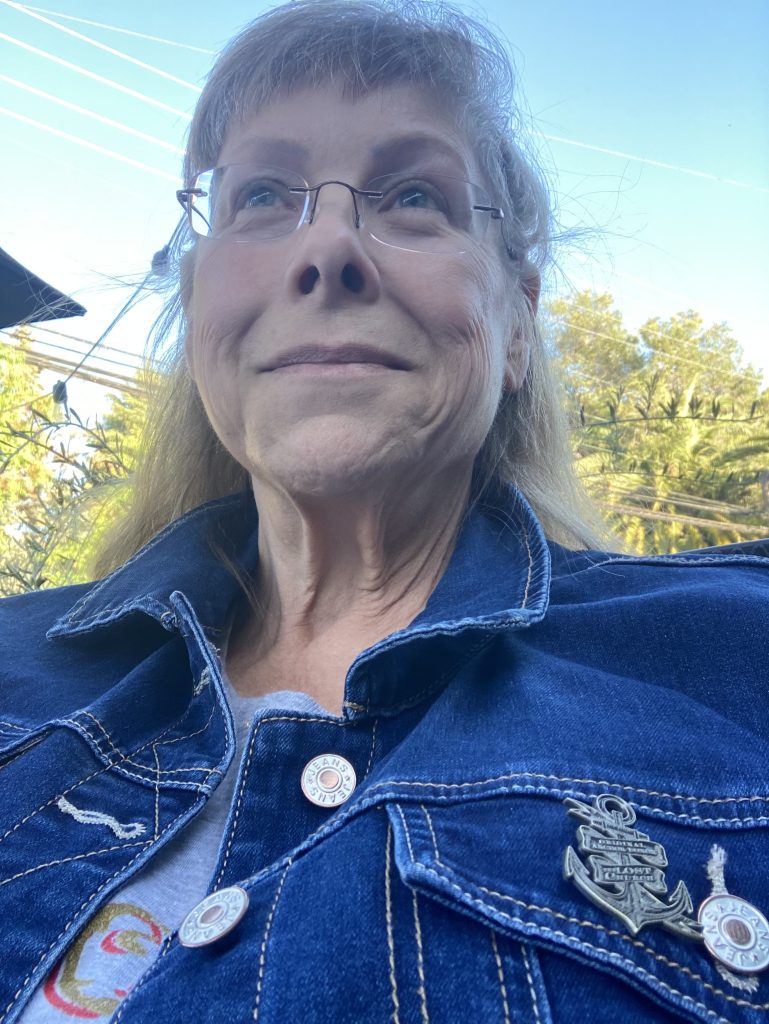 Board Member & Volunteer Aimée Bolter Campbell looking as charming as heck in both her Anchor Donor 2021 Pin and her TLC Tee! She continues her recurring donation into 2022 and beyond and will be receiving this year's pin, too. Start your Lost Church Anchor Pin Collection this year by setting up a monthly or quarterly recurring donation.
We are 28% to our goal of 50 new Anchor Donors
We wouldn't still be here without our Anchors. You make a significant difference.
Our Anchors are people who want a concrete way of keeping the arts alive in the Bay Area and donate $5, $15, $20 or more each month or some choose to make a gift of $25, $100 or more each quarter.
It's a set it and forget it way of automating support for The Lost Church in a seriously meaningful (and tax deductible) way.
Our 2022 Anchor Donor Drive Goal is 50 New Anchors by May 31st.
All who become Anchors by the end of the month will receive this year's Anchor Donor metal and cloissonné pin. We design a new pin each year for new Anchors and for Anchors who continue their support this year. Years from now you'll have a sweet collection of limited edition pins to jazz up any jacket or hat.
Become a Lost Church Anchor Donor at thelostchurch.org/donate
Big Thanks!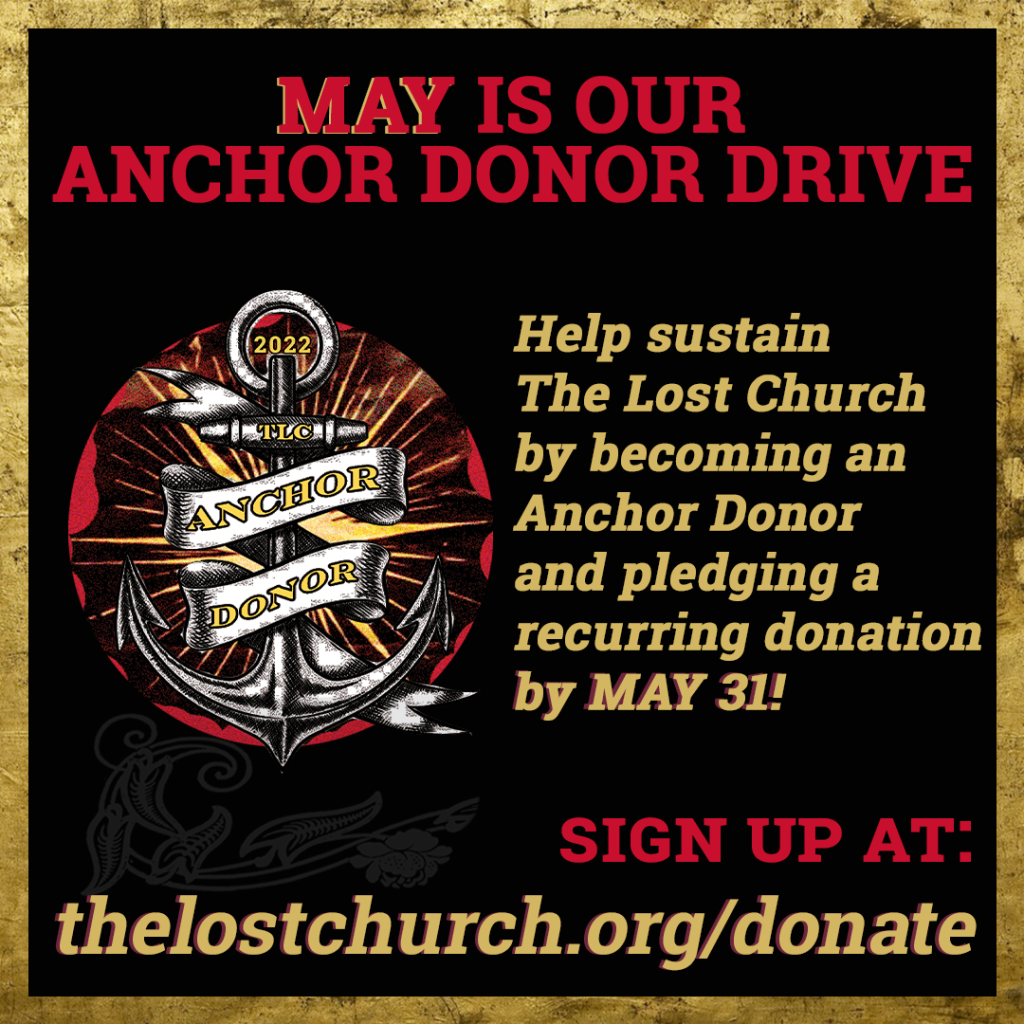 ---
Live from The Lost Church Archives
John Roy Zat from Words & Music…Songwriters in the Round with Emily Lois, Chris Samson, Al Haas, and Michael Capella on March 6, 2022 at The Lost Church, Santa Rosa. https://royzat.com/
Video by Eyeclash Ragazine.
John Roy Zat returns to the TLC SR Stage on Saturday, June 4th alongside The Black Feathers an Americana/Folk/Indie duet on tour from the UK. Tickets at: tinyurl.com/BlackFeatherZatJune4
---
Our Current Safety Protocols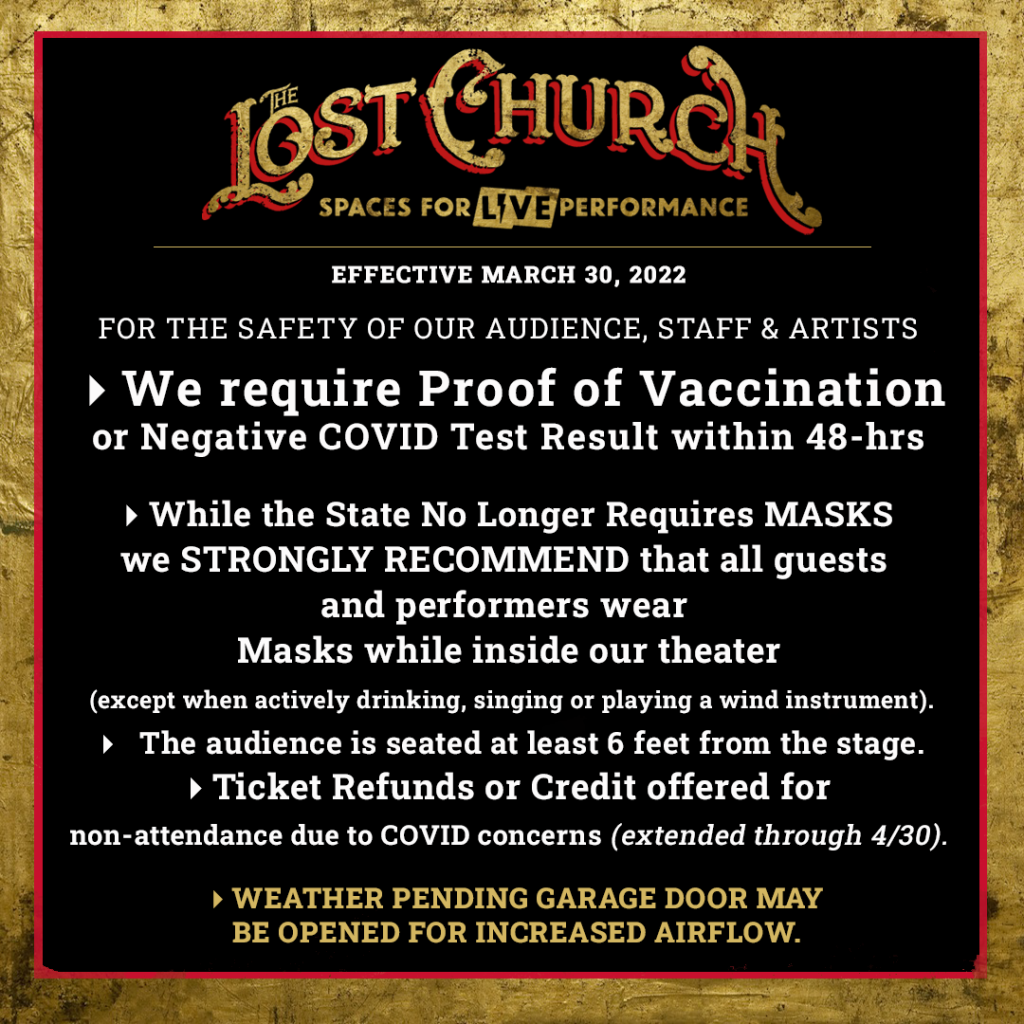 ---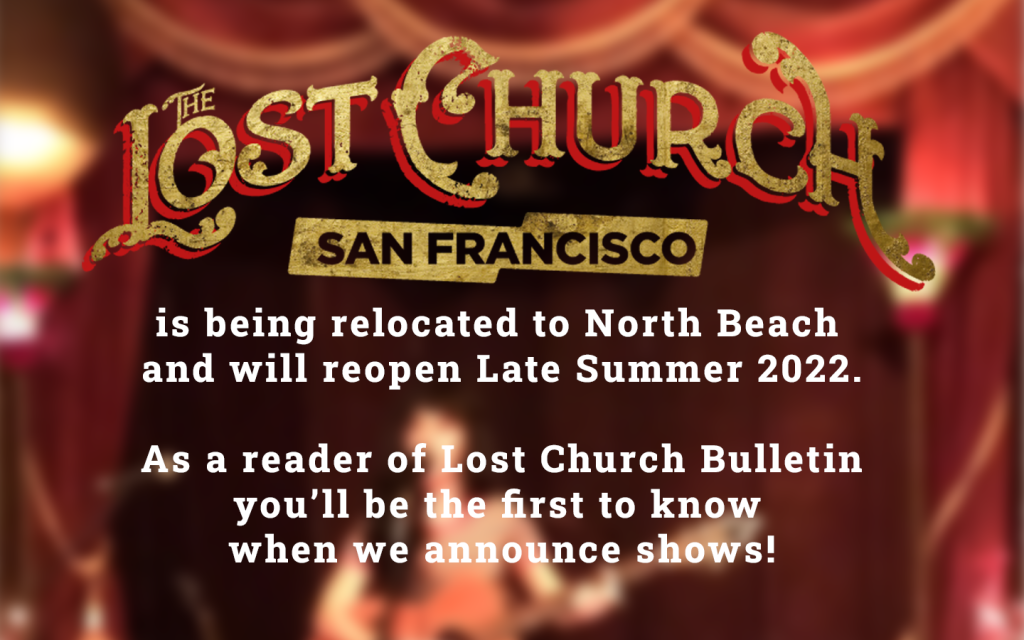 ---

at The Lost Church SANTA ROSA
Friday, June 3rd: PRXZM (Acoustic) + Kalinders (TICKETS GOING FAST — may sell out)
Recommended If You Like: CHVRCHES, Porter Robinson, Purity Ring, Grimes, Cannons
Tuesday, June 7th: Kat Wright (VT) + Twin Soles
Recommended If You Like: The Suffers, Sean Hayes, Amy Winehouse, Rafael Saadiq, Townes Van Zandt
Thursday, June 9th: Loud as Folk: Travis Hayes + Caitlin Jemma. Hosted by Spike McGuire.
Recommended If You Like: Joni Mitchell, Bonnie Raitt, The War on Drugs, Jackson Browne, Sharon Van Etten

---