Only a few hours left to get your 2022 Anchor Donor Pin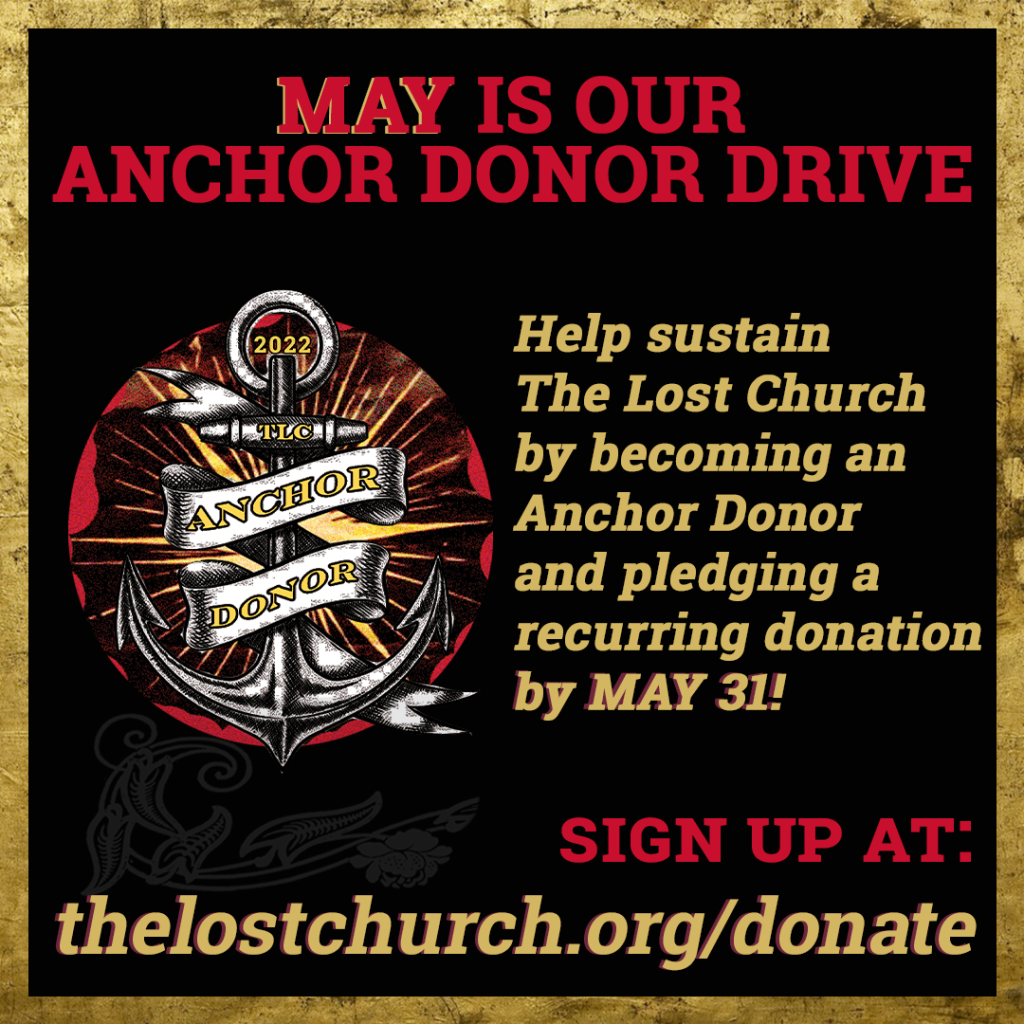 All who become Anchors by 12am will receive this year's Anchor Donor metal and cloissonné pin. We design a new pin each year for new Anchors and for Anchors who continue their support this year. Years from now you'll have a sweet collection of limited edition pins to jazz up any jacket or hat.
Become a Lost Church Anchor Donor at thelostchurch.org/donate
Big Thanks!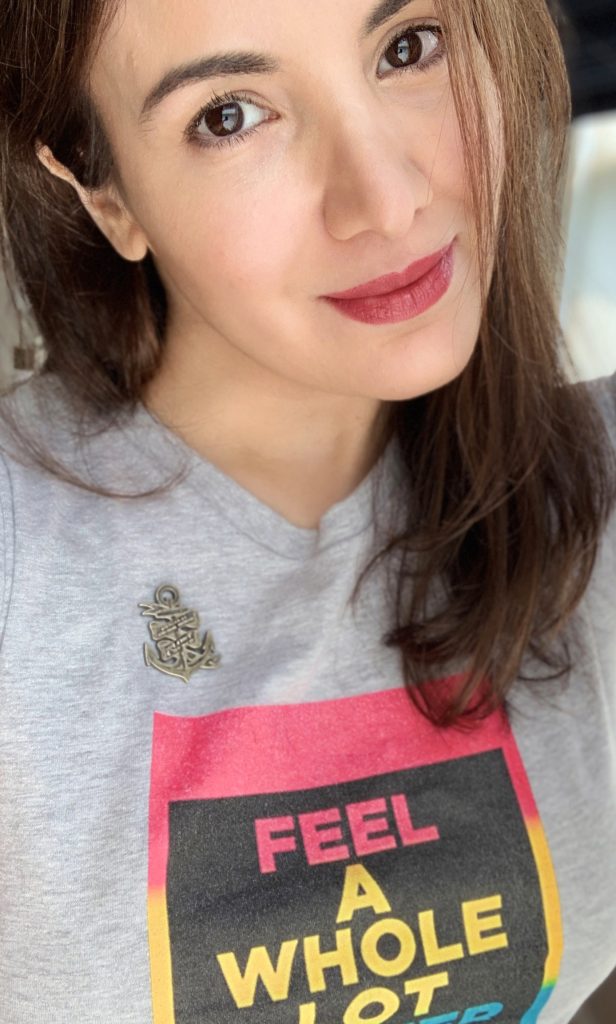 Original Anchor Donor Anastastia wearing last years Anchor Pin!
She continues her recurring donation into 2022 and beyond and will be receiving this year's pin, too. Start your Lost Church Anchor Pin Collection now by setting up a monthly or quarterly recurring donation.
We are 56% to our goal of 50 new Anchor Donors
Can you help us make it before Midnight tonight — May 31st?!
If you already are an Anchor Donor please invite more people to join by sharing our Social Media Posts and telling people WHY you are a Lost Church Anchor Donor.
Our Anchors are people who want a concrete way of keeping the arts alive in the Bay Area and donate $5, $15, $20 or more each month or some choose to make a gift of $25, $100 or more each quarter.
It's a set it and forget it way of automating support for The Lost Church in a seriously meaningful (and tax deductible) way.
---
Our Next Performances at TLC Santa Rosa
Wednesday, June 1st | Doors at 7:30 Show 8:15-10:30pm
West Coast Songwriters Open Mic: Santa Rosa Chapter Premiere
West Coast Songwriters welcomes songwriters to join us the first Wednesday of every month at The Lost Church in Santa Rosa for an evening of shared music! Members and non-members are welcome to participate in this special community event.
20 slots available, 1 song each unless less than 10 performers then 2 songs each. Originals only.

Founded in 1979, WCS has grown into one of the most active music associations in the USA, offering more than 20 events per month. Whether your goal is personal expression or to make a living in the music industry, knowing how to write, or recognize a well crafted song is key to your success.
At WCS, members establish important relationships, both professionally and personally, that enhance and accelerate their development. Music ceases to be a solitary pursuit and becomes a shared endeavor through the focus, feedback, collaboration, contacts/networking and support that WCS provides.
MISSION STATEMENT:
To Foster Creativity, Build Community and Provide Opportunity for Music
Career Development through Education and Connection.

WCS is a 501(c)(3) Organization
https://www.westcoastsongwriters.org/
---
Friday, June 3rd | Doors at 7:30 Show 8:15-10:30pm
PRXZM (Acoustic) + Kalinders
SOLD OUT (thank you!)
— we might be able to take a few walk-ups if any ticket holders no show and we have the room. (roll the dice…take a chance…no guarantees).
California-based duo PRXZM has brought their unique, '80s-infused style to their modern-day electro pop since first coming together in 2014. Emma Maidenberg and Nick Ortega continue to grow with each passing release and performance, sharing their captivating live show with audiences all over the globe. https://www.youtube.com/prxzm
2 pt. rock, 1 pt.blues, a dash of folk and a lot of heart, Kalinders is the birth child of a songstress and storyteller trying to make some sense and magic out of time, transition, love, loss and Venusian energies. https://kalinders.bandcamp.com/
---
Saturday, June 4th | Doors at 7:30 Show 8:15-10:30pm
The Black Feathers (UK) and John Roy Zat
The Black Feathers
The ability to write songs that are both modern and ancient is a rare thing. The product of an arcane art of weaving in traditional influences so thoroughly that they become the warp and weft of fresh creations. The Black Feathers, made up of Ray Hughes and Sian Chandler, are two such talents. They first became aware of the magic between them while collaborating on several musical projects, becoming The Black Feathers and life partners in 2012. Americana, Folk, and Acoustic Indie Rock sensibilities coexist comfortably in their musical world, with Hughes' guitar work buoying the kind of harmonies often only heard in family bands. Their music quickly draws the interest of listeners, but it is the stage chemistry that will keep them riveted. Having already built up a loyal following in the UK, The Black Feathers have been spreading their wings across the US. https://theblackfeathers.com/
John Roy Zat (with Emily Lois & Tim Sheehan)
With Appalachian influences, dust bowl, Cajun and a dash of old-time, John Roy Zat comes from that long line of American singer-songwriters who occupy the space between traditional country and folk. Think John Prine, Rodney Crowel, Jesse Winchester – you get the idea. Kate Wolf recorded his words to the song Midnight On The Water for her second album and the song has since been covered by Banish Misfortune, Caroline Herring and others. His bands have opened for Asleep At The Wheel and Tanya Tucker to mention just two, and he has played with Kate Wolf, Nina Gerber, Queen Ida, and many more. Since 2011, John has released four CDs, all of which have charted well on Roots Music Report and other radio playlists.Performing with John will be Emily Lois and Tim Sheehan of Heartwood Crossing. If you like great songs, fine vocals with rich harmonies, sweet fiddling and guitar picking – join us !! https://royzat.com/
---
Located on Ross Street (between Mendocino & B) in Downtown Santa Rosa
(23-min from Petaluma, 40-min from San Rafael, 1 hr 6-min from San Francisco, 1 hr 9-min from Oakland)
Matinee performances end at 5pm | Evening performances end at 10:30pm
We're offering full refunds for non-attendance or cancelations due to COVID concerns, so there is no risk in showing your support by getting advanced tickets.
---
Seating is First Come, First Served.
All Ages are welcome
(Except for babies, children, and adults who cannot sit quietly for two hours and enjoy the performance)
---
Live from The Lost Church Archives
King Dream performs "Past, Present, Future" live at The Lost Church – Santa Rosa on September 8, 2021 — featuring Caitlin Gowdey (Rainbow Girls) and Joshua James Jackson.
https://www.kingdreamband.com/
---
Our Current Safety Protocols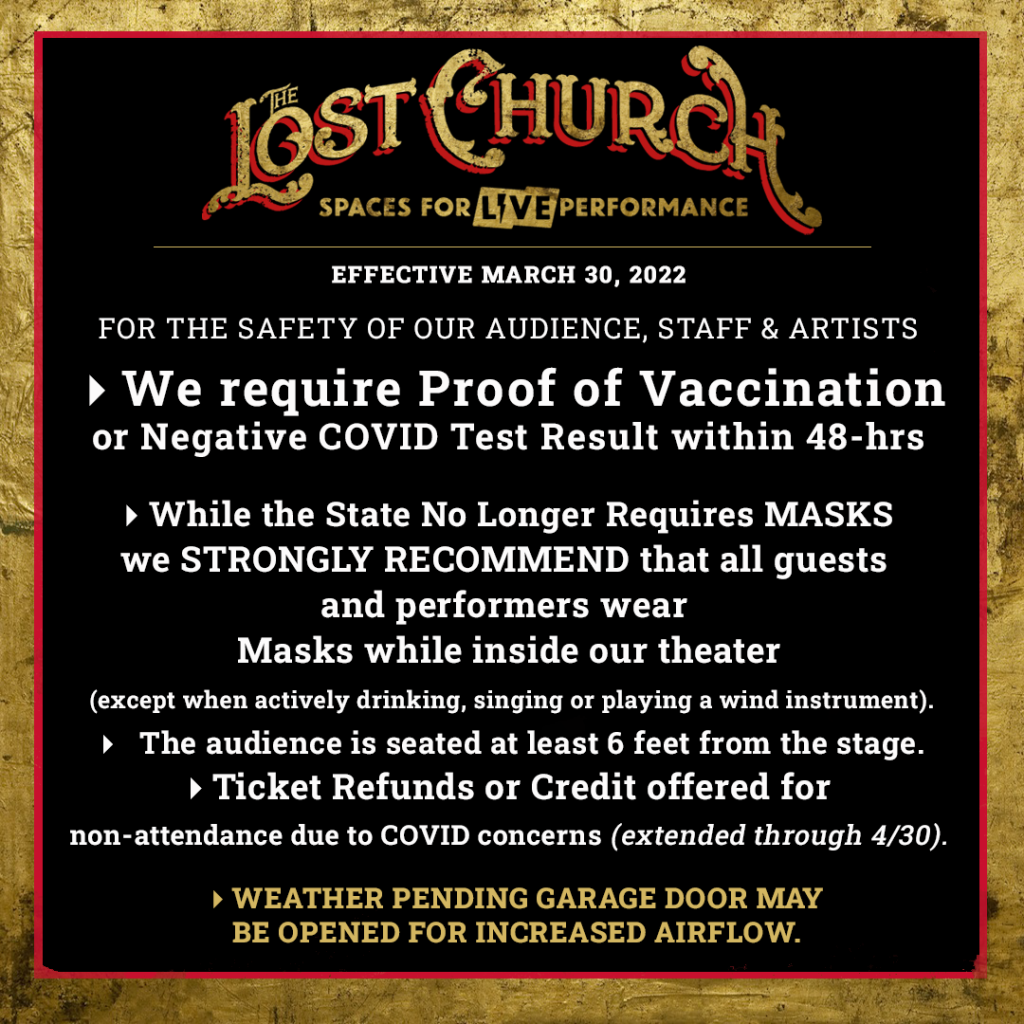 ---

at The Lost Church SANTA ROSA
Friday, June 24th: Gillian Grogan and Hannah Frances (Chicago)
Recommended If You Like: Joni Mitchell, Adrianne Lenker, Nick Drake & Jessica Pratt
Saturday, June 25th: The Blushin' Roulettes and Ring of Truth Trio (2pm Matinée)
Recommended If You Like: Iris Dement, Nanci Griffith, Mary Gauthier, Rosanne Cash
Friday, July 8th: Gabe Katz + Michael J. O'Connor
Recommended If You Like: John Fahey, Do Make Say Think, and John Frusciante
Wednesday, November 9th: Crys Matthews & Heather Mae (Nashville) and Mya Byrne
Recommended If You Like: Toshi Reagon, Tracy Chapman, Stevie Nicks, Sarah Bareilles, The Band, Lucinda Williams

---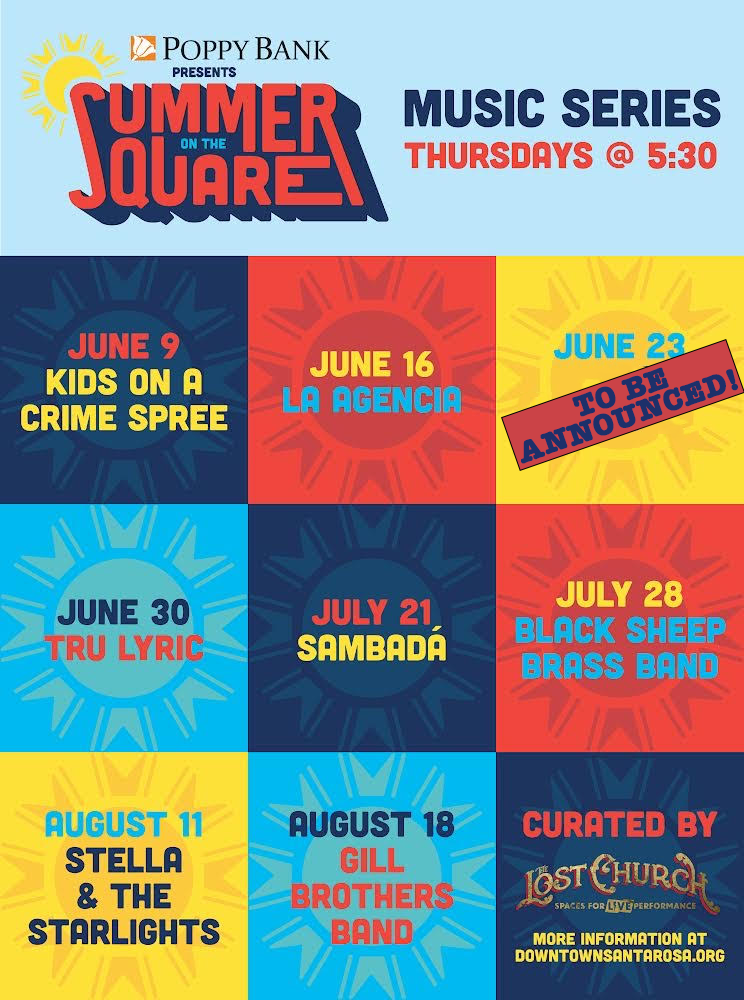 We've curated a whole summer of free late afternoon shows for you in Downtown Santa Rosa!
June 9th – August 18th every Thursday from 5:30-7:30pm.
Have a picnic in the park and enjoy these artists and then keep it going by coming to TLC Santa Rosa for our evening shows. It's summertime…let's live it up!
https://www.downtownsantarosa.org/summer
---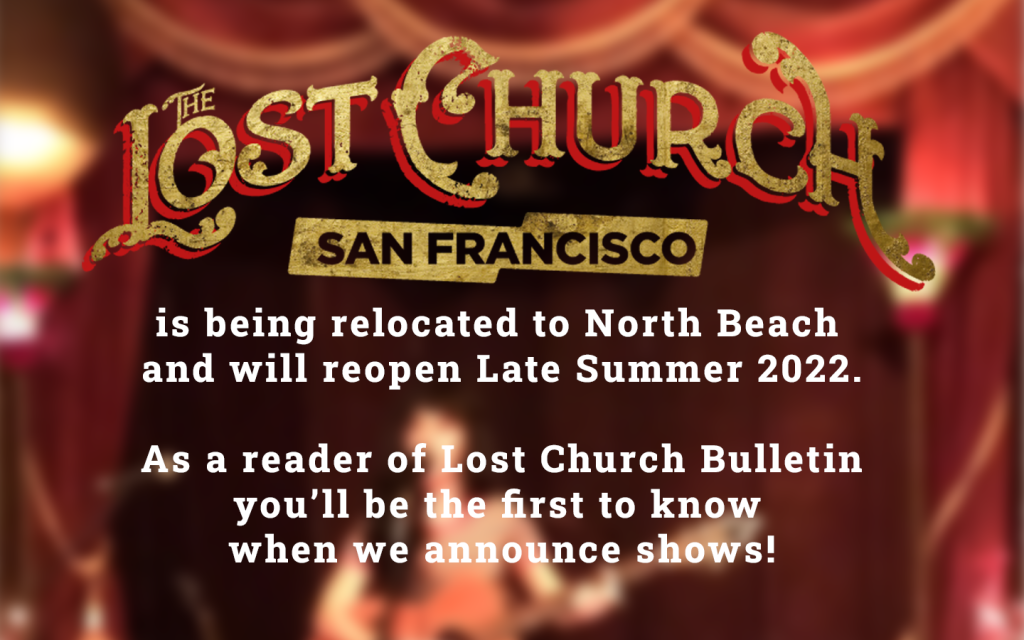 ---