---

November 9 – 15th
TONIGHT!!!
Wednesday, November 9th | Doors at 7:30 Show 8:15-10:30pm – AMERICANA/POP MUSIC
Crys Matthews & Heather Mae (Nashville) and Mya Byrne (Kill Rock Stars label)
Crys Matthews's music is thoughtful, realistic and emotional, finding inspiration in her surroundings; from driving through the Blue Ridge Mountains to the compelling and heart-breaking love story of Richard and Mildred Loving. Heather Mae is an award-winning songwriter whose evocative vocals and rhythmic piano style call to mind artists like Stevie Nicks and Sara Bareilles with music that tackles complex topics surrounding mental health, LGBTQ+ issues, self-love, racial injustice, social inequality, and women's rights. Recently featured on Reba's Top Ten remix of "I'm A Survivor" by Lafemmebear, at AmericanaFest 2021, and in the Tennessean, The Boot, ET, Nashville Scene/CMT, Esquire, Apple Music, and Rolling Stone, Mya Byrne's "rootsy, soulful" tunes (Time Out) and electrifying performances draw comparisons to Lucinda Williams, Chris Stapleton, and The Band.
https://www.crysmatthews.com/
https://www.heathermaemusic.com/
https://www.myabyrne.com/
Recommended if you like: Toshi Reagon, Tracy Chapman, Stevie Nicks, Sarah Bareilles, The Band, Lucinda Williams
---
Friday, November 11th | Doors at 7:30 Show 8:15-10:30pm – ART FOLK ROCK MUSIC
Marc Farre and the Desert Fathers, w/ Mark Otis Johnson
Marc Farre celebrates the release of his 8th album, "Lovesick Melodies" with his melodic, arty, earthy, open-hearted, eclectic music. "Intense and truly fantastic music. A tender touch of Donovan and Leonard Cohen, impeccably captured." – Bob Boilen, NPR (All Songs Considered). Bounding back into performance mode after a hiatus from music and theatrical presentation, Mark Otis Johnson writes songs describing his connection to social mores, popular culture, everyday objects and the undead.
marcfarre.com
Recommended if you like: Leonard Cohen, George Harrison, Mark Eitzel, Nick Drake, Sufjan Stevens, Roger Miller, Robyn Hitchcock, Neil Young, XTC, Billy Bragg
---
Saturday, November 12th | Doors at 7:30 Show 8:15-10:30pm – AMERICANA/INDIE FOLK MUSIC
Jenner Fox Band w/ Six O'Clock News (tribute to John Prine)
Members of the Jenner Fox Band share a sensibility for deep listening, space, and bringing the audience along for their lush arrangements, and emotional roller coasters. "Jenner combines the lyricism of Joni Mitchell and the commentary of Neil Young to represent the next generation of singer-songwriters." — Grammy nominated producer, Cookie Marenco. As Six O'Clock News, Jenner and the band pay tribute to one of the best songwriters ever…John Prine.
https://jennerfox.com/music
Recommended if you like: Joni Mitchell, Neil Young, The Lumineers, and uh, John Prine!
---
Sunday, November 13th | Doors at 7:30 Show 8:15-10:30pm – BOLLYWOOD/BLUES MUSIC
Aki Kumar's Bollywood Blues | Gary Vogensen
Aki Kumar has successfully blended elements of Indian music into his musical and visual presentation, making for a multicultural mash-up that sounds like no one else, yet never loses touch with the inspiration it draws from the blues. Gary Vogensen has been performing professionally for over 40 years, and has toured with notable artists including The Elvin Bishop Band, Angela Strehli, Maria Muldaur, Norton Buffalo, Michael Bloomfield, Boz Skaggs and many others.
https://www.akikumar.com/
https://www.garyvogensenmusic.com/
Recommended if you like: B.B.King, Buddy Guy, Joe Bonamassa, Muddy Waters, Kishore Kumar
---
Tuesday, November 15th | Doors at 7:30 Show 8:15-10:30pm – BLUEGRASS/INDIE-FOLK MUSIC
Anya Hinkle featuring Billy Cardine with Late for the Train
Winning the 2019 Merlefest Chris Austin song contest and runner-up in the International Acoustic Music Awards in 2022, PopMatters calls Anya Hinkle "A burgeoning force behind the Appalachian roots revival…" Born in the Appalachian Mountains of Virginia, Hinkle's music is steeped in the tones of folk and bluegrass and seasoned by travels across the world with vivid storytelling, vibrant musicianship, and arresting honesty. Travel back to a time of hearthside storytelling with Late for the Train, reveling in the rich traditions of Americana, bluegrass, folk, and Celtic music. Their dynamic songwriting is inspired by influences such as Emmylou Harris, Bob Dylan, Béla Fleck and Abigail Washburn, Mandolin Orange, Mipso, and Nickel Creek.
www.anyahinkle.com
https://www.lateforthetrainband.com/
Recommended if you like: Gillian Welch, Molly Tuttle, Dori Freeman, Emmylou Harris, Bob Dylan, Béla Fleck
---
The Lost Church Santa Rosa is located on Ross Street (between Mendocino & B) in Downtown Santa Rosa
(23-min from Petaluma, 40-min from San Rafael, 1 hr 6-min from San Francisco, 1 hr 9-min from Oakland)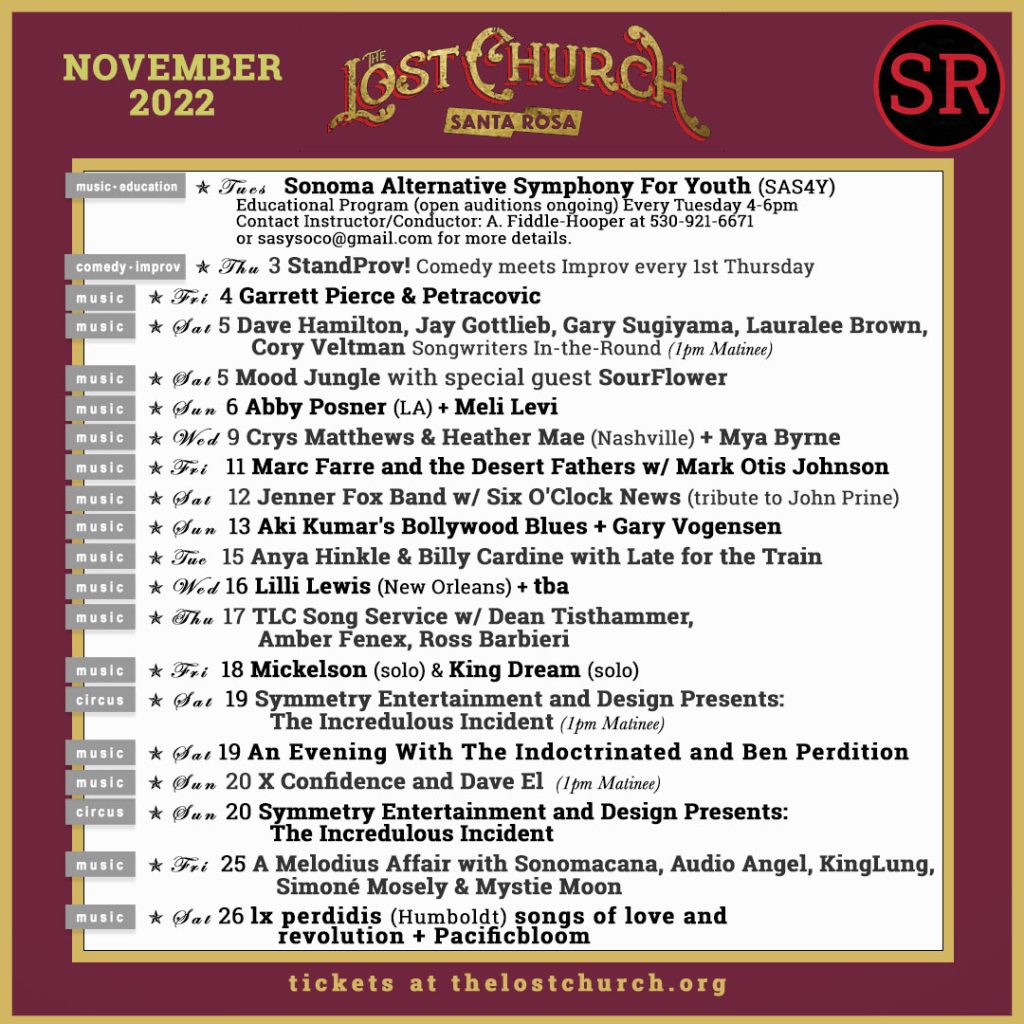 ---
New Video Up on our TLC YouTube Channel
Kat Wright on tour from Vermont and her band from June 6, 2022 at The Lost Church Santa Rosa
---

SANTA ROSA
Wednesday, November 16: Lilli Lewis (NOLA) + Sebastian Saint James – FOLK-ROCK/AMERICANA
Evening performances end at 10:30pm
We're offering full refunds for non-attendance or cancelations due to COVID exposure, so there is no risk in showing your support by getting advanced tickets.
ADA Accessible.
FOR BOTH SAN FRANCISCO & SANTA ROSA THEATERS
Seating is First Come, First Served.
All Ages are welcome
(Except for babies, children, and adults who cannot focus for two hours and enjoy the performance)
---
Our Current Safety Protocols
Vaccines, boosters, and masks are strongly encouraged, but are not required as per local Public Health Policy.
---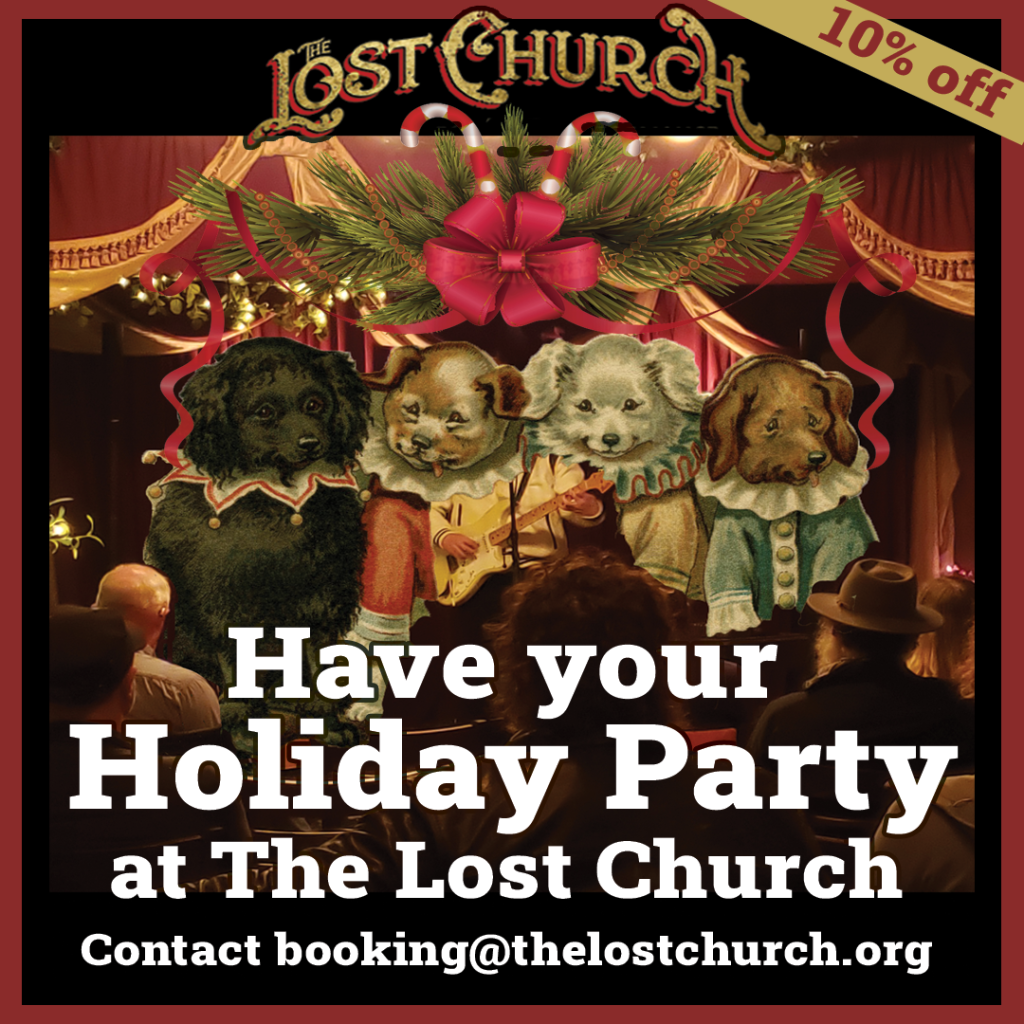 December Rentals are 10% off for a limited time.
---

November 9 – 15th
Thursday, November 10th | Doors at 7:30 Show 8:15-10:30pm – GRIEF OPEN MIC
You're Going To Die
You're Going To Die: Poetry, Prose & Everything Goes is an open mic, communal offering for us to explore the conversation of death & dying, to embrace our losses & mortality, to grieve, bereave & honor those we've lost & love while all the while making room for simply being ALIVE. www.yg2d.com
Featured performer: Adrienne Shamszad is an Oakland, California native of Iranian and European heritage with an impressive musical range that extends from the sacred to the profane, the mystical to the earthy, the lofty to the down-low, and she is equally at home with acoustic or electric, improvisation, jazz, rock and roll, rhythm and blues and Persian classics. https://adrienneshamszad.com
---
Friday, November 11th | Doors at 7:30 Show 8:15-10:30pm – THEATER/COMEDY
Toby Dixon a one-woman show, with special guest Roger Oddcock
Toby Dixon is having a mid-life crisis; he can't afford a corvette, so a one-woman show is his best bet. The show is 47 years in the making and two weeks of planning. After blowing through his payout from the hit movie "Hell," Roger Oddcock is back spreading his message along with a highly contagious form of chlamydia.
Recommended if you like: Benny Hill, Andy Kaufman, Kids in The Hall, John Merrick "The Elephant Man"
---
Saturday, November 12th | Doors at 7:30 Show 8:15-10:30pm – FOLK-PUNK ART BLUES MUSIC
Modus Opera & Eye + The Slow Poisoner + live painting by Chris Hope
Modus Opera & Eye, the brainchild of Bay Area native musician and songwriter Ricardo Zegri, is a multi-instrumental revival of Agnostic Gospel and Soulful Nihilism for the people. The Slow Poisoner invites the audience into a weird world of his own design, augmented by theatrical elements like a giant tentacle and a song accompanied by only a chain. Pounding on an amplified acoustic guitar in a folk-punk fashion, he spins stories of Hot Rod Worms and woods full of wizards, invoking the oddness of antecedents such as Bowie, Bolan, Screamin' Jay Hawkins, Screamin' Lord Sutch, Alice Cooper and the Cramps.
modusoperaandeye.bandcamp.com/
TheSlowPoisoner.com

Recommended if you like: Tom Waits, Leonard Cohen, Beirut, Neutral Milk Hotel
---
Sunday, November 13th. | Matinee. Doors at 4:00pm Show 4:45-7:00pm – FOLK-ROCK/AMERICANA MUSIC
Jim Bruno Birthday Show w/ Claudia Russell & Bruce Kaplan
It's Jim Bruno's birthday celebration show! He is a veteran singer/songwriter whose songs have been recorded by notable artists such as Shawn Colvin, Chuck Prophet, Mary Lou Lord, has performed at folk festivals across the country and Europe and taught songwriting at Foothill College and at the Freight and Salvage in Berkeley. Claudia Russell and Bruce Kaplan take their audiences on a musical journey across the vast Americana landscape, stopping at all the musical landmarks along the way, tipping their hats to Village folkies, singing cowboys, blues divas, rockabilly rebels, jazz cats, and bluegrass pickers and have shared stages with some of the best – Peter Rowan, John Gorka, Tish Hinojosa, Laurie Lewis, Dave Alvin, to name a few.
https://www.jimbrunomusic.com/
www.claudiarussell.com
Recommended if you like: Elvis Costello, Tom Petty, Bob Dylan
---
Tuesday, November 15th | Doors at 7:30 Show 8:15-10:30pm – IMPROV COMEDY
Improv at UCSF
Improv at UCSF is a non-profit association that trains scientists to develop their communication skills, spontaneity and leadership through improvisational theater. They finally come back to our stage with what promises to be a firework display! Don't know what to expect? Well, that's the great thing of improv, neither do we!
https://www.instagram.com/ucsf_improv/
---
The Lost Church San Francisco is located at 988 Columbus Avenue at Chestnut Street in North Beach
(26-min from Oakland, 33-min from San Rafael, 52-min from Vallejo, 1 hour and 6-min from Santa Rosa)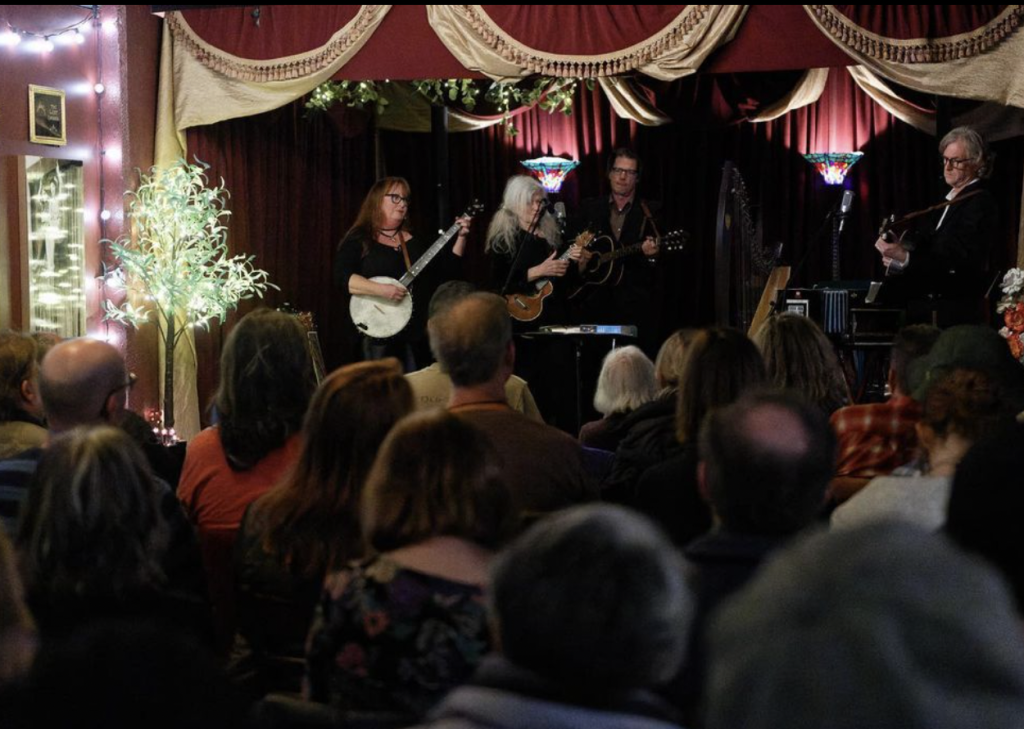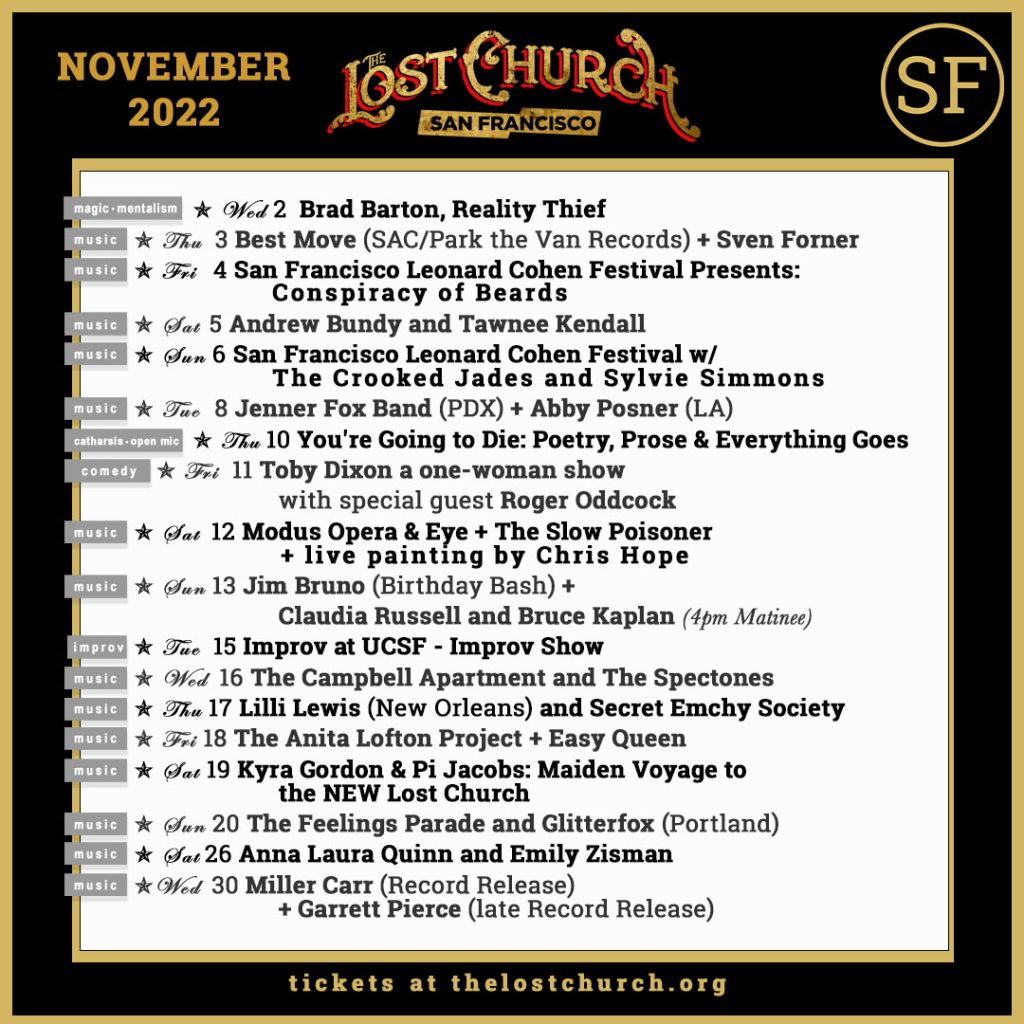 ---

SAN FRANCISCO
Wednesday, December 14: Brad Barton, Reality Thief – MAGIC & MENTALISM
---
Matinee performances end at 4pm | Evening performances end at 10:30pm
We're offering full refunds for non-attendance or cancelations due to COVID exposure, so there is no risk in showing your support by getting advanced tickets.
ADA Accessible elevator is available.
---
Brett D. Cline on North Beach Now Podcast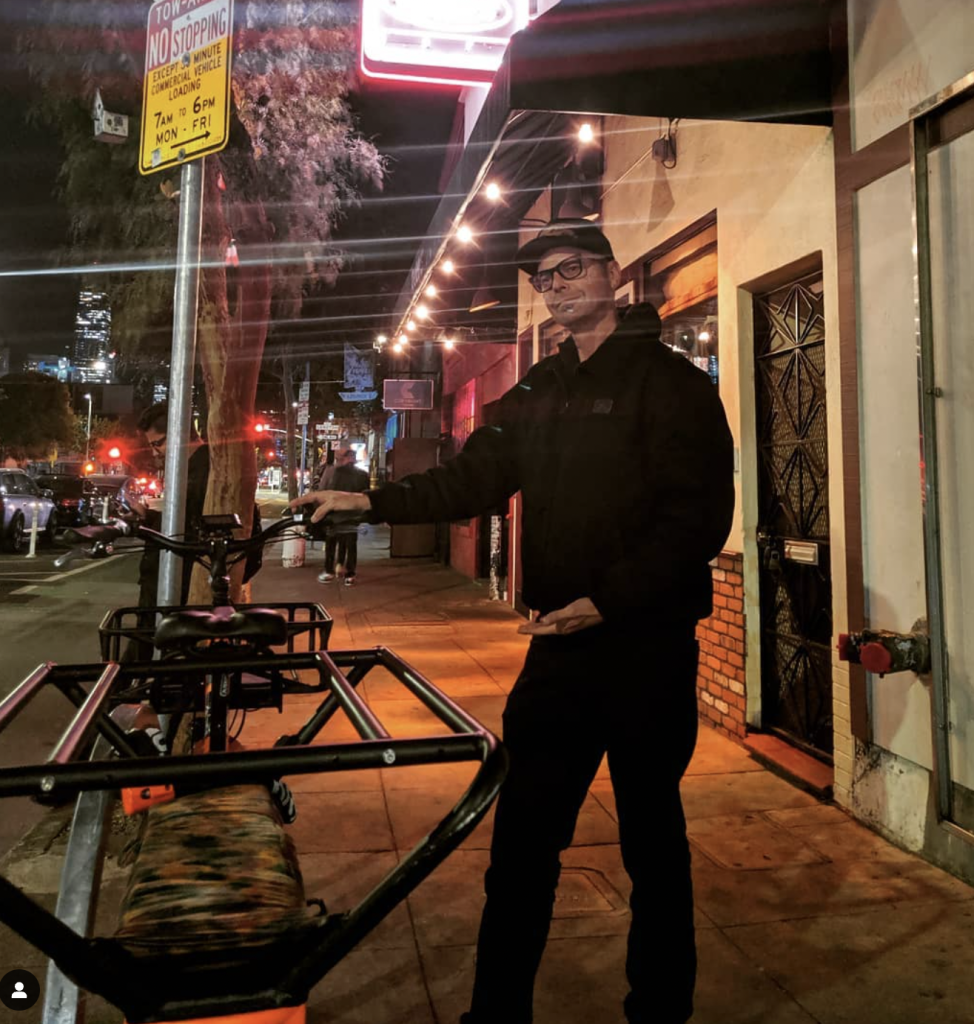 Blair Helsing of North Beach Now Podcast sat down with our own Brett D. Cline at our new North Beach Theater to talk about how The Lost Church came to be, the roller coaster ride of searching for and then actually securing our new San Francisco Theater space, the who, what, where, and why behind how we came to Santa Rosa, how we made it through the pandemic, and more true tales. Click the button to listen or find it on SoundCloud, Apple Podcasts, Stitcher, and more.
Brett is a great storyteller and this is a thoroughly enjoyable conversation.

From Your Everlovin' Editor
Hello you,
This edition of Lost Church Bulletin features a smorgasbord of delicious performances spotlighting many genres of music and new weird comedy and in some cases…both.
We're also featuring podcast stories about how TLC began and where we are going, our new after school education program Sonoma Alternative Symphony for Youth, and we get to host a Birthday Celebration for one of our favorite songwriters Jim Bruno.
And don't forget the this December all rentals are 10% off. Do you have Holiday Party or Event or Video Shoot to do at TLC San Francisco or Santa Rosa…or both?!
We're featuring photographs from recent showcases and would love to include your pictures of our theaters. Please email them to me and you, too, will be a part of a future Lost Church Bulletin.
Love,
Michele & The Lost Church
Email us at hq@thelostchurch.org with your questions and comments, testimonials…and to talk about Rentals!
Please VOTE for The Lost Church Santa Rosa
in The Bohemian's Sonoma & Napa's Best of 2023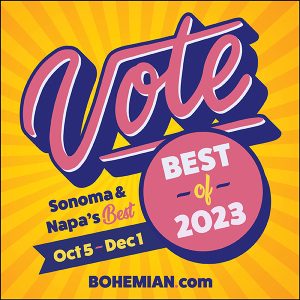 Vote for TLC Santa Rosa and our nonprofit's projects in these categories (in order of appearance):
Best Comedy Night: StandProv! every 1st Thursday at TLC Santa Rosa
Best Festival: Railroad Square Music Festival (a project of thelostchurch.org)
Best Film Festival: AVFest (in various places including TLC SR)
Best Music Festival: Railroad Square Music Festival
Best Music Venue: The Lost Church Santa Rosa
Best Performing Arts Center: The Lost Church Santa Rosa
Best Outdoor Music Festival: Railroad Square Music Festival
Best Theater Troupe/Performance: Symmetry Events & Design present The Incredulous Incident (at The Lost Church Santa Rosa)
Private Event Rentals at TLC Santa Rosa and TLC San Francisco
Now Booking Holiday Events!
A private event in our beautiful and rather eccentric theater is a party or event that your guests will really remember.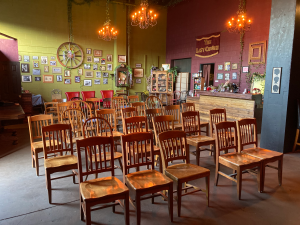 Daytime is delightful at The Lost Church Santa Rosa (as is the evening).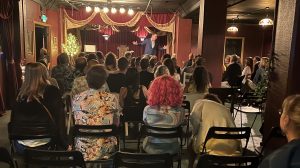 –photo by Bobbee Cline
Brad Barton, Reality Thief at The Lost Church San Francisco.
Rent our theater and hire Brad to perform at your holiday party at either theater in SF or Santa Rosa!
Musicians Age 10-18 — Join SASY our After School Education Program !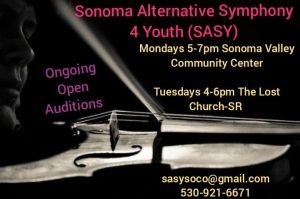 We've partnered with A. Fiddle-Hooper for an After School Education Program called SASY.
The first auditions went well and are on going!
Please reach out to Conductor A. Fiddle-Hooper at sasysoco@gmail.com or 530-921-6671 if you or a loved one is between the ages of 10-18 and is based in the Santa Rosa, Sebastopol, Rohnert Park, and surrounding areas!
AUDITION REQS: Prepare 3 different scales 2 octaves, 1 short prepared song, site reading required
MISSION STATEMENT:
Sonoma Alternative Symphony 4 Youth – SASYSASY provides a creative outlet for youth who are broader socially and creatively than the traditional expectations of a Classical Symphony. SAS4Y focuses on modern classical, popular/alternative music and original compositions with special focus on group composition.
CONDUCTOR BIOGRAPHY:
A. Fiddle-Hooper an internationally seasoned violinist, electric violinist, cellist, composer, videographer, producer and instructor has touched thousands of lives globally with music. Their 27 years of professional repertoire provides a well-rounded blend of Classical, Soul, Jazz, Hip-Hop, Reggae, Rock & Roll, Celtic, Middle Eastern, Indian Classical and Alternative Trance styles. They have taught nationally and internationally in Europe, India, Japan and the U.S. They have performed professionally in 19 countries. Currently, they are the Co-Founder & Conductor of SAS4Y (Sonoma Alternative Symphony 4 Youth). They are a resident Instructor of violin & cello at Sonoma Community Center and The Lost Church-Santa Rosa.
New Homes for Lost Church Free Radio Shows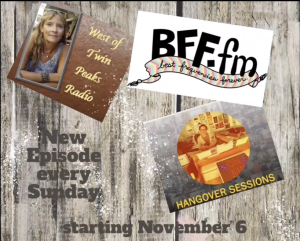 We're thrilled to announce that the wildly fun and new music fueled shows West of Twin Peaks Radio with MJ Call and Hangover Sessions with DJ Webbles are moving to the awesome radio station BFF.fm starting in November!
"STARTING ON SUNDAZE, IN NOVEMBER, HANGOVER SESSIONS will return to the internet airwaves on BFF.FM ~ Sharing a time slot and tag-teaming with MJ and WEST OF TWIN PEAKS RADIO!
That means every Sunday, @bffdotfm will feature a brand new episode of either HANGOVER SESSIONS or WOTP RADIO.
MJ and I are 100% committed to introducing you to as many local artists and bands as we have time to share, and are so fortunate that BFF's commitment to supporting the local music community is just as passionate as ours ♥️📻
HANGOVER SESSIONS & WOTP RADIO will still be available in convenient podcast form too, but thanks to BFF both shows will also now be available on-demand on the BFF.FM website as well as their new app (download it now – link in bio).
So stoked to share & widen our listenership ~ Stay tuned for new guest announcements soon 🤩
Thank you BFF.FM & thank YOU Bay Area music fans!" — DJ Webbles
Volunteer Needed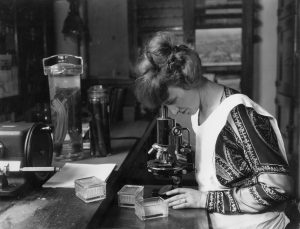 We have an admin/research project in need of a clever, curious, and brilliant volunteer.
TASK: Create a spreadsheet of local San Francisco Hotels for postcard distribution.
HOURS: approximately 3-5 hours total.
Please reach out to Michele at hq@thelostchurch.org if you're available and interested.
THANK YOU!
F.A.Q.
Answers to your burning inquiries.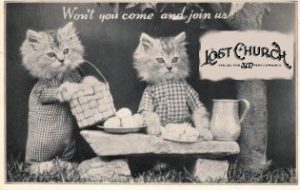 Find the answers to your questions by visiting https://thelostchurch.org/faq
---