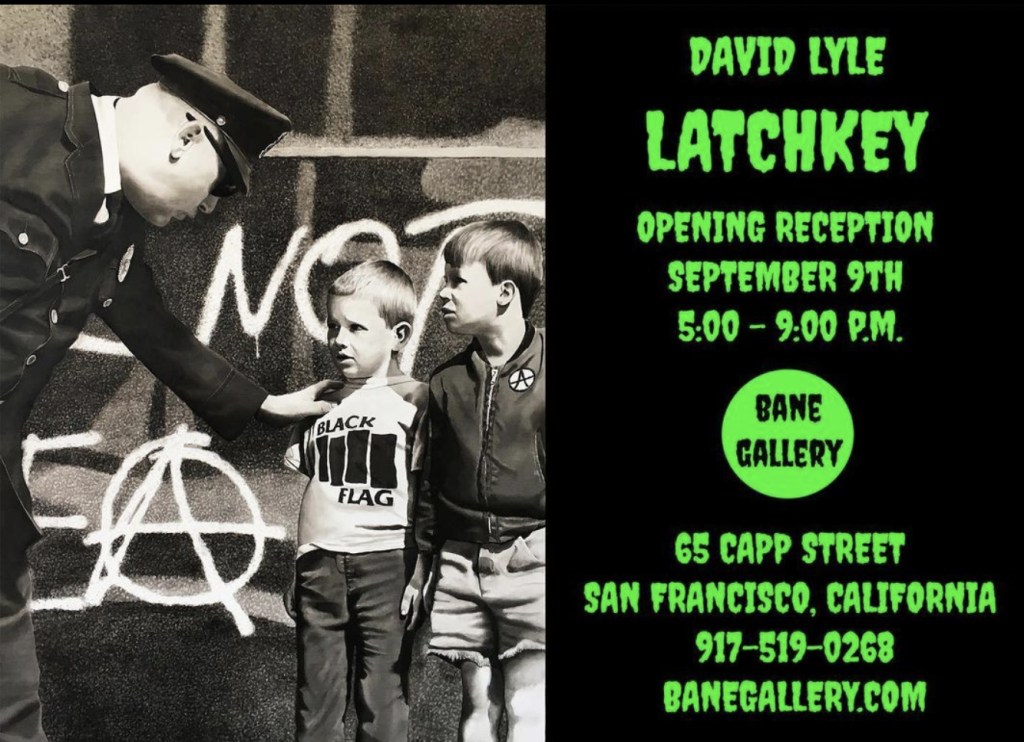 Introducing Bane Gallery
….does the address look familiar?
Before it was our original performance parlor 65 Capp Street was the Capp Street Project an artist-in-residency program made to nurture experimental art making created by philanthropist Ann Hatch in 1983.
From an interview with Ann Hatch about when she first saw 65 Capp Street.
"It was in the Mission and although I grew up in San Francisco, there were certain paths I took and the south-of-market area wasn't one that I knew. Lea was driving, and said, 'I want to show you something."'The house apparently had been for sale for a number of years, but I didn't know about that. David wasn't there when we went in. It was just this gray, empty house with these perimeters of light moving around it with two chairs in it. It had very unusual window placements with a very attractive S-shaped catwalk on top, and high ceilings. It was absolutely immaculate. It had a painted floor and you could see the reflections on the floor with the beautiful light moving around the room. It was something I'd never seen before. Just the presence of this light, and it looked like there were about eight colors in the house although it was just one very basic gray. When you discover something like that, like the shiny glass you might find on the beach you just go 'Wow!' This is something special! I hadn't intended to, but when I found out it was for sale I just said, 'I'll buy it.'" — interview with Richard Whitaker in Works & Conversations
Capp Street Project fostered the work of a fascinating number of artists including Kara Walker, Hung Liu, and Bill Viola.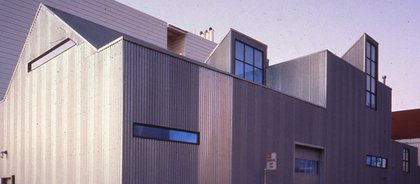 Our much loved original TLC theater returns to its roots in visual art with the opening of Bane Gallery the new home for the works of David Lyle and other local and international artists .
"Working from found vintage and vernacular photographs, Lyle seamlessly colleges and composes works that harken back to 1950's and 1960's America – not as they were, but skewed and reimagined by the artist. Lyle's painstakingly reductive painting process is a very crucial element to the evolution of his final images. Each piece is rendered using only black paint and turpentine. Lyle begins his process by priming a panel with white gesso. He then paints a thin, rich, oily black veneer over the primed panel, slowly and systematically developing his images by removing some of the black paint with a cloth. In doing so, Lyle renders layer upon layer of various values of black paint resulting in his signature style of luminescent works." Artistaday.com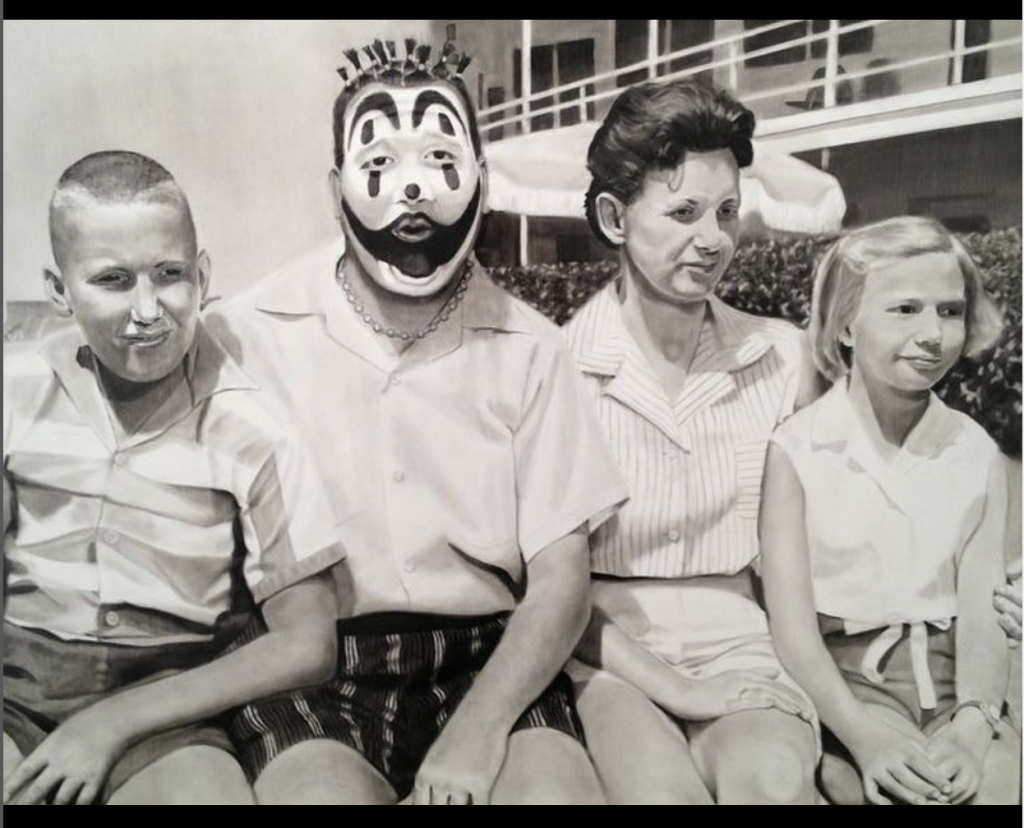 You'll recognize his work from the walls of TLC as David has been a longtime friend and supporter of our organization.
Visit https://www.banegallery.com/ to help keep fresh good fun and a much needed radical art movement going at 65 Capp.
---

---
THIS FRIDAY!
August 19th | Doors at 7:30 Show 8:15-10:30pm – MUSIC
MAITA – solo (Portland) + Zoë Winter
MAITA
Hot off the heels off MAITA's 2020 debut, Best Wishes, named one of the "50 Albums that Define Oregon" (Portland Monthly), MAITA's sophomore LP, I Just Want To Be Wild For You, digs into the crippling oxymoron of modernity: the constant bombardment of communication paired with utter disconnection.

Released February 18th via venerable indie label Kill Rock Stars, I Just Want To Be Wild For You grasps passionately for a world that too often seems at a gauzy distance.

Of the new record, Bob Boilen (NPR music) says "She just has this sensitivity to her sound that I really really love."

KEXP calls MAITA, "a master storyteller who can turn intimate moments into quippy, catchy indie-rock songs.

"A clear-eyed look at growing up and holding yourself responsible for actively creating the life you want to live instead of just waiting around for it to happen." — Cyrena Touros, NPR's All Songs Considered

"I Just Want To Be Wild For You is emotional gold."- BUST

"The rarified class of artists with the ability to enthrall the listener right from the jump"- Spin
Zoë Winter
Coastal Sonoma County singer-songwriter Zoë Winter lulls the heart with lilting and enchanting melodies akin to Laura Marling, Joni Mitchell & Nick Drake.
https://www.zoewintermusic.com/
Recommended if you like: Mirah, Horse Feathers, Joni Mitchell, Townes Van Zandt
---
Saturday, August 20th | Doors at 7:30 Show 8:15-10:30pm – MUSIC
An Evening with David Luning (Invitation Only via his website and email list)
—- this show is 3/4 of the way to being sold out
Visit https://www.davidluning.com for the invitation and tickets.
"He has a lot of originality going on…. his music, his words, and his appearance. There's something with Luning's songs that you immediately connect with which makes his music special and that makes David a cut way above the rest!" Regarding Just Drop On By, "A truly very good debut outing from a, more than likely, major talent!" Bill Bowker KRSH Radio
---
Sunday, August 21st | Doors at 7:30 Show 8:15-10:30pm – MUSIC
Dana Cooper & Joel Rafael
Dana Cooper is a poetic songwriter, an insightful storyteller, and a rousing musician whose performances engage and inspire audiences around the world. Cooper's lifelong passion & devotion to music began at age 2 in Kansas City. His father, George, was a huge influence. One of Dana's earliest memories is of his father taking him to the Calico Cat, popping a coin in the jukebox and listening to Dana sing along with Hank Williams & Ernest Tubb. At age 20 a move to LA resulted in a record deal with Elektra Records where he recorded his first album with members of "The Section" Russ Kunkel and Leleand Sklar, as well as other luminary players Jim Horn, Al Perkins, Jim Gordon, Joe Osborne, and Lee Holdridge. This album still wins accolades today and was recently reissued on the Warner/Japan label. After several years in California and a year recording in Seattle, Cooper moved to Texas where he wrote and performed with Shake Russell. They released several independent albums and one album for Southcoast/MCA. Dana formed his own experimental bands, DC3, and Nuclear Family and released his first solo project Complicated Stuff. In 1988 he moved to Nashville, TN to pursue his songwriting career collaborating with other songwriters such as Hal Ketchum, Kim Richey, and Kim Carnes. https://www.danacoopermusic.com
Joel Rafael It has been said the best writing comes from writing what you know – and based on Joel Rafael's life experiences and over 50 years of making music, he has a deep well from which to draw. He has chronicled his life and the world around him with songwriting rooted in the folk tradition; and no influence is more obvious in his work than that of Woody Guthrie. Rafael is among the best Woody Guthrie students, proponents and interpreters we have. His two-CD collection, The Songs of Woody Guthrie, Volumes 1 and 2 (Inside Recordings 2009) features five previously unpublished Guthrie lyrics for which Rafael composed the music, and two of those were published by the Woody Guthrie Archives in Every 100 Years: The Woody Guthrie Centennial Songbook (2012.) That same year, the International Acoustic Music Association awarded Folk Song of the Year to the Guthrie-Rafael collaboration, "Dance Around My Atom Fire." In 2019, his co-write with Jason Mraz, "Under Our Skin," was awarded IAMA Best Group or Duo. Rafael's songs conceal passionate messages within graceful melodies.
He began performing in showcases and small clubs around Southern California in the early 70s. In 1981, he toured with Jesse Colin Young, and released his debut album, Dharma Bums . Rafael won Kerrville's New Folk award in 1995 and gained national airplay with the seminal Joel Rafael Band, touring the southwest with Joan Baez in 2003. Rafael has been a featured performer at the Woody Guthrie Folk Festival every year since its inception in 1998.
"Joel Rafael's songs are filled with passion and compassion; passion for social justice and compassion for those among us who have to struggle for a place at the table of American prosperity. His voice is unmistakably his own, big, warm and strong, and a conductor for the human emotions that connect us all." – Jackson Browne.
"Joel Rafael is a disappearing breed: a Guthrie-Dylan-Llewyn Davis-style folk singer and Vietnam draft-dodger armed with a harmonica rack and acoustic guitar, who sings tales of love and history flickering with ache and political outrage." – Rolling Stone (2015) http://joelrafael.com
Recommended If You Like: James Taylor, Jackson Browne, Paul Simon, Marshal Crenshaw
---
The Lost Church Santa Rosa is located on Ross Street (between Mendocino & B) in Downtown Santa Rosa
(23-min from Petaluma, 40-min from San Rafael, 1 hr 6-min from San Francisco, 1 hr 9-min from Oakland)
Matinee performances end at 5pm | Evening performances end at 10:30pm
We're offering full refunds for non-attendance or cancelations due to COVID exposure, so there is no risk in showing your support by getting advanced tickets.
---

Join us in celebrating the reopening of The Lost Church San Francisco and or new North Beach Theater with these amazing performers!
Wednesday, September 7th | Doors at 7:30 Show 8:15-10:30pm – MAGIC & MENTALISM
Brad Barton, Reality Thief
Performing for over 30 years, Brad Barton, Reality Thief combines magic, psychology, comedy, mind reading, and audience participation to create an unforgettable experience for everyone involved.
Brad has performed backstage at Madison Square Garden, inside Alcatraz Prison AND Grace Cathedral, as well as private homes for guests like Francis Ford Coppola and Spiderman's Andrew Garfield. He was invited to perform at rock band Phish's first Reunion Festival in 2009, was the special guest performer for Prince's final performance at the San Francisco Fillmore, and is the only magician ever known to steal music legend Tom Waits' watch!
You are truly in for a treat. Get ready for Brad Barton, Reality Thief! realitythief.com
---
Thursday, September 8th | Doors at 7:30 Show 8:15-10:30pm – COMMUNITY CATHARSIS and OPEN MIC
You're Going to Die: Poetry, Prose, and Everything Goes
YOU'RE GOING TO DIE: Poetry, Prose & Everything Goes
is a total open mic event, with no set or featured performers, but only the communal offering for us to explore the conversation of death & dying, to embrace our losses & mortality, to grieve, bereave & honor those we've lost & love… while all the while making room for simply being ALIVE. yg2d.com
---
Saturday, September 10th | Doors at 7:30 Show 8:15-10:30pm – MUSIC
An Evening with Rachel Garlin and Band
With eight indie albums and main-stage appearances nationwide, Rachel Garlin is a folk-rock-troubadour who writes "infectiously poignant music that resonates in a timeless way" (Glide Magazine). Her interest in people—their stories, struggles, and truths—is at the heart of her work. Bringing a sense of spontaneity to every concert, Garlin shows up to connect and co-create experiences with live audiences. Empathic and prolific, she shares songs that imbue their recognizable, everyday characters with dignity and humanity. rachelgarlin.com
Recommended if you like: Cat Stevens, Brandi Carlile, and Sheryl Crow
---
The Lost Church San Francisco (opening in September) is located at 988 Columbus Avenue at Chestnut Street in North Beach.
(26-min from Oakland, 33-min from San Rafael, 52-min from Vallejo, 1 hour and 6-min from Santa Rosa)
Matinee performances end at 5pm | Evening performances end at 10:30pm
We're offering full refunds for non-attendance or cancelations due to COVID exposure, so there is no risk in showing your support by getting advanced tickets.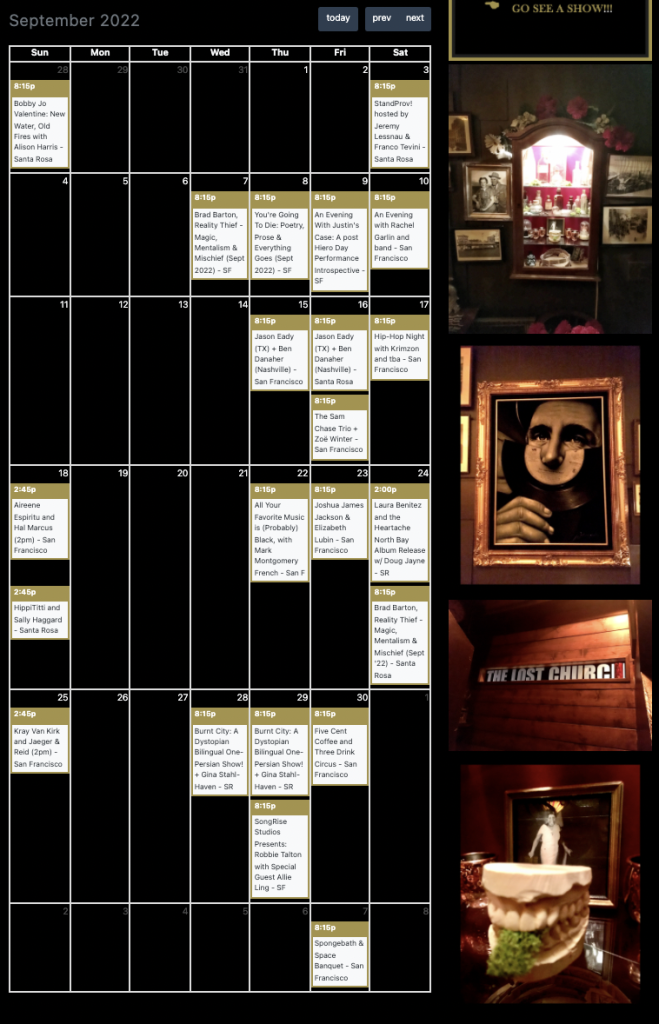 More shows are being announced every week!
We are currently booking October, and November at The Lost Church San Francisco and Santa Rosa.
If you're a Performing Artist in MUSIC – COMEDY – SPOKEN WORD – LECTURES – THEATER PRODUCTIONS – PERFORMANCE ART —– please visit our Booking page.
Film screenings are also welcome.
---
Seating is First Come, First Served.
All Ages are welcome
(Except for babies, children, and adults who cannot focus for two hours and enjoy the performance)
---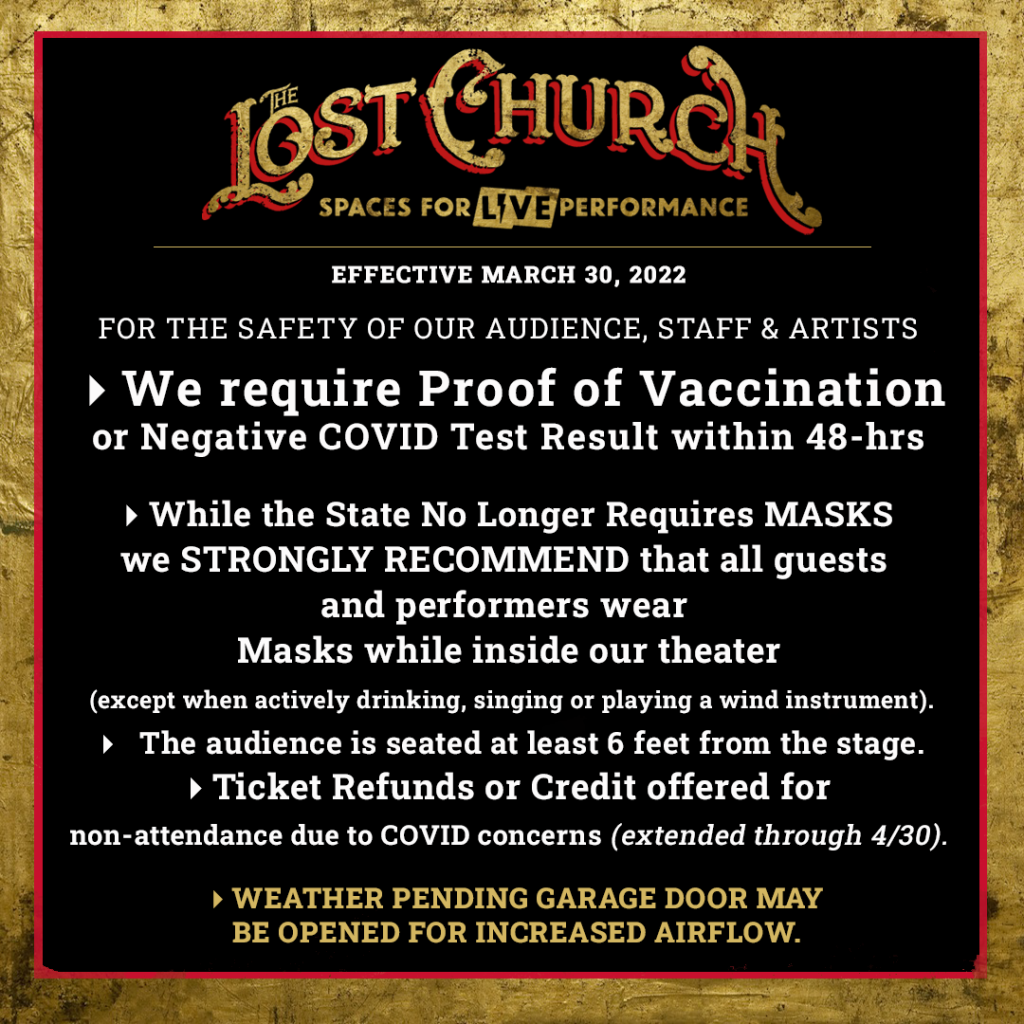 Our Current Safety Protocols are changing on September 1st to:
Vaccines, boosters, and masks are strongly encouraged, but are not required as per local Public Health Policy.
---