Sunday, August 7th | Doors at 7:30 Show 8:15-10:30pm — MUSIC
Late for the Train and Eric Long
Late for the Train is an indie-folk string trio rooted in American folk and bluegrass music. Infused with the honest depth of the coastal redwood forests and the heartfelt community of the North Bay, the band provides a playful and poignant musical experience that uplifts the spirit and rouses the soul. Travel back to a time of hearthside storytelling with these California natives, reveling in the rich traditions of Americana, bluegrass, folk, and Celtic music. Their dynamic songwriting is inspired by influences such as Emmylou Harris, Bob Dylan, Béla Fleck and Abigail Washburn, Watchhouse, Mipso, and Nickel Creek.The core ensemble includes songwriters and multi-instrumentalists David Pascoe (guitar/mandolin), Laura Benson (fiddle), and Thom Beneduci (stand-up bass). The trio's skillful craftsmanship meets tender harmonies and potent lyrics that grapple with all the wonder, contradiction, and truth of living in the modern age. Their debut album, Plant It or Build It, was released on September 4th, 2020. www.lateforthetrainband.com

Eric Long
Sometimes funny and always entertaining, singer-songwriter Eric Long is a Bay Area roots musician and folk singer with deep and lasting ties to early country and blues. NPR's All Songs Considered hailed his voice as carrying a "…timeless timbre that sounds well-traveled, self-reflective and pure," while Relix called his last LP "easy to listen to and easy to love." With 3 solo records under his belt as well as his newly released EP 'The Kawana Sessions (2022)," Eric has solidified himself as a staple of Northern California's folk music scene, often performing with some combination of fiddle, mandolin, banjo, bass and drums. The music is as natural and replenishing as the rain, and whether it be under twinkling stars or over coffee in the High Sierra, the trust he garners is immediate.Eric has performed on 3 continents and has opened for the Grammy winning Roots act Fantastic Negrito as well as acoustic and country music royalty Doug MacLeod, Guy Davis and Josh Turner. "His work resides at the heart of what Woody Guthrie was talking about when he asked and answered whose land this is. By listening to him, one gets the sense that he knows you, that he's heard your stories and felt your struggles and understands your highs and your lows. He, like so much else, was made to be shared, made to cherished, made for you and me." – For the Folks https://ericlongofficial.com
Recommended If You Like: Emmylou Harris, Bob Dylan, Watchhouse, Mipso, Jerry Jeff Walker, John Hartford, Jimmy Buffett
---
Friday, August 19th | Doors at 7:30 Show 8:15-10:30pm – MUSIC
MAITA – solo (Portland) + Zoë Winter
MAITA
Hot off the heels off MAITA's 2020 debut, Best Wishes,  named one of the "50 Albums that Define Oregon" (Portland Monthly), MAITA's sophomore LP, I Just Want To Be Wild For You, digs into the crippling oxymoron of modernity: the constant bombardment of communication paired with utter disconnection. 
 
Released February 18th via venerable indie label Kill Rock Stars, I Just Want To Be Wild For You grasps passionately for a world that too often seems at a gauzy distance.
 
Of the new record, Bob Boilen (NPR music) says "She just has this sensitivity to her sound that I really really love."  
 
KEXP calls MAITA, "a master storyteller who can turn intimate moments into quippy, catchy indie-rock songs.
 
"A clear-eyed look at growing up and holding yourself responsible for actively creating the life you want to live instead of just waiting around for it to happen." — Cyrena Touros, NPR's All Songs Considered
 
"I Just Want To Be Wild For You is emotional gold."- BUST

"The rarified class of artists with the ability to enthrall the listener right from the jump"- Spin
Zoë Winter
Coastal Sonoma County singer-songwriter Zoë Winter lulls the heart with lilting and enchanting melodies akin to Laura Marling, Joni Mitchell & Nick Drake.
https://www.zoewintermusic.com/
Recommended if you like: Mirah, Horse Feathers, Joni Mitchell, Townes Van Zandt
---
Saturday, August 20th | Doors at 7:30 Show 8:15-10:30pm – MUSIC
An Evening with David Luning (Invitation Only)
Visit https://www.davidluning.com for the invitation and tickets.
"He has a lot of originality going on…. his music, his words, and his appearance. There's something with Luning's songs that you immediately connect with which makes his music special and that makes David a cut way above the rest!" Regarding Just Drop On By, "A truly very good debut outing from a, more than likely, major talent!" Bill Bowker KRSH Radio
---
The Lost Church Santa Rosa is located on Ross Street (between Mendocino & B) in Downtown Santa Rosa
(23-min from Petaluma, 40-min from San Rafael, 1 hr 6-min from San Francisco, 1 hr 9-min from Oakland)
Matinee performances end at 5pm | Evening performances end at 10:30pm
We're offering full refunds for non-attendance or cancelations due to COVID exposure, so there is no risk in showing your support by getting advanced tickets.
---
Thank you for the MAITA and Zoë Winter Ticket Giveaway entries from last week and congratulations to our winner Tony.
More Lost Church Bulletin Ticket Giveaway's to come!
---

Wow! What a fantastic response.
Thank you to all who have purchased their tickets for our SF fall shows.
If you haven't gotten yours yet….please visit
We are currently booking September, October, and November at The Lost Church San Francisco.
If you're a Performing Artist in MUSIC – COMEDY – SPOKEN WORD – LECTURES – THEATER PRODUCTIONS – PERFORMANCE ART —– please visit our Booking page.
Film screenings are also welcome.
---
Seating is First Come, First Served.
All Ages are welcome
(Except for babies, children, and adults who cannot focus for two hours and enjoy the performance)
---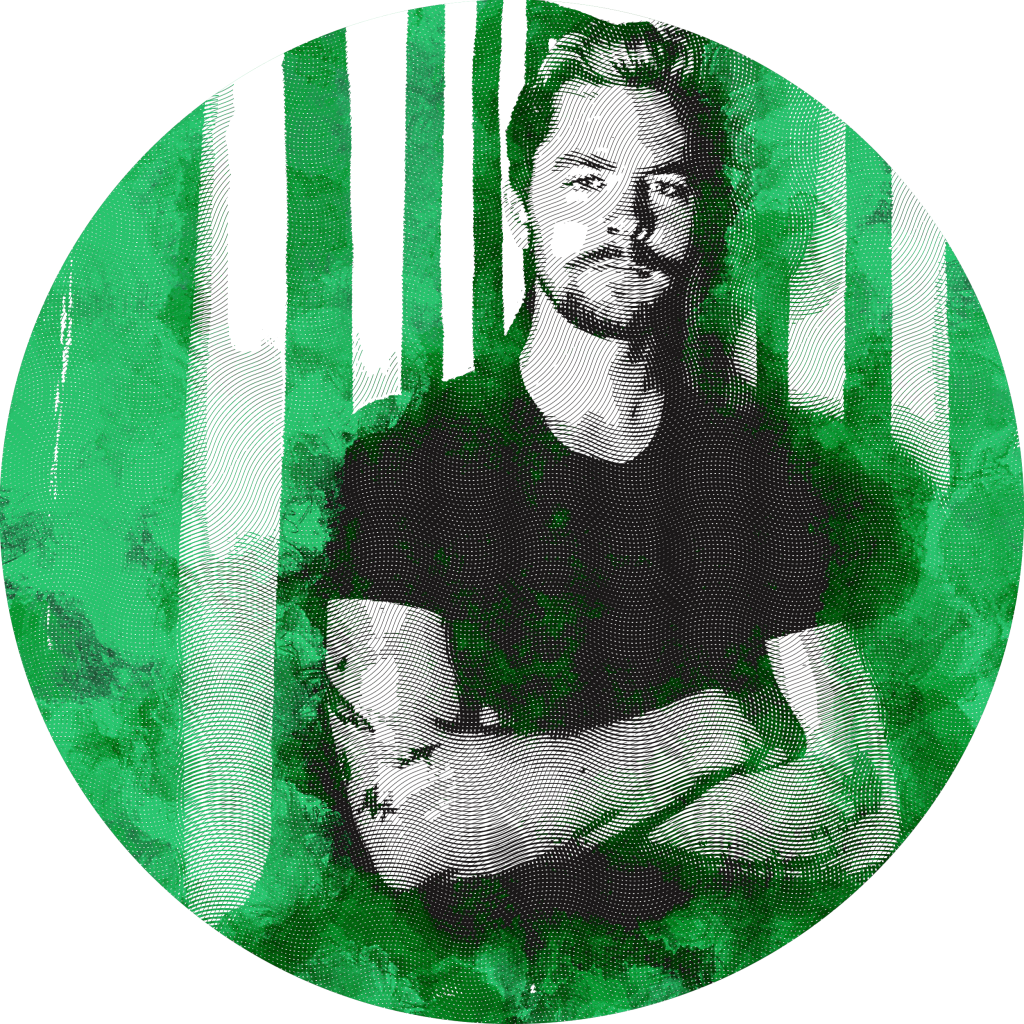 Local writer, musician, public school teacher and Board Member of The Lost Church .Org, Dawn Mermer will be introducing you to a member of our staff in this new series.
Bryce Dow-Williamson
TLC Santa Rosa General Manager and Advertising Manager
The Lost Church Santa Rosa general manager and advertising manager Bryce Dow-Williamson is excited and dedicated to building a live music community in and around the largest city in Sonoma County.
"There's a wealth of talent up here, but a lack of spaces to play. For years, there hasn't really been a space that's been consistently open for putting on regular shows weekly or monthly," Dow-Williamson said. 
Now that TLC Santa Rosa has been open for about half a year after experiencing two mandated shutdowns since opening its doors in January 2020, Dow-Williamson is ready to work hard to bring about that artistic change.
"It's been a difficult time in the past couple of years, but it's a worthy endeavor. I'm wanting to change that discouragement into excitement and support. As I see it, we are creating those little magical moments in live performance where people are feeling moved and grateful to experience the creativity from folks. Getting people at the end of the show saying, 'This is exactly what I've wanted and needed,' and having a lot of musicians saying they're really excited that this is happening around here."
Growing up in Sebastopol and loving live music led Dow-Williamson to his lifelong pursuit of bringing musicians and audiences together for a shared experience. He's done music marketing for area bands and for venues like The Mystic Theater in Petaluma and Cornerstone in Berkeley, been the promoter and booker for the SOMO Concerts in Rohnert Park, and helped TLC Development Director Josh Windmiller put together and run the Railroad Square Music Festival since its inception in 2015. And since July 2021, he's become much deeper into the TLC fold as GM of TLC Santa Rosa.
"Bryce comes to us with such a wide range of experiences in this business, and at a real grassroots level," said Brett Cline, co-founder and executive director of TLC. "He's so cool-headed and can handle anything from marketing analysis to the day-to-day management to hosting shows. He really gets it all done."
Dow-Williamson is dedicated to helping The Lost Church grow, as it's about to open its new San Francisco location in North Beach in September. "I want to help adapt The Lost Church from what it was, to what it is, to what it wants to be."
---
Live from the TLC Video Archive
Kristen Pearce of The Betty Blues sings about a $5 Wedding at Rivertown Revival.
TLC Song Service at The Lost Church Santa Rosa, 7.21.22 https://www.thebettyblues.com/
Filmed by EyeClash Ragazine at TLC Santa Rosa on July 9, 2022
---
We were kindly invited to curate the live performances at the upcoming Wine Country Distillery Festival.
Featuring..
The Sean Carscadden Trio (a contemporary mix of blues, New Orleans funk, and soul) and Nate Lopez (8-string hybrid guitarist).
It'll be a fascinating peek into the world of our regional creative Craft Distillers and a real fun time!
We'll have a Lost Church table there, too, so come by and say hello.
READERS OF Lost Church Bulletin receive 20% off TICKETS at
https://bit.ly/37RlFra when you use FFF at checkout!
---
Our Current Safety Protocols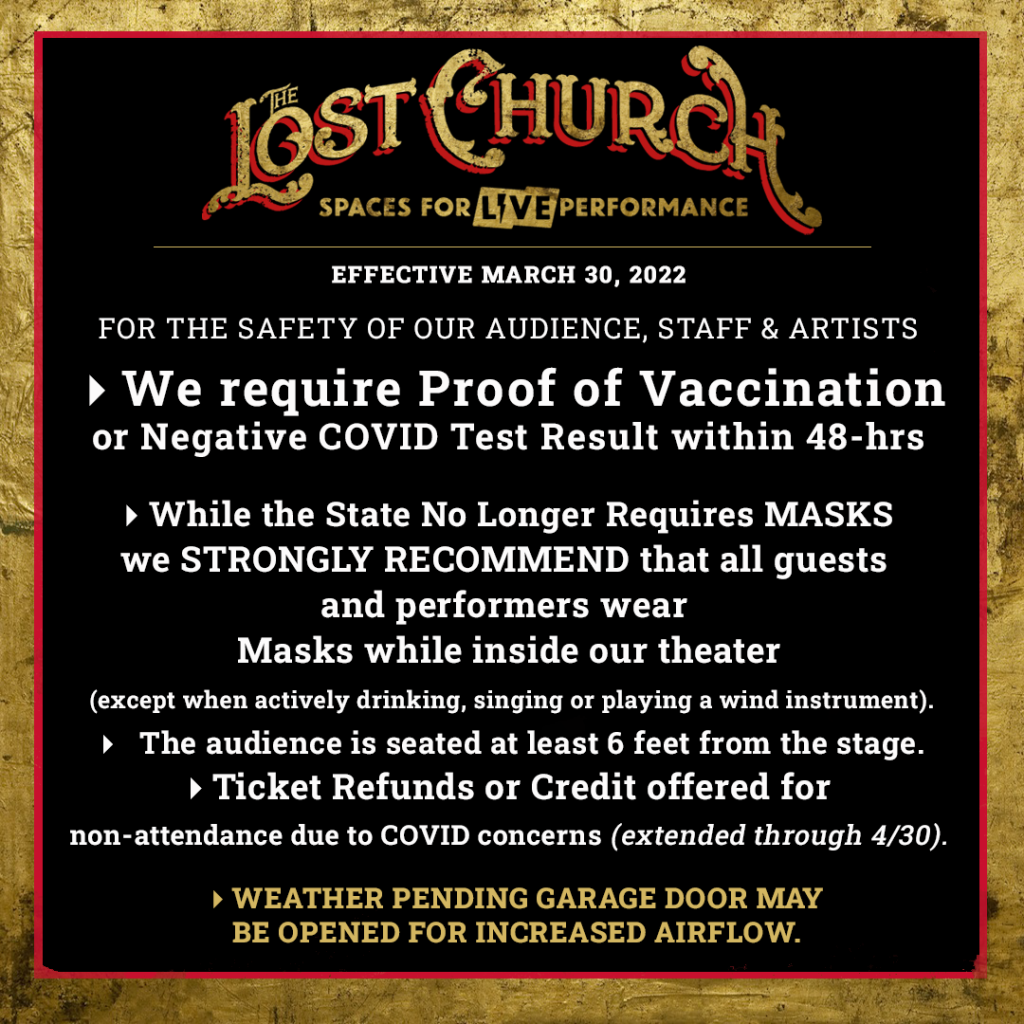 ---