Do you have your tickets to see the NEW TLC San Francisco?
WE REOPEN IN NORTH BEACH REALLY SOON!!!

Wednesday, September 7th | Doors at 7:30 Show 8:15-10:30pm – MAGIC & MENTALISM
Brad Barton, Reality Thief – SOLD OUT (thanks!)
Performing for over 30 years, Brad Barton, Reality Thief combines magic, psychology, comedy, mind reading, and audience participation to create an unforgettable experience for everyone involved. realitythief.com
Tickets are now on sale for his October 5th show: HERE
---
Thursday, September 8th | Doors at 7:30 Show 8:15-10:30pm – COMMUNITY CATHARSIS and OPEN MIC
You're Going to Die: Poetry, Prose, and Everything Goes
—- this is our first YG2D SF together in 2 1/2 years! Only 35 tickets left!
YOU'RE GOING TO DIE: Poetry, Prose & Everything Goes
is a total open mic event, with no set or featured performers, but only the communal offering for us to explore the conversation of death & dying, to embrace our losses & mortality, to grieve, bereave & honor those we've lost & love… while all the while making room for simply being ALIVE. yg2d.com
---
Friday, September 9th | Doors at 7:30 Show 8:15-10:30pm – MUSIC
Justin's Case: A post Hiero Day Performance Introspective
Music heals. For some it's listening to it. For some, it's creating it. For Bay Area artists Equipto, True Justice, Aagee and MC Pauze, the creation of their new super group Justin's Case was born from a deep love of music — and an intense, sudden need to heal.
"I was asked to book a handful of shows for Zion-I last summer," DJ True Justice reminisces, "Mac Mall and San Quinn were on the bill with us, and this was the first time in a year and change that the state was opening back up to live shows. We wanted to do something special."

Combining a mixture of world music influences, with Equipto's deeply rooted love of Jazz and the classic Bay Area sensibilities, the group creates a unique sound that seamlessly flows through a variety of genres and sub-genres. Giving the music, and the live show, a universal appeal. Adding that to socially conscious lyrics that challenge the status quo with lyrical prowess, the group is aiming for the listener who has a discerning ear and a mind that seeks the truth. justinscase.bandcamp.com
Recommended If You Like: Zion-I, Tower Of Power, Brand Nubian
---
Saturday, September 10th | Doors at 7:30 Show 8:15-10:30pm – MUSIC
An Evening with Rachel Garlin and Band
With eight indie albums and main-stage appearances nationwide, Rachel Garlin is a folk-rock-troubadour who writes "infectiously poignant music that resonates in a timeless way" (Glide Magazine). Her interest in people—their stories, struggles, and truths—is at the heart of her work. Bringing a sense of spontaneity to every concert, Garlin shows up to connect and co-create experiences with live audiences. Empathic and prolific, she shares songs that imbue their recognizable, everyday characters with dignity and humanity. rachelgarlin.com
Recommended if you like: Cat Stevens, Brandi Carlile, and Sheryl Crow
---
The Lost Church San Francisco (opening in September) is located at 988 Columbus Avenue at Chestnut Street in North Beach.
(26-min from Oakland, 33-min from San Rafael, 52-min from Vallejo, 1 hour and 6-min from Santa Rosa)
Matinee performances end at 5pm | Evening performances end at 10:30pm
We're offering full refunds for non-attendance or cancelations due to COVID exposure, so there is no risk in showing your support by getting advanced tickets.
ADA Accessible.
More shows are being announced every week!
FOR BOTH SAN FRANCISCO & SANTA ROSA THEATERS
Seating is First Come, First Served.
All Ages are welcome
(Except for babies, children, and adults who cannot focus for two hours and enjoy the performance)
Our Current Safety Protocols are changing on September 1st to:
Vaccines, boosters, and masks are strongly encouraged, but are not required as per local Public Health Policy.
---

THIS SATURDAY!
September 3rd | Doors at 7:30 Show 8:15-10:30pm – COMEDY & IMPROV
StandProv! hosted by Jeremy Lessnau & Franco Tevini
Featuring:
Jericho Faustino, David Dominguez, Sue Alfieri, Aivy Cordova, and Tricia Siegel
Equal parts standup and improvisational comedy, Stand Prov will come to life on the electrifying Lost Church stage Saturday, September 3rd, at 7:30 PM. With performers from all over California conjoining to create a Frankensteining of comedic stylings, your hosts Franco Tevini and Jeremy Lessnau invoke the forces of crowd-work and group-mind to summon a daring demonstration of live comedy from the depths of two sidesplitting subcultures. Will the theatrical transmutation co-exist peacefully? Or will the laws of nature deem the mixture of standup and improv "too funny to continue??"
Recommended If You Like: Jim Gaffigan, Whose Line Is It Anyway?, Emily Heller, Upright Citizens Brigade, Middleditch & Schwartz
---
Thursday, September 15th | Doors at 7:30 Show 8:15-10:30pm – MUSIC
TLC Song Service with Mel Baker (of SAMVEGA), Tim Dixon (co-founder of The Crux, and Alex Margitich
TLC Song Service is an intimate evening with three artists passing the spotlight. Expect insights into the craft of the song from inspiration to final form.
*Every Third Thursday
Mel Baker provides vocals, lapsteel, electric mandolin and guitar for the Psych Rock band SAMVEGA, a "Band of artists, painters, builders, music makers, merriment creators, travelers, animal lovers, urban vacationers, beach combers, rust farmers, star gazers, book readers and barn dwellers…" She is a founding member of the art collective The Ehlers Society with her sister Mercedes and fellow band members. http://bakersistersart.com/
Tim Dixon is a founding member of the Crux and Semi-Evloved Simians. He returns to the stage after a 10 year hiatus to debut some new material.
Alexander Margitich is a songwriter and composer from Santa Rosa, CA. After studying guitar and composition at Berklee College of Music in Boston, Alex has enjoyed a career in music including performing internationally, licensing songs, and teaching in New York and Portland. Alex weathered the pandemic by fulfilling his destiny of becoming a corporate graphic designer, and is now trying to remember his old lyrics while experimenting with new songs. https://www.alexandermargitich.com/music

Recommended If You Like: SAMVEGA, The Crux, Waters, Tom Waits, Geographer
---
Friday, September 16th | Doors at 7:30 Show 8:15-10:30pm – MUSIC
Jason Eady (TX) + Ben Danaher (Nashville)
A champion of the Texas honky tonk tradition, Jason Eady is different than most Lone Star singer/songwriters in one important respect: he was born and raised in Mississippi. Known for songs about the tougher side of life played with heart, soul, and a rootsy atmosphere, Eady's music combines contemporary country with traces of bluegrass and Americana, and he found an eager audience for his work after settling in Texas. https://www.jasoneady.com/
A native Texan now calling Nashville home, singer/songwriter Ben Danaher sneaks his personal experiences while giving unforgettable melodies. Taking notes from the greats like Merle Haggard, Ray Charles, Darrell Scott and Buddy Miller, Ben created his own sound mixing elements from Country, Blues, and Americana to help illustrate his stories. https://bendanaher.com/
Recommended If You Like: Merle Haggard, Buddy Miller, Band of Heathens
---
The Lost Church Santa Rosa is located on Ross Street (between Mendocino & B) in Downtown Santa Rosa
(23-min from Petaluma, 40-min from San Rafael, 1 hr 6-min from San Francisco, 1 hr 9-min from Oakland)
Matinee performances end at 5pm | Evening performances end at 10:30pm
We're offering full refunds for non-attendance or cancelations due to COVID exposure, so there is no risk in showing your support by getting advanced tickets.
ADA Accessible.
---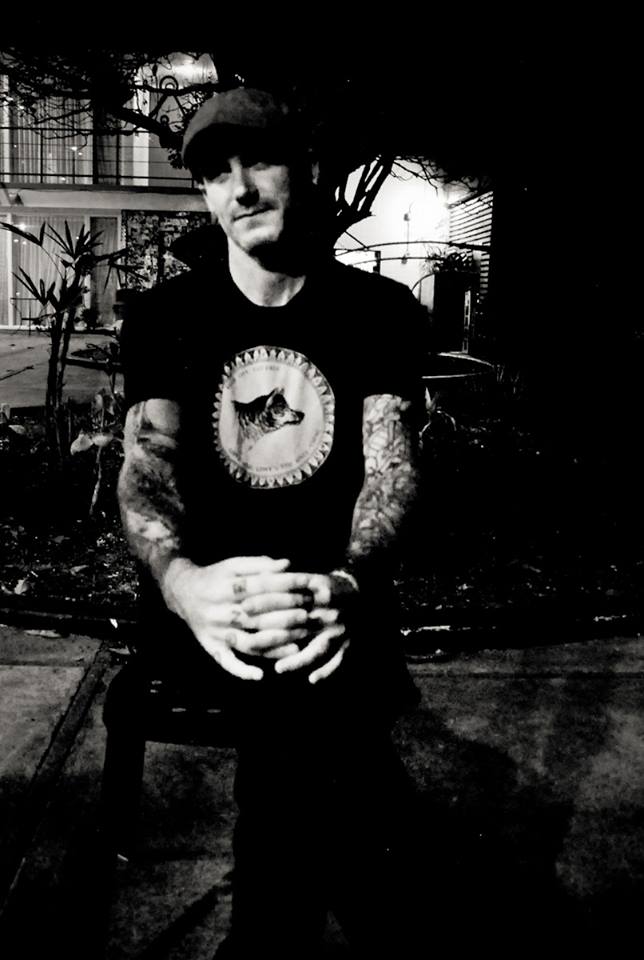 Local writer, musician, public school teacher and Board Member of The Lost Church .Org, Dawn Mermer will be introducing you to a member of our staff in this new series.
Mickey Darius
General Manager of The Lost Church San Francisco
Mickey Darius is happy to be doing his job again. The Lost Church San Francisco General Manager has waited two-and-a-half years, through quarantine to the SF theater's changing locale. As doors open for the first time in North Beach on September 7th, Darius will be ready with new and returning staff. At least as ready as he can possibly be.
"I have guarded optimism," Darius said. "I'm really looking forward to getting back into it. I'm looking forward to feeling the feelings that we used to get from The Lost Church. I'm not looking forward to some of the growing pains and some of the challenges we're going to be facing. I don't necessarily know what they are. There could be extra hurdles opening during this time. I'm excited to get up and running and to get this ship going and see where the holes are once we get out to sea."
"It's great to have him back in full force. He leads his staff with a lot of love," said TLC co-founder and executive director Brett Cline.
Darius has been with TLC since 2018 after getting to know Cline when he worked at TicketFly, the ticketing agency the organization used. He began helping TLC become more sustainable and scalable, then became the general manager of the Capp Street location when Cline wanted to focus primarily on growing the non-profit.
A Bay Area native, Darius also founded and runs Broken Clover Records, which has put out 20 releases from three continents, and heads up a booking agency. He chose to work for TLC because of its relationship with their community.
"I love that I work for an organization that works with the community and tries to listen and engage with it and not exert itself onto the community," Darius said. "We want to go to where we are wanted and needed. So, where along the California coast is there a need for what we do? We don't say we want to be in this city, but instead it's here's a place where we can insert ourselves and help them bring something special to the community. Any business like that that actually looks at how they grow and where they grow and why they grow critically is an organization I would want to work for. Especially one that is tied in with the arts."
Darius also knows that all of this isn't just for the here and now, and he's pleased to be a part of something larger and more enduring.
"This is a legacy thing. This is bigger than just us and bigger than just now. I think it transcends a lot of that. It feels good to be a part of that."
---