We have a hearing with the San Francisco Board of Supervisors for our Liquor License
10am PST on Thursday, June 9th
We are 2nd on the list, so please be ready to call in soon after 10am.
Please let the Supervisors know why we need our Liquor License to be able to reopen and provide a home in San Francisco for our local artists and community.
IN-PERSON MEETING June 9, 2022
San Francisco City Hall, Legislative Chamber, Room 250
REMOTE ACCESS
WATCH SF Cable Channel 26, 78 or 99 (depending on provider)
WATCH www.sfgovtv.org
>>>>>>>>>> PUBLIC COMMENT CALL-IN — this is where you come in
>>>>>>>>>> 1 (415) 655-0001 / Meeting ID: 2486 270 4569 # #
Thanks for your help with our being able to REOPEN The Lost Church San Francisco – we are getting closer.
Please call in and help out, if you can. Thank you!!!
---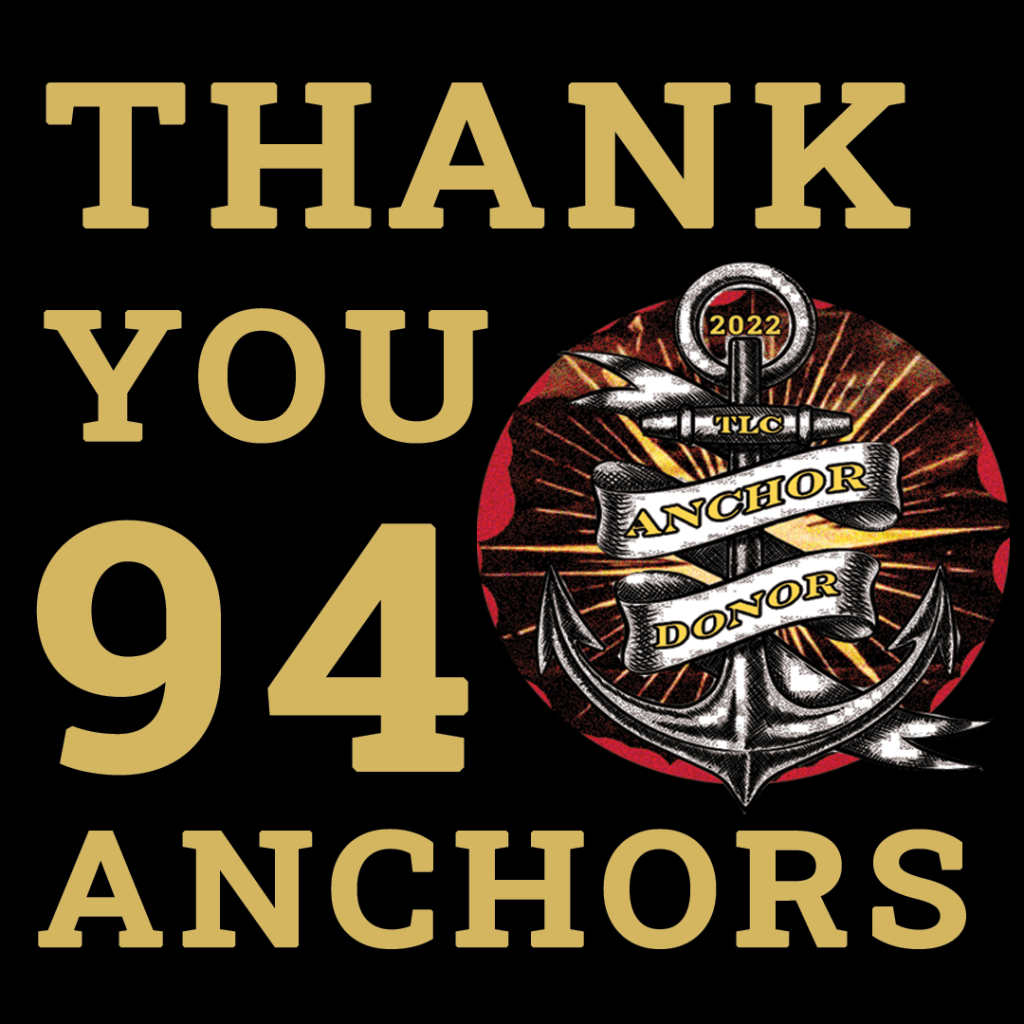 Thank you and welcome aboard new Anchor Donors! (So close.)
We have grown to a total of 94 Anchor Donors since we started the program last year.
We're grateful to have come so, so close to 100 during our May drive.
We are so lucky to have you as our foundation for sailing through the stormy seas and as we grow and serve more artists and people in our community.
FYI:: Anchors are people who want a concrete way of keeping the arts alive in the Bay Area and donate $5, $15, $20 or more each month or some choose to make a gift of $25, $100 or more each quarter. It's a set it and forget it way of automating support for The Lost Church in a seriously meaningful (and tax deductible) way.
Because we love a nice round number and want to get to 100
— we are offering the limited edition 2022 Anchor Donor Pin to the next 6 or more people who become Anchor Donors by Sunday, June 12th.
---
Our Next Performances at TLC Santa Rosa
Thursday, June 9th | Doors at 7:30 Show 8:15-10:30pm — MUSIC
Loud as Folk: Travis Hayes + Caitlin Jemma. Hosted by Spike McGuire
Indie musician and singer-songwriter Caitlin Jemma speaks for the multitudes on her celestial new disco-folk album, True Meaning, out September 17th on American Standard Time Records. Conjuring the soulfulness of Norah Jones, the melancholy of Joni Mitchell, and the lyric-bending bewitchment of Bonnie Raitt, Jemma takes listeners on an atmospheric journey from heartbreak to hope throughout the ten dynamic tracks which make up True Meaning—a vulnerable-yet-spirited release exploring the full emotional spectrum of being human, while posing an age-old philosophical question: "What is the true meaning of life?" ​Inspired by long, solitary drives on desert highways and then recorded in Portland, OR, with an all-star band, True Meaning is an album of depth, nuance, catharsis, playfulness, and resilience—all things the world needs now. https://www.caitlinjemma.com/

If Travis Hayes' debut album, Young Daze, captured the wistful optimism and possibility of youth, his second, Sleepless, is the sound of finding the strength to stand up after life has slammed you into the concrete one too many times. The album, written after the sudden death of a dear friend, encompasses what it is to be alive: the joy of love, the agony of loss, the terror of embracing hurt, and the ultimate release of healing. Sleepless is the sound of shedding one scarred and fractured skin, in order to crawl into another, stronger one. But for all its sadness, Sleepless is ultimately marked by a deep sense of hope; the will and desire to keep moving forward, even in the shadow of grief. "In the end," Hayes says, "these were more than just songs. They saved my life." https://www.iamtravishayes.com/
Recommended if you like: Joni Mitchell, Bonnie Raitt, The War on Drugs, Jackson Browne, Sharon Van Etten
---
Friday, June 10th | Doors at 7:30 Show 8:15-10:30pm — COMEDY
StandProv! hosted by Franco Tevini & Jeremy Lessnau
Equal parts standup and improvisational comedy, Stand Prov will come to life on the electrifying Lost Church stage.
With performers from all over California conjoining to create a Frankensteining of comedic stylings, your hosts Franco Tevini and Jeremy Lessnau invoke the forces of crowd-work and group-mind to summon a daring demonstration of live comedy from the depths of two sidesplitting subcultures.
Will the theatrical transmutation co-exist peacefully? Or will the laws of nature deem the mixture of standup and improv "too funny to continue??" Find out at Stand Prov.
Featuring Tito Gonzalez, Pam Benjamin, Casey Williams, Christie Bahna,, and Tricia Siegel.
---
Saturday, June 11th | Doors at 7:30 Show 8:15-10:30pm – MUSIC
The Musers (CD Release Show) and Jacob Phillip Benning
The Musers are Anita Bear Sandwina/ banjolin, fiddle, mandolin, guitar, Megan McLaughlin/ guitar and mandolin, Tom Kuhn/ bass. Anita and Megan's sister-like harmonies and award winning songs are winning fans all over Northern California. With Tom's grounded percussive bass groove, The Musers uplift their crowds with foot stomping, high energy performances of original bluegrass, swing, blues, Appalachian, Irish, and sassy cover tunes. They debut their 4th full length studio CD, Beautiful Mysteries at this special Lost Church show. www.themusersband.com
Jacob Phillip Benning is a singer-songwriter from West Sonoma County. Benning performs with his rock & roll trio all across the San Francisco Bay Area and performs solo at many local North Bay establishments. The bands influences stem from guitar-driven classic rock bands such as Led Zeppelin. In recent months, the band has expanded their reach to California's Central Coast and the Sacramento valley, with intentions to play worldwide. Benning's debut album released in February 2022 and is now available on all streaming platforms. https://instagram.com/jacobphilipbenning/
Recommended If You Like: Patty Griffin, Shawn Colvin, Wood Brothers, Nickel Creek
---
Located on Ross Street (between Mendocino & B) in Downtown Santa Rosa
(23-min from Petaluma, 40-min from San Rafael, 1 hr 6-min from San Francisco, 1 hr 9-min from Oakland)
Matinee performances end at 5pm | Evening performances end at 10:30pm
We're offering full refunds for non-attendance or cancelations due to COVID concerns, so there is no risk in showing your support by getting advanced tickets.
---
Seating is First Come, First Served.
All Ages are welcome
(Except for babies, children, and adults who cannot focus for two hours and enjoy the performance)
---
Our Current Safety Protocols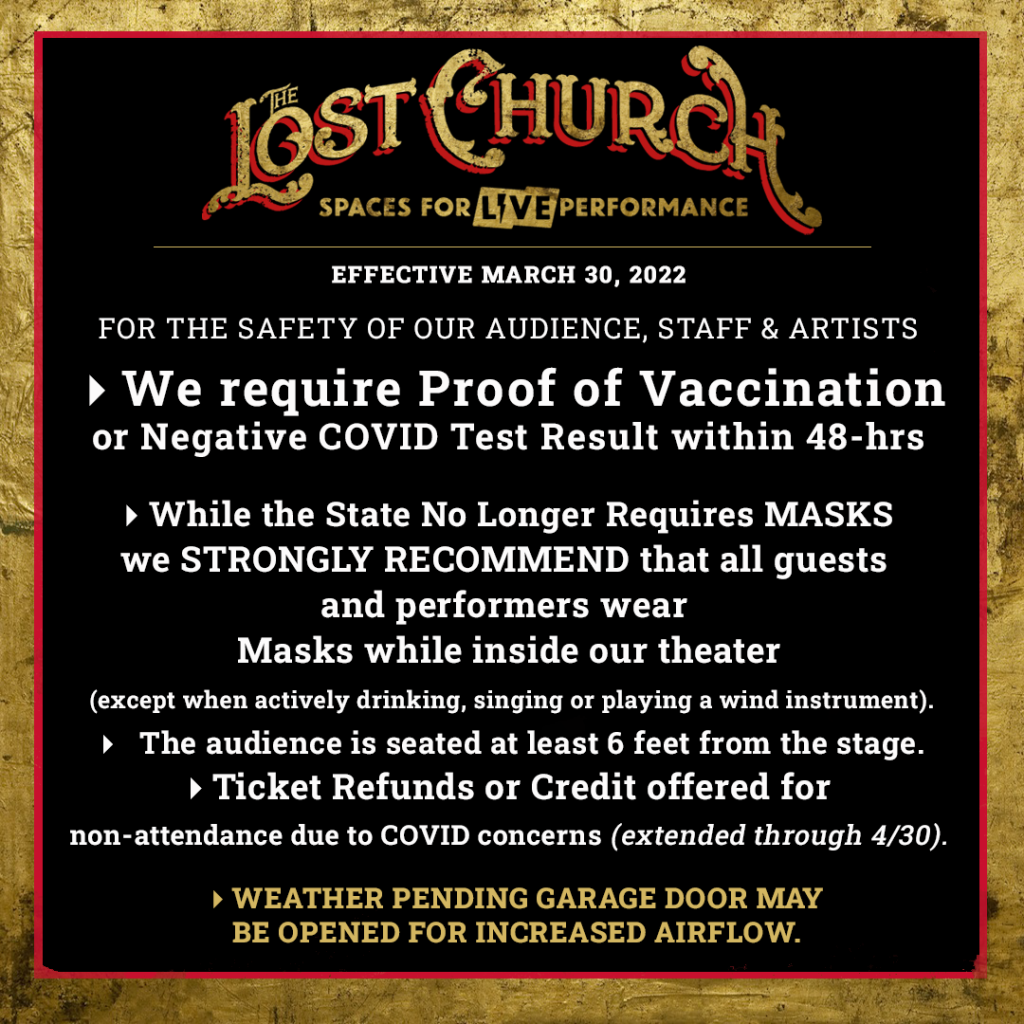 ---

at The Lost Church SANTA ROSA
*Sunday, June 19th Matinée at 2pm: Opus Orange (Los Angeles) and From, Jacob
Recommended If You Like: The Cure, The Shins, Local Natives
*Saturday, July 23rd: Brad Barton, Reality Thief – magic, mentalism, mischief!

---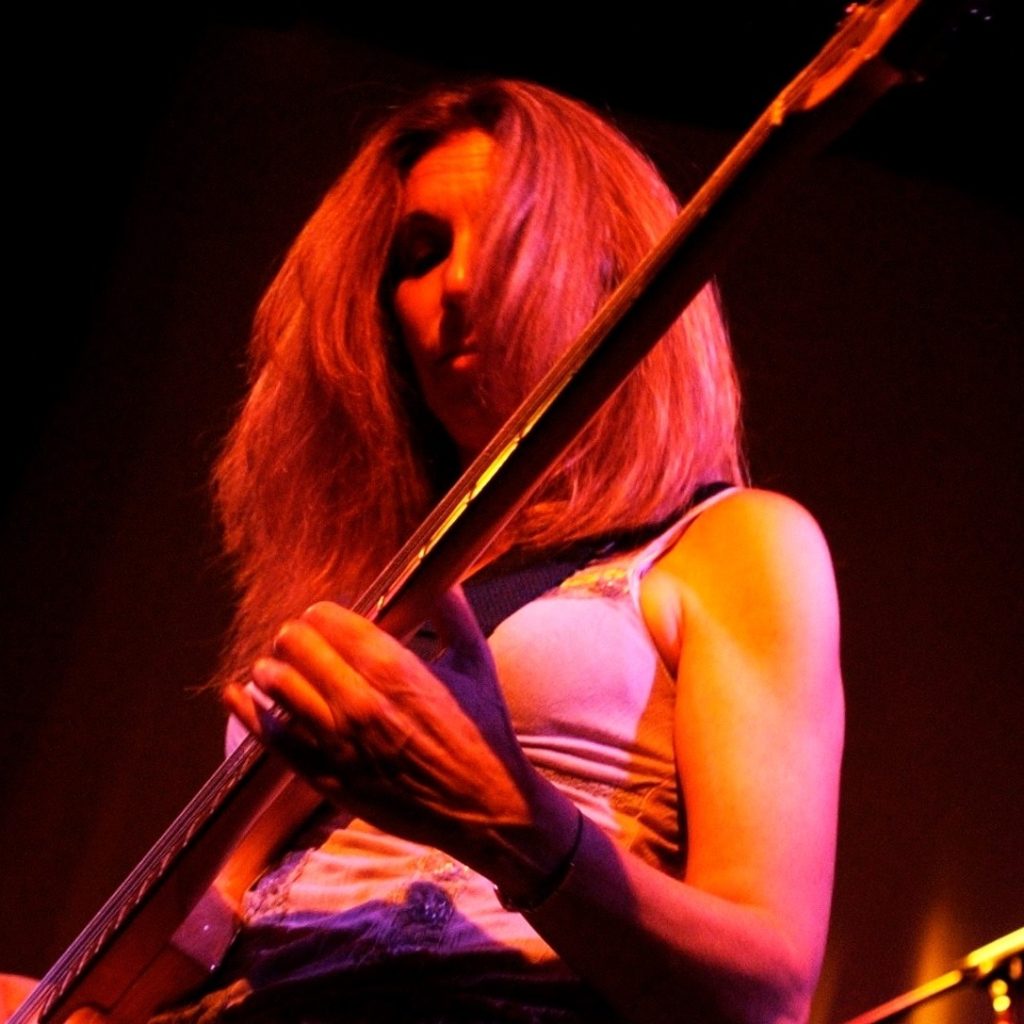 Music Mamas hosted by Laura Benitez on Lost Church Free Radio
The June Episodes feature singer, songwriter, bassist, bandleader, and mother Kate Burkart
Tune in on Sundays at 1pm at thelostchurch.org/radio
---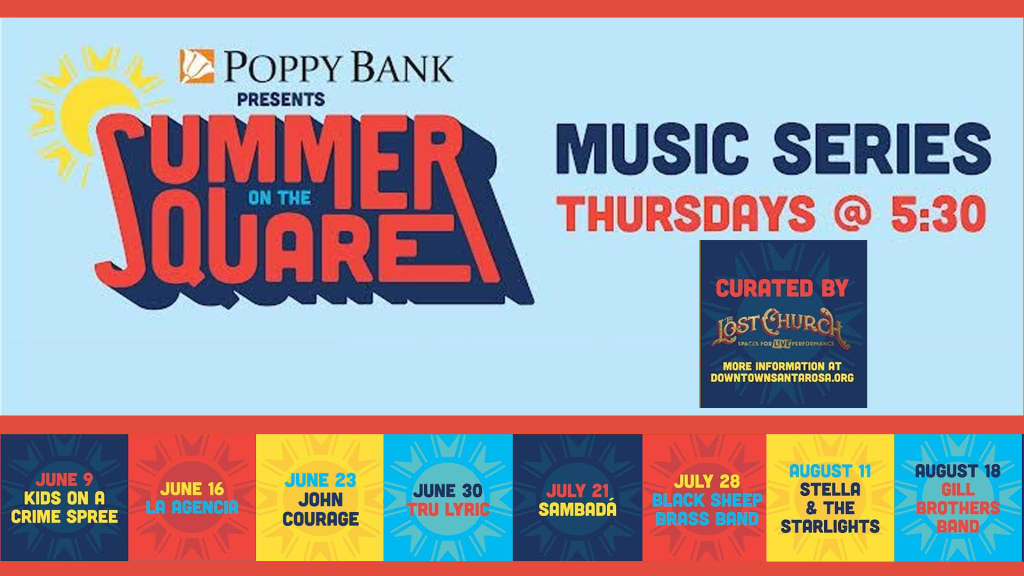 We've curated a whole summer of free late afternoon shows for you in Downtown Santa Rosa!
June 9th – August 18th every Thursday from 5:30-7:30pm.
Have a picnic in the park and enjoy these artists and then keep it going by coming to TLC Santa Rosa for our evening shows. It's summertime…let's live it up!
---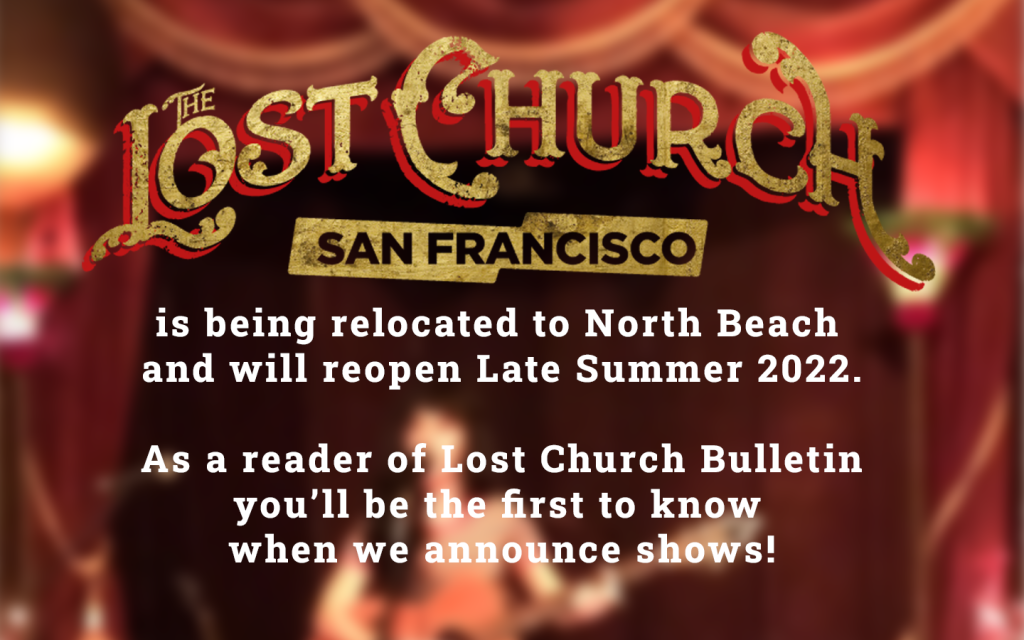 ---