---

Thursday, October 13th | Doors at 7:30 Show 8:15-10:30pm – MUSIC
Gillian Grogan + Ollella (Seattle) + Elena Lambertson
Trained as a classical cellist since the age of nine, Seattle indie-folk musician, Ollella, merges her technical background with authoritative vocals, live-looping, and improvisation, blending the acoustic with the contemporary, folk with pop, and tenacity with softness, pulling on influences such as Feist, Cat Power and Jesca Hoop. Her playing has been featured in films screened at Sundance and Aspen Film Fest. www.ollellamusic.com
Tickled strings and floating vocals, hammered riffs and belted requests—Gillian Grogan's music is untamed and untethered to any genre. She's singing stories where Americana meets folk and steeps into soul, where fingerpicking builds and swells and gets slapped back to silence. www.gilliangrogan.com
Growing up around Santa Cruz, Elena Lambertson spent a lot of time echoing her tunes off of redwood canopies and sitting at the shores of the Pacific, crafting her inner reflections into storytelling songs reminiscent of the vintage, ramblin' cowgirl style of Gillian Welch blended with a sparse, reverb-drenched angst like that of Cat Power. www.elenalambertson.com
Recommended if you like: Feist, Haley Heynderickx, Cat Power, Brandi Carlile, Gillian Welch
---
Friday, October 14th | Doors at 7:30 Show 8:15-10:30pm – MUSIC
Nick Gamer & The Midnight Angels (formerly of Japanese Breakfast) + Clementine Darling
Oregon's Nick Gamer writes dark, cinematic Americana songs that sound equally at home in the western cosmos of Lucinda Williams and The Byrd's Sweetheart of the Rodeo. A former guitarist for Japanese Breakfast and frontman of Le Rev, Gamer has traded indie pop hooks for the high lonesome wail of the pedal steel and currently touring his debut solo album, Suburban Cowboy, where honky tonks, midnight angels, truck stops and bourbon loom large. www.nickgamermusic.com

Clementine Darling is a singer-songwriter making waves in San Francisco's music scene, playing Americana folk songs and indie ballads with undertones of Seattle 90's grunge. www.instagram.com/clementinedarlingmusic/
Recommended if you like: Band of Horses, Ruston Kelly, Greg Cartwright, Big Thief, Tyler Childers
---
Saturday, October 15th | Matinee. Doors at 1:00 Show 1:45-4:00pm – MUSIC
South For Winter (Nashville by way of New Zealand) + Twin Soles
South for Winter's eclectic blend of folk, blues, classical, and gypsy has often been described as "Renaissance." The band is now recording their debut album in Nashville with Grammy-nominated producer Matt Leigh while touring throughout the US and Canada. https://www.southforwintermusic.com/

Twin Soles is the musical manifestation of the union of Shawna and Cory Hervé, opening their hearts to reveal soaring highs and painful lows in hopes of inspiring and connecting with people who believe in honest love. Inspired by many styles and eras, they create uniquely beautiful original songs about family, love and heartbreak that will give you a window into the strength and tenderness of their connection. https://www.twinsolesmusic.com/

Recommended If You Like: Devil Makes Three, Nickel Creek, Carolina Chocolate Drops, Uncle Earl
***NOTE Canceled Show: Saturday, October 15th – Evening: Le *(three-piece) Duo with Mimi & Gabe
---
The Lost Church Santa Rosa is located on Ross Street (between Mendocino & B) in Downtown Santa Rosa
(23-min from Petaluma, 40-min from San Rafael, 1 hr 6-min from San Francisco, 1 hr 9-min from Oakland)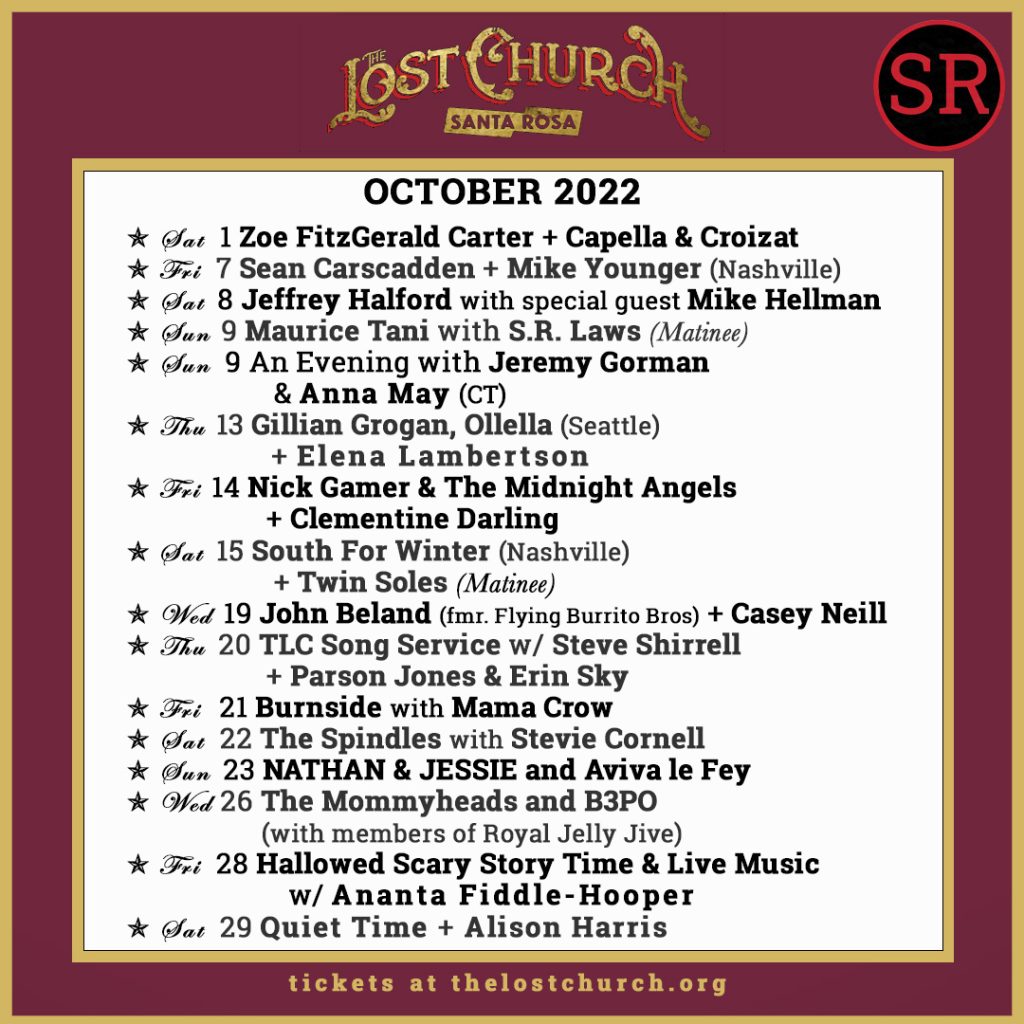 Matinee performances end at 4pm | Evening performances end at 10:30pm
We're offering full refunds for non-attendance or cancelations due to COVID exposure, so there is no risk in showing your support by getting advanced tickets.
ADA Accessible.
---

SANTA ROSA
Thursday, November 3: StandProv! (stand-up meets improv on 1st Thursdays)
Saturday, November 5. Matinée: Dave Hamilton, Jay Gottlieb, Gary Sugiyama, Lauralee Brown, Cory Veltman
Friday, November 25: A Melodious Affair with Sonomacana, Audio Angel, KindLung, & Mystie Moon
FOR BOTH SAN FRANCISCO & SANTA ROSA THEATERS
Seating is First Come, First Served.
All Ages are welcome
(Except for babies, children, and adults who cannot focus for two hours and enjoy the performance)
---
Our Current Safety Protocols
Vaccines, boosters, and masks are strongly encouraged, but are not required as per local Public Health Policy.
---

---
TONIGHT!!!
Wednesday, October 12th | Doors at 7:30 Show 8:15-10:30pm – MUSIC
King Dream (solo) and John Calvin Abney
With a soulful voice, roots planted in the golden era of California psychedelia and a wry energy that places him firmly in the 21st century, Jeremy Lyon charts a path through timeless themes: disillusionment with oneself, with adulthood, with one's country — and the discovery, time and again, that somehow there's still plenty worthy of a love song. https://www.kingdreamband.com/
As the world closed down in the spring of 2020, John Calvin Abney sold his belongings, packed up his car, and sojourned west and began working on the songs that would become his stirring new album, Tourist, via Black Mesa Records. Abney is rarely not on the road, maintaining a grueling tour schedule as a solo artist and as a sideman whose credits include years accompanying and recording with Samantha Crain and John Moreland, recent dates with up-and-comers Lizzie No and Margo Cilker, a 2022 solo performance at the Ryman Auditorium, and opening—with a full rock band in tow—a home state show for Jason Isbell and the 400 Unit. https://www.johncalvinabney.com/

Recommended if you like: Jim James, Blake Mills, John Moreland, Elliot Smith
---
Thursday, October 13th | Doors at 7:30 Show 8:15-10:30pm – COMMUNITY CATHARSIS and OPEN MIC
You're Going To Die: Poetry, Prose & Everything Goes
You're Going To Die: Poetry, Prose & Everything Goes is an open mic, communal offering for us to explore the conversation of death & dying, to embrace our losses & mortality, to grieve, bereave & honor those we've lost & love while all the while making room for simply being ALIVE. www.yg2d.com
Featured performer: Lila Nelson has toured internationally, playing with notable artists including Ben Folds and the late Richie Havens. Her music reveals a rich inner life, an irrepressible sense of humor, and a profound facility for poetry with a rich, enchanting musical stew. https://lilanelson.net/
---
Friday, October 14th | Doors at 7:30pm Show 8:15-10:30pm – MUSIC
Gutter Swan and Avi Vinocur (Goodnight, Texas)
Americana duo Gutter Swan features the powerful, emotive vocals of classical singer, Loryn Barbeau, and the disarming yet complex guitar of Steve Egelman. In 2019, Gutter Swan released their debut album, "where the dark and the light mingle", featuring 12 songs, near and dear to their hearts. http://www.gutterswan.com/

With a talent for crafting vivid, three-dimensional narrators and slice-of-life tales set in forgotten places, Avi Vinocur has made a name for himself as a songwriter's songwriter: a modern musician with an old soul's gift for storytelling. Vinocur is best known for his work as a co-frontman of the acclaimed Americana band Goodnight, Texas; for his poignant blues-folk solo records; and, increasingly over the past two years, as an occasional collaborator and live background vocalist/mandolin player for Metallica. https://www.avivinocurmusic.com/

Recommended if you like: Gillian Welch, The Civil Wars
---
Saturday, October 15th | Doors at 7:30 Show 8:15-10:30pm – MUSIC
Rusty Stringfield and Crying Uncle Bluegrass Band
No song is safe once high energy alt-grass quartet, Rusty Stringfield gets fired up on the street corner or round the campfire, taking a twisted trip from traditional bluegrass to soul, reggae, and arena rock (maybe all at once). Prepare thyself for a foot stompin', two steppin' good time. Yee-Ha! https://www.rustystringfield.com/

Crying Uncle Bluegrass (CUBG) is widely recognized as one of the most exciting young bands in acoustic music, playing a unique mix of bluegrass, dawg, jazz and original modern acoustic music. Nominated for the 2021 International Bluegrass Music Association's Band Momentum Award and winners of the 2018 Pickin' in the Pines Band Contest in Flagstaff AZ, CUBG is making waves in the world of bluegrass and acoustic music and has opened for prestigious bands, including Marty Stuart and his Fabulous Superlatives and David Grisman Bluegrass Experience. www.cryingunclebg.com
Recommended if you like: Marty Stuart and his Fabulous Superlatives and David Grisman Bluegrass Experience
---
Sunday, October 16th | Doors at 7:30 Show 8:15-10:30pm – MUSIC
South For Winter (Nashville) and Comfort Fashion
South for Winter's eclectic blend of folk, blues, classical, and gypsy has often been described as "Renaissance." The band is now recording their debut album in Nashville with Grammy-nominated producer Matt Leigh while touring throughout the US and Canada. https://www.southforwintermusic.com/
Comfort Fashion's music is described as West Coast therapy rock.https://comfortfashion.carrd.co/
Recommended if you like: Devil Makes Three, Nickel Creek, Carolina Chocolate Drops, The Strokes, Pixies
---
Tuesday, October 18th | Doors at 7:30 Show 8:15-10:30pm – MUSIC
Mya Byrne (Kill Rock Stars) and Katie Anne Mitchell
Recently featured on Reba's Top Ten remix of "I'm A Survivor" (on mandolin & lap steel), Mya Byrne was named a 2022 Artist to Watch by Nashville Scene/CMT, and wrote and performed the theme song for Amazon Music's Country Heat podcast hosted by Kelly Sutton. With elements of John Prine's whimsy, Leonard Cohen's spiritual gravitas, Dylan's wit, and Lucinda Williams' aching sensuality, and like a crackling backyard fire outside of a city at dusk, stars on one side of the sky and light pollution on the other, Mya's music is in the pocket of traditional country and Americana, yet firmly rooted in the modern world. https://www.myabyrne.com
There aren't many artists around who can transport you into a story the way Katie Anne Mitchell does. Her music is folky and sometimes dark, but always deep in a richness that will keep you listening to every syllable and inflection. https://www.instagram.com/katieannemitch/?hl=en
Recommended if you like: Decemberists, Crosby, Stills, and Nash, Thao, Neil Young, Lucinda Williams, Chris Stapleton, Sam Baker, Grant Peeples, Terry Hendrix, and Beth Hart
---
The Lost Church San Francisco is located at 988 Columbus Avenue at Chestnut Street in North Beach
(26-min from Oakland, 33-min from San Rafael, 52-min from Vallejo, 1 hour and 6-min from Santa Rosa)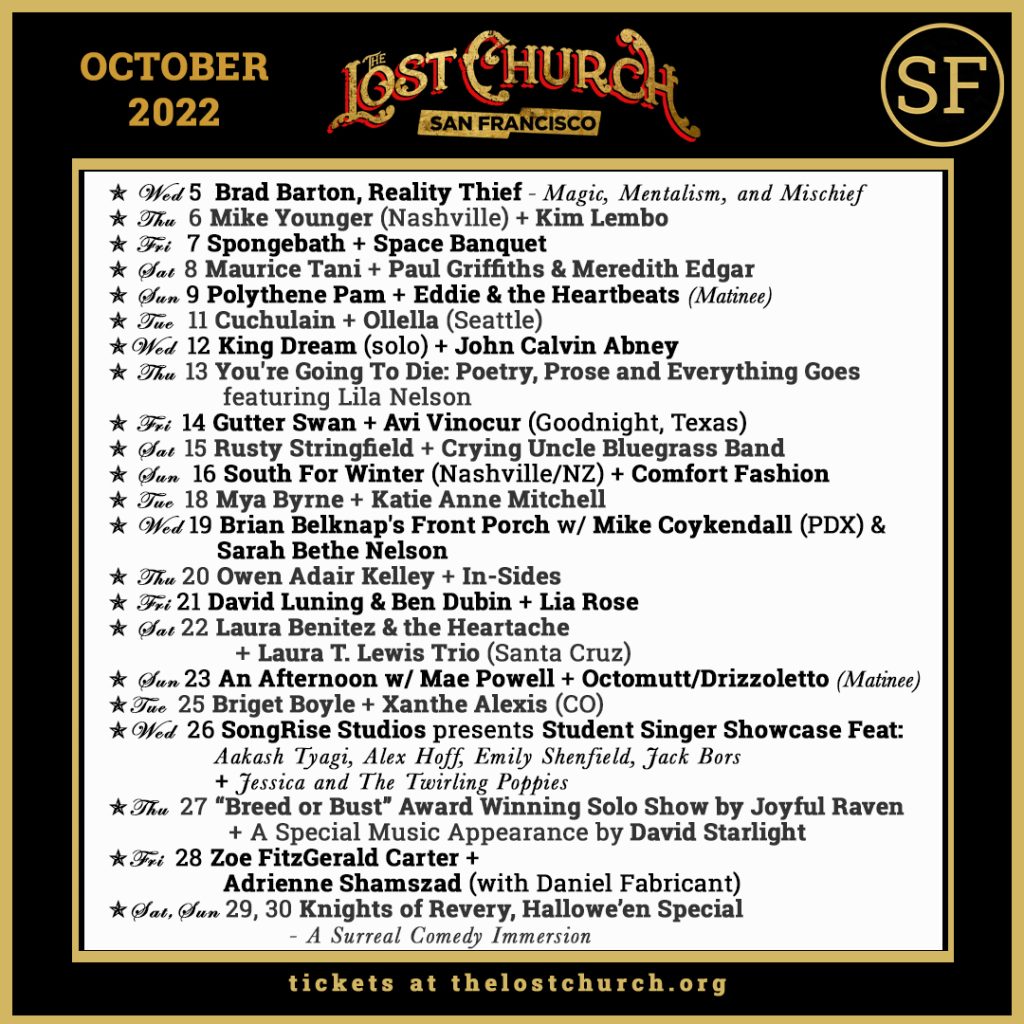 ---

SAN FRANCISCO
Friday, November 11: Toby Dixon a one-woman show, with special guest Roger Oddcock
Sunday, November 13. Matinée: Jim Bruno (Birthday Bash Show) with Claudia Russell & Bruce Kaplan
Sunday, November 20: The Feelings Parade & Glitterfox
---
Matinee performances end at 4pm | Evening performances end at 10:30pm
We're offering full refunds for non-attendance or cancelations due to COVID exposure, so there is no risk in showing your support by getting advanced tickets.
ADA Accessible elevator is available.
---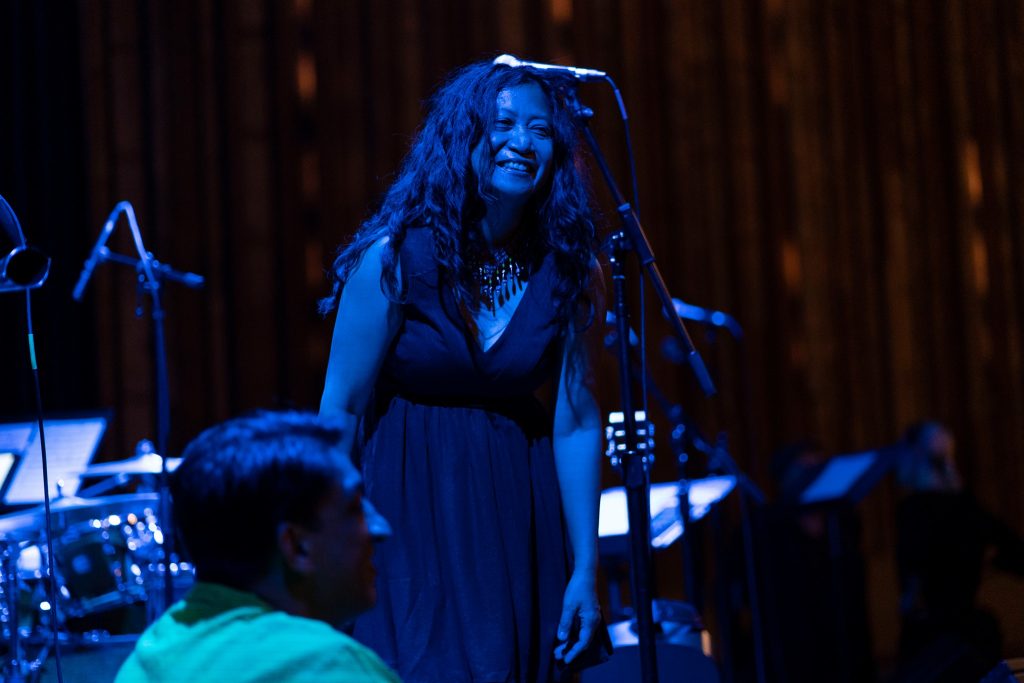 Local writer, musician, public school teacher and Board Member of The Lost Church .Org, Dawn Mermer will be introducing you to a member of our staff in this series.
Aireene Espiritu has been a part of The Lost Church family for so long that when she came on board recently as the new Public Relations Coordinator she noted, "it doesn't feel like a new job. I know the staff. I'm very grateful to be a part of the team." Espiritu is working closely with Director of Operations Michele Kappel, who recommended her for the job after knowing her well from The Lost Church music scene and radio station.
It was Kappel who asked Espiritu to bring her twice-performed live event The Color Coded Symphony Project, a curated and live musical piece which connects audiences' ethnic origins to rhythms across the world, partly in the dark, to Lost Church Free Radio. Kappel took note of how expertly Espiritu handled PR for that project, as well as for her own music as a solo artist and in Aireene & the Itch, that when the TLC stand alone PR position needed to be created, she asked the full-time musician to help out the organization. "Aireene brings a deep commitment to community and the performing arts to Team TLC, along with laser sharp attention to detail and her well known warmth and soulful point of view. Plus she's just so much fun! She fits right in with this group of seriously silly and hardworking advocates of the stage." says Kappel.
Born in the Philippines and raised in New Jersey, New York, and California, Espiritu has been playing The Lost Church for over a decade, first at its original Capp Street location, and now at its new North Beach theater. "You can just tell there's a lot of love and care, in every single detail. I just love playing The Lost Church. Everyone who works there is just so wonderful and you just feel the love from everyone and from the space. I always treasure playing there." She was one of the first acts to play the new theater and was "blown away to tears. I already expected it to be amazing and have the same feel and aesthetics as the original theater, but it was even more incredible. And it's huge. It's so much bigger than the Capp Street one."
Now that it's Espiritu's job to promote the new TLC location in the print promotions, radio PSAs, online calendars, and press releases, she is confident that, "we can make a stamp in North Beach and people will go there if we create that stamp. It's exciting! Let's get the word out on The Lost Church. I really believe in that space and the space in Santa Rosa. I've always believed in The Lost Church."
Espiritu also greatly appreciates that The Lost Church is a non-profit because it "allows The Lost Church to provide a space for all performers, which is important. I'm a musician so I'm grateful for that. We have to fight to keep live performance spaces alive, like the motto says."
***Look for Aireene's Radio show A Color Coded Symphony on the Air at its new home on PODash and visit her at aireeneespiritu.com
---