January 11-17th, 2023
– Masks are encouraged, but not required
Thursday, January 12th | Doors at 7:30 Show 8:15-10:30pm – GRIEF OPEN MIC
You're Going To Die: Poetry, Prose & Everything Goes
You're Going To Die: Poetry, Prose & Everything Goes is an open mic, communal offering for us to explore the conversation of death & dying, to embrace our losses & mortality, to grieve, bereave & honor those we've lost & love while all the while making room for simply being ALIVE. Poetry, prose, music, dancing, comedy, drama, happy, sad, EVERYTHING GOES.
---
Friday, January 13th | Doors at 7:30 Show 8:15-10:30pm – ALT/FOLK/SOUL/POP
Warplordz (Christine and Dakil) with a few songs from Columba Livia, Sweet Lew, Michael Michael Motorcycle
Happy Birthday to Christine McCann! Celebrate by joining us for an evening with Warplordz (Christine and Dakil) including a few songs by Christine's other band Columba Livia, Sweet Lew and Michael Michael Motorcycle is a teleportation into various frequencies of soul, synth, alt-folk, pop and rock, reaching a warped open space and a toast to Christine's 2nd annual birthday bash.
Recommended if you like: Deer Tick, Leon Bridges, Daft Punk
---
Saturday, January 14th | Doors at 7:30 Show 8:15-10:30pm – MAGIC & MENTALISM
Brad Barton, Reality Thief
Brad Barton, Reality Thief casts a spell of mystery, mischief, and hilarity. Performing for over 30 years, Brad combines magic, psychology, comedy, mind reading, and audience participation to create an unforgettable experience for everyone involved. He was the special guest performer for Prince's final performance at the San Francisco Fillmore, and is the only magician ever known to steal music legend Tom Waits' watch!
"Wow. You're good. You should have your own TV show." – Shaquille O'Nea
---
Sunday, January 15th | Doors at 7:30 Show 8:15-10:30pm – INDIE & AMERICANA
Polythene Pam and Eddie and the Heartbeats
Queer Americana girl band, Polythene Pam, embody the quirky nerdery of They Might Be Giants, the old school country twang of Dolly Parton and Johnny Cash, and the rock attitude of the Violent Femmes, with 60's rock, indie-pop, journeys of trans life by Eddie and the Heartbeats.
Recommended if you like: Dolly Parton, Johnny Cash, They Might Be Giants, the Violent Femmes, Maren Morris
---
We're offering full refunds for non-attendance or cancelations due to COVID exposure, so there is no risk in showing your support by getting advanced tickets.
---
The Lost Church San Francisco is located at 988 Columbus Avenue at Chestnut Street in North Beach
(26-min from Oakland, 33-min from San Rafael, 52-min from Vallejo, 1 hour and 6-min from Santa Rosa)
---

SAN FRANCISCO
WED 1/25 Jam Jar Presents: Marty O'Reilly and Jerome Porter INDIE-FOLK – TIX
FRI 2/3 Jimbo Scott & Yesterday's Biscuits, w/ Honey Run – FOLK/AMERICANA – TIX
SAT 2/4 SongRise Studios Presents: Heartbreak and Lovers Singers in The Round – VOCAL JAZZ & POP – TIX
SUN 2/5 Kyra Gordon and Megan Alder (Portland) FOLK & PIANO POP – TIX
SAT 2/11 The Lost Church 12 yr Anniversary w/ Edge City Fever and the Church of Boogie w/ Space Banquet VINTAGE BOOGIE & SPACE JIVE – TIX
---

January 11-17th, 2023
Friday, January 13th | Doors at 7:30pm Show 8:15-10:30pm – INDIE-FOLK
Tom Elder & Andrew Maurer
Tom Elder embodies a thrift shop attitude of eclectic menagerie of "Orchestral Punk Jazz Prog Folk". Rounding out this crew is Andrew Maurer, a mystical bard whose transient sound will warm your soul.
Note: Ash Reyes has had to bow out due to COVID. Thankfully she is recovering well and will be performing with Tom and Andrew on March 10th. We HIGHLY encourage you Ash fans to still join us on January 13th for some much needed Friday Fun and to learn why she paired up with the wonderful and inventive Tom Elder and Andrew Maurer in the first place. More fun is always better than less fun. Come to both shows!
Recommended if you like: Little Wings, Gillian Welch, David Bazan
---
In addition to hosting an eclectic mix of music, literary events, theater, comedy and a variety of performing arts, The Lost Church is also available for private event rental.
---
We're offering full refunds for non-attendance or cancelations due to COVID exposure, so there is no risk in showing your support by getting advanced tickets.
---
The Lost Church Santa Rosa is located on Ross Street (between Mendocino & B) in Downtown Santa Rosa
Evening performances end at 10:30pm
(23-min from Petaluma, 40-min from San Rafael, 1 hr 6-min from San Francisco, 1 hr 9-min from Oakland)
ADA Accessible.
---

SANTA ROSA
FRI 2/3 Songs & Stories w/ King Dream (solo) and Trevor Bahnson – INDIE-FOLK – TIX
FRI 2/24 Amelia Hogan, Taking Flight Album Release  – CELTIC – TIX
SAT 2/25 A Melodious Affair w/ Audio Angel, KingLung, Simoné Mosely, and Crumb Dread – HIP-HOP/REGGAE/R&B – TIX
FRI 3/31 Michelle Lambert – POP/FOLK – TIX
---
FOR BOTH SAN FRANCISCO & SANTA ROSA THEATERS
Seating is First Come, First Served.
All Ages are welcome
(Except for babies, children, and adults who may be disruptive.)
ADA Accessible.
We're offering full refunds for non-attendance or cancelations due to COVID exposure, so there is no risk in showing your support by getting advanced tickets.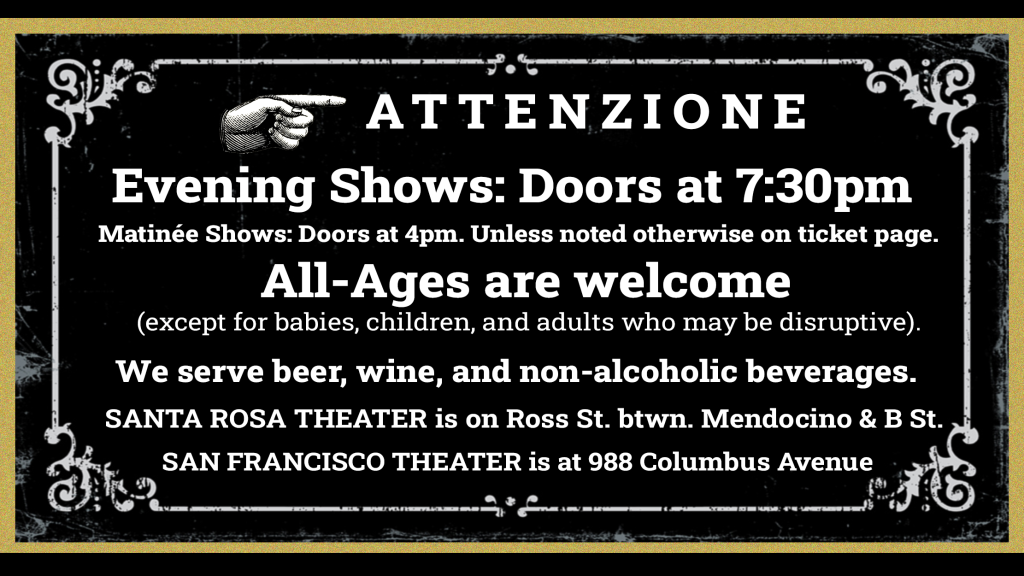 ---
Our Current Safety Protocols
Vaccines, boosters, and masks are strongly encouraged, but are not required as per local Public Health Policy.
---

We've come to the end of our Meet Team TLC Series and the finale is an awesome read. Thank you to writer, musician, public school teacher, and TLC Board Member Dawn Mermer for her skilled interviewing and engaging writing. Look for more articles from her in the future.
Please enjoy the last of the series with…
Brett D. Cline, Executive Director, Co-Founder, Co-Creative Director, Janitor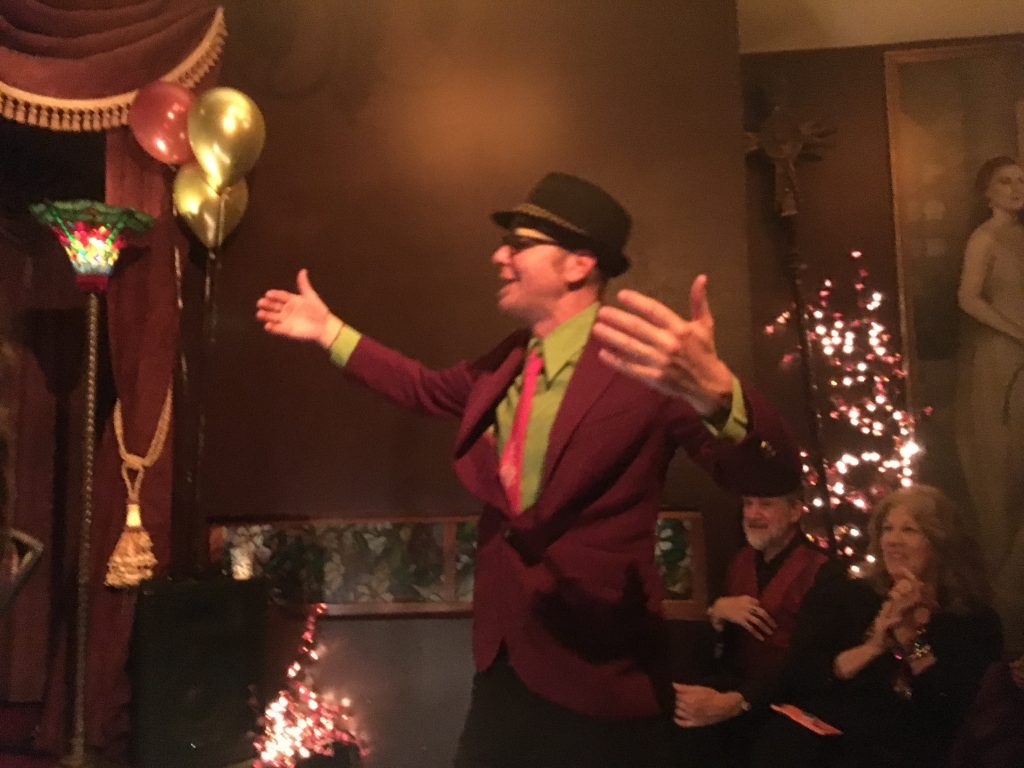 The Dreamer and The Instigator. Those two types of people created The Lost Church and made it thrive. The Dreamer is executive director Brett Cline and The Instigator is his wife, co-creative and financial director Elizabeth Cline. "You need this one-two punch in any good organization. Someone with vision and knowing this is where we're going, and then you need another person to go, this is how we're going to do that. I'm the dreamer and she's the instigator," Brett said.
A Southern California native, Brett moved to San Francisco in 1994 after college and a year in London. He bought the building that was to become The Lost Church's first home on Capp Street in the Mission in '97. This was before there was a Brett and Lizzie, but he got the Lizzie in '99 with the help of the building. "I owned a house in San Francisco! She was impressed," Brett laughed. They eloped 53 days after meeting at Burning Man. The two formed the band Juanita and the Rabbit and toured all over the U.S. They wanted to get off the road and come back home to have a child, which they did. Soon, Brett wanted to start writing and directing musical plays, which he also did. And in 2011, The Lost Church theater was born in their house. "I do remember thinking, can we make a living running a theater? And do it in our house? As soon as we opened, we started getting all of these emails from people wanting to play here. The need was obvious for a theater this size. And it just didn't stop."
The Lost Church's organic origins were blueprinted when opening the new North Beach theater. "We just opened the North Beach TLC the same way we opened the Santa Rosa one and the original Capp Street one: I built the raisers, I built the stage, I do all of that kind of stuff. Lizzie makes the curtains and puts in the flower lights and other amazing touches. I do all the bones and she does all the beauty," Brett said. But that's just the stuff the public sees. Brett does all of the budgeting and front-end business while Elizabeth handles the back-end like finances and legal business. Both have been doing all of this to the hilt this past year as they got the new North Beach location up and running. The foot traffic along its Columbus Street entrance, as well as becoming more and more part of the live performance fabric of San Francisco, is helping to create a successful launch.
And why call it The Lost Church? "It started with a website. I was trying to have a record label called The Lost Church of Rock & Roll and the other half of the website was The Lost Church of Light & Sound. I was doing sound and graphic design for video games. I love the discovery process of the name. Of finding it. The mythology of it. In my mind, The Lost Church was an abandoned church on the outskirts of an old western town and everyone says it's haunted, but actually it's the place where all the folks go on Saturday nights to tell stories and have parties. I like that idea of The Lost Church. I was thinking of an institution."
A lasting institution is what he has in mind. "For me, it's always been about building something that can last 7 generations. If it's two theaters or more. I'm very aware of these companies that have grown so fast and then went out of business. It's all about living for the long term and just making sure that everything we do can last generations. That's what it all really comes down to. The longer we're around, the more donors we get and the more grants we get, the more people know about us and are comfortable giving us their money. It's not about the cult of ego. We're like a vending machine for the arts. It's what the YMCA does for physical fitness. We want to do the same thing for artistic health."
"Brett always leads with love. Working for The Lost Church is like being enclosed in a warm embrace. We know that we're cared for and everyone has each other's back. This energy comes from the top down. It's a gift from The Clines that gives us the freedom to do our best work and extend the same care to the rest of the team, the artists, and our community. Maintaining and building that feeling of security in the unstable Arts Sector and doing it with such love and creativity speaks to the strength Brett has. He's a big softie for sure, but also has the nerves of steel to guide and grow this exciting and fulfilling organization." says Michele Kappel, Operations Director (and the first official employee of TLC back in 2013).
This dreamer would also like to see The Lost Church expand further, eventually. "The vision used to be a chain of these up and down California, a touring route for artists, and we do have artists who are doing that with our location in Santa Rosa and the one in San Francisco. But for now, we just need to focus on making this organization stable for the next 3-5 years. Then we can see about opening some more, like in Santa Cruz."
TLC's health as a non-profit can make this happen, or at the least sustain the two theaters for years to come. "If this was going to be a real organization committed to the community and to supporting artists who can only bring in 10 -20 people and function as an organization then we had to be a non-profit," Brett said. The organization is supported by ticket sales, arts grants, and donations. Its Anchor Donor program, where people donate $5 – $50 a month, is integral to the organization as bigger donors often disappear after a few years, leaving a hole in the budget.
As Brett begins to get a little more breathing room as the new location is off and running, he hopes to bring The Lost Church back to the early days and write and direct plays again at the new San Francisco theater. "I definitely want to bring the plays back because they're so much fun and raucous. It's what started it all."
READ THE REST OF THE MEET TEAM TLC SERIES.
Bryce Dow-Williamson, Santa Rosa General Manager and Operations Support – click & scroll down to READ
Joshua James Jackson, Community Manager – click & scroll down to READ
Josh Windmiller, Development Director click & scroll down to READ
Mickey Darius, San Francisco General Manager – click & scroll down to READ
Michele Kappel, Operations Director and Booking – click & scroll down to READ
Aireene Espiritu, PR Coordinator – click & scroll down to READ
Elizabeth Cline, Co-Founder, Co-Creative Director, Finance Director – click & scroll down to READ
---